April 27-29, 2000 at Franklin Field, Philadelphia PA
HS Summary - Day 1
San Lorenzo Valley CA 11:41.28!
New US distance medley record!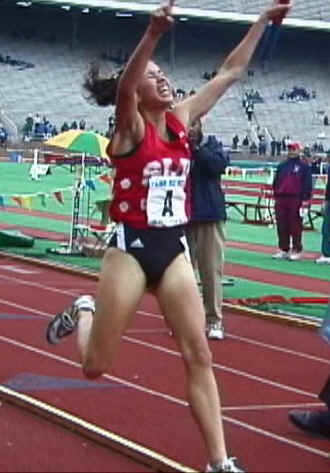 By John Dye
They travelled east from the Pacific coast with the record in mind. Coach Rob Collins assigned the target times. They carried out their assignments to perfection:
1200m: Raquel Barrientos 3:42.1
400m: Lyndsay Scharborough 57.7
800m: Shiloh Whiting 2:17.0
1600m: Alejandra Barrientos 4:44.28
Penn Relays secondary schools chairman Bob Burdette even had a hand in the record -- by getting good competition. Conestoga PA, on Ann Hansgate's 2:13.8 800m split, took the lead into the anchor leg. But Ale Barrientos, the leading miler in the US and a good part of the world, was not to be denied. She captured the lead after one lap and then "ran as hard as I could" the rest of the way. The lead kept stretching, and with a lap to go she only needed to break 70 seconds to get the record. The old record (Irvine CA University 11:43.53 in 1982) fell by 2 seconds.
Barrientos burst into tears of joy and kissed the old Franklin Field track after the finish, and then her teammates rushed her for a team hug and a victory lap. "I am so happy, I am just totally overwhelmed," Ale said when she collected herself. "It's what we have been working for."
Since the entire team is underclassmen, they have time for new goals. "Break the record again," came the answer in unison. Actually, there is another record to be had: the Penn Relays record (Vere Tech, of Jamaica) is one second faster.
Next year.
Conestoga faded as another pretty fair miler, Erin Donohue, 1999 Foot Locker national outdoor champion, got Haddonfield Memorial NJ up for 2nd with a 4:58 anchor. Last year's champion, Archbishop Prendergast PA, was third in 12:17.84.
Details of the girls distance medley.
Girls 400m hurdles - Super talented Sheena Johnson of GarField VA, signed for UCLA, won this event for the third straight year in an easy 58.29, 3rd best ever at Penn Relays and better than the winner in the Olympic Development race that followed. Sheena trailed through the first half to Andrea Bliss, St. Jago JAM, but made a decisive move on the turn and was way ahead at the start of the stretch. Bliss was second in 59.86. Details of the Girls 400m hurdles
Girls Mile - Renee Gunning, Pennridge PA sr, pulled away from a big pack to win in 4:54.83, with Allison Hoffman, Rocky Point NY sr, also under 5 minutes at 4:59.20. Then came five girls within 3 seconds. Details of the girls mile
Girls 3000 - New York claimed the first five places, as expected. Sayville sr Jillian Mastroianni 9:47.70 edged Jen Kramer, Colonie 9:49.00 for the crown. Next came Half Hollow Hills sr Jennifer Donovan 9:53.96, who was 11 seconds slower than her 1999 victory in this event. Details of the girls 3000
Girls 4x100 heats - Vere Technical JAM is going for their 5th straight victory in this event and put up the fastest qualifying time at 46.54. Jamaica also had the next two best times: St. Jago 46.78 and Holmwood Tech 47.31, followed by the top two US teams: Largo MD 47.37 and Berkeley CA 47.63. Next came another Jamaican team, Immaculate Conception 47.64 and Bethel VA 48.11. Details of the girls 4x100
Girls 4x400 heats - Top 3 heat times by US teams; what's going on here? For one thing, heavy favorite Holmwood Technical JAM (3:37.05 in the Jamaican championships) had a shocking start in their heat -- they dropped the baton. After standing startled for a moment, the lead runner picked up the baton and took off. By the end of the third leg, Holmwood had caught the leader, Eleanor Roosevelt MD. But Roosevelt had its best two runners running last and held off Holmwood, 3:51.15 to 3:52.58, to deny them a spot in the finals. Meanwhile, the top 5 times overall were 49.01 Samuel Tilden NY; 3:49.46 Berkeley CA; 3:49.47 Boys & Girls; 3:49.75 St. Jago JAM; 3:49.99 Vere Tech JAM; 3:51.04 Harrisburg PA. Details of the girls 4x400
Girls 4x800 heats - Jamaica has won this event 14 straight years. Boys & Girls NY fired a warning shot with a 9:09.95, best heat of the day, but Jamaica's two heat winners (defending champion Holmwood Tech 9:15.59 and Edwin Allen 9:17.04) were not pressed and looked capable of better in the finals. Details of the girls 4x800
Girls Field Events - All the jumping events were affected by the cold, wet conditions.
Girls Pole Vault - The expected battle above 12 feet did not materialize. Mt Sinai NY sr Amy Linnen was the only girl to clear 12 feet and she got her winning 12-2.5 on her third attempt. 1999 champion Samantha Shepard got 11-10.5 and slipped to third on misses behind Massachusetts team mate Molly Lederman at the same height. Details on the girls pole vault
Girls High Jump - Hyleas Fountain, Central Dauphin East PA sr, prevailed on fewest misses in a 3-way tie at 5-6.5 with Hunterdon Central NJ so Jessica Taibe and Sheree Francis Vere Technical JA Details on the girls high jump
Girls Long Jump - Paula George, William Howard Taft NY sr, 18-04.75, over Julee Wilson, Westtown School PA 18-04.00 Details on the girls long jump
Girls Triple Jump - Conrad CT sr Nicole Toney was 18 inches better than anyone else with a leap of 39-10.50, followed by New Rochelle NY so Shenae Dawkins 38-3.25 and Thomas Jefferson VA sr Danielle Woodhouse 38-0. Details on the girls triple jump
Girls Shot Put - Nashua NH jr Laura Gerraughty, best in the US in the recent indoor season, edged closer to the coveted 50 foot mark with a throw of 49-10.25. Second was India Odum, Hayfield VA sr, 44-3.25. Details on the girls shot put
Girls Javelin - 141-04 09 Anna Bobiak, Villa Maria Academy PA, threw 141-4 to edge the versatile Erin Donohue, Haddonfield Memorial NJ, 139-10, who got her throw in before running the anchor leg 1600 meters on her team's DMR second place. Details on the girls shot put
Attendance: 20,456 - largest Thursday crowd ever.