Details of the Great American Cross Country Festival
a Great American day
Results - complete results and pictures
100 PHOTOS - In addition to results pages, there are these picture pages: Awards Ceremony - Nike's Bowerman Trophy - Boys ROC before - Boys ROC race - Girls ROC before - Girls ROC race - the Flood - Donna on the Side - more pictures at Trackwire Online -
Kranick Comeback


Girls Race of Champions: Alicia Craig (2079) ended up running away from Megan Kaltenbach. Saratoga Springs NY coaches Art and Linda Kranick (R) celebrate team's win. The last year saw their team fall off their customary US#1 perch and Linda battle cancer. This is a new year.
| | |
| --- | --- |
| | Boys ROC: Alan Webb VA (L), Mountain View UT |
Flash flood delays start of Great American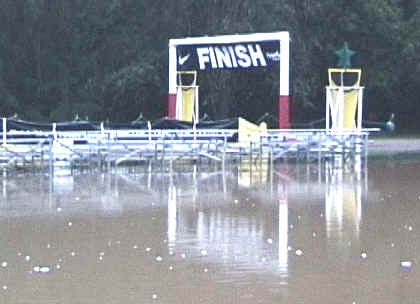 At 8 am Saturday, when the first HS race was scheduled to start, the entire area around the start and finish lines was under water (above) as all night rains caused a nearby creek to overflow its banks. Amazingly, however, the creek receded, the sun came out, and the meet proceeded as scheduled at 3 pm.
More pictures of the soggy start of Great American day
Preview
by John Dye
The much-anticipated second running of the Great American Cross Country Festival is upon us. The inaugural meet a year ago was proclaimed by HS track guru Doug Speck as "the most significant day in the history of US high school cross country." This year is even better, weather permitting. (Heavy rain soaked the course Friday night, and more showers are forecast Saturday.) Plots and sub-plots abound:
Head-to-head Team Competition - Until Charlotte businessman and running enthusiast Rick Hill started the Great American, national rankings came from the nearly impossible task of comparative results on different courses against different competition. Head-to-head matchups between the top ranking teams were rare. Not now. Twelve of The Harrier top 20 boys and girls teams in the nation are in Charlotte for the top billed Race of Champions.
Boys: #1 The Woodlands TX (defending champion), #2 Mountain View UT, #3 Poly Long Beach CA, #5 Flathead MT, and #7 Mead WA.
Girls: #2 San Lorenzo Valley CA, #3 Saratoga Springs NY, #4 Campbell County WY, #5 Bingham UT (defending champion), #6 Mountain View UT, #9 Manchester Central NH, and #10 Colonie NY
Local Rivalries - Some of the elite teams have transferred fierce local rivalries to the national stage. From Texas come defending boys champion The Woodlands and Kingwood. From New York are Saratoga Springs, a perennial national girls leader, and Colonie, which got the upper hand last year. From Utah come Bingham and Mountain View. The Bingham girls scorched the course last year and Speck pronounced them the greatest HS girls team ever.
Returns from injury - Alan Webb of Virginia and Alejandra Barrientos of California were the best milers in the country last May until injuries ended their seasons before the big national post-season meets. Now they are seniors itching to return to the top.
Individual Statements - The Great American was created for team competition; the Foot Locker Cross Country championships are for individuals. But many of the leading Foot Locker candidates are in Charlotte for a preview of things to come.
BOYS: Webb, who won last year's Great American and the Foot Locker South region on this course. Stephen Haas, home towner who is shooting for national attention. Eric Gross, fast improving Arkansas senior. Rod Koborsi, who has been burning up the Texas courses this year. Sean and John Jefferson, talented Florida twins. Seth Pilkington, who is steadily proving that his Utah State Meet wins over Josh Rohatinsky last year were not a fluke. Ozzie Pina, a sub-9:00 two-miler 2 years ago, who has transferred to US#3 Poly Long Beach CA. David Vidal, star of US#5 Flathead MT. And many more who should be mentioned.
GIRLS: Barrientos, who hasn't raced since going down with a stress fracture last June, will try to lead her US#2 San Lorenzo Valley CA team to victory. Alicia Craig, star of the US#4 Campbell County WY team and winner of the Golden West and Foot Locker Outdoor miles last June. Megan Kaltenbach, Colorado champion as a freshman last year, is making her debut on the national stage. Sara Bei, holder of many California titles and twice a Foot Locker finalist. Laurel Burdick, New York champion in 1999. Laura Zeigle, leader of the great Bingham team, Foot Locker finalist last year. And many more who should be mentioned.
San Lorenzo Valley's Meteoric Rise to the Top - a feature on one of the favorites in the girls ROC - how did SLV and Alejandra Barrientos rise from obscurity to the national elite in less than 2 years?
Start Lists - all teams with starting boxes assigned
Picks of DyeStat readers - results of Question of the Week for fastest runners and Race of Champions team winners.
Speedster's Top 40 - thumbnail sketches of the best 40 boys and best 40 girls entered in the ROC, Open, and Invitational divisions as ranked by "Speedster" Richard Hill.
Breaking News 8/16 - elite names and teams added to field.
Schedule of Events - 16 races, from middle school to college level
TEAM ENTRIES