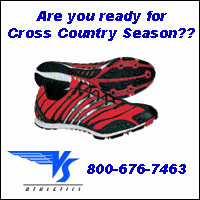 Joaquin Miller Summer XC
Fun Run Series (Race 1 of 2)
Joaquin Miller Park, Oakland, CA
Wednesday, August 17, 2005
Thanks to Dave Ponas for the results!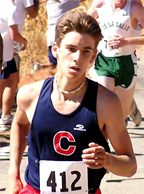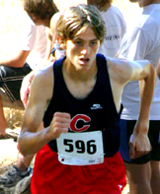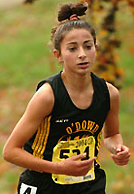 Campolindo HS alum Justin Pines (left) returned for summer break from Princeton University
and is looking ready for the NCAA season! Pines set a course record on the famed and treacherous
Joaquin Miller layout, covering the two-mile climb in 10:48, slashing 12 seconds off the course record!
Current Campolindo star Chris Vizcaino set the high school course record, breaking Thomas Dileo's
2004 clocking by 27 seconds! Dileo, of Oakland High, improved 23 seconds from last year to take third
in 11:00! For the girls, Alexi Pappas shaved 12 seconds off the course record in 13:26! There were
even more age group records and a One-Mile Run as well. Check the results sheet below!
Joaquin Miller Park-Solid taxing lung busting, quad burning course! Nothing like in the Western World!
Oakland, California
2 Mile results
Next race Wednesday August 24 at 6:00 pm It's free.

OAKLAND -- Major excitement at the Park Wednesday. Lots of people, fun, and some very, very impressive racing.
Men's and Women's records were set. Top 10 Men ran under 12:00 on a very tough course. Solid competition. Not to be lost in stats...
Justin Pines....Somewhere after the the log jump, he took off. The Princeton Tiger set a big time record of 10:48.7, this smashed Jim Sorensen's 11:00. and get this, with the log and thinner trails, this years course may be a few seconds slower! Lexi Pappas, Bishop O'Dowd, sizzled through the redwood forest to bust, dust and blow away an old record, running 13:26.7.
13:38 was Laure Cherback's time set in 2003.
Chris Vizcaino showed why he is an All-Northern California 1st team XC man. After that bush attacked him. Chris ran 10:56.3, faster than the old record, and is now the HS record holder. Thomas Dileo, Oakland High, an All Nor Cal Third Team XC man showed a 23+ second improvment from last year and finished in a very solid 11:00.4. Miguel Casto, Alameda HS doubled, winning the mile in 5:26.8, a second off the record, and then running a fine 12:02 over the 2 mile course. Colin Bauer, Albany HS got on the map with a solid 11:43.5 effort and Keith Bailey, Castro Valley HS got in with a 11:49.6. Tyler Pines ran so well, that we have him recorded taking 5th in 11:33.3 and taking 17th in 12:11, wow! We need to get our tags in as that's a small error.
Some people did not turn there tags in so it may say DNRe next to the place. I wonder who took 17th or... maybe 5th. Anyway, Richard Carrick ran a fine 11:13.9 for 4th overall. Sara Alaei (age 23) and Rebecca Paddack (16) made the all-time womens list. Kaitlyn Spees age 12, set an age group record of 15:47.5!
It was a great time...Come next Wednesday it's free!


2-mile Run Results
Sunny, 54 degrees, fantastic!
Next Race-Wednesday August 24 @ 6:00 pm FREE
Name Age Time Notes
Men
1. Justin Pines 19 10:48.7 Princeton U - New record (Old Jim Sorensen 11:00 2004)
2. Chris Vizcaino 17 10:56.3 Campolindo HS - New HS record (Old, Thomas Dileo 11:23.3 2004)
3. Thomas Dileo 16 11:00.4 Oakland High
4. Richard Carrick 19 11:13.9
5. Tyler Pines 18 11:33.3 ex Campolindo HS
6. Colin Bauer 16 11:43.5 Albany HS
7. Keith Bailey 18 11:49.6 Casto Valley HS
8. John Niederhaus 26 11:50.4
9. Ben Aich 18 11:57.3 ex Head Royce (?)
10. Bryan Chew 15 11:58.1 Youngest top finisher
11. Miguel Castro 16 12:02.1 Alameda Big Double!
12. John Cheng 15 12:02.7 Oakland High
13. Doug Whichard 16 12:03
14. Ivan Medina 18 12:07 Ran mile first, another fine double
15. Ryan Purcell 15 12:07.3 Skyline HS
16. Ken Akiha 18 12:07.7 Ran Both for fun
17. Tyler Pines 18 12:11 Here again! Wow
18. Paul Cheng 15 12:12
19. Luis Vazquez 18 12:13 ex Oakland High
20. Chase Wilson 15 12:14 Head Royce runner doubles strong
21. Daniel Perry 18 12:16
22. Will Tagg 18 12:20
23. Michael Langella 15 12:26
24. Sean Purcell 16 12:27.4 Skyline HS
25. Matt Riley 16 12:30 Casto Valley HS
26. Drew Callen 14 12:34.7
27. Erik Lee 18 12:35
28. Andrew Chesshire 16 12:36.7
29. Elliot Nicholson 17 12:41
30. Oscar Duran 18 12:46 Skyline HS
31. Conrad Murphy 18 12:52
32. Bryant Benter 16 12:55
33. Justin Tunberg 19 13:06
34. Noel Mattern 31 13:07
35. Kyle Delauro 17 13:10
36. Bing Xia 17 13:16
37. Chuck Back 17 13:19
38. Steve Gregg 48 13:33
39. Mark Laxco 17 13:37
40. Steven Perry 15 13:38
41. Did Not Report (DNRe) 14:00
42. Mike Smith 40 14:01
43. Ryan Lok 14 14:08
44. Jorge Romero 17 14:13
45. Javier Gonzalez 16 14:14
46. Evan Bell 15 14:24
47. DNRe 14:24
48. James Pickering 13 14:28
49. Daniel Galicia 15 14:46
50. Wes Schneider 15 14:50
51. DNRe 15:00
52. Katena Sanford 17 15:11
53. Bruce Benter 45 15;14
54. Zack Koenen 15 15:18
55. DNRe 15:20
56. Sebastien Nguyen 16 15:31
57. Benison Ying 17 15:55
58. Robert Nguyen 12 15:56
59. Marlon Estowta 15 16:05
60. DNRe 16:12
61. Rik Philpotl ? 16:18
62. Cordell Gee 16 16:21
63. Jim Hopkins 49 16:32
64. Jeremiah Wong 14 16:42
65. Michael Busch 14 18:09
66. Cesar Melgar 16 19:42
67. Guy Railsback 62 19:46
68. Michael Warner 16 23:26

Name Age Time Notes
Women
1. Alexi Pappas 15 13:26.7 Bishop O'Dowd - New Course Record (old, Laure Cherbach 13:38, 2003)
2. Sara Aleai 23 13:44.4
3. Rebecca Paddack 16 14:44.2
4. Jackie Quinn 15 14:48.7
5. Sarah Smith 36 14:53.6
6. Jessica Phuong 17 14:59.4 Oakland High
7. Kelly Crampton 22 15:08.8
8. Natalie Buck-Bauer 15 15:10.3
9. Emily Paddack 14 15:13.7
10. Brianna Van Epps 16 15:21.8
11. Karen Chan 15 15:29
12. Heather Cantua 16 15:35
13. Kaitlyn Spees 12 15:47.5 - New 11-13 Age Group Record (old, Paigelee Hodges, age 13, 16:11 in 2002)
14. Gianna Gallo 16 15:53
15. Kwai Philott 15 15:55
16. Jennifer Kaehms 13 16:23.2
17. Corine Jansen 16 16:30
18. Zvika Singer ? 16:31
19. Peeny DeMoss 55 16:35
20. Quanina Quan 17 16:37
21. Katie Parr 17 16:39
22. Chelsea Wong 15 16:43
23. Sophie Nguyen 14 17:28
24. Cassandra Dorscht 17 18:24
25. Jieun Choi 16 18:25
26. Jenny Lam 14 18:26
27. Barbara Khalil 54 20:17
28. Enbal Singer 13 22:57
29. Alizia Ochoa 16 23:30


One Mile Run results
Sunny, 54 degrees, fantastic!
Next Race-Wednesday August 24 @ 6:00 pm FREE

Name Age Time Notes
Men
1. Miguel Castro 16 5:26.8 Alameda HS - New HS Record (Old record, Adam Coleman, Clayton Valley 2003)
2. Jimmy Dileo 15 5:33.8 Oakland HS - New 14-15 Age group record ( Old, Rickey Griffen 5:43, 2003)
3. Ivan Medina 18 5:38.6
4. Luis Vazquez 18 5:43.3
5. Conrad Murphy 18 5:47.1
6. Javier Gonzales 16 5:54.3
7. Chas Wison 15 5:54.7 Head Royce HS
8. Ken Akiha 18 5:54.9
9. Daniel Schieffer ? 5:58.8
10. De'Andre Cherry 16 6:10.3 Oakland Tech HS
11. Russell Barry 16 6:17
12. Noah Hinkston 39 6:21 Oakland Tech Coach
13. Charlie Morse 15 6:24 Oakland Tech
14. Jorge Romero 17 6:28
15. Mason Zapan 13 6:35
16. Jake Bauch 16 6:37
17. Daniel Gakein 15 6:40
18. Xavier Soto 15 6:48 Oakland Tech
19. John Petterson 17 6:50 Oakland Tech
20. Dung Le-Nguyen 16 6:55 Oakland Tech
21. Emmanuel Gibson 17 6:59 Oakland Tech
22. Marlon Estowta 15 7:07
23. Rik Philpotl ? 7:29
24. Cesar Melgar 16 7:33
25. Evan Bell 15 7:36
26. Corwin Shin 12 7:37
27. Did Not Report (DNRe) 7:59
28. Michael Warner 16 8:10
29. Seb Nguyen 16 8:11
30. Bryant Benter 16 8:12
31. Craig Stern 51 8:16
32. Dennis Wong 52 8:22
33. Guy Railsback 62 8:49
34. Evan Freeman 10 8:53
35. Elon Freeman 6 11:38
36. Jason Muhammed 10 12:09

Name Age Time Notes
Women
1. Sophie Quisquarter 15 6:36.9 Oakland Tech HS - New 14-15 Age Group Record (Old, Gabi Rios-Sotelo 6:58.0, 2002)
2. Jennifer Doyle 17 6:37.8 Oakland Tech, going to MIT in a week
3. Kai Wilson 11 6:41.8
4. Kaneesha Pierce 15 6:43 Oakland Tech
5. Kara Anderson 16 6:57
6. Jenni Lee 12 7:44
7. Anna Dayley 15 7:47 Oakland Tech
8. Ali Barber 14 7:52
9. Linda Liang 16 8:02 Oakland HS
10. Cassandra Dorsoht 17 8:04
11. Penny DeMoss 55 8:06
12. Naomi Berkins 16 8:21 Oakland Tech
13. Michelle Levinson 15 8:24 Oakland Tech
14. Alizia Ochoa 16 8:25
15. Maya Hinkston 6 8:41.1
16. Samatha Akiha 16 8:46
17. Caroline Sou 16 8:46 Oakland High
18. Phoebe Dirga 15 8:59
19. Sophie Nguyen 14 9:00
20. Briana Van Epps 16 9:01
21. Emma Romero 12 9:21
22. Jessica Yu 14 9:27
23. Sally Nguyen 37 12:25