Dan Gabor Invitational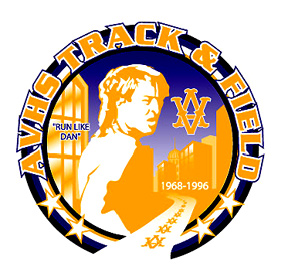 There is something to be said about a person who lives so much in so little time…
With Daniel Kirk Gabor, everything in his life was built around just that—so little time.
Whether he was hustling off to school late, or tearing off on his skateboard to soccer practice, or blistering the avenues and trails of Pleasanton on his mountain bike, or hammering every hill and valley with the tremendous propulsion of his own two feet—Dan Gabor was always moving, always in a hurry, always operating on so little time.
And his life on the track mirrored this trait, with our own Danny tearing through interval after lung-searing interval, always pressing the watch, always looking to squeeze more into each precious second than most could hope to fit into the unforgiving minute. With his trademark Mohawk and bullish determination, Dan tore races apart with incredible ferocity—a savagery of competitiveness that would turn would-be challenges into rubble on the old cinder track. And then, just as quickly as he caused the competition to crumble, Dan would produce a final kick so beautiful and seemingly divine that you felt as if you were watching a shooting star…and you would stop to appreciate what you were seeing, knowing that it would be gone soon…gone, in so little time.
Dan was always forcing the limit—of his incredible talent, of his relentless effort, of his undying spirit—stretching the confines of the conventional and reaching for something more. It was Dan's innate ability to reshape the moments we shared with him that brings us to this field today—his memory rages fresh in the fires of our hearts. His flamboyance, his charm, and his need for speed draw us ever-closer to that vision of Amador Valley's favorite son—the boy who never stopped running, never stopped pressing to capture the world in so little time.
He was a daredevil and a wizard at once—dangling from mountaintops in his climbing exploits while managing to conjure magical races, like his 1987 800 Meter State Championship run. He was a friend and an adversary to his opponents…a poet and a rock star on the track…and when it came to the clock, he was a glutton and a miser—always stuffing himself with more of the world while only releasing bits of each second—unwilling to let even the slightest tick escape him in this so little time.
More importantly, however, Dan was a teammate, a friend, a brother, and a son. His mother and sister join us today in our tribute to him. In their eyes, you will find the timeless reflections of Dan's rebelliousness, his vigor, his resolve, his tenacity, and his warmth. In the breeze that sweeps through the homestretch today, you will feel that extra push of Dan's—the one that propelled him to the finish line in so little time.
And it was with his spontaneity and verve that Dan boarded TWA Flight 800 eight years ago in New York. He was off to Paris at the last minute to join his girlfriend, having worked hurriedly at the last possible moment to gather enough money to join her for some memory-making in Europe. Even then, Dan was fighting to fit the offerings of this life into his so little time.
Today, we remember Daniel Kirk Gabor—for his feats of athleticism on the track and his generosity of spirit in our community. We remember Dan today because he calls to mind those things we enjoy as track fans—thrills, victory, and legend.
Dan Gabor was all of these things—all of these done in 27 years—everything in his life done in so little time.
Thank you for joining us today at The 2nd Annual Dan Gabor Memorial Invitational!

Chris Puppione
AVHS Track & Field
Meet Director