1987 Twenty Years Ago
First California State Meet
A Look Back in Time by those Involved
Doug Speck - Editor DyeStatCal
INSTALLMENT FOUR - 11/21/07

FINAL INSTALLMENT
1987 STATE MEET




photos from Jaime Ortega
The goal of every team in the state - to have their team members running
down the final straight at Woodward Park with this banner in the distance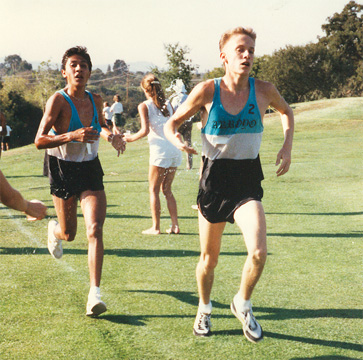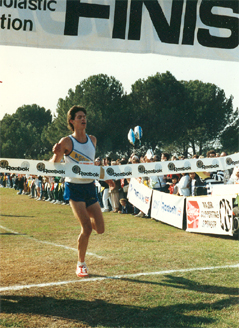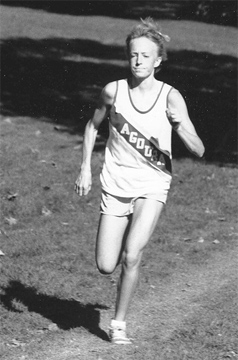 photos by Keith Conning and Doug Speck
(left) Jaime Ortega and Derrick Powers led Arroyo HS to the State Div I title in 1987 in what is still
the #6 Team Time ever on the Woodward Course (78:23) - Bryan Dameworth won Division I as a soph -
Deena Drossin (also Agoura) took the Girls title as a frosh - Scott Hempel (Walnut) was the DII winner
helping his squad to the title (79:16 - still #17 AT on the course)
1987 was the first state meet and we hope you have enjoyed our installments during the Fall. In this final section some of the state's most successful coaches take us through that final competition that year for their teams, and as usual, it makes good reading, and may give those 2007 participants a tip of two as they head out to the 5000 meter course in Fresno this weekend.
---
Section Finals through the State Meet 1987
Again, all previous seasons left those statewide with kind of an incomplete feeling as the Northern part of the state had a Northern California Championships, but what about the southern half of the Golden State which stopped its competition at the Section levels? That would all be solved, and "end of season" bragging rights, correctly so, could be settled for the first time on the course in the state meet. There would be 'fine-tuning' of the competition and eventually the number of divisions jump from three (initially) to five, but still the 1987 fall had a special excitement to it with this state meet at the end of the campaign. It was tremendous and the one item that has done more for the sport in the state than any other one item we can point to. Read on------------
Bill Duley (Agoura HS)
Terry Ward (Bellarmine HS)
Tim O'Rourke (Arroyo HS)
Jim Polite (Walnut HS)
Steve Ward (Clovis HS)
Ernie Lee (Gunn HS)
Peter Brewer (Castro Valley HS)
1987 State Meet Results
---
Coach Bill Duley (Agoura HS) - The 1987 squad featured soph Bryan Dameworth, who was the first frosh ever to qualify for the Kinney Nationals the year before, and Bill would welcome eventual Olympian Deena Drossin to the 1987 program as a frosh athlete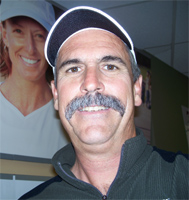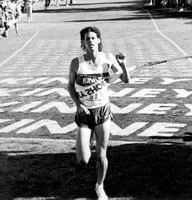 Photos Foot Locker and Kirby Lee
Bill Duley (left) would have two all-time California greats on his 1987 squad
soph Bryan Dameworth and frosh Deena Drossin, with Deena an eventual
Olympic Medalist and recently sixth in the World Track Champs over 10k

1987 State Meet continued,
By Bill Duley
At the sectional championships our teams had a lot of success. However Bryan Dameworth did not have the best day. After wards he realized that he was looking past this important race. This was costly to the team. We gave up first place by just 2 points to Walnut High. Bryan had made the Kinney Western Regional Team in 1986 as a freshman. He attributed this to a strong liking of the Woodward Park Course. Mt. Sac was not his favorite course and he seemed to be focused on the state meet the entire week prior to the sectionals.
The girls' team had a fabulous race at the sectionals. Their first real goal as a team had been fulfilled. Now it was off to Fresno. Bryan and Deena Drossin both had high expectations. The Girls team viewed the trip to Fresno as a big reward for a fabulous season. This seemed to keep them very relaxed.
All year we had talked about running tangents and using turns to make moves while the opponent didn't have a good judgment of distance. As we were doing our walk through Friday afternoon the girls could really see how the Woodward course would wind and twist in a way they could really use what they had practiced all year. Bryan talked with the team about what he had learned about the running of the course during the 1986 regional meet. One thing that he had realized was how crowded it seemed as the race moved onto the road way a few hundred yards from the start. We had drawn a starting box to the far right, running along the fence that separated the start area from the finish shoot. We practiced starts running straight along the fence hoping that the teams to our left would immediately work their way towards the middle of the grass. It turned out to be a perfect strategy. The next day when the race got underway the race moved immediately towards the center of the grass. As our girls ran straight forward they seemed to be separated by more than 10 yards from any other runners. This allowed us to move without going hard and keep our members in contact with each other. We seemed to get a perfect start. From there we ran to be in the appropriate position for each person, while trying to stay relaxed. The plan was to start a diligent move up as we crossed the road just after the 2 mile mark. (this is something Bryan found worked very well the year before). As planned this worked very well. I have to say seeing Deena come over the last rise before the finish stretch in first was one of my most memorable moments in coaching. This incredible little freshman had done it. The remainder of the team also ran very well. This young squad had placed 2nd in division one.
Deena's win seemed to give Bryan a big boost. He had a look that was so intense yet relaxed, minutes before the race. When the gun went off he seemed to run so comfortable. We had observed him glancing around, clearing his nose and just picking his spot. He looked as if he was in a training run. It was clear that he felt very confident and everything was feeling right. As he passed over the road just after 2 miles he was part of a small pack that was starting to break away. Then it was time to run up to the finish area and wait for the race to arrive. Again as they came into view it was an Agoura jersey leading the way. Eyes straight forward and then he launched a kick that wouldn't be matched. Two races, two individual Champions with a total or five years of eligibility left.
As the teams were called to the podium the girls were all sitting on the runner up box waiting to be announced. One of the parents got a great picture of this incredible group. Three years later they would finally stand above the great Palos Verdes team. another fabulous picture. Today they are framed together. 1987 sitting in second and 1990 standing so proud in first.

---
Coach Terry Ward (Bellarmine Prep, San Jose - CCS)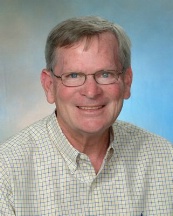 After winning the CIF/CCS title for the 4th consecutive year, Bellarmine seemed to be ready for the first California State Meet since 1915. The young men on the team sensed that history was in the making and they were proud to be a small part. As has already been stated in earlier installments, this was an up and down season. Great at the beginning, fair in the middle and excellent at the CIF/CCS Finals. Everyone was ready for the state meet. After a restful Thanksgiving, the squad left school early on Friday morning and headed for Fresno. We headed for Woodward Park. As we headed into Woodward Park, we were amazed by the number of athletes who were running on the course. Every color imaginable could be seen from the leaves dropping from the trees to the difference warm ups on the runners' bodies. There was excitement in the air and the team and the coach were now part of it. After a good meal, restful night, and the usual banana, bagel, peanut butter and water, the team jumped in the van and headed to the meet. Entering the gate to the course, we saw double the number of athletes from the previous day. There were some many people at and near the parking lot that one of the young men in the van asked if this was a football tailgate or a cross country race. We parked, found a space to stretch, jogged the course and continued our preparation for the race. Finally, the team was called to the line and with the usual butterflies waited for the gun to go off. Prior to the gun going off, all of the teams were introduced and that when it hit all of us on how special this race was going to be. Every team that we heard of all year was on the starting line as were top individuals not on scoring teams.
The gun went off and the Division 1 race was in action. At the one mile mark, there were still so many runners in contention that it was hard to pick out the team. Finally, I saw the team a little back of the main field and it looked as if they were in good position, but still hard to tell what other teams were doing. At the two mile mark, the Bells were solid as a group but still a little back and as one of our coaches counted the other team runners, we were about in 5th place. The last mile every runner picked up a place or two and I was proud as I watched our young men cross the finish line. When the race was scored, we came in 3rd place and our total team time (80:35) was the 13 best time ever on the course. The following were our runners (time and place) in the race: Ian Champeny – 16:00 – 28th – Torre Pena – 16:02 – 32nd – Peter Fisher – 16:04 – 35th – Andy Zoldak – 16:09 – 46th and Chuck Ross – 16:20 – 54th. When it was announced that we placed 3rd, the team was a little disappointed but proud of what they had accomplished. Little was said on the trip home, no one seemed to be awake in the van expect the old head coach. The following Monday we met at school, had pizza and discussed the race. I told them how proud I was at what they accomplished and that they had made history for Bellarmine. Because of the accomplishment we were able to participate in the next 13 state championships.
One final thought: I am extremely proud to have been a part of the first state meet and I would like to thank all those who worked so hard to have this wonderful meet continuing today.
---
Coach Tim O'Rourke - Coach of the the Arroyo squad


There was a two-week break following the CIF Southern Section Finals before the first California State Cross Country Championships were to be held at Woodward Park. We used that 14 day period to sharpen and taper with two key workouts on our agenda.
After allowing for a full recovering from the CIF SS Finals by easy running for three days, we did our final true interval workout of the season. In the previous interval sessions leading up to this workout, we had been running our repeat miles at 4:50 pace (we had been able to get up to four repeat miles in our progression), so we cut back the volume to a workout that essentially consisted of one repetition of 2400 meters at :72 pace.
All season we had been training and racing with the purpose of callousing our runners to be able to handle that fast, flat first mile on the Woodward Park course without incurring any great debt. We felt the key to running well at Woodward Park was to not get caught up in the emotion of the day, coupled with the flat first mile, that sometimes leads teams to go out faster than they can comfortably handle.
We wanted to slowly move into the front third of the pack during the first half mile as the course straightens along the freeway and then relax in that pack through the first 1 ¼ of the course, consciously attempting to run as relaxed as possible at the point when you come back in front of the main part of the crowd leading up to and immediately following the first mile. This strategy, we felt, would put us in good position to move up once the course begins to wind through the upper part of the park and then to really attack the hill leading to the 2 mile mark.
That interval workout went extremely well with everyone handling the pace comfortably through the first 2000 meters and much of the final 400 meters.
The other workout we did during that stretch was a benchmark run we usually did three times a season. It is a 10 mile run on a horse trail that runs five miles in one direction slightly uphill and then returns along the same path. What made that workout exciting was not that our first four ran it very well, but our fifth man, Mike Deitch, ran the 10 mile workout quite comfortably under 60 minutes—his best time by far. We knew then that Mike was in great shape and ready to run well. (Mike was quite an impressive athlete. Initially, he had shown to be equally as talented a distance runner as his teammates as a freshman, but he also became a very good pole vaulter, so six months each year he exclusively vaulted, thus, he did not get the continued cardiovascular development his teammates did during the track season. As a senior, he did win the CIF-SS championship in the pole vault at 15'10".)
We went into the state meet confident that our preparation had been solid, and we ran accordingly. Ours was the very first race of the day. The first mile was in the mid 4:40s, and we were comfortable with that pace with all our scorers in the top third of the lead pack. As the race left the crowd and headed toward the turn around the large rock, we moved up well, and then we pushed very hard up the hill to the two mile—we felt that our strength would allow us to hammer that hill and still be able to maintain over the last mile.
So, we ran very hard up the hill toward the two mile mark and then did not give up anything over the last mile—it was by far our best race of the season—not only did we not lose any spots over the last mile we even picked up spots. Jaime Ortega finished 4th (15:23), Jeff Gilkey was 6th (15:29), Derrick Powers was 10th (15:31), Gerardo Puentes was 20th (15:55, and Deitch was 37th (16:05). Their team time of 78:23 broke the course record of 79:07 set by the great Mastalirs led Jesuit team of 1985. We scored just 41 points to Dana Hills second place 115 points.
Even twenty years later, only four other schools have ever run a faster team time.
It really was the perfect end to a perfect season!
I want to thank Doug Speck for allowing us all to take a run down this trail once again and remember how magical a season it was for all of us—this has been a great deal of fun. The state meet this year will hold a bit more special significance for us other than being 20 years since that victory in the first state meet. Jeff Gilkey is today the coach of Carlmont in Northern California and both his girls and boys will be right in the thick of it in this year's meet, and Derrick Powers' daughter, Melanie, is a member of the Corona Del Mar team that just won the Southern Section title last weekend in Division 3.
---
Coach Jim Polite (Walnut-SS) Coach of Division II power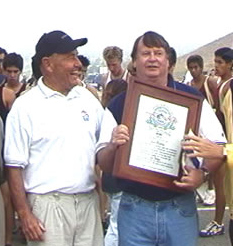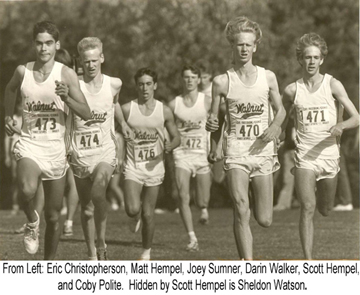 Polite (rt) honored by Don Ruh from Mt. SAC - the 1987 Walnut Team
During the summer of '87 the team and I set our goals for the season: win league, win CIF for the 2nd time, and win the first state meet in Division II. I didn't say much about these throughout the season; however, I would overhear the boys reminding themselves of their objectives, especially when things weren't going smoothly or we would lose to certain teams in the big invitationals.
In mid October approximately six weeks until State, we began to add speed into the workouts. After about three weeks of this there usually is a flat period and it hit around the MtSAC Inv. We didn't do well there – 6th place. CDM, the main opposition for the State title in Div II at least in the South, was still beating us along with other squads we had been competing with the past two years.
However , things began to improve rapidly. They had a good league finals – 5th man 16:25 and an 81:00 team time at MtSAC. All of the top 7 were showing good or at least consistent progress
At CIF Prelims we didn't need an all out effort, but they were pretty sharp anyway and well grouped – 80:50. At this point I felt pretty good about how it was going until I found out that Darin Walker, one of our top 5, had come down with the flu.
The CIF Finals were scary! Before the results were official, I had no clue how the team had done. Agoura looked strong. We squeaked by Bill Duley's squad 74 – 76. with a respectable team time of 80:45 without Darin. CDM was still faster -80:27-. but the gap was closing.
We had two weeks that first year between CIFSS and State and that helped us to heal and get everyone back to training together. We went to Fresno for the big event and the kids
Were calm and confident. I think they were expecting to win; I thought we had a good chance but certainly not a sure thing.
To prepare to race at Woodward Park, we ran in the Clovis Invitational, and finished 3d behind Palos Verdes and Upland in very close finish. It was observing that race that gave
me the way I thought we should handle that course: 1st mile fast, stay up in the front pack, don't fall back! 2d mile is to be used to move up gradually into as good a position as possible, try not to get passed (this guideline was inserted to give them something to think about and try for instead of how tired they are). If the 1st mile was run properly, there would not be so many bodies to wade through. I thought with the crowd lining the route prior to and a little after the 2 mile mark, they would get a lift. The 3d mile was to hold or improve their place and concentrate on what we were trying to accomplish. Also use that time away from the spectators to prepare for at least a 300m finish which we worked on all season long. I mentioned most of these ideas separately off and on as we trained for Fresno, but I can't say if they got all of it in their heads. However, they ran
Pretty close to that pattern in their race.
They ran after watching our rival Arroyo win their Division in convincing fashion. A number of the Arroyo group came by to give Walnut encouragement before our start which I still remember as one of my fond memories of the day. The boys won that championshp, and in doing so accomplished the final summer goal. Our team time of 79:16 was 2nd to Arroyo's, Scott Hempel was 1st ,my son,Coby was 8th ,Eric Christopherson 11th, Matt Hempel 12th and DarinWalker hung on to finish 38th. . Joey Sumner (Bill Sumner's nephew) 52d and Sheldon Watson 62d were our 6th And 7th runners. That first State Meet, Those boys and that '87 season are memories that I will always remember and appreciate.
We had two very good female athletes at Walnut that season and we were trying to get them through the system too. Junior Sandra Acosta a former CIFSS ind. Champion 2years prior and Senior Jamie Gunn. They both competed well at the Clovis meet, and we felt they both might make it to State. Sandra Made it, but Jamie got eliminated by the old rule for advancing from CIF prelims to finals as an Individual. She had to finish in the top4 in her heat. She was 5th behind Sandra and the 3 outstanding girls fron Hesperia that year Her time would have qualified in any of the other heats. Sandra did run at State and finished in fourth place. The efforts of those two girls are also part of my best Cross Country memories.
---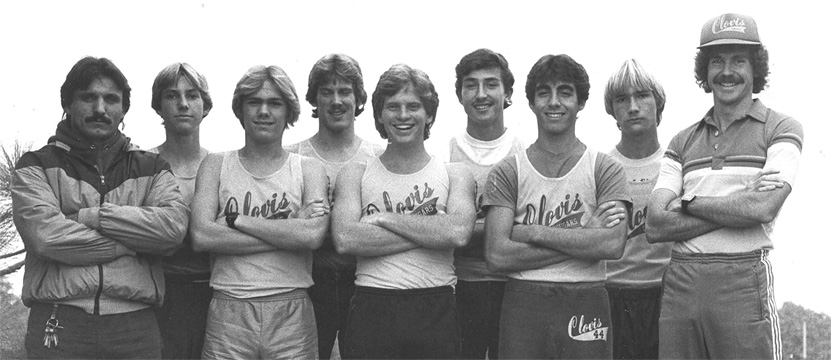 Carlo Prandini (far left) and Steve Ward (far right)
helped architect the first state meets

Coach Steve Ward (Clovis HS) Coach and Meet Organizer

The 1987 state meet was truly a dream that came true! We will never know how many people worked behind the scenes for many years to make this meet a reality. In the late seventies and early eighties, Woodward Park gained the reputation in the collegiate ranks as the premier cross country course on the West coast. Annually, the Community College championships and on a rotational basis the NCAA and NAIA regionals were conducted at Woodward. Then in 1980 the Kinney Western regionals begin its stint at Woodward. Under the capable guidance of Bill Cockerham, this meet quickly grew, drawing the top high school individual athletes to Fresno from the Western states. Woodward Park was becoming known as the west coast version of Van Cortland Park, however there was no meet that featured top caliber high school teams.
The Fresno/Clovis running community was committed to finding a way to draw the top high school teams to Woodward. We began a campaign to upgrade the Clovis Invitational from a medium sized local early season competition, to a meet featuring some of the best teams in California. Some of the early teams that ventured to Fresno during our hot September weather were Bellarmine (Terry Ward) and Jesuit (Walt Lange). Based on their experiences at Woodward, these gentlemen became great advocates for hosting the State meet at Woodward.
We remember working closely with Steve Spraker as he worked tirelessly to bring people together in support of a state meet. Along with Madera high school's athletic director and section cross country representative Bill Griffin (first meet director) and Madera's coach Dennis DeWitt Madera we took on the task of convincing the state that the Fresno/Clovis running community could host a quality state meet. We were very fortunate to have experienced veterans to assist in every aspect of meet management. Red Estes (CSUF cross country) and his team ran the finish chute, Bobby Fries (Fresno City cross country) assisted with timing, Bob Womack announced and each of our league high school schools took on various responsibilities.
Our budget in those first year's was slim and we could not outsource the scoring or results. So we relied upon my Fresno Pacific College running mates, Clovis High school administrative and clerical staff, and the Cockerham's for this task. Jim Hartig (FPC 76) wrote a Pascal program to score the results (no scanners) and four typists with frozen fingers prepared all of the results on site. Cardiologist Don Gregory (FPC 75) headed up our medical team.
When Carlo Prandini became the meet director, CIF gave us the charge of collecting entry fees. This presented a potential stumbling block for hosting the meet. Since Woodward is a "public" facility the City of Fresno was not initially supportive. It took many hours of negotiations with the City staff. Bob Womack, CPA/announcer, produced an excellent analysis of the dollars generated to the City, not only by the State meet, but all of the major cross country events hosted at Woodward. With the assistance of the Fresno
Convention and Visitors Bureau, we were able to convince the City that Woodward was actually an extension of the Convention Center and was brining millions of dollars to community each year. The signed off and allowed us to collect entry fees.
My best memory/nightmare was the year when the tags on the stringers somehow got reversed (after using this technique for literally hundreds of races we still don't know how this happened). When the tags were pasted to the result sheets, every 50 to 70 tags were out of sync throughout the results. Thanks to the cooperative efforts of several coaches, we were able to recreate the integrity of the finish. It was a great testament to the camaraderie of the cross country coaching community.
---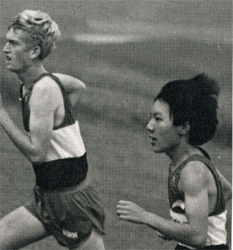 Ernie Lee - Gunn HS Athlete and Current Coach there
Things really started to come together for us in November. At our league finals, we put 5 in the top 10 and all 7 in the top 13. Our team time at Crystal Springs was 81:48. At this point, Coach Daner began showing us his "scouting report" for CCS. As opposed
to the comprehensive race results and comparisons that are available today, Coach Daner's report consisted of a single handwritten page. Since all the top teams in our division ran their league meets at Crystal Springs, it was easy to compare the teams. Although
it now looked like we were the favorites, Coach Daner was careful to remind us that races aren't run on paper.

As the CCS finals approached, our team really started to come together. The captains did a great job at keeping everyone focused and unified. I have no doubt in my mind that a large part of our success was due to the team unity created by the captains.
After an entire season of inconsistent results, we finally put it all together at CCS finals. With 5 in the top 21 and a team time of 80:05, we won comfortably. My most vivid memory of the race was starting my kick with nearly 400 meters to go after hearing our assistant coach yelling, "We're gonna win! We're gonna win!" I don't recall feeling tired at all.
With our victory at CCS finals, we finally cracked the State top 10 rankings (I believe we slipped in at 7th or 8th). Up until then we never really thought about what we could do at the State Meet; we just wanted to qualify. In addition, since we knew pretty much
nothing about the other teams, we had no idea how we really stacked up. All we knew was that some of the Southern section teams were really fast.
Given that, Coach Daner focused more on the experience of competing in the first California state meet as opposed to seeing how high we could place. In many ways, our season goals had been accomplished and everything else was a bonus. It was probably not the best attitude to take if you are trying to win the race, but we certainly weren't nervous going into the race.
Not too surprisingly, our race at the State Meet was a bit of a letdown. We didn't run nearly as well as we did at CCS and were very surprised that we managed to place third. That said, the top two teams, Walnut and Corona Del Mar, absolutely destroyed the field, so we felt no shame in losing to them. All in all, it was a great experience and something that I am grateful to have been a part of.
---


Peter Brewer - Castro Valley Coach

Re: the 1987 State Meet
The boys' team felt they were on a mission when we finished 5th in 1986 at the North Coast Section championships overall, but 2nd for D-II teams. Had there been a state meet that year, we would have gone. My veteran seniors were disappointed, and my returning underclassmen, especially team leader Matt Johanson (9:24 3200), were very serious. I took the top 5 returnees to the Footlocker at Woodward Park two weeks later to get them a time on the course, and accustomed to the hoopla of a big meet in Fresno.
Assistant coach Tim Kuta monitored the summer running, and several sophomores put in several hundred hard miles. Newcomer sophomore Jason Atwood (who finished 7th in D-II as a senior) was an immediate impact player for us. We started out the season with a scrimmage against DeLaSalle and put three in the top four of the race, so I knew then that we were on a good roll. Mid-season we finished 10th at Stanford, but were the fastest D-II team in the D-I race and Doug kindly noticed this in his rankings and placed us in the top 10 that week for state rankings. Meanwhile, we were able to place highly at the local invitationals -- Ram and Artichoke. (At that time we had not yet mustered the initiative to get to Mt. SAC Invite to test ourselves against the gathered powers of Southern California).
A major bump in the road happened when my #1, #2 and #5 runners informed me that their parents had paid for them to go on the German student exchange trip in the middle of October. So, for two weeks top runners were in Oktoberfest Germany instead of running serious mid-season miles. They told me they ran on their own, but I had my serious doubts -- specially after I saw some of the group pictures.Evidently the summer conditioning held up, because we ran well the last two league meets and easily took the HAAL championships over a fiesty Hayward squad.
Our NCS D-II finals were run on a soggy Hayward HS course, and my #3 runner went mental so Acalanes beat us out for the title but we still qualified to the inaugural State Meet as the 2nd place team. Running after Acalanes became the team goal for the race. Well, my # 3 got back on track, we beat Acalanes, and we finished 7th overall in the D-II race.
--As a side story, we also ended up beating Jesuit by a single point that year, and I gathered my team around the scoreboard (this was all before computer results) and told them to relish the moment since it
may not ever occur again.
--Another sidebar: When we arrived the day of the meet to set up, we were a bit late and all the earlier teams had set up team sites under trees and close to the starting line. Making a command decision to save time, I picked the first spot closest to the steps up to the finish area from the parking lot. This was a large rock next to a cluster of trash cans.
Since then, in the subsequent trips to the State Meet, we now zealously take this spot as our own, and "The Rock" is a staple in
Castro Valley State Meet lore. Once Jon Zimmerman had his Orange Lutheran squad close by, but we let him stay. They were faster than we were anyway. We let Dave Ponas and Oakland hang out when they qualify, since we are neighboring towns.

Link to Project Index Page

Doug Speck
DyeStatCal.com
Magazine sum of 87 Meet

State Cross Country
XC Scores 11/28/87
Woodward Park
Thanks Hank Lawson
Name Sch Time
DIVISION I
1 Bryan Dameworth AG 15:12.0
2 Goshu Tadese CRAW 15:13.0
3 David Scudamore PV 15:14.0
4 Jamie Ortega ARR 15:23.0
5 Terrence Mahon LG 15:29.0
6 Jeff Gilkey ARR 15:29.0
7 Luis Quintana ARR 15:30.0
8 Francis O'Neill SP 15:30.0
9 Bobby Rodriquez MCL 15:31.0
10 Derrick Powers ARR 15:31.0
11 Marco Ocequera RUB 15:31.0
12 Mike Transley DH 15:41.0
13 Javier Barrera DH 15:46.0
14 Ron Mario MOD 15:49.0
15 Abe Valdez CAM 15:50.0
16 Brian Rivers MOR 15:52.0
17 Andy Kashuba CRAW 15:53.0
18 Cory Davis VAC 15:53.0
19 Jose Vasquez HAN 15:54.0
20 Gerardo Puentes ARR 15:54.0
21 Peter Burks UP 15:55.0
22 David Riggins SER 15:56.0
23 Damian Capozzola PV 15:56.0
24 Bennie Cravatti PV 15:57.0
25 John Fugler DC 15:57.0
26 Ramon Lui MAD 15:58.0
27 Shawn Goetzinger CAM 15:59.0
28 Ian Champeny BELL 16:00.0
29 Mike Contos MONT 16:00.0
30 Bob Charlebois UP 16:00.0
31 Jeff Cekander SER 16:01.0
32 Torre Pena BELL 16:01.0
33 Bruce Carter SR 16:02.0
34 Clay Biddle MCL 16:03.0
35 Jeter Fisher BELL 16:03.0
36 Eric Bellamy MOR 16:04.0
37 Mike Deitch ARR 16:04.0
38 Eddie Paz POW 16:05.0
39 Jordan Carroll MV 16:05.0
40 Erik Counseller CAM 16:06.0
41 Fermin Segura DH 16:06.0
42 Steve Schiedle GH 16:06.0
43 Bill Aronson POW 16:07.0
44 Rob Scott SR 16:07.0
45 San Bert Randhawa MSJ 16:08.0
46 Andy Zolpak BELL 16:08.0
47 Mark Keyser SER 16:09.0
48 Andrew Transley DH 16:09.0
49 Kevin Holbrook VAC 16:10.0
50 Bryan Devore POW 16:13.0
51 Perry, Tim UP 16:17.0
52 Burker, Keith DC 16:18.0
53 Galindo, Dan UP 16:19.0
54 Ross, Chuk BELL 16:20.0
55 Trujillo, Jose LO 16:20.0
56 Woodland, Eric GUND 16:20.0
57 Zeller, Richard MER 16:21.0
58 Thomas, Keith CAM 16:23.0
59 Sanchez, Carlos MAD 16:23.0
60 Stuart, Steve SER 16:24.0
61 Thurmond, James VAC 16:24.0
62 Reese, Jason DC 16:25.0
63 Mastro, David DC 16:25.0
64 Cortez, Dean POW 16:25.0
65 Douville, Chris POW 16:25.0
66 Halesich, Chad CAM 16:27.0
67 Husseltine, David UP 16:28.0
68 Kurlak, Jerry DH 16:28.0
69 Santiago, Jose MAD 16:28.0
70 Ruvaltava, Quiche BELL 16:29.0
71 Coulter, Tim BELL 16:30.0
72 Dempster, Ken ANT 16:30.0
73 Saweliew, Neil DS 16:30.0
74 Hinojosa, Robert CW 16:32.0
75 Buhl, Jeff SR 16:33.0
76 Hudson, Robert ANT 16:34.0
77 Hasegawi, Mesa PV 16:35.0
78 Miller, Mike POW 16:35.0
79 Diaz, Enrique RV 16:36.0
80 Talamo, Sal LO 16:38.0
81 Kimball, Brent PV 16:39.0
82 Pohl, Buddy ANT 16:41.0
83 Metcalf, James LG 16:42.0
84 Roberts, Chris DH 16:42.0
85 Thurston, Damon CLO 16:43.0
86 Benumoff, Ben SER 16:43.0
87 Rush, Ryan SHA 16:44.0
88 Alvarez, Albert CW 16:45.0
89 Schnurer, John POW 16:45.0
90 Stevens, Brian CW 16:46.0
91 Esparza, Mike NP 16:46.0
92 Jones, Doug ARR 16:47.0
93 Aukstkams, Matt CAM 16:47.0
94 Barbour, Chris HAN 16:50.0
95 Ridel, Dean DC 16:50.0
96 Mackenzie, Scott SER 16:51.0
97 Leigh, Andy SR 16:51.0
98 Torres, Antonio MAD 16:52.0
99 Anthony, Chris SR 16:52.0
100 Gonzales, Joel CAM 16:53.0
101 Lyus, Lunda VAC 16:54.0
102 Mayer, Greg LO 16:54.0
103 Bekmanis, John CW 16:54.0
104 Arnold, Will ANT 16:58.0
105 Rosebrook, Andy VAC 16:59.0
106 Green, Doug ANT 17:01.0
107 Brookhart, Kevin UP 17:01.0
108 McCann, Kevin DH 17:02.0
109 Peredes, Albert ARR 17:02.0
110 Santiago, Gabriel RMAD 17:03.0
111 Green, Dave UP 17:03.0
112 Frazier, Randy DC 17:06.0
113 Steins, Jeremy SHA 17:07.0
114 Hodal, Victor OAK 17:09.0
115 Zirkelbach, Steve CON 17:12.0
116 Hoedich, Hark LO 17:14.0
117 Hyman, Eric SR 17:17.0
118 Skidmore, Ken LOW 17:17.0
119 Ghebriwhet, Dewit OAK 17:18.0
120 Leong, Darren MCA 17:19.0
121 Delgadillo, Ramon MAD 17:23.0
122 Schreder, Zane SHA 17:26.0
123 Geidt, Todd LO 17:27.0
124 Carter, Doug SHA 17:28.0
125 Bell, Todd SR 17:30.0
126 Pachech, Alfonso MAD 17:31.0
127 Carroll, Matt PV 17:32.0
128 Garcia, Eduardo MCA 17:35.0
129 Smith, Steve ANT 17:36.0
130 Robert, Juahdu OAK 17:38.0
131 Carter, David SHA 17:39.0
132 Trujillo, Enrique LO 17:39.0
133 Trentcosta, Joe SHA 17:39.0
134 Sadauskas, Kevin DC 17:40.0
135 Hernandez, Noe OAK 17:44.0
136 Tuttle, Justin DW 17:45.0
137 Wojdowski, Pat SER 17:46.0
138 Tobin, Andres MCA 17:47.0
139 Chan, Preston LOW 17:50.0
140 Smoot, Scott VAC 17:53.0
141 Perez, Manuel OAK 17:58.0
142 Fenandez, Brent CW 18:03.0
143 Carey, Michael SHA 18:06.0
144 Lopez, Gary ANT 18:10.0
145 Edge, Kenny LO 18:10.0
146 Feseha, Iyasu OAK 18:10.0
147 Cordova, George OAK 18:11.0
148 Lim, Luke LOW 18:12.0
149 Cho, Eugene LOW 18:13.0
150 Chan, Andy LOW 18:14.0
151 Poffenberger, Brian SER 18:17.0
152 Neeley, Neke VAC 18:21.0
153 Markos, Cris CW 18:25.0
154 Lim, Go LOW 18:26.0
155 Demian, Smiley MCA 18:32.0
156 Medina, Leon LOW 18:36.0
DIVISION II
1 Scott Hemple WAL 15:22.1
2 Ben Ayers CB 15:29.0
3 Mike Glaze ND 15:32.0
4 Jim Geerlings NH 15:33.0
5 Brett Mack CLA 15:37.0
6 Eddie Lavelle CDM 15:39.0
7 Richard Duran WAS 15:41.0
8 Coby Polite WAL 15:44.0
9 Gary Stoltz MIRA 15:48.0
10 Jim Robins CDM 15:50.0
11 Eric Christopherson WAL 15:51.0
12 Matt Hemple WAL 15:54.0
13 Mike Dixon NH 15:58.0
14 Greg Shroyock CDM 15:59.0
15 Alex Zamora CV 16:00.0
16 Kyle Bailey AZU 16:01.0
17 Joe Amand JL 16:04.0
18 Kevin Berkowitz HAY 16:05.0
19 Andy Bupp WOOD 16:07.0
20 Dino Oliveras SON 16:07.0
21 Rich Heppenstal WOOD 16:08.0
22 Joey Rodriquez SLV 16:08.0
23 Jason Anderson LASS 16:09.0
24 Steve Dohman WOOD 16:12.0
25 Stefan Wynn STF 16:15.0
26 Fili Arezmendi AZU 16:16.0
27 Juan Romero ARV 16:17.0
28 Paul Mankin SR 16:17.0
29 John Litzenberg SON 16:18.0
30 Matt Johnson CV 16:19.0
31 Dennis Bourland ELC 16:19.0
32 Mike Brown GUNN 16:21.0
33 Eli Ricca ARC 16:23.0
34 Jeff Dukes GUNN 16:23.0
35 Pat Donnelly PLA 16:24.0
36 Neil Haggard PARA 16:24.0
37 Paul Scott CDM 16:25.0
38 Darren Walker WAL 16:25.0
39 Jason Heideman ESC 16:26.0
40 Oliver Bohlan ELD 16:28.0
41 Brian Tesfazghi GUNN 16:28.0
42 Mark Vaden JES 16:31.0
43 Hunter Pierce CDM 16:33.0
44 Erik Axtell STF 16:33.0
45 Brent Jones BO 16:34.0
46 Warren Woodbury PRO 16:36.0
47 Richard Nunez GW 16:37.0
48 Geoff Goodson WOOD 16:42.0
49 Tim Judson ELC 16:45.0
50 Steve Gaul JES 16:46.0
51 Denzeler, Paul CV 16:46.0
52 Summer, Joey WAL 16:46.0
53 Egland, Eric ACA 16:47.0
54 Maldonado, Adrian ELC 16:49.0
55 Mahoney, Mike ACA 16:50.0
56 Lincoln, Brian JES 16:51.0
57 Sarwecky, Bill ELC 16:51.0
58 Hartman, Joaquin GUNN 16:52.0
59 Downhman, Jeff RAM 16:53.0
60 Sanders, Todd CV 16:53.0
61 Kumm, Derek NH 16:54.0
62 Watson, Sheldon WAL 16:55.0
63 Atwood, Jason CV 16:56.0
64 Vera, Hernan STF 16:56.0
65 Sanders, Jeff ELC 16:57.0
66 Carmichael, John CDM 16:57.0
67 Lee, Ernie GUNN 16:58.0
68 Rodriquez, Saul GW 16:58.0
69 Anderson, Dave GUNN 16:59.0
70 Herbert, Vince LASS 17:00.0
71 Phillips, Ian ACA 17:01.0
72 Rodriquez, Danny ARV 17:01.0
73 Whitehead, Jeff ACA 17:01.0
74 Whitney, Shawn ELD 17:02.0
75 Falcon, Leandro SANG 17:02.0
76 Clark, Willie STF 17:03.0
77 Johnson, James JES 17:03.0
78 Voorhets, Tracyy MANT 17:04.0
79 Cordaway, Alex MANT 17:05.0
80 Sanchez, Mark ARV 17:06.0
81 Burke, Scott WOOD 17:06.0
82 Sagaser, Matt MANT 17:08.0
83 Gaudette, Leo AZU 17:09.0
84 Adreani, Mike JES 17:10.0
85 Fogg, Keith MANT 17:12.0
86 Garica, Johnny AZU 17:14.0
87 Massey, Phil GUNN 17:15.0
88 Bilvada, Robert GW 17:16.0
89 Schaffer, Aaron NEW 17:17.0
90 Cabral, Gerald ESC 17:17.0
91 Naranjo, Isaac SANG 17:17.0
92 Davenport, John RAM 17:18.0
93 Schwegel, David JES 17:18.0
94 Gomez, Richard STA 17:19.0
95 Hall, Craig STA 17:19.0
96 Stone, Ted STF 17:19.0
97 Pastre, Jason LASS 17:20.0
98 Hernandez, Eddie GW 17:20.0
99 Shetarian, John ACA 17:21.0
100 Beike, Chris WOOD 17:21.0
101 Sawyer, Tyson NH 17:22.0
102 Hauge, Lance WOOD 17:23.0
103 Gravino, Tim CV 17:24.0
104 Naranjo, Pete SANG 17:25.0
105 Stanley, Glenn AZU 17:26.0
106 Monteverde, FranciscRAN 17:26.0
107 Seewer, Nick STF 17:29.0
108 Pace, Paul ELC 17:34.0
109 Jenny, Chris STF 17:#5.0
110 Navarro, Jose RAN 17:37.0
111 Butcher, Larry CV 17:39.0
112 Coomes, Marty PARA 17:40.0
113 Amaya, John ACA 17:41.0
114 Hafer, Andy PARA 17:41.0
115 Nightengale, Chris AZU 17:43.0
116 Worden, Ted LP 17:45.0
117 Zuk, Richard MANT 17:46.0
118 Wallace, Mark CV 17:47.0
119 Close, Dennis MANT 17:48.0
120 Fierro, David AZU 17:50.0
121 Pobland, Rene GW 17:52.0
122 Viveros, Able RAN 17:54.0
123 Rosas, Robert RB 17:54.0
124 Kerby, Jason LASSS 17:56.0
125 Crane, Keith WOOD 17:57.0
126 Whiteman, Steve ACA 18:00.0
127 Lawrence, Chris RAN 18:01.0
128 Zepeda, George SANG 18:03.0
129 Gage, Jason PV 18:04.0
130 Waring, Daryl PARA 18:05.0
131 Velasquez, Juan SANG 18:08.0
132 Borwn, Robert PARA 18:10.0
133 Johnson, Mark CDM 18:11.0
134 Cardenas, Robert SANG 18:15.0
135 Skaden, Erik JES 18:15.0
136 Hernandez, Mike RAN 18:16.0
137 Carling, Aaron RAN 18:20.0
138 Pastre, Jeremy LASS 18:24.0
139 Bond, Austin NH 18:27.0
140 Cavazos, Ben CV 18:28.0
141 Rodriguez, Marco GW 18:28.0
142 Kalt, David ELC 18:32.0
143 Ritz, Chris LASS 18:43.0
144 Elze, Claaus NH 18:43.0
145 Quintania, Mike SANG 18:44.0
146 Aguilar, David MANT 18:51.0
147 Fudala, Brett PARA 18:56.0
148 Sanders, Gary LASS 18:57.0
149 Schott, Duane RAN 19:15.0
TEAM RESULTS
1 Walnut 40 1.20:26.0
2 Corona Del Mar 63 1.29:15.0
3 Gunn 144 1.23:02.0
4 El Camino 161 1.23:41.0
5 Woodbridge 181 1.24:06.0
6 Newport 188
7 Castro Valley 203
8 Jesuit 204
9 St. Francis 204
10 Azuza 223
11 Acalances 240
12 Goldenwest 299
13 Manteca 317
14 Lassen 329
15 Paradise 386
16 Sanger 390
17 Rancho 452
18 Buena Vista 452
DIVISION III
1 Williams, Reggie RC 15:29.0
2 Cole, Scott YOS 15:44.0
3 Ochs, Brian MC 15:57.0
4 Ortiz, Hector ORE 16:00.0
5 Baca, Bob BR 16:06.0
6 Deleon, Ricky MOOR 16:07.0
7 Valles, Thomas MCF 16:13.0
8 Wester, Dave MARA 16:26.0
9 Heiber, John SERR 16:29.0
10 Coady, Ryan VC 16:30.0
11 Kinney, Eric PINE 16:35.0
12 Samaniego, Johnny MCF 16:38.0
13 Gerken, Jeff BR 16:38.0
14 Perez, Jesus YORK 16:41.0
15 Boudreau, Andrew VC 16:42.0
16 Puntes, Victor MCF 16:44.0
17 Chavez, Tony SERR 16:45.0
18 Rose, Scott QUI 16:48.0
19 Delany, Kevin LS 16:49.0
20 DeLeon, Alfredo MOOR 16:50.0
21 Shutteroff, Dan YRE 16:51.0
22 Diaz, Damacip MCF 16:52.0
23 Burns, Jim RLS 16:53.0
24 Ravenscroft, Jason YRE 16:54.0
25 Moss, Allen CALA 16:58.0
26 Smith, Wess LAB 16:59.0
27 Knott, Daniel BISH 17:00.0
28 Prado, Gus FOW 17:01.0
29 Tevelde, George CC 17:03.0
30 Martin, Sam BISH 17:05.0
31 Ames, Ron YRE 17:05.0
32 Sanchez, Miguel SAL 17:06.0
33 Parrish, Chris RLS 17:06.0
34 Tell, Daniel FB 17:08.0
35 Rounds, Scott WHEAT 17:09.0
36 Hernandez, Juan SAL 17:09.0
37 McClure, Alex HR 17:13.0
38 Schulze, Mark RLS 17:14.0
39 Fragoso, Jose VC 17:15.0
40 Terlinden, Etienne ARMY 17:17.0
41 Matson, Tim MCK 17:18.0
42 Tucker, Rob BR 17:19.0
43 Lucas, Dave COL 17:20.0
44 Walker, Brad BISH 17:21.0
45 Ossoftsky, Bill BIC 17:22.0
46 Flores, Isaac SALE 17:24.0
47 Serna, Martin FIRE 17:24.0
48 Ross, Dave MARA 17:24.0
49 Thompson, Pat BISH 17:25.0
50 Smith, Orin SERR 17:25.0
51 Nettleton, Trent MARA 17:25.0
52 Mcgowein, Jason MEN 17:26.0
53 Kaplan, John YORK 17:27.0
54 McMillan, Pat CEN 17:28.0
55 Lafond, Steve BISH 17:30.0
56 Cruz, David ARMY 17:31.0
57 Schilling, Robert VC 17:31.0
58 Perez, Carlos YORK 17:31.0
59 Metzger, Matt UNI 17:33.0
60 Pocock, Mark RLS 17:34.0
61 Dauphine, Marc RLS 17:34.0
62 Grandos, Raul SAL 17:35.0
63 Penaloza, Juan SAL 17:36.0
64 Rogstad, Steve MARA 17:37.0
65 Ortega, Jose SAL 17:38.0
66 Curtis, Scott SIE 17:38.0
67 Lopez, Repugio SAL 17:39.0
68 Attaway, Evan YRE 17:39.0
69 Barbre, Ben BR 17:42.0
70 Thai, Minh UNI 17:42.0
71 Asuencion, Bob YORK 17:43.0
72 Frazier, Ben COR 17:43.0
73 Mazzotta, Jude ARMY 17:45.0
74 Dyck, Mitchell YORK 17:46.0
75 Hardin, Tim MARA 17:47.0
76 Davis, Perry ARMY 17:48.0
77 Chamberlain, WinstonMARA 17:49.0
78 McNees, Tim YRE 17:50.0
79 Ramirez, Pedro FIRE 17:50.0
80 Gonzalez, Marco UNI 17:51.0
81 Dinapoli, Rob CAR 17:51.0
82 Schimmelfennig, ChriARMY 17:52.0
83 Gomez-noby, Juan HR 17:52.0
84 Segas, Greg UNI 17:53.0
85 Pinney, Drew CAR 17:53.0
86 Angoli, Vasco UNI 17:54.0
87 Wade, Paul YOSE 17:58.0
88 Dix, John MARA 17:59.0
89 Rillo, Rene FIRE 18:00.0
90 Healy, John BISH 18:03.0
91 Diaz, Danny MCF 18:04.0
92 Caldwell, Sander RLS 18:04.0
93 Austen, Shane ARMY 18:05.0
94 Bryant, Troy VC 18:06.0
95 Miller, Tim QUI 18:07.0
96 Cole, Spencer DUR 18:09.0
97 Shadoan, Dan UNI 18:10.0
98 Buck, Marcus YRE 18:14.0
99 Demasters, John CALA 18:14.0
100 Verduzco, Bernie VC 18:15.0
101 Boyd, Andy BISH 18:16.0
102 Cotter, Gene SF 18:17.0
103 Peterson, Ron FTB 18:19.0
104 Lienmann, Sean WHEAT 18:20.0
105 Kingley, David CAR 18:21.0
106 Spitzer, Keith SERR 18:26.0
107 Zambrand, Lee FIRE 18:27.0
108 Spalliero, Bob BR 18:28.0
109 Owen, Matt HR 18:29.0
110 Pardida, Luis MCF 18:31.0
111 Forster, David QUI 18:33.0
112 Eneix, Skeeter WHEAT 18:33.0
113 Garsh, Ron ARMY 18:34.0
114 Sullivan, Matt BISH 18:35.0
115 Breimhurst, Mark YORK 18:36.0
116 Schader, Ryan RLS 18:37.0
117 Man Jarrez, Hector FIRE 18:38.0
118 Behrand, Justin VC 18:39.0
119 Marhold, Tom ISH 18:39.0
120 Ridiello, Robert VC 18:40.0
121 Hunt, Dan BUNI 18:40.0
122 Kinego, Joe WHEAT 18:41.0
123 Anderson, Jason SERR 18:41.0
124 Brodwer, Doug CC 18:42.0
125 Avila, Miguel FIRE 18:44.0
126 Miller, Rod HR 18:48.0
127 Knox, Lars BISH 18:50.0
128 Broderick, Ed SERR 18:53.0
129 Singleton, Jason YRE 18:54.0
130 Garin, Paul SJ 18:54.0
131 Scholin, Baline BR 18:58.0
132 Arnold, Aaron BISH 19:01.0
133 Leaman, Richard CALA 19:01.0
134 Worley, Don SERR 19:03.0
135 Wheeler, Todd WHEAT 19:10.0
136 Chapin, Bill RIVER 19:15.0
137 Detton, Steve CL 19:19.0
138 Preuss, Adam CALA 19:22.0
139 Blanset, Todd BISH 19:29.0
140 Wells, Craig CALA 19:34.0
141 Piskitel, Hiram HR 19:39.0
142 Edwards, Jason WHAT 19:40.0
143 Togba, Joe HR 19:55.0
144 Gilbert, Evan HR 20:02.0
145 Marshall, Charlie BISH 20:04.0
146 Scholin, Derek BR 20:29.0
147 Danner, Dan CALA 20:33.0
148 Cardenas, Jose MCF 20:41.0
149 Alaniz, Sal FIRE 20:42.0
150 Garza, Robert WHEAT 20:55.0
Girls
State Cross Country
XC Scores 11/28/87
Woodward Park
Name Sch Time
DIVISION I
1 Deena Drossin AGO 17:35.0
2 Rayna Cervantes MONT 17:43.0
3 Jennifer Ashe LEL 17:45.0
4 Nicole Robbins HES 17:50.0
5 Robbyn Bryant HES 17:51.0
6 Ashley Black PV 17:51.0
7 Becky Spies LIV 18:10.0
8 Jena Haggen Miller TO 18:11.0
9 Brigid Freyne RP 18:!5.0
10 Nicole Houle HES 18:20.0
11 Alison Maxwell UC 18:23.0
12 Maricela Benavides SAV 18:27.0
13 Teresa Sandoval MONT 18:28.0
14 Phuong Sites FRE 18:30.0
15 Tiffany York AGO 18:34.0
16 Jamie Park SB 18:40.0
17 Beth Bartholomew FRE 18:41.0
18 Tracy Leichter PV 18:44.0
19 Jesica Craven CAM 18:49.0
20 Ann Kuphaldt BV 18:53.0
21 Jamie Butler SD 19:00.0
22 Kristina Hand FALL 19:02.0
23 Evie Barry ST 19:04.0
24 Andrea Trujillo MAD 19:12.0
25 Denise Condit ARR 19:14.0
26 Dawn Gigstad POW 19:14.0
27 Noelle Crockett LEL 19:15.0
28 Laurie Andeen MAD 19:15.0
29 Kristin Porter LJ 19:16.0
30 Heidi Dilibero PV 19:17.0
31 Leslie Fill PV 19:17.0
32 Michele Rodda VAC 19:17.0
33 Melissa Pardini NG 19:19.0
34 Amy Viall CR 19:20.0
35 Reina Felix OG 19:20.0
36 Jennifer Sells ANT 19:26.0
37 Tally Rowland AGO 19:27.0
38 Traci Goodrich PV 19:28.0
39 Sherish Harris SER 19:30.0
40 Andrea Black PV 19:31.0
41 Christine Bowen AGO 19:33.0
42 Julie Caufield EB 19:34.0
43 Genevieve Farnady LG 19:37.0
44 Jennie Berry HEL 19:38.0
45 Sara Smith DC 19:39.0
46 Mary Lopez MAD 19:40.0
47 Lisa Lopez BAL 19:44.0
48 Isabelle Lumpkin JL 19:44.0
49 Teresa Davis POW 19:45.0
50 Lisa Scott ELC 19:46.0
51 Roldan, Kathy MTW 19:47.0
52 Zontelli, Cheynne AGO 19:49.0
53 Missi, Hirlow CAL 19:49.0
54 Sublett, Dana PV 19:50.0
55 Constantinides, RobiCV 19:52.0
56 Kristan, Stacey AGO 19:58.0
57 Diemoz, Lisa NAPA 20:01.0
58 Brooek, Prichardo VAC 20:02.0
59 Patty, Villarreal LJ 20:04.0
60 Barrientos, Mary AnnMAD 20:05.0
61 Flynn, Amy LG 20:06.0
62 Connaughton, Sharon VAC 20:07.0
63 Gonzales, Lori MONT 20:07.0
64 Bell, Nancy LOW 20:08.0
65 Gallordo, Linda MONT 20:10.0
66 Barcelona, Barbara AGO 20:11.0
67 Gardella, Marisa ELC 20:12.0
68 Bell, Margaret HES 20:13.0
69 Baily, Wanda FAR 20:16.0
70 Mienhardt, Andrea LG 20:18.0
71 Gelwix, Carrie CAL 20:!9.0
72 Alley, Shannon AGO 20:20.0
73 Damasco, Josie MAD 20:21.0
74 Barnheart, Tara CAL 20:22.0
75 Freeburg, Melissa CAL 20:25.0
76 Homer, Lauie LEAL 20:25.0
77 Szeto, Rita MONT 20:27.0
78 Calabrese, Chantell CW 20:28.0
79 Horn, Katie AGO 20:30.0
80 Morrow, Jeni HER 20:30.0
81 Ellison, Suzie CAL 20:32.0
82 Kalmiros, Misty LG 20:34.0
83 Danbly, Jennifer VAC 20:34.0
84 Woodworth, Wynette FOOT 20:35.0
85 Delgado, Diane DEL 20:37.0
86 Sheehy, Magan SHA 20:38.0
87 Kettyhly, Inga CAL 20:39.0
88 Millard, Michelle SHA 20:40.0
89 Sanchez, Irma MONT 20:42.0
90 Brown, Samantha CAL 20:43.0
91 Silachi, Joy VAC 20:45.0
92 Kuronen, Raquel LOW 20:47.0
93 Walters, Jennifer HES 20:49.0
94 Ballentine, Nikki CR 20:50.0
95 Gonzales, Iris LJ 20:51.0
96 Santa, Loreno LJ 20:52.0
97 Anderson, Tegan LEL 20:53.0
98 Bellamy, Erin MOR 20:55.0
99 Keithly, Ericka CAL 20:59.0
100 Rozumowicz, Becky CR 21:00.0
101 Hecker, Tina CR 21:01.0
102 Joslin, Jennifer LG 21:05.0
103 Asuncion, Grace AGO 21:06.0
104 Wyatt, Heather HAN 21:08.0
105 Woodworth, Pam FOOT 21:09.0
106 Juanez, Lori CAL 21:10.0
107 Toomey, Jennifer AGO 21:11.0
108 Ramey, Hope AGO 21:12.0
109 Boyd, Christine TUR 21:16.0
110 Martinez, Mary Ann FOOT 21:17.0
111 Carbone, Lisa FOOT 21:18.0
112 Leclair, Christy VAC 21:19.0
113 Burns, Shalene VAC 21:20.0
114 Hilbrich, Sara LEL 21:23.0
115 Hansoen, Michelle CAL 21:24.0
116 Dropf, Erin MAD 21:28.0
117 Alejo, Elizabeth FOOT 21:33.0
118 Parker, Darcy LG 21:33.0
119 Ryan, Megan LJ 21:36.0
120 Niderer, Sheri SHA 21:38.0
121 Evanhoe, Lisa SHA 21:40.0
122 Mulhern, kandi MAD 21:42.0
123 Roulo, Lyn LG 21:46.0
124 Beardsley, Emily LJ 21:47.0
125 Hodges, Shawna MCA 21:56.0
126 Mokamura, Lori ELC 21:59.0
127 Adams, Kerry LEL 22:00.0
128 Tatman, Carriann FOOT 22:01.0
129 Bagby, Jennifer FOOT 22:04.0
130 Shuman, Rebecca LOW 22:10.0
131 Roberts, Laura CR 22:11.0
132 Bole, Brittany CAL 22:12.0
133 Buehruing, Jessica ELC 22:14.0
134 Wiseman, Erin ELC 22:21.0
135 McComb, Christine AGO 22:27.0
136 Asefaha, Tsega AOK 22:32.0
137 Chin, Maisie LEL 22:33.0
138 Tai, Mae LOW 22:35.0
139 Medina, Yvonne MONT 22:36.0
140 Cheney, Valerie SHA 22:51.0
141 Waters, Kiree TECH 23:00.0
142 Coombs, Jenny CAL 23:02.0
143 Calizo, Mariel LOW 23:12.0
144 Carey, Jennifer SHA 23:28.0
145 Cooper, Ann ELC 23:45.0
146 Libet, Leah ELC 23:47.0
147 Bartolome, Lisa MAD 24:04.0
148 Reed, Devona OAK 24:06.0
149 Leung, Carolyn LOW 24:15.0
150 Otwell, Katie HES 24:26.0
151 Chamberlain, Warna SKY 24:36.0
152 Whalen, Amy SHA 24:43.0
153 Quohg, Andrea SKY 25:10.0
154 Chann, Joanna SKY 25:28.0
155 Pete, Laura SKY 25:44.0
156 Peterman, Wendy CR 26:05.0
157 Wong, Shelly SKY
TEAM RESULTS
1 Palos Verdes 70
2 Agoura 81
3 hesperia 112
4 Montebello 139
5 Arroyo Grande 174
6 Poway 192
7 Madera 203
8 Vacaville 207
9 La Jolla 210
10 Leland 219
11 Los Gatos 232
12 California 293
13 Casa Roble 327
14 El cerrito 367
15 Foothill 377
16 Shasta 404
17 Lowell 415
18 Skyline 595
DIVISION II
1 Jorgensen, Kira RBV 17:34.0
2 Hecox, Karen SH 17:48.0
3 Gorbet, Tina LASS 18:01.0
4 Acosta, Sandra WAL 18:14.0
5 Bache, Kristi USD 18:44.0
6 Mahaffey, Cindy CARL 18:46.0
7 Karcher, Karen RAM 18:47.0
8 Castruita, Suzanne WC 19:02.0
9 Pando, Stacy NH 19:06.0
10 Kassis, Kolleen STF 19:08.0
11 Jones, Suzanne CARL 19:09.0
12 Robles, Amy WOOD 19:13.0
13 Robinson, Kim NH 19:13.0
14 Sittman, Barbie PLA 19:17.0
15 Riley, Sarah CAMP 19:19.0
16 Clark, Courtney LL 19:21.0
17 Reed, Amy ELCM 19:22.0
18 Moronez, Roberta AZU 19:24.0
19 Meade, Julie CARL 19:24.0
20 Bjonsen, Dana CAMP 19:30.0
21 Roberts, Thea ARCH 19:36.0
22 Bowie, Janet WOOD 19:37.0
23 Petty, Becky GW 19:38.0
24 Stivaletti, Kerry ARCH 19:39.0
25 Olvera, Christy WV 19:41.0
26 Peck, Laura WOOD 19:46.0
27 Story, Jennifer RAM 19:50.0
28 Loos, Shawn SON 19:51.0
29 Crunelle, Desiree RED 19:52.0
30 Allen, Carolina SR 19:52.0
31 Steinhauser, Maggie NH 19:54.0
32 Dobel, Tami NORD 19:54.0
33 Belt, Eva ELD 19:57.0
34 Barron, Gloria WG 19:58.0
35 Keffer, Kaci WOOD 20:01.0
36 Alvarenga, Andreen ARCH 20:02.0
37 Kosek, Maggie GUNN 20:04.0
38 George, Meg MB 20:05.0
39 Steiner, Karen SH 20:06.0
40 Dahbour, Lena NH 20:07.0
41 Hosek, Viki NDSO 20:08.0
42 Eller, Heather RAM 20:08.0
43 Wilson, Michelle NORD 20:10.0
44 Dwyer, Kelly ALE 20:10.0
45 Glimski, Kimmie MB 20:11.0
46 Burke, Sheila MC 20:12.0
47 Wall, Denise LASS 20:13.0
48 Chao, Liz SH 20:16.0
49 Genau, Mia MM 20:23.0
50 Beaty, Julie MM 20:25.0
51 Peck, Cathi WOOD 20:26.0
52 Loos, Kelly SON 20:26.0
53 Ribble, Karen WG 20:27.0
54 biber, Shelly RV 20:27.0
55 Webb, Heather NEW 20:28.0
56 Dempsey, Jennie ANA 20:29.0
57 Kane, Shannon WOOD 20:32.0
58 Ploeg, Jessica ARCH 20:33.0
59 Horn, Debbie WOOD 20:33.0
60 Robinson, Tammie NORD 20:34.0
61 Wright, Shawn ARCH 20:35.0
62 Vanderpool, RochelleELD 20:37.0
63 Nemanic, Kim DO 20:38.0
64 Atkinson, Alice NORD 20:39.0
65 Carlson, Cynthia CHI 20:40.0
66 John, Vannesa WG 20:42.0
67 Jacobson, Susie NEW 20:42.0
68 Howard, Liz MM 20:44.0
69 Untalan, June RL 20:46.0
70 Franz, Emile CAMP 20:46.0
71 Nerii, Lupita SAN 20:47.0
72 Lugo, Velm SAN 20:48.0
73 kim, Susie MM 20:53.0
74 Money, Michelle SH 21:07.0
75 Macdonald, Nicole NORD 21:08.0
76 Mendoza, Berdenette ARCH 21:13.0
77 Procunier, Carol MM 21:14.0
78 Mabon, Amy PORT 21:15.0
79 Frank, Linda CV 21:16.0
80 Ledwith, Amy RAM 21:18.0
81 Ewing, Dana MB 21:19.0
82 Frank, Shandell WG 21:19.0
83 Sullivan, Kristin ELD 21:20.0
84 Nardello, Caryn SON 21:22.0
85 Murphy, Elizabeth WG 21:23.0
86 Robboy, Rebecca NEW 21:25.0
87 Godley, Laurel WV 21:27.0
88 Sundberg, Tammy LASS 21:28.0
89 Marshall, Myra ELCM 21:29.0
90 Rodenhi, Cheryl MB 21:31.0
91 Robertson, Alison SH 21:33.0
92 Mcgregor, Shannon CAMP 21:33.0
93 Mccullouch, Licia WG 21:33.0
94 Vallesteros, Zoe ARCH 21:36.0
95 Ramsey, Angela CHI 21:36.0
96 Marquez, Christina WOOD 21:37.0
97 Hill, Ellen ELD 21:38.0
98 Hawks, Tina LASS 21:38.0
99 Whitten, Kristy MB 21:41.0
100 Genoud, Vonya RB 21:45.0
101 Gronow, Allison RB 21:48.0
102 Rogers, Shannon SH 21:49.0
103 Potter, Erin SON 21:52.0
104 Bennett, Brady HIGH 21:53.0
105 Procunier, Ellen MM 21:54.0
106 Armstrong, Tina LASS 22:17.0
107 Hatch, Rita NORD 22:24.0
108 Reynolds, Brenda MB 22:25.0
109 Decristoferi, Dayna SON 22:25.0
110 Cross, Lea NORD 22:26.0
111 Wilcox, Melissa MM 22:28.0
112 Spencer, Jennifer RB 22:31.0
113 De Bose, Julie CHI 22:32.0
114 Tufts, Tanya RAN 22:33.0
115 Fitzgerald, Carolyn CL 22:37.0
116 Del Rio, Tricia HIGH 22:38.0
117 Ryder, Jennifer EDI 22:43.0
118 Leslie, Becky SH 22:44.0
119 Varrientos, Theresa GW 22:45.0
120 Moran, Stephanie CHI 22:56.0
121 Lirence, Sandy CL 23:14.0
122 Viscarra, Valerie GW 23:29.0
123 Hastings, Julienne SON 23:36.0
124 Roche, Meg CL 23:39.0
125 Gutierrez, Alli WG 23:39.0
126 Dunn, Alicia ELD 23:40.0
127 Rana, Rochelle CHI 23:48.0
128 Smith, Sherry RB 23:48.0
129 Jordan, Shana MB 23:50.0
130 Rodrigo, Cynthia RAM 23:54.0
131 Ulmer, Dionne RAM 23:57.0
132 Taylor, Nancy LASS 24:02.0
133 Lodholm, Heather RB 24:02.0
134 Pannell, Kyla GW 24:17.0
135 Lykosh, Jennifer ELD 24:17.0
136 Murietta, Susan SAN 24:23.0
137 Ferrick, Crista RAM 24:28.0
138 Garcia, Frances SAN 24:29.0
139 Frausto, Nancy SAN 24:40.0
140 Greigo, Sandra RAM 24:43.0
141 Rodriguez, Desiree SAN 24:53.0
142 Beard, Barbie ELD 25:35.0
143 Fierro, Roseanna GW 27:48.0
TEAM RESULTS
1 Newart Harbor 87
2 Woodbridge 106
3 Archbishop Mitty 120
4 South Hills 168
5 Nordhoff 175
6 Miramoute 209
7 Willow Glen 213
8 Campolindo 215
9 Morro Bay 239
10 Lassen 240
11 Sonora 261
12 Ramona 272
13 Rancho Buena Vista 276
14 El Dorado 282
15 Chico 380
16 Golden West 405
17 Sanger 417
DIVISION III
1 McCandless, Katy CAST 17:51.0
2 Thayer, Tanya SERR 18:17.0
3 Dugger, Shamen COR 18:29.0
4 Hillinger, Zita SERR 19:03.0
5 Martino, Evelyn STJ 19:0-4.0
6 Talamantes, Karen WC 19:18.0
7 McConnell, Amy UNI 19:27.0
8 Lewis, Rachael SC 19:29.0
9 Waters, Bradi BISH 19:30.0
10 Smith, Nell UNI 19:33.0
11 Reza, Viviana COR 19:39.0
12 Hanlon, Shannon YRE 19:42.0
13 Cordero, Miriam MARA 19:47.0
14 Dauphine, Nicole RLS 19:58.0
15 Dooley, Tanya BH 20:02.0
16 Harvey, Jean PARA 20:05.0
17 Earle, Tracey MARA 20:06.0
18 Lieder, Shannon SIER 20:11.0
19 Segus, Lynn UNI 20:12.0
20 Lewis, Debbie MARA 20:13.0
21 Rivera, Frankie MARA 20:15.0
22 Brown, Michelle BH 20:15.0
23 Neumeier, Jennifer SJ 20:20.0
24 Eagle, Jennifer BR 20:20.0
25 Fitzpatrick, Susie LOR 20:27.0
26 Perkins, Chrystee PARA 20:31.0
27 McKenzie, Gabrielle DIS 20:34.0
28 Beaver, April MOOR 20:35.0
29 Goldhart, Tiffany VC 20:40.0
30 Johnson, Sarah COR 20:44.0
31 Ambrozak, Steffi STJ 20:48.0
32 Zediker, Darbi YRE 20:48.0
33 Poole, Carrie SJM 20:49.0
34 Randolph, Jenny DUR 20:51.0
35 Frates, Melanie YRE 20:52.0
36 Beaver, Pam MOOR 20:52.0
37 Prescott, Carolee MARA 20:52.0
38 Lewis, Sarah SC 20:54.0
39 Hites, Maya HR 20:54.0
40 Rivera, Michelle MARA 20:56.0
41 Janus, Julie BR 20:57.0
42 Woo, Michele UNI 20:57.0
43 Herrera, Alicia MCF 20:57.0
44 Wykoff, Hollie MCF 20:58.0
45 Quincy, Jennifer BH 20:58.0
46 Felix, Shannon STJ 21:02.0
47 Canedo, Gia MARA 21:03.0
48 Nunez, Lillian STJ 21:10.0
49 Bonner, Dawn STJ 21:11.0
50 Jeromin, Britta MARA 21:17.0
51 Clark, Kristin HR 21:19.0
52 Ruiz, Theresa PARA 21:19.0
53 Fong, Joyce SJ 21:20.0
54 Hodges, Susan LUTH 21:20.0
55 Jaschke, Becci YRE 21:21.0
56 Davis, Neriah BH 21:21.0
57 Herrera, Delfina MCF 21:24.0
58 Sech, Monika UNI 21:25.0
59 Reza, Pilar COR 21:26.0
60 Ruly, Margaret PARA 21:28.0
61 Philips, Sarah WEBB 21:32.0
62 Berens, Angelique GAR 21:33.0
63 Weisel, Heather BRAN 21:34.0
64 Peters, Christine VC 21:35.0
65 Gushaw, Paige COR 21:36.0
66 Dejager, Michelle CC 21:37.0
67 Ostdiek, Julie SJ 21:37.0
68 Mullen, Tara SFC 21:38.0
69 Galich, Kristine WEBB 21:38.0
70 Murphy, Jennifer LOR 21:41.0
71 Leary, Caorl BRAN 21:42.0
72 Perrez, G. MCF 21:43.0
73 Guoan, Trina PARA 21:47.0
74 Tolan, Aimee ND 21:49.0
75 Berry, Dorice PARA 21:50.0
76 Hester, Nathalie MEN 22:01.0
77 Henery, Chrstine FB 22:02.0
78 Chotlife, Lia MOOR 22:04.0
79 Rosander, Michelle SJ 22:04.0
80 McMillian, Molly FB 22:06.0
81 Keagle, Leslie WEBB 22:07.0
82 Parlagua, Egmi MCF 22:14.0
83 Harvey, Keren PARA 22:16.0
84 Myrick, Heather WHEAT 22:24.0
85 Lohse, Kitty MEN 22:40.0
86 Bever, Karyn MOOR 22:42.0
87 Moralles, Ara MCF 22:46.0
88 Gardner, Liter BISH 22:52.0
89 Courtright, Candi BH 22:54.0
90 Ryan, Julie STJ 22:54.0
91 Breckenridge, Bonny SERR 22:55.0
92 Carlton, Cedar HR 22:56.0
93 Kirwan, Lorna FB 22:56.0
94 Louis, Jennifer WEBB 22:57.0
95 Siemsen, Shannon DUR 22:59.0
96 Duncan, Eileen SC 22:59.0
97 Isqulos, Bith BISH 23:00.0
98 Tepdino, Kerry LOR 23:02.0
99 Jenning, Erika UNI 23:02.0
100 Kerzie, Michelle PARA 23:03.0
101 Aquin, Allison COR 23:03.0
102 Kelley, Erin MOOR 23:10.0
103 Murphy, Marya YRE 23:14.0
104 Usher, Jennifer WEBB 23:20.0
105 Walmy, Samantha SC 23:21.0
106 Kiehn, Cindy LOR 23:22.0
107 Diaz, Miranda WEBB 23:26.0
108 Maynard, Camilla BH 23:32.0
109 Garrick, Mandie CORO 23:39.0
110 Higgins, Quinn STJ 23:40.0
111 Laddish, Katie HR 23:52.0
112 Dougherty, Theresa LOR 24:03.0
113 Bernini, Laura UNI 24:06.0
114 Ware, Charlotte LOR 24:12.0
115 Burnes, Anna BH 24:12.0
116 Ramirez, Martha MCF 24:13.0
117 Fiorenino, Julie BISH 24:25.0
118 Amador, Kendra SJ 24:31.0
119 Valdez, Vivian SJ 24:34.0
120 Usher, Katie WEBB 24:35.0
121 Sharp, Laura YRE 24:55.0
122 Jaschke, Rachel YRE 25:00.0
123 Leong, Kirsten BISH 25:04.0
124 Schmidt, Kory LOR 25:05.0
125 Johnson, Gabby WHEAT 25:11.0
126 Giddersleeve, Anne HR 25:!2.0
127 Gause, Kathy MOOR 25:20.0
128 Glass, Christina WHEAT 25:30.0
129 Landry, Jennifer WHEAT 25:42.0
130 Solinsky, Sonya BISH 25:46.0
131 Snavely, Karen WHEAT 25:52.0
132 Snavely, Barbara WHEAT 25:53.0
133 Castanavela, JennifeWHEAT 25:56.0
134 King, Haley SC 25:59.0
135 Andeway, Vicki MOOR 26:21.0
136 Mix, Mary BISH 26:36.0
137 Gebhardt, Kyra MEN 26:52.0
138 Pesotchinsky, Vera MEN 28:26.0
139 Marshall, Catie BISH 29:21.0
140 Mohr, Hope MEN 34:21.0
Pdf of 1987 State Meet Results
Thanks Hank Lawson