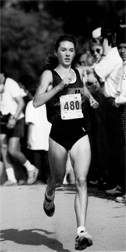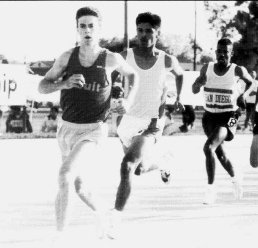 (left) Julia Stamps started one of California's All-time great running careers in 1993 with her win at Mt. SAC in the Saturday Sweeps race!! - Jesuit's Matt Farley had the Boys' "quickest of the meet" clocking with his Sweeps win!! (Jesuit HS photo)
Mt. SAC Invitational - 10 years ago - 1993
The 1993 Mt. SAC Invite was marked by the "coming out" of one of the State's all-time best female runners, Julia Stamps, with a solid two days of racing once again on the hilly facility!
Friday's action in 1993 was headlined by a super Girls group from Tri-Valley HS of Grahamsville, New York, a school that has all of 219 students! Kate Landau had visited Southern California in 1991 and established a National soph two mile record of 10:20.3 before injuries took care of her junior track season. She was back as a senior to make amends and she did in Friday's Div IV (Small Schools at that time) Sweeps! Racing away to nearly a two minute win, Landau, with a furious arm-pumping stride, blasted a 17:27 solo performance, the #9 time ever on the course. Her small school's team win was equally as impressive, with the couple hundred student girl (remember they had just over a hundred girls to draw from) totalling 36 points and a 98:10 team time! The McFarland Boys continued their historical roll, totalling 37 points (83:26) to win the Boys Div IV Sweeps behind Benjamin Galvan's 16:13 win.
Saturday was one of those days that broke warm at Walnut, but it did not slow Julia Stamps much. The ninth grader at Rincon Junior High, with the Santa Rosa Schools having their frosh athletes not yet at the high schools was advised by Dan Aldridge, a sub 1:50 prep 800 star in the area who went on to some good running as a two-time NCAA Div II 1500 Champ at Cal Poly/SLO. Julia had won the Stanford Invite a couple of weeks previous with a CR 17:40 run in a 43 second win over National Prep finalist Courtney Dunscombe (Bend, Oregon), so folks knew of her running strength. Julia had run 4:38.35 for 1500m and 10:01.7 for 3000m as an eighth grader on the track and would accomplish so much during four years as a prep. She was one of those totally classy folks who would respond graciously in victory or defeat.
Anyway, in the Girls Team Sweeps race with the temperatures working up in to the 80's by time that contest took off, Stamps rolled through the mile at just under 5:30 on the way to a 17:57 win over the 18:27 of Molly Mehlberg of Peninsula, Rolling Hills. The Peninsula team was an 83 (99:57) to 91 (101:37) winner over Edison (Huntington Beach) with Central Section power Reedley next at 120 (102:07).
The Boys team Sweepstakes event had State 3200 Champ (9:04.39) Matt Farley (Jesuit, Sacramento) and junior Brett Strahan (Hart, Newhall) battle, with Strahan the nation's fastest soph 1600m runner from the year before at 4:13.90. Farley was a narrow winner at the Stanford Invite, with Strahan leading down on to the airstrip here before Farley gathered for a strong finish to win 15:07-15:13. Thousand Oaks, at the time, the nation's #4 ranked team, romped away to the team win with 84 points (80:10 team time 16:02 average) with Santa Ana 101 (81:02) and Jesuit 126 (81:14) next.
The Girls Individual Sweepstakes race had Carrie Garritson (Buena Park) win at 18:25 over Nicole Silva (Aptos) 18:46. the Boys' Individual contest had Darren Holman (Sonora) 15:50 win over Jason Barreda (Loyola, LA) 15:58.
Other Friday Sweeps action had Gunn (Palo Alto) take the Boys Div III contest with 155 (84:36) on the sixth runner rule over St. Augustine (San Diego) 155 (84:07) with Javier Ramirez (Nordhoff, Ojai) the winner at 15:45. Girls Div III had Annie Ebiner (St. Lucy's, Glendora), the only member of her long family of runners to not attend Bishop Amat, win at 18:38, with Santa Margarita (Rancho SM) the team winners with 60 (99:49).