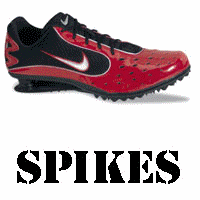 Vaulter Allison Stokke's plans are broken
Newport's reigning state champion injures ankle while practicing Monday
and will be sidelined the remainder of this season.
By Chris Yemma, Daily Pilot - Link to Original Article
Newport Harbor High defending state champion pole vaulter Allison Stokke will be going under the scalpel today and will miss the rest of this season after breaking a bone in her ankle Monday.
Stokke, who won the CIF State championship in the event last June, said she was testing a larger pole she had never used before -- at a practice session at Golden West College -- and didn't get a high enough vault to push her clear to the landing pad. She landed awkwardly in the concrete launch box and broke her tibia in her right ankle, she said.
advertisement
Stokke confirmed Tuesday her injury will require surgery -- involving the insertion of two screws into her tibia -- and she will be rehabilitating for four to six months.
"I'm really upset because I was aiming for state," Stokke said by phone Tuesday. "I haven't peaked this season yet and I've put in a lot of hard work that won't go fulfilled quite yet."
Fresh off claiming her second Sea View League title -- accomplished last week -- the sophomore, in just her second year competing in the event, holds the national sophomore outdoor record with a 13-foot, 5 3/4 -inch clearance she nailed at the Surf City invitational earlier this year. She was just inches off breaking the national high school outdoor record of 13-8 1/2 set in 2003.
Her injury Monday dealt a major blow to her campaign of shooting for four straight state championships. But, it could have been worse, Newport girls track and field coach Eric Tweit said.
"Luckily, she's only a sophomore," said Tweit, who doubles as Newport Harbor's athletic director. "It's just one of those things that you sit there and ask, 'What can you do?' The bottom line is this is the nature of sports -- it can happen to anybody and what are you going to do?"
Stokke said she has plans to do upper-body strength training, along with swimming, in the time she will be sidelined.
A former gymnast, Stokke turned to pole vaulting after a family friend planted the seed in her head. Growing tired of gymnastics, Stokke visited Tweit in October of 2003 with an interest in joining the team.
In her first competitive vault, she broke a school record, and the coaching staff knew right away she had a future in the event, Tweit said then.
Just a few months later, as a freshman, Stokke grabbed the state title.
The Newport star cleared 12-8 at the state championships for her best jump last season, only to return early this season and top it. She won the event at the Eagle Invite March 5 at Santa Margarita with a 13-4 vault to tie the national sophomore record, while also taking three unsuccessful shots at 13-9, which would have been the national outdoor high school record.
After clearing 13-4 then, Stokke said she was aiming for 14 feet this season, a lofty but realistic goal. She would have been almost a shoo-in for this year's state title.
"She had a very good chance to repeat as the state champion," Tweit said. "She was the favorite; she worked very hard. But it seems like she's staying positive rather than dwelling on the negative. She's had a good year and this will provide motivation for her to come back."