HS national records at the NY Armory
With high banks and the latest Mondo surface, the New York Armory lays claim to the fastest indoor track in the world. Whether that's true or not, every year sees a stream of national high school records set at the Armory. This all started in 1920, when Harry Helme of Buffalo ran 2 miles in 9:34.6 for a national record. After 1967, there was a long hiatus as the Armory deteriorated into a homeless center. Then came the revival of the Armory in 1990s, and in the year 2000 the records returned with a rush. Some events, like the 200 and 400 and girls pole vault have seen repeated national records in the big red brick building.
The display below has a plaque for the Armory record in each event. Each plaque is separately removable -- the better to accomodate the continual flow of new records every year.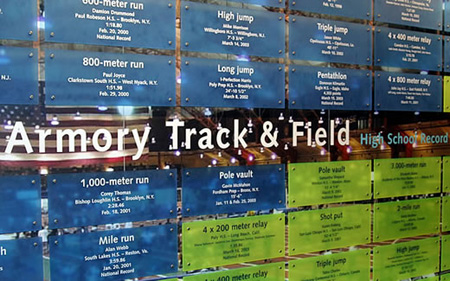 High School records set at the New York Armory, 1920 to 2004
compiled by Jack Pfeiffer [email protected]
This list is not to be reproduced in any form without permission.
1920 B 2M 9:34.6 Harry Helme Lafayette, Buffalo
1922 B 100y 10.2 Frank Hussey Stuyvesant, NYC
----- B 880y 2:02.2 Edward Swinburn DeLaSalle Inst, NYC
1923 B 4x220 1:41.2 Commercial, NYC
1924 B 4x110 50.8 Boys, Brooklyn
1925 B 2M 9:24 William J. Cox Edison Tech, Rochester
1927 B 220 24.0 Irving Gold James Madison, Brooklyn
1928 B HJ 6-2 Morris Muslin Stuyvesant, NYC
1929 B 100y 10.2 Ruby Cohen Jefferson, Brooklyn
1930 B HJ 6-4 1/2 George Spitz Flushing, Queens
1935 B 4x110 46.6 Haaren, NYC
1937 B mile 4:28.6 Leslie MacMitchell George Washington, NYC
1952 B 100y 10.0 Ed Brabham Boys, Brooklyn
1953 B mile 4:20.1 John Kopil Bayonne, NJ
----- B 1000y 2:18.6 Mike Caraftis (I can't find the school--will send it later)
----- B 600y 1:14.7 Rudy Solomon Boys, Brooklyn
1954 B 600y 1:14.1 Tom Murphy St Augustine's, Brooklyn
----- B 1000y 2:17.5 Caraftis
----- B 600y 1:14.0 Murphy
----- 1955 B 4x880 8:07.6 St John's Prep, Queens
----- 8:05.4 St. John's Prep
1956 B 100y 10.0 Al Phillips Montclair NJ
----- 9.8 Phillips
1957 B 300y 31.8 George Bopp LaSalle Acad, NYC
----- B 60y hurd 7.4 Bill Urban Fort Hamilton, Brooklyn
1958 B 4x220 1:31.6 Snyder, Jersey City
1960 B SP 63-0 Gary Gubner DeWitt Clinton, Bronx
1961 B 440 49.9 Bill Boyle Chaminade, Mineola NY
1962 B 440 49.9 Bob Brown Hamilton Voc, NYC
----- B 440 49.8 John Chandler Music & Art, NYC
1964 B HJ 6-7 3/4 Bill McClellon DeWitt Clinton, Bronx
----- 6-8 McClellon
----- 6-9 1/2 McClellon
1965 6-10 1/4 McClellon
----- B 300y 31.2 Otis Hill White Plains
----- B 4x220 1:30.5 Boys, Brooklyn
----- ----- 1:30.1 Boys
1967 B 440 49.1 LaMotte Hyman A. Jackson, Queens

2000 B 600m 1:18.80 Damion Drummond Robeson, Brooklyn
----- B DMR 9:59.94 Gloucester Mass
----- G 220 23.64 Sanya Richards St Aquinas, Fort Lauderdale Fla
----- G 4x8 9:07.57 Boys & Girls, Brooklyn
2001 B mile 3:59.86 Alan Webb South Lakes, Reston Va
----- B 1500 3:43.27 Webb
----- G SMR 3:53.17 Wilson, LB Calif
----- G PV 13-1 3/4 Stacie Manuel Willmar Minn
----- ----- Samantha Shepard Weston Mass
----- ----- 13-3 1/2 Shepard
----- G 200 23.59 Angel Perkins Gahr, Cerritos Calif
----- B 200 21.02 Brendan Christian Reagan, Austin
----- G 400 53.25 Perkins
2002 G 600m 1:29.69 Stacey-Ann Livingston Boys & Girls, Brooklyn
----- G DMR 11:50.86 Boys & Girls
----- G 4x8 8:53.67 Boys & Girls
----- G DMR 11:49.34 Red Bank Regional, NJ
----- G 200 23.41 Richards
----- ----- 23.22 Richards
----- G 400 52.10 Richards
----- G PV 13-4 1/4 Shepard
----- B 4x2 1:27.09 Deep Creek, Chesapeake Va
----- G 300m 37.59 Shana Cox Holy Trinity, Hicksville
2003 G 500m 1:11.84 Natasha Hastings APR, NYC
----- G 60m hurd 8.33 Ronnetta Alexander Williamsville South, NY
----- G 4x2 1:35.86 Poly, Long Beach
----- G 4x4 3:41.54 Poly, Long Beach
----- B pent 4303 Donovan Kilmartin Eagle, Idaho
----- B 400 46.11* Reggie Witherspoon Wheeler, Marietta Ga
----- ----- ( * -- using 3-turn stagger)
2004 G PV 13-5 Monica O'Reilly
----- B 400 46.58 Elzie Coleman Free Acad, Newburgh NY
----- B 4x2 1:26.90 Camden NJ