NIN Girls
Shot Put

What advice would you give a new shot putter?
Who is your sports hero?
What is your strangest habit?
Most interesting thing that can be found in your locker?
What is the strangest thing you have ever thrown?
What are your favorite pizza toppings?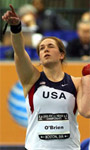 BECKY O'BRIEN



Have fun with it, love what you do, and

yell loud!




Hard to narrow it down.
Adam Nelson
is my favorite athlete to watch.

Practicing technique anywhere from school hallways to grocery stores.
Home Depot and Lowe'
s
are best
:
the cement floors are like a circle.
Posters that teammates have made me for meets throughout the year, which is great!
A small portable cooler with two shots inside (practicing for weight throw).

Bar-B-Q chicken.

Gotta have the protein!