January 20, 2001 - New York - New Balance Games





Alan Webb goes sub-4:00


Secret mission to the New York Armory
produces fourth prep sub-4:00 mile ever and first in more than 30 years.

Alan Webb Now: A New American Record 3:46.91 Mile!

"I'm a miler"

story and photos by John Dye

Six weeks earlier, after losing to Dathan Ritzenhein in the Foot Locker cross country final, Alan Webb looked forward to track season. "I'm a miler," Webb told Virginia track writer Pearl Watts. He proved it the following month at the New York Armory.

In the most electrifying 4 minutes imaginable, South Lakes VA sr Alan Webb ran a 3:59.86 mile in the Men's Elite division against older runners.

After Webb's race, the rest of the meet was irrelevant. One memory still lingers. In the press conference after the race, Kenyan Leonard Mucheru, who won the race, wasn't asked asingle question as the press was only interested in Webb; Mucheru must have wondered why the big fuss over an 18-year-old finishing third in 3:59-high.

It was a big deal in the US for several reasons:


US record indoor boys mile, breaking the record of Thom Hunt, San Diego CA, 4:02.7c, 1976.
US record indoor 1500 meters, en route, 3:43.27 (Hunt 3:46.6c, 1976)
1st US sub-4:00 mile since 1967 (Marty Liquori)
4th US high schooler ever under 4 minutes
8th fastest US high school mile ever (Jim Ryun went sub-4:00 five times)




Webb's race came after several days of clandestine maneuvers. New York Armory announcer Ian Brooks, who recruits elite athletes for the New Balance Games each January, persuaded Webb coach Scott Raczko to put Alan in the elite mile to try for sub-4:00. Raczko agreed with one condition -- there would be no advance publicity on Webb's entry. Raczko didn't want to put more pressure on the young runner than the bright lights of the Big Apple would already bring.

On Tuesday, Brooks called me and said I should be at the Armory Saturday for "something special." By Thursday, the email message from Brooks was, "You MUST come." So I took the Metroliner from Baltimore to New York. And how sorry I would have been if I hadn't.

Here's what we wrote on DyeStat the next day:

The race broke just right for Webb's plan. He stayed with the rabbit through half and nobody broke away too fast after that. He was able to maintain a steady pace and still be in contention. He didn't have to use himself up early just to maintain contact.

Webb broke sharply with the leaders and ran a steady 3rd place through a half mile behind rabbit Lorris Adams and Kenyan Leonard Mucheru. When Adams dropped out on the fifth lap, Webb moved up to second. But Mucheru made a strong move to go ahead by 30 meters.

Webb bided his time and didn't go with Mucheru. "I knew it was too early, and I decided to be conservative," Webb said. But Webb had a comfortable lead in second for 3 more laps. With two laps to go, Webb started a move and felt himself tightening up, but worked through it.

At the bell (above), he looked strong.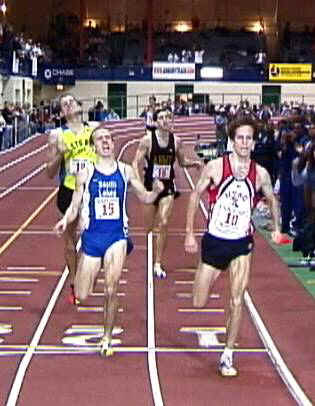 Coming in to the home stretch, Webb was gaining on Mucheru but was also challenged on either side. "I stopped worrying about time and just wanted to hold my place," Webb said. At the wire, it was Mucheru winning in 3:57.90 and Matt Holthaus just edging Webb for second in 3:59.74. Webb went through the Lynx camera a tick later in 3:59.86 and his goal was reached. (Webb is #15 in blue in photo at left)

Webb's splits for quarter, half, three quarters, and 200 meters to go showed a rock steady pace:
59.9
1:59.5
2:59.9
3:30.5.
3:59.86

The complete Men's Elite Mile results:
1. Leonard Mucheru, Kenya-New Balance 3:41.11
2. Matt Holthaus, NYAC 3:59.74
3. Alan Webb, unattached 3:59.86
4. Scott Anderson, una 4:00.15
5. Clay Schwabe, Army 4:00.61
6. John Honerkamp, NYAC 4:04.59
7. Art Siemers, Boulder Runners Club 4:05.08
8. Scott Strand, New Balance 4:09.05
9. Eugene O'Neill, Ireland/NYAC 4:10.10
10. Ricardo Santos, Canada/NYAC 4:11.22
11. Amerigo Rossi, NYAC 4:13.41
12. Niall Bruton, Ireland 4:15.27



"I want to go faster."



Afterward, Webb agreed it was a weight lifted off his shoulders to break 4 minutes. He said he thought he was ready last June before he got hurt and ended his 2000 campaign before the nationals. He didn't necessarily expect 4:00 today but he had great workouts lately and if the race went right he would go for it.

Now what for Webb, having put this goal to rest so early in his senior year?

"I don't want to stop at 3:59. I want to go faster."



Webb wants to meet Ritz on the track



And then there is the question of Dathan Ritzenhein, who should be waiting at the Nike Indoor Classic in Maryland. According to Coach Scott Raczko, Webb wants to make amends for his loss to Ritzenhein in the Foot Locker Cross Country championships in Orlando in December. "He knows he is better than he showed in Orlando," Raczko said. Thus, if a 2-mile matchup against Ritzenhein is available in Maryland, Webb will opt for the longer distance instead of the mile. (At last year's NIC, Webb won the mile and Ritzenhein the 2-mile.)

So we know that the 2001 season won't climax with a sub-4:00 mile. The fun is just beginning.

-----------------

[Editor: The big climax, of course, came not in a duel with Dathan Ritzenhein, but at the Prefontaine Classic in May when Webb ran 3:53.43 to smash Jim Ryun's outdoor record.]

After the meet, Webb and the entire South Lakes team was treated to dinner at Coogan's, the famous track pub around the corner from the Armory at 168th and Broadway. Photos of the event still hang on the walls at Coogan's.

Links



What came before Webb's sub-4

http://www.dyestat.com/rivals/8095974.html



the story in 23 pictures by John Dye

http://www.dyestat.com/rivals/8096009.html



Web and Coach Raczko recount the race to Pearl Watts

http://www.dyestat.com/rivals/8095971.html



Walt Murphy's account of the day

http://www.armorytrack.com/in01/webb35986.htm
"I had Webb in 3:59.81, but I was afraid I might have stopped my watch too soon in all the excitement. The crowd held its collective breath as first Mucheru's time of 3:57.90 appeared on the scoreboard, then the 3:59.74 for Holthaus, and finally, the magical 3:59.86 apppeared for Webb, and the celebration began."



George Feble's account on armorytrack.com

http://www.armorytrack.com/in01/webb.htm
"Another winner in our sport to be proud of, another proud moment at the Armory."



May 27, 2001 - Alan Webb runs 3:53.43 at Prefontaine Classic

http://www.dyestat.com/us/1out/prefontaine/index.htm


TOMORROW: September 23, 2000 - first Great American Cross Country Festival - Bingham UT girls rout Saratoga and other top teams; lay claim to being best team ever.


Magic Moments index