Magic Moments
John Dye recalls some of the magic moments in the first 10 years of DyeStat.
When baseball was still America's Pastime, we had the Hot Stove League. Before March Madness, before Michael, before daily analysis of the NFL draft, before The Sporting News was supplanted by Sports Illustrated and Sports Center, before youngsters were anointed as Hall of Famers instead of Rookie of the Year, before central heating . . . . the winter months between baseball seasons were the time for arguing about baseball and Wait 'Til Next Year (especially in Brooklyn). The name "Hot Stove League" evoked men sitting around a pot bellied stove in a General Store in small town America talking about baseball.
Our Magic Moments series is part of DyeStat's 2007 "Hot Stove League" for high school track, filling in the summer lull between outdoor track and cross country.
May 23, 1997

-- Maryland state meet – the beginning - Derek Dye comes from behind to win high jump with two straight PR's on third attempt clearances. Natalie Dye wins pole vault the next day. Trackdad John Dye decides to make DyeStat a national site.

December 9, 2000

-- Foot Locker finals – battle of the Big 3 – Dathan Ritzenhein repeats over Alan Webb and Ryan Hall. Webb looks forward to track season.

January 20, 2001

-- New Balance Games at the NY Armory – Alan Webb goes sub-4, fifth high school member of this club, first in 30+ years.

September 23, 2000

– first Great American – Zeigle twins lead Bingham UT in rout of Saratoga NY and eight other ranked teams; Speck declares Bingham the best ever over Polly Plumer's University Irvine CA team of early 1990s.

December 4, 2004

– first Nike Team Nationals – Saratoga NY girls best ever. York IL boys also validate perennial top rankings.

March 11, 2001

– New York Armory – "fastest indoor track in the world" claims 200 meter national records in photo finishes in both boys (Brendan Christian) and girls (Angel Perkins over old record holder Sanya Richards in next lane).

June 21, 2002

-- Sanya Richards - US Junior Nationals – Before she was 2006 World Athlete of the Year, Sanya Richards was the best high school 400 meter runner ever. Sanya took the national record from Monique Henderson in the next lane in 50.69, faster than the senior women's champion in the same meet.

April 10, 1999

– Arcadia – Casey Combest steps into Darrell Rideaux's lion den and is devoured.

April 14, 2001

– Arcadia – Nik Arrhenius' discus rides a quartering wind 10 feet past the old national record.

April 14, 2001

– Arcadia's Dream Mile – Alan Webb, Ryan Hall and the Jeffersons – Webb's 200 meter kick blows open the race.

June 15, 2003

– Golden West – Tommy Skipper sets PV record in honor of brother Art, who died in plane crash a few months before. Entire family on hand on Father's Day.

April 27, 2000

-- Penn Relays - San Lorenzo Valley girls get USR in DMR -- Alejandra Barrientos hits the finish line in tears and kisses the track after bringing California team from behind on anchor leg.

March 12, 2006

-- Nike Indoor Nationals – Fantastic Francena McCorory 51.93 stunned the crowd at Landover MD. The venerable Mike Byrnes called it "the greatest high school performance I have ever seen."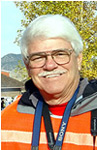 And there will be many more in the next 10 years!
John Dye
7/20/2007