Higher Hurdles No Hindrance





Josh Hembrough MI using record 42" hurdle races, special training to work toward goals





December 2006



By Steve Underwood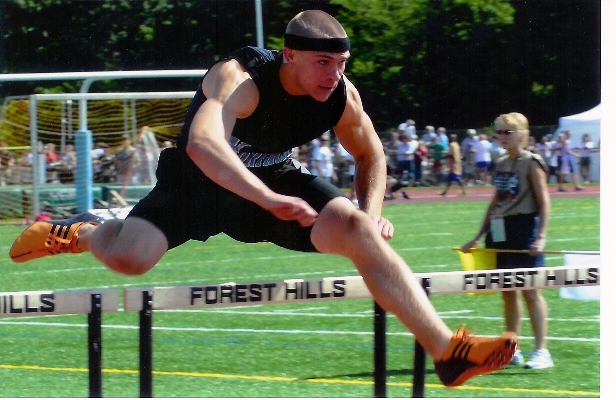 A lot of athletes, at the dawn of their senior year, are looking for ways to make their last year their best – especially when they haven't yet reached the pinnacle of achievement in their chosen discipline.

But give Josh Hembrough credit. He's already looking ahead to the next level – collegiate competition.

Or so it would seem for the Purdue signee, who is a senior hurdler at Forest Hills Northern HS (Grand Rapids MI). He opened up his indoor season early and quickly, nabbing two national prep records in his first two races. But they weren't records of the typical variety. Running over 42" barriers in collegiate/open events at Clemson University SC, and Grand Valley State University MI, he set prep new standards for those events.

Josh had never raced over the college/pro-level barriers before and it wasn't a planned record assault. So what was he doing racing several hundred miles from home? "I choose to run at Clemson because it was close to my grandparents' house, I wanted good competition, and I just wanted to see how fast I could run at 42" before the high school indoor season started," he says. "Training hard all summer long with weights and sprint workouts, as well practicing running over 42" hurdles, motivated me to see how my hard work would pay off."

Indeed it did pay off. In his prelim race at Clemson, Josh shaved .10 off the 1999 mark by Jermaine Cooper (Giddings, TX), hitting 7.85 for 3rd overall. Had he been a collegiate hurdler, it would have been a provisional NCAA qualifying time. In the final, he ran nearly as fast, 7.87 for 2nd.

Two weeks later, the hurdler was racing practically in his own backyard – at GVSU – facing the barriers over 55 meters. Again, he ran his best in the prelim race, with a 7.37, with his final nearly as fast at 7.39. He won both races easily. There was no "official" HS record for 55 meter 42" hurdles, but there will be now, according to statistician Jack Shepard. His mark is superior to Marcus Allen's old 7.37 for the 60 yard 42" hurdles mark (60y=54.86m) that was listed as a prep mark from 1979.

Josh was well-prepared to race over the higher barriers, thanks to special workouts and some creative tinkering. "I created 45-inch 'super hurdles,' which is the height of the hurdles where the hurdle is set higher than the highest hole setting, where the top of the hurdle is barely hanging on," he explains. "I have been doing this to improve flexibility and it has made the college height much easier."

No doubt his coaches-to-be at Purdue have to be pleased.

Now an imposing 6'6" and 220 pounds, Josh has been working hard ever since his outdoor campaign ended last spring. He worked out 5 or 6 days a week in the summer and fall, typically doing leg and/or arm weights on Mondays, Wednesdays, and Fridays. On Tuesdays and Thursdays, he usually ran sprint workouts and worked his hurdles. "I have improved a lot on strength and speed, as well in technique," he says. I grew over the summer and, with help from weight-lifting, I gained 10 pounds of muscle."

Team Hembrough has and will include several different coaches and instructors. A former sprinter/hurdler for the University of Florida, Coach Pete Rowe helps him with off-season winter conditioning, particularly with core workouts. "He is very helpful in analyzing my hurdling form," says Josh. He also has a chance to workout at GVSU during high school clinics on Sundays.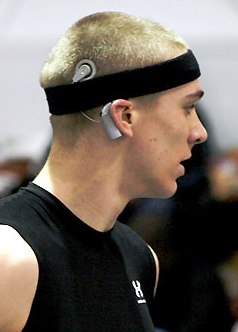 Last spring, and for the past three years, coach Joe Curcuru and assistant, Keith Boeve helped him with his hurdling technique and general conditioning, he says, but this year the new coach is Tony Sultini. "He ran track for GVSU several years ago and he has experience on how to make sprinters and hurdlers faster," says Josh.

No small amount of credit goes to his father, Mike, as well. "My dad is not an official 'coach,' but he has helped to train me year-round since 7th grade," says Josh. "He has helped me with building strength and speed through weight training and numerous sprint drills. Together we have gathered many books and videos on hurdles and sprints, and we study the best techniques to help me to run hurdles faster. He also shoots videos of all my races, which we then watch together so that we can analyze my form and make corrections to help me get faster."

The next obvious question is how working over the higher hurdles will help Josh when he goes back down to prep barriers. "I really don't know how much faster I can run at 39 inches, but I am hoping to run about 0.2 seconds faster over 60m due to the height difference," he says. "Running at 39 inches, after running 42 inches, hopefully will be easier since I won't have to bring my legs as high and will spend less time in the air."

On the other hand, Josh has high goals for all of 2007, including no less than winning national titles in record times. "My goals for indoors are to try to win the hurdles at the Nike Indoor Nationals and to run a high school height national record of 7.62 or faster," he says. "For outdoors, my goals are to try to win the Nike Outdoor Nationals in the 110m high hurdles and to run a national record at high school height of 13.32 or faster."

National titles won't be easy to come by, with a Class of 2007 nationally that includes NON defending champ Johnny Dutch NC, as well as Oscar Spurlock TX and Terry Prentice CA. Josh is =6th among returning hurdlers outdoors with his 13.82 PR. He is the #2 returnee indoors at 60mH, trailing only Dutch. Having already run faster for 60m over 42" than he did last year over 39" (7.89), he's a good bet for improvement.

Indoors, he is planning to run one or two more college meets, at GVSU and possibly Eastern Michigan, then running Michigan's indoor track series until NIN. The Michigan series championship the following week would close it out.

For those who know or think they remember that there is one more thing unique about Josh … they're right. Josh is deaf and uses a cochlear implant (described as a "funky, iPod kind of thing") to receive just enough sound to hear starters' commands (as long as they're clearly and loudly spoken) and to aid in daily life along with reading lips. The subject was well covered in a Pete Cava feature on Josh before NON last spring.

Josh said it wasn't an handicap then, but as the calendar turns over to 2007 it's clear that handicap or no handicap, Josh Hembrough is a story because he has a chance to be the best hurdler in the country.