Week 12:

Coach Steve Nelson

Mt. Pleasant HS, Mt. Pleasant CA


Throughout the track season, the editors of DyeStat.com will choose an Eastbay National Coach of the Week to recognize coaches around the country for outstanding recent achievements in guiding prep athletes.
Coach of the Week Archive

Patience Pays Off For Coach Nelson

By Rich Gonzalez

Steve Nelson knows all about patience.

An unyielding 21-year coaching commitment reaped major dividends when his Mt. Pleasant High School girls' track and field program recently won the California state team title, out-pointing such legendary juggernaut institutions as Long Beach Poly, Long Beach Wilson and James Logan in the process.

But Nelson's true mastery of patience that keyed this year's team successes actually began three years ago, when the first links to their championship chain of events were initially being forged. That's when a young dash talent named Jeneba Tarmoh quit the team in favor of volleyball, opting to shy away from the limelight of the oval.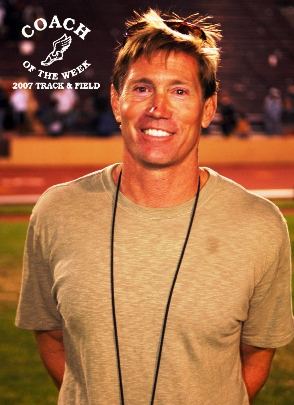 Coach Steve Nelson
"She fears attention," Nelson said back then. "If she wasn't so good, she would have stayed in track."

But Nelson handled the situation delicately, tempering his excitement at her talents with a mix of respect and support for her perspective. His interest remained high, but he allowed the precocious youngster time to re-establish her comfort zone. In time, she worked her way back onto the team, with the already potent Cardinals then becoming a budding national power.

With hurdler Vashti Thomas and the rangy Stella Dugall also beginning to come into their own, the team began earning attention at meets up and down the coast as well as at major indoor competitions across the map. Rivals took notice while the girls took the medals the next few years.

But another test of patience was about to occur.

Tarmoh was victimized by back problems early on in this her senior year, deeming her unable to compete for a while. Rather than rush her back into action, Nelson exercised caution, allowing for full recovery.

"I just wanted to make it clear to her that it was going to her call," Nelson explained. "I told her, 'Whatever you want to do is what we're going to do.' If she wants to shut it down, we're going to shut it down. My main concern throughout was that she was happy."

Content indeed, Tarmoh returned to action in time for postseason, then progressed rapidly to successfully defend her state titles at both 100 and 200 meters.

But the run to the state championship did have its trying moment, with Mt. Pleasant's bid for the title getting off to an ominous start when its 4x100 meter relay team was disqualified for an exchange infraction.

"We actually were prepared for (a setback)," said Nelson, 45. "What we talked about all week was that if and when something goes wrong, we've got to leave it alone and move on."

Thomas moved right on, alright, en route to establishing a national federation record in the 100-meter high hurdles. The Tennessee-bound Tarmoh then swept the short sprints, and the Cardinals were well on their way to a fine 44-point title-winning effort, the first state crown in the program's history.

Yes indeed, good things come to those who wait.
Congratulations to Coach Nelson, the 14th Eastbay National Coach of the Week! Eastbay Coach of the Week Coaches will receive a team color Eastbay jacket.