Meet's Own Site

Schedule/Results

Preview

Entries

Prior Years on DyeStat
2008
2007
2006
2005
2004
2003
2002
2001
2000



Day 6: Reynolds wows 'em again: 52.15!!
Frosh record for Florida star;
fast YW/YM 400Hs for Morlu, Evans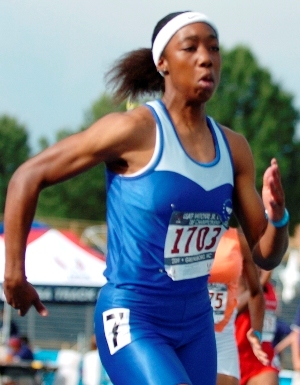 Sunday - Full highlights



Robin Reynolds

FL started with a 3rd in the IG 100, her only loss of the meet, but finished with an epic US#2 and US freshman record 52.15 in the 400. Kristyn Williams TX was 2nd with a super 52.59, herself just .10 off the former 9th-grade mark of Jerrika Chapple



Sheroid Evans

TX blasted a US#2 51.54 400H in YM, while

Miata Morlu

NC lowered her time to US#3 59.24 to win YW 400H



Claudia Francis

NY,

Marielle Hall

NJ, and

Howard Shepard III

TX each won their divisions of the 1500 (IG, YW, YM) to complete distance doubles

In YG,

Raevyn Rogers

FL finished a sweep of the 800 and 400, while

Kendall Baisden

MI added the 100 to her earlier 200 title



Ashley Aldredge

LA set a YW record in the javelin with 148-06



Photo of Robin Reynolds, by Walter Pinion




---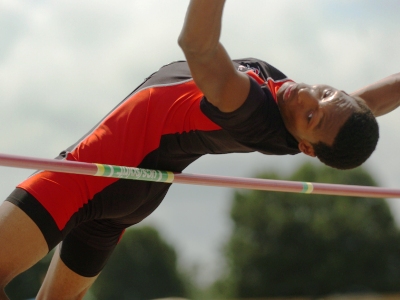 Saturday -

Smith skies over 7-02.50!

Photos, full highlights



David Smith

(photo at right, by Walter Pinion) matched his PR in taking the Young Men's HJ in 7-02.50



Kendall Baisden

MI broke the Youth Girls 200 national record, despite a headwind, at 23.69 (-0.7w)



Robin Reynolds

FL won her 3rd Intermediate Girls gold of the week with a 23.84 200 (-0.7w)

Sisters

Claudia and Phyllis Francis

NY swept the IG and YW 800s in 2:06.20 and 2:08.35



Hallmark TC

and

Dallas Gold

just missed the YM and YW national 4x100 records with 40.11 and 44.52



---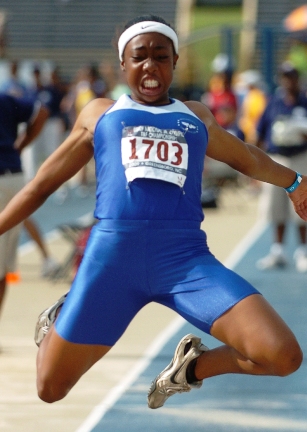 Friday -

Reynolds 52.60!

- Photos, full highlights

Robin Reynolds FL blasted US#3 52.60 400 and 11.68 100 prelims (+1.3w) and won the IG LJ with 19-06w (+3.6)



Damion Johnson

GA flew to a 24-08.25w LJ (+7.3) victory in YM

NON champ

Andrea Geubelle

(Flying AJ's/Curtis WA) won the YW triple jump with 40-10.25 (+0.9w)



Kendall Baisden

(Motor City TC) nipped the national record for the division with her 11.73 (+1.9w)



Jeremy Rankin

CO lead 4 YM sprinters at 10.44w or better in the 100 prelims with 10.41w (+3.1)

World Youth finalist

Morgann LeLeux

LA took the YW pole vault at 12-07.50



Claudia Francis

NY and

Howard Shepard III

TX ran the fastest 1500 prelims overall

NIN champ and NON runner-up

Briana Nelson

SC ruled the YW 400 prelims at 52.93.


Photo of Robin Reynolds, by Walter Pinion





---
Day 3 Highlights

US#1 triple jumper

Ciarra Brewer

(Mission Valley/James Logan CA) beat the Intermediate Girls (IG) national record in her specialty, leaping 42-05.50 (+0.8w) for the easy win, about 11 inches off her best
Lincoln Carr (Fayetteville Flyers/Pine Forest NC) claimed the Young Men's (YM) triple jump with 50-07.25w (+4.8), leading four over 48
Top 800 prelims


NON and World Youth Trials champ Claudia Francis (Team Evolution/Benjamin Cardozo NY) won her heat in IG at 2:13.21 and was 2nd fastest overall in prelims as TX 4A state champ Kristyn Williams (Dallas Gold/Timberview TX) took the other heat in 2:12.18
Howard Shepard III (Texas Stars/Lancaster TX), the Intermediate Boys (IB) national record setter in 2007 at 1:50.51, led YM qualifying at 1:51.01. World Youth team member Bronson Duran (NM Unatt./Sandia NM) also made the final
Soph sensation Elias Gedyon (Quiet Fire/Loyola CA), who almost broke the Youth 800 record here two years ago and ran 1:51.91 last year as an IB and freshman, paced IB 800 qualifiers with 1:54.73, followed by Aaron Allen (Texas Stars) 1:55.28 and World Youth team member Quincy Downing (Ohio Unatt/Cleveland Glenville OH) 1:55.83
Victoria Gocht (United Stars/Upper Dublin PA) 2:12.90 and Phyllis Francis (Team Evolution/McAuley NY) 2:13.40 led Young Women's (YW) 800 qualifiers. Francis set the IG national record last year with 2:04.83
Raeven Rogers (Wings), who set a national Youth record of 2:06.90 earlier in the year, won her Youth Girls (YG) 800 prelim in 2:13.00 to lead qualifiers

Top 200 prelims

Robin Reynolds (Miami Northwestern/Miami Jackson FL) led IG 200 qualifiers with a sterling 23.37w (+3.8), the fastest mark overall for the day on the girls side
Dallas Gold teammates Veronica Jones (Poteet TX) and Tiffany Hines (Dallas Skyline) led YW 200 qualifiers with 23.75w (+2.4) and 23.96 (+1.1w)
Strong YM 200 qualifying saw four run 21.06 or better, including Sheroid Evans 20.92w (+2.3) (Wings/Dulles TX), Blake Heriot 20.99 (+1.8w) (Pacesetters/Lincoln OH), World Youth team member Dedric Dukes 21.05 (+2.0) (Metro Dade TC/South Dade FL) and Charles Silmon 21.06 (+0.8w) (Hallmark TC/Waco TX)
Brandon Sanders (Jump Start/Dreher SC) led IB qualifiers with 21.61w (+2.2)
Rising stars Paisley Simmons (Hi Point Panthers) and Kendall Baisden (Motor City TC) set up what should be a great YG 200 final by winning their heats in 24.26 (+0.9w) and 24.43 (+1.3w)

Several World Youth team members won gold, including

Devin Bogert (Northwest Flyers/Tomball TX) with a 199-05 javelin in IB
A'Lexus Brannon (Port Arthur/Ozen TX) with a 19-10.25 (+1.7w) long jump in YW. NON champ Andrea Geubelle (Flying AJ's/Curtis WA) was 3rd at 19-04 (+1.7w)
Jarrett Samuels (Track Eastern/Vance NC) with a 23-11.75w (+2.2) long jump in IB

Fast 4x400 qualifying was led by North Texas Cheetahs 3:46.01 in IG, Jump Start Athletics 3:20.80 in IB, Wings 3:43.91 in YW, and So Cal Running Cougars 3:13.43 in YM
Throw 1 Deep athletes took both YM/YW shot puts with Nabil Mubarak (Grayson GA) 61-11 over Danny Block (Unatt./Lake Park IL) 61-05.50 for the former, and Breanna Radford 44-02 (Alpharetta GA) over Aslynn Halvorson 42-11.50 (Unatt./Butler NC) for the latter
National records in the younger divisons came from Bryce Love of Carolina Elite (23.38, -0.3w, 200 prelim in Midget Boys), Daesha Rogers of Miami Dade TC (2:23.85 800 prelim in Bantam Girls), and Aaron Hanna of Miami Dade TC (129-00 with the Midget Boys 1k discus). Younger division meet records also came from Armand Shyne of 3M Track Club (170-06 with 300k javelin.
Day 2 Highlights
Gunnar Nixon (Eastside Steppers/Santa Fe OK) rolled through Day 2 of his IB decathlon (HS implements) with 15.13 110H (-3.9w), 111-08 DT, 12-09.50 PV, 162-04 JT, and 4:34.54 1500. He won 7 of the 10 events to score US#3 7000 even, break the Intermediate Boys record by more than 100, and win by more than 1200 points
Neaman Wise (Central Florida Gliders/Lake Brantley FL) had a somewhat tougher battle in YM deca (HS implements), but in scoring a PR 6956, he went 14.67 110H (-1.2w), 127-03 DT, 13-03.50 PV, 155-04 JT, 5:14.05 1500, and won by 261. Wise had scored 6854 with junior implements at USATF Jrs
The Texas Stars, with a group that included TX 4A state 800 champ Howard Shepard III, rolled an impressive 7:35.37 YM 4x800, just .10 off the USATF record.
Akira McSwain (Continental/Hunters Lane TN) scored 4789 and pulled away to win the YW hept by 300, while Alex Gochenour (Cornhusker Flyers/Logan Magnolia IA) scored 4600 and edged Karli Johonnot 4574 (UNLV Elite/Centennial NV) and Maddie Treasure 4561 (TN Elite TC/Knoxville West TN) for the IG hept title
Michael Nemeth (Wings of Moon) had the best walking performance in the older age groups with a 13:32.32 3k win in IB
Day 1 Highlights - McCullough, Chambers hammer out victories
USR-holder Conor McCullough (Unatt./Chaminade CA), bypassing Pan Am Jrs to close his prep career at JOs, broke the YM meet record in the hammer at 254-10, winnning by more than 40 feet
Lauren Chambers (Throw 1 Deep/Kell GA), already #2 all-time at 201-06, won the YW hammer by nearly 20 feet with 175-08
Neaman Wise (Central Florida Gliders/Lake Brantley FL), 3rd in the USATF Jr deca at 6854, had a good first day in an attempt to win the YM 10-eventer, scoring 3763. He started very strong with 11.07 100, 22-07 LJ (+0.2w), 45-05 SP, then finished with 6-00.75 HJ and 51.56 400. 7-foot HJ'er Anthony May (Speed City TC/Hoover AL) is 2nd with 3488
Gunnar Nixon (Eastside Steppers/Santa Fe OK) rolled to a lead of more than 300 points on Day 1 of the IB deca, hitting 11.57 (-2.3w), 22-01.50w (+3.2), 36-07.50 SP, 6-08.75 HJ, and 49.50 400, to score 3735
---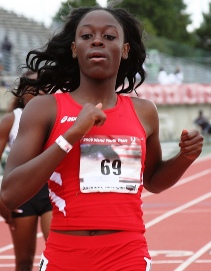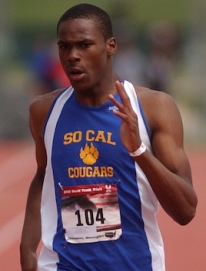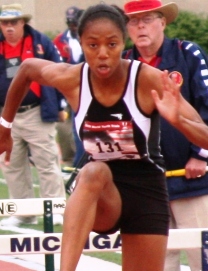 World Youth champ Ebony Eutsey FL, and World Youth runner-ups Josh Mance CA and Kori Carter CA, are among the top entrants in the 2009 USATF JOs. File photos by Cassandra Geiger and Walter Pinion
14 potential storylines and entries to watch for
By SteveU
Great girls flat 400

– The potential for a super girls 400 is there, likely in Young Women's. US#1 and World Youth/NON champ Ebony Eutsey FL leads entrants, with NIN champ/NON runner-up and US#2 Briana Nelson SC likely to give fans a rematch of their NON and World Youth Trials battles. If Turquoise Thompson CA – also a likely 400H entrant – runs here, too, the race would become even more epic. Thompson, in fact, looks to defend her 400H title from last year, when she ran her still-PR 57.67. She is US#1 this year at 57.93
What will Sveinsson run?

– Rarely does a distance runner of Chelsey Sveinsson's stature – especially one who would be preparing for XC – hit the JOs, but Elias Gedyon CA did it last summer and it didn't seem to hurt his harrier campaign. The Texan isn't likely to have much competition, so it's hard to imagine her approaching her 1500 PR – but then if she ran the 800, she could be part of a super race. Or she could run a longer race
Mance looks for sub-46

– Josh Mance CA was the World Youth 400 silver medalist at US#5 46.22 and expressed disappointment at not breaking 46. He'll have another chance here, with William Henry OH and Jaron Roberson GA as potential combatants
TX boys 100 showdown

– World Youth champ and 10.08w runner (US#1 all-conditions) Prezel Hardy TX leads potential 100 entrants. Mark'Quis Frazier TX, who had an early-season 10.22 nwi, and Charles Silmon TX, who ran a 10.24 nwi in a club meet, could make it a barnburner and Texas sweep in YM
Carter vs. Stowers

– NIN/NON champ Jasmin Stowers SC beat Kori Carter CA decisively the last time they raced in Greensboro, in the 100H (Carter was 3rd), but Carter has since won a silver in the World Youth 100H. She ran 13.26 there over the 30" barrier. The two are still tied atop the list at 33" hurdles with their 13.59s. Expect Carter to be closer this time, at least
Seven-footers clash

– One of the deeper field events in the meet is the high jump, where World Youth team members David Smith GA (7-02.50) and Dwayne Golbek OK (7-00.50) might clash with North Carolina revelation Tanner Anderson, who went from a 6-08 PR to 7-02.50 in one meet last spring
Bogert's best

– In this year of great throwers, javelinist Devin Bogert TX has been one of the bigger surprises, beating higher ranked athletes to win NON, then placing well at the World Youth champs. He looks to break 220 for the first time here
More World Youth encores

– Ciarra Brewer CA (US#1 TJ) and Shanay Briscoe TX (US#2 HJ) both placed solidly in World Youth finals earlier this month. Now they will be big favorites to win their events here in Greensboro. Morgann LeLeux LA led Team USA in the PV in Italy, but she could get tough challenges from fellow 13-footers Rachel Fisher TX and Megan Weller IL
Gedyon loves the JOs

– Elias Gedyon CA has quickly become known as a prodigal young distance star, with range from 800 to XC. But he first developed greatness in the JO ranks. He ran his 800 PR, 1:51.91, to win the IB division here as a freshman. In 2007, he had an epic 1:56.59/4:05.25 800/1500 double, missing the national Youth 800 record by 0.23 and setting a meet record in the 1500 (and 0.52 off national record). He's back again in the Intermediate Boys division
It's Fuquawn's time

– Although the 2009 season is technically still on, the Hendrix brothers of Track EC/New Bern NC have moved on to college and Fuquawn Greene is left as the big star and hoped-for leader of potential young talent moving up for the club/team. Individually, he's had his moments, from winning the NIN 200 to running 10.39 for 100 this spring. A era could start here for him and New Bern
Wide-open girls dashes

– While there is no one like a Chalonda Goodman in the girls 100 and 200, a number of outstanding girls could run in the YW and IG divisions here, in either or both dashes, including Nelson, Reynolds, Texas 5A 100 champ Tiffany Hines, Cali dash star Jessica Davis, New York 23.44 200 runner Whitney Fountain, Eleanor Roosevelt MD star Aurieyall Scott, Michigan prodigy Kendall Baisden, and others