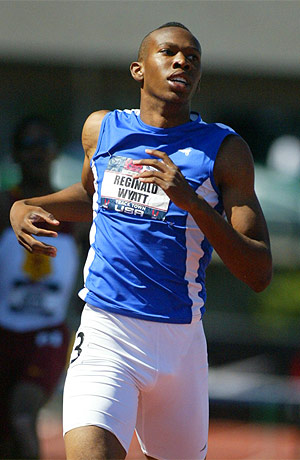 Sunday
- Final day bonanza for CA
Alitta Boyd
CA claimed a horizontal jumps sweep, extending out to 43-08.00w (+4.0) for the TJ win.
Jordan Hasay
, making most of her decision to run the Junior 1500, led nearly the entire way and made University of Virginia standout Morgane Gay chase her to the line, 4:18.99 to 4:20.81.
Mac Fleet
made it a 1500 sweep for Cal natives bound for Oregon, following Hasay's win with a come-from-behind 3:47.44 victory of his own.
Turquoise Thompson
was second in the Junior 400H with a US#1 57.93 clocking.
Reggie Wyatt
(
left, photo by John Nepolitan
) took the Men's 400H in 50.02.
Tavaris Tate
wrapped up an undefeated high school season with a 46.04 400 victory.
Joe Whelan
and
Alyssa Allison
grabbed US#1's in 3k steeple with runner-up efforts
Sam Crouser
won the jav with a throw of 220-05.
Sunday High School PHOTOS
by John Nepolitan and Robert Rosenberg
Robert Rosenberg
Sunday USATF Gallery
---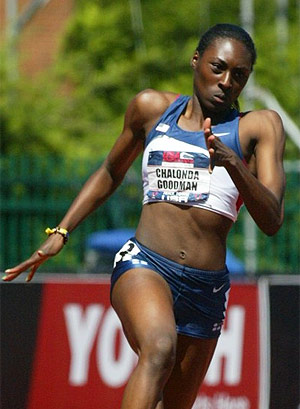 Saturday
-
USRs: Finley 204-03 Jr. DT, Goodwin 26-10 LJ; Goodman sprint double w/ #5 all-time 22.74w 200
Marquise Goodwin
won the Jr LJ with a barely windy 26-01.50 (+2.1), then returned in the Senior Men's LJ and finished 5th with a
USR 26-10.00
(+1.3), taking down the 20 year-old mark of 26-09.25 by Dion Bentley in 1989.
Mason Finley
CO got his second USR in as many days, hitting a national HS record
204-03
with the Junior implement in the discus.
Anna Jelmini
CA was the first Junior of the meet to claim a double title, adding a 174-10 win in the discus throw to Friday's 53-00.00 SP victory.
Chalonda Goodman
(
right, photo by John Nepolitan
) repeated her 100-200 sweep from Nike Outdoor Nationals by turning the same double in Eugene, pairing her Friday 100 win with a #5 all-time, all conditions, 22.74w (+2.6) 200 in the final.
Saturday High School PHOTOS
by John Nepolitan and Robert Rosenberg
Robert Rosenberg
Saturday USATF Gallery
---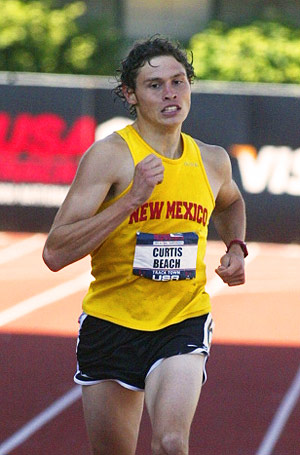 Friday
-
USRs for Beach, Finley; WDII rips 13.16w 110H; Goodman rolls 11.19w 100
Finishing with a 4:07.85 1500,
Curtis Beach
NM wins the Junior Mens decathlon, setting his third Deca USR with 7599 (Jr. implements).
Mason Finley
CO finishes 2nd to collegian
Jordan Clarke
in the Junior shot put, but hits USR 66-01.50 with the 6k ball.
Wayne Davis II
NC, tops a deep Junior 110H field in the second-fastest FAT time in history, all-conditions, running a windy 13.16 (+3.8)
In the Junior Women's 100m,
Chalonda Goodman
clocks 11.19w (+2.8) to take the final after ripping 11.17w in the prelims.
Anna Jelmini
continues her strong weekend with a 53-0 win in the Junior Women's shot put.
Friday High School PHOTOS
- by John Nepolitan and Robert Rosenberg
Robert Rosenberg
Friday USATF Gallery
New Mexico multi star Curtis Beach runs a World Junior 1500 decathlon record of 4:07.85 to wrap up his 3rd decathlon record of the year - Photo by John Nepolitan
---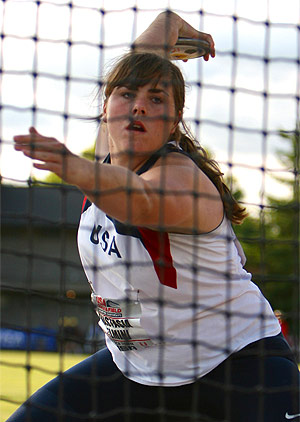 Thursday -

Jelmini with 7th in Senior DT, Whitt 17-2.75 PV, Beach leads Day 1 of Jr. decathlon
-
Dave Devine Story
Californian
Anna Jelmini
launched the fourth best throw in prep history with a 187-09 to take 7th place in the
Senior
Women's DT.
Oklahoma vault star
Jack Whitt
cleared 17-02.75 to take the Junior Mens pole vault
National HS decathlon record-holder
Curtis Beach
(Albuquerque TC NM) leads the Junior Mens decathlon after Day 1 with 3974 points.

Jordan Hasay
finished 10th in the first (semi-final) round of the Senior Womens 1500 in 4:19.61

Justin Shirk
competed in the Senior Mens javelin, finishing 20th with a throw of 200-08
John Nepolitan
Thursday Preps Gallery
Robert Rosenberg
Thursday USATF Gallery


California throws star Anna Jelmini winds up during the Senior Womens discus, where she finished 7th - Photo by Robert Rosenberg