Pan American Junior Championships




Hasely Crawford Stadium, Port of Spain, Trinidad and Tobago

Fri., July 31 - Sun., Aug. 2, 2009




"I feel like it's destiny to come here and run"





NC prep superstar Wayne Davis II gets to come "home" to T&T



By SteveU
photo from USATF Juniors by John Nepolitan




It's unlikely that anyone on Team USA treasures the opportunity to compete at the Pan-Am Juniors in Trinidad and Tobago more than Wayne Davis II. Ever since he knew of the meet being here – the homeland for his entire family – he hoped to make Team USA and run in front of countless family and friends.

But it hasn't been easy. After a fantastic indoor campaign as a junior in 2008, Davis suffered through injuries throughout the outdoor season, with the low point being a tibia fracture at Junior Nationals. By last winter, he was fit again and ripped through another great indoor season, only to hurt his ankle right before NIN – where he won anyway. His outdoor season started slow, but he was healthy and stayed that way, getting faster every week. By NON he was finally back to and beyond the level everyone held for him since he won the World Youth 100H title as a soph. Thus, the USATF Juniors in late June became the biggest race of his life – to not only win and run fast, but to make it to T&T to run in front of his family. But let Wayne tell it …


As you planned your outdoor season, back in the early spring after healing from the pre-NIN injury, did you have in mind making this team and racing at the end of July like this?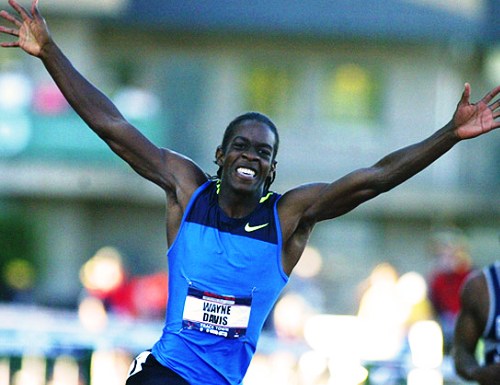 I've had this entire moment in my mind since the time I fractured my tibia in the 2008 Junior Nationals. Whether I was hurt or not, it was always on my mind and I just kept positive through it all. I knew it was going to be very tough making this team, especially since the setback; I expected to do better in the early outdoor season, but I couldn't because I lost so much stamina. I was running in small meets and getting tired half way through the race. Since I was behind I had to work on my speed endurance all summer to get where I am now.

At times I was worried I wouldn't be able to run my best at juniors, but all the training I put into polishing up my sprinting technique paid off. I really didn't expect to pull away from those guys at the eighth hurdle in Oregon like I did. That type of finish was in my mind even though I didn't think it was possible. I'm glad I proved myself wrong!


In the photos we ran from the Junior meet in Eugene , you looked happier after finishing than I've ever seen you, even after your indoor national records. What did that race in Eugene mean to you, both in and of itself, and in the arc of your entire career?

This is the most nerve-racking race I have run throughout my entire high school career. My entire week was focused on that race. I felt nerves and butterflies in my stomach about five days before my race. I had a huge load of the nerves sort of trapping me in an antsy little bubble where I couldn't relax at all. My coach tells me if you're not nervous, you're not ready. I figured since I was more nervous than ever I would do really well.

There was also a thought in the back of my mind that I was still working on with my technique; I changed something that I had never done before that I knew would make me faster, but there were still a few issues. When it came to race time, I just did what I knew I should do during the race and it all benefited me. Once I crossed the line, and couldn't see anyone beside me, all that stress and load on my shoulders just dropped off hard.


Can you talk about the Blunt Invite last weekend and how it fit into your plan for the last month as you got ready for Pan-Am? Also, was it meaningful and motivating for you to have one last meet as a prep in North Carolina ?

The Blunt Invite was just to test out where I was before I went to Pan Am Juniors … without a lot of competition on Duke's slow spongy track. My usual home crowd wanted to see me, so I also had to do it one more time in front of them. I also hoped to break the USATF age group national record before I left. The new record is now 13.38, and I didn't realize I broke it until the day after.


Please tell us about this the Pan Am Games, and the family aspect of it for you. I'm guessing this meet has a whole lot more meaning for you in T&T than it would somewhere else?

My dad called me and told me I have a big picture in the newspaper in Trinidad so I'm guessing the whole country is looking forward to see me run. My entire family is from Trinidad & Tobago. My mother, father, sister, two aunts and I live in the United States. The rest of the clan lives in Trinidad & Tobago. Whenever I go to visit, my family and friends over there they always ask me to run for them and always complain they never get to see me in action after seeing videos and hearing stories.

I have always wished to run so my family can see me at my best. My grandfather on my mother's side died before he could ever get to see me, a few years ago on New Year's Day. He was the main person I wanted to see me run, because he would always say he could beat me and we would laugh about it. I feel like it's destiny to come here and run and I'll also be paying some respects to my grandfather when I come back. Win or lose, I know my family will still be proud of me especially my grandfather.


How fast a time do you feel you have in you, with good competition and assuming good weather. Do you feel like 13.15 or better is possible?

I feel like I could go 12.9 – 13.0 this year. I am also still 17 and have another year to compete in this race (to run 39" as a US Junior). This assures me if I don't break the record, I have the next year to break it. I always hear people, like my coaches and friends, saying my times will be scary next year after I come back from Texas A&M faster and stronger.

I actually look forward to collegiate track and field more than I do running against a field I have already been through in age group divisions. I actually want to be beaten in college so I will have more incentive to push myself harder to get back on top.




.