Nike Outdoor Nationals


June 18-20, 2009 at Greensboro NC
DyeStat on-site


Vic Sailer



Vic Sailer is 50!
famed photographer is a fixture at NON and 70 other meets all over the world
Vic Sailer is a familiar site to all track fans, even if you don't know his name. He crouches at the right spot and memorializes the action and images at every big meet in the US and overseas. He was a decathlete once upon a time and a New York fire fighter; now he is a full time track photographer. Larry Eder is publisher of The Running Network. -- John Dye.
Happy Birthday, Victah Sailer!
by Larry Eder
Victah Sailer will celebrate his fiftieth birthday on June 26, 2009. Of course, his lovely wife, Lisa Coniglio somehow planned a surprise party for Victah on one of his off days, June 13, 2009. We wish Victah fifty more years of shooting the sport he loves.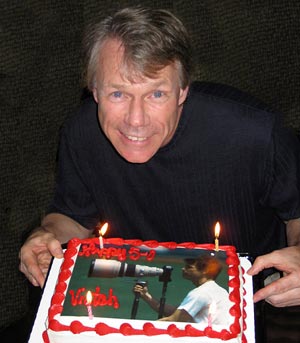 How does one describe a relationship with Victah Sailer? I first met Victah in 1988, I believe, as I was working on Masters Running magazine. I had heard of him as far back as 1986. Victah (with Lisa) is the heart and soul of PhotoRun.net, with his associates in Paris and Tokyo. Shooting more than seventy events a year (yes, 70, for example, in one weekend, he did the Freihoffers, Reebok NY Grand Prix, then jumped on a plane to shoot the RNR San Diego marathon -that was in 36 hours!)

Victah loves the sport, and loves the athletes, managers, sponsors so much that he will put his support out for cause, whether he is one of thousands or one voice. As Victah and company shoot for most of the running magazines in North America, Europe & Japan, as well as the top websites, his company,PhotoRun.net, and his name are synoymous with photography that celebrates the beauty, complexity and excitement of our sport. A race or event that does not use Victah and his team do so at their own peril. As a publisher, I know if Victah is there, the event will be covered well and I can find tremendous quality. From Runners World to the Running Network, from dyestat.com, Flotrack.com to trackandfieldnews.com and runningnetwork.com, PhotoRun.net captures the heart of our sport. You can see Vic running across the fields of track meets, or Lisa at the end of a hundred meters, or ensconced, with the myriad other photographers at the race finishes as well.

Victah Sailer was a decathlete in college. He has been a fireman, and after 9-11, Victah retired after 20 years of service. That we did not find out Victah was alive on 9-11 until 11:55 pm that day is another story.

When I first started in publishing, Victah was there, with his advice, photographs and more advice. His friendship has kept me in one piece when times were tough and his sense of humor kept me in stitches. I can speak for many, without Victah's help and support, many of us would have thrown in the towel years ago. Victah Sailer is a good and hard working photographer in a crazy business. His team's work give hundreds of thousands of track fans a more intimate view of our sport.

Lisa Coniglio, his wife, is a fine photographer in her own right. She planned a surprise party for our friend on one of his few open nights. You see the wonderful cake and Victah's beatific smile!

photo by Lisa Coniglio