by Dave Devine, DyeStat senior editor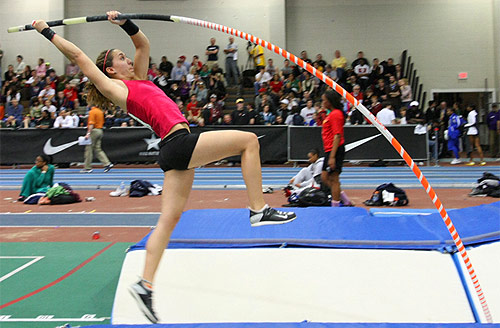 Shade Weygandt vaults at the 2009 Nike Indoor Nationals - Photo by Jeannette Seckinger



Minutes after descending from atop the awards podium at the 2009 Simplot Games, Texas pole vaulter Shade Weygandt was ready to call it a season. Perhaps a high school career. She'd just defended her title at one of the biggest indoor meets in the nation, and Weygandt was contemplating putting the pole on the shelf.

Hanging up the vaulting spikes, at least for the winter.

Nothing was clicking. She'd won the competition, sure, but at 12-3? That was, in Weygandt's mind, freshman stuff—a height she'd cleared with regularity as a ninth grader, and this was supposed to be her big senior season. The nation's most promising high school pole vaulter adding the senior class record—and thus the national record—to the trio of class records she already possessed. Now she was struggling to reach 13 feet, much less approach national record-holder Tori Anthony's outdoor best of 14-01.25. On the medal stand, Weygandt put on a good face for the people of Pocatello, forced a smile and acknowledged the applause, but the win felt a bit empty, she admitted after escaping the spotlight for the underside of the grandstand.

If things didn't start improving, she indicated, she was considering skipping the big national meets in March. Why waste the money traveling across the country to do…what? Vault 12-3? It didn't make sense, and the frustration wasn't isolated to this meet in Idaho. Her beloved athletic endeavor, the thing she did every day, the thing she'd graduated high school early to focus upon, had become a puzzle that needed solving.



Whitt dominates from start to finish



Contrast Weygandt's cruel winter with the one being unfurled by Oklahoma vaulter Jack Whitt.

The Norman North High senior was hitting on all pistons right out of the gate. Two days after the calendar flipped to 2009, Whitt soared 17-0 at the Reno Pole Vault Summit, establishing himself as the man to beat on flexible fiberglass this year. It's a position he's refused to relinquish for the remainder of his indoor and outdoor campaign.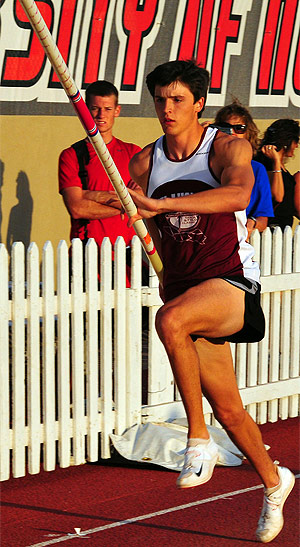 Jack Whitt en route to a meet record at Great Southwest
Photo by John Dye


Whitt elevated over 17 feet several more times while still undercover, topping out at a nation-leading 17-2 at the Gudgen Invitational on February 14th. Even skipping the big national championship meets in Boston and New York, Whitt was unquestionably the best boy's vaulter in the country. Outdoors, the Oral Roberts-bound star has been even more devastatingly consistent, making 17-footers seem almost commonplace as he's racked up big wins all over the map, claiming titles at the Texas Relays, the Oklahoma 6A State Meet, the Golden South Classic in Orlando FL and the Great Southwest Classic in Albuquerque NM. At the Texas Relays, Whitt reached the Holy Grail of high school vaulting—scaling 18-00.25 for #5 all-time and only 2.75 inches shy of Tommy Skipper's 2003 national record of 18-3.

By the time his Oklahoma season concluded, Whitt was red hot and rolling; no one else in the country was within 7 inches of his best bar. The rest of the season would be dedicated to pursuing that national record. Finding those extra three inches. Heading into the Great Southwest Classic the first weekend of June, everything was clicking.

But where was Shade Weygandt?

After a runner-up performance of 13-02.25 to Canadian vaulter Arian Beaumont-Courteau's 13-08.25 at the Nike Indoor Nationals (she'd decided to go after all) Weygandt tumbled from the radar again. Her early graduation from Mansfield High meant she wasn't able to participate in the regular high school season or defend the Texas 5A state vaulting title she'd won three straight years, starting with a precocious 12-9 victory as a freshman in 2006, but it didn't preclude her from competing altogether. Since she'd put off enrolling at Texas Tech until the fall, she was still considered a high schooler for post-season and open competition purposes. If she'd managed a big mark at a small meet or all-comers gathering, word would have surely made its way to track and field's annual listmakers, but no such news had come. If she was solving the puzzle, it was happening quietly and out of public view.



Great Southwest brings meet records for both



Weygandt and Whitt arrived at the Great Southwest Classic two weeks ago riding decidedly different seasonal vibes. Whitt was the established national leader pursuing bigger heights, higher bars, all-time status. Weygandt was an all-timer trying to get her mojo back. Indiana newcomer Ellie McCardwell had replaced her on top of the heap, a promising mid-12-foot vaulter as a freshman last year who had improved to a US#1 13-5 in the spring of 2009. In fact, the very weekend Weygandt was stepping back into the national spotlight in Albuquerque, McCardwell was topping 13-06.25 at the Indiana State Meet for a new state record. By all appearances, the Pendleton Heights sophomore had just tacked another inch and a quarter onto her national leader. It was hard to imagine anyone else going higher the same weekend.

Of course, 13-6 was a height Weygandt first cleared in the winter of her sophomore season, but all that was ancient history. What about now?

In Albuquerque, Whitt was the vaulter he's been all year, clearing a meet record 17-2.75 to notch yet another victory over the 17-foot barrier. But Shade Weygandt was the revelation of the meet, folding her black-painted fingernails around the taped grip of her pole and clearing height after height until no one else was left. Until only the bar remained, teetering 14 feet above the ground. Not 12-3, not 13-6…14-feet even. A height she'd never topped in competition, not even when all the pieces were falling into place. Not even when everything was clicking. Barreling down the runway, Weygandt soared over 14-0 on her first try for a new personal best and a Great Southwest meet record. After she fell to earth, the overwhelmed Texan jumped for joy on the mat and wiped away tears of joy, exclaiming, I've been trying for this for two years! She then missed three attempts at a national record 14-2.75, but still moved into a tie for second-best high school girl ever, sharing real estate on the all-time list with Tiffany Maskulinski NY from 2005 and Rachel Laurent LA from 2008.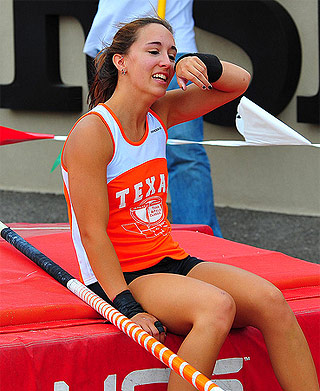 Shade Weygandt wipes away tears after a new PR of 14-0
at the Great Southwest Classic - Photo by John Dye


Return trips carry high expectations



Whitt and Weygandt head into this weekend's Nike Outdoor Nationals as an unexpected pair of favorites—the consistent champion and the comeback kid. Everyone would have picked Whitt as a favorite. Three weeks ago few might have named Weygandt, despite her record of success. Each has been here before. Weygandt won the 2007 Nike Outdoor pole vault championship as a hotshot sophomore riding a wave of big 13-foot clearances, and then elected to skip the post-season meets in 2008 after setting a national junior record of 13-10 with her win at the Texas 5A state meet. Whitt came into the 2008 Nike Outdoor meet as a consistent high-16 footer, but succumbed to the rigors of travel and a windy day to place 8th with a disappointing 15-02.75. As the last few weeks have shown, he seems to have mastered the travel thing, and he stated earlier this year that he's been intentionally jumping in unpredictable weather to prepare for meets like Nike Outdoor, where he can't control the elements. His astonishing consistency this season indicates an ability to handle whatever Mother Nature might throw his way in Greensboro.

There are two other vaulters in the boys field who have cleared 17-feet: Sam Ewing of Arkansas with a best of 17-0, and Chase Cooper of Colorado with a PR of 17-04.75. Both are strong competitors, but if Whitt is able to maintain the singular focus he's shown since the first week of 2009, he will have the runway to himself at the end of the competition Saturday evening.

Weygandt will meet McCardwell in the Indiana soph's first outing in a big post-season meet. The one-time national leader, McCardwell is the only other vaulter in the field with a PR over 13-5, though she suddenly finds herself staring at six imposing inches between herself and Weygandt. Other contenders include Lousiana soph Morgann LeLeux, who carries a best of 13-02.50, and seemed the heir apparent to Weygandt before McCardwell's ascension this spring, and Illinois' Megan Weller, with a PR of 13-1.

While Whitt and Weygandt both intend to compete in next week's USATF Junior Nationals as well, this will be their final chance to score Nike National gold and put a cap on their respective high school careers. They may have followed different paths this year to Greensboro, but both seem to be on the rise at the right time.