DyeStat on-site with John and Donna Dye




Detailed Results

Highlights



3 huge US#1's

: Bryce Lamb 25-10.75 LJ (briefly), Shade Weygandt 14-0 PV and Tavaris Tate 45.48.
Curtis Beach splits 1:50; fast but windy hurdles; fast but windy 100s; 4 girl long jumpers better than 19-4; hurdle double by Jasmine Stowers; sprint double by Octavious Freeman with 23.36 US#2; throws double by Mason Finley; sprint double by Ryan Milus.



4x400




USA routs New Bern



USA rabbits wouldn't be caught - Sal Gonzalez' account of the race.

Tavaris Tate MS and Clayton Parros NJ warmed up for their US All Star showdown with New Bern NC's 4x400 relay with a torrid battle in the open 400, Tate winning 45.48 to 45.71, the best two times in the country this year. Three hours later they led a wire to wire victory over record seeking New Bern NC, 3:06.35 to 3:13.18, with Curtis Beach NM and Andre Carter GA filling out the team.
It was the 15th event in 3 days for Beach, who won the decathlon Thursday and Friday and anchored New Mexico's 4x800 win in 1:50 and then ran a 46.45 third leg on the USA All Stars.
The issue was decided on the opening leg when USA leadoff Clayton Parros ran away from New Bern leadoff Fuquawn Green in the last 150 meters.
Splits:
USA - Parros 45.82, Tate 46.75, Beach 46.45 and Carter 47.02
New Bern - Green 48.84, Anthony Hendrix 47.32, Andrew Hendrix 47.39, and Miles Sparks 49.29. Sparks eased up near the end of the race.




59 Tate and 56 Parros near end of open 400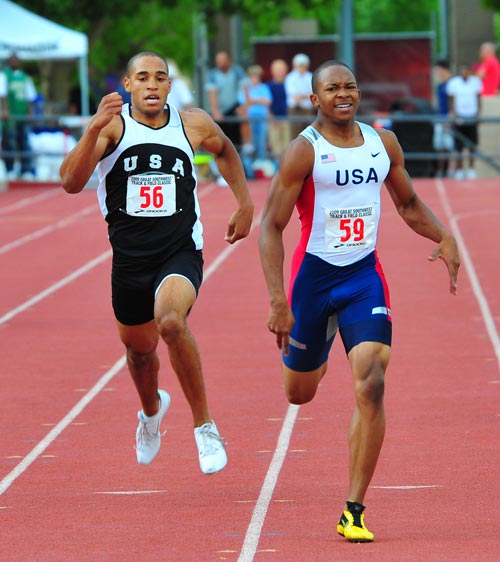 photo by John Dye
B-SP:Mason Finley CO 68-5, completing a throws double with his 215-11 discus.
G-3200: Jessica Rydberg AZ 10:45.78
B-PV: US leader Jack Whitt OK 17-2.75 meet record.
B-TJ: US leader Bryce Lamb AZ 50-5.5 +0.8, completing an LJ/TJ double.
B-200: Ryan Milus AZ 21.06 +1.5 US#5.
G-200: Octavious Freeman FL 23.36 +1.5, completing a sprint double with a meet record and US#2 time.
B-PV: Jack Whitt OK 17-2.75 for a new meet record. Like all vaulters, Whitt was bothered by the swirling winds. He also missed most of his practice this week because of a death in the family. Whitt said he tired at the end today, but was looking forward to Nike Outdoor Nationals 2 weeks from now.
G-400: Briana Nelson SC 53.27, just off her US#2 ranking time.
G-LJ: Precious Selmon MO 20-6.5 +3.7, with three more girls above 19 feet: Samantha Collins AZ 19-9 +3.2, Kansas soph LeTristan Pledger 19-7 +1.1, and Colorado soph Brittany Lewis 19-4.75 +2.1.
B-400: Tavaris Tate MS improved on his US#1 time with a 45.48 clocking, pushed hard by Clayton Parros NJ 45.71. The two now rank 1-2 on the 2009 outdoor list. Third was Andre Carter GA in 47.08. These three runners return 2 hours and 45 minutes later on a US All Star 4x400 relay that will run against New Bern NC in a national record attempt (3:07.40).
B-100: Arizona sr Ryan Milus 10.31 +2.4
G-100: Florida soph Octavius Freeman 11.20 +6.9.

G-HJ: Utah soph Lauren Crockett beat last year's champ Shanay Briscoe TX on a tie breaker at 5-10. Crockett made the previous height on her first try and Briscoe her second.
B-LJ: Arizona sr Bryce Lamb, already US#1 in triple jump, took the top spot in long jump with a leap of 25-10.75 in one of the relative lulls in a gusty day (legal wind 1.5). It was a short lived reign as US#1 because Markquise Goodwin TX trumped him with a leap of 26-1 in the Texas State meet a few minutes later.
B-100H: Wayne Davis NC 13.35 +4.6
G-100H: Jasmine Stowers SC 13.34 +4.0
B-4x800: New Mexico 7:43.28. Utah was supposed to be favored, but they may not have counted on Curtis Beach running for New Mexico. One day after a record setting decathlon, Beach sealed the win for New Mexico with a 1:50 anchor leg.
G-PV: Mansfield TX sr Shade Weygandt soared over 14-0 on her first try for a GSW meet record and a PR. Shade jumped for joy on the mat and wiped away tears of joy exclaiming, "I've been trying for this for 2 years." The national class record holder as a freshman, sophomore and junior, Weygandt has had a down year as a senior until now. Now she wants the national HS record (14-1.25 by Tori Anthony in 2007) before reporting to Texas Tech in the fall. Weygandt missed three times today at 14-2.75. She will have two more shots at the record at Nike Outdoor Nationals in Greensboro 2 weeks from now and the US Junior Nationals in Eugene OR the week after. She moves into a tie for 2nd best HS girl ever, tied with Tiffany Maskulinski NY in 2005 and Rachel Laurent LA in 2008. "I have to call Rachel now," Shade said. The two became great friends competing in the same meets over the last 2 years.
B-Jav: Devin Bogert soph, TX 216-8, ; Johannes Swanepool KS 209-0; Sam Humphreys TX 199-10. Top seeded Humphreys was bothered by an ankle injury that caused him to pass his final two throws. His 3rd place mark came on a virtual standing throw after hobbling 3 steps.
.Shade Weygandt emotes after 14-foot pole vault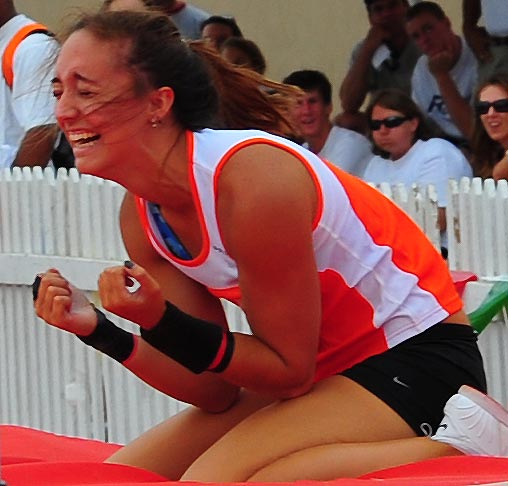 photo by John Dye




Results



NOTE: The Great Southwest scores by states in the Southwest region. Runners from outside that region are not ranked in the results since their states don't score in the team scoring; their marks are shown below the Southwest states.

Girls



Boys


.


 Boys 100 Meter Dash Elite
=====================================================================================
 Sponsor: Clean & Simple, Inc. John P. Haaland
      GSWTFC: # 10.07  2005        J-Mee Samuels, Winston-Salem, NC            
National Rec: $ 10.01  6/26/2008   Jeff Demps, Eugene, Oragon                  
    Name                    Year School                  Seed     Finals  Wind Points
=====================================================================================
  1 365 Ryan Milus            12 Arizona,Chandler, A    10.33      10.31   2.4  10   
  2 519 Joeal Hotchkins       12 Nevada,NV, NV          10.43      10.38   2.4   8   
  3 597 Boyea Lockett         12 Oklahoma,OK, OK        10.48      10.51   2.4   6   
  4 555 Shaun Murray          12 Nevada,NV, NV          10.45      10.52   2.4   5   
  5 653 Xsaiver Van Zandt -s  12 Texas,TX, TX           10.39      11.36   2.4   4   
 -- 58 Hunter Furr            12 Unattached,Albuquer    10.49     X10.50   2.4 
 
Boys 100 Meter Dash
========================================================================================
 Sponsor: Clean & Simple Inc,  John P. Haaland
      GSWTFC: # 10.07  2005        J-Mee Samuels, Winston-Salem, NC            
National Rec: $ 10.01  6/28/2008   Jeff Demps, Eugene, Oregon                  
    Name                    Year School                  Seed     Finals  Wind H# Points
========================================================================================
  1 423 Tyrell Yardley        11 Utah,Clinton, UT       10.60      10.62   3.9  4  10   
  2 434 Matthew Maughan       12 Utah,Riverton, UT      10.90      10.69   5.2  2   8   
  3 180 Jason Reagor          12 New Mexico,NM, NM      10.47      10.78   3.9  4   6   
  4 341 Matt Reidhead         12 Arizona,AZ, AZ         10.84      10.83   1.6  3   5   
  5 269 Gus Barnes            12 Colorado,CO, CO        10.99      10.84   5.2  2   4   
  6 809 Andre Childs             Texas                  11.00      10.85   5.2  2   1.50
  6 640 Shaun Powell          10 Texas,TX, TX           10.82      10.85   1.6  3   1.50
  8 313 Evan Taylor           12 Colorado,CO, CO        10.79      10.91   3.9  4 
  9 235 Kyle Thompson         10 Texas,Argyle, TX       10.80      10.92   3.9  4 
 10 241 John Blass            12 Texas,Arlington, TX               10.95   2.1  1 
 11 246 Tevin Bonner          12 Texas,El Paso, TX      11.10      10.99   5.2  2 
 12 315 Mike Carl             12 Colorado,CO, CO        10.95      11.01   5.2  2 
 13 602 Xavier Hill           11 Oklahoma,OK, OK        11.12      11.01   5.2  2 
 14 802 Denzel Everhart          Texas                             11.11   1.6  3 
 14 200 Estevan Vigil         11 New Mexico,NM, NM      10.68      11.11   3.9  4 
 16 566 raymond turner        11 Oklahoma,del city,     11.50      11.17   2.1  1 
 17 580 kolton taylor         12 Oklahoma,cleveland,    11.43      11.24   2.1  1 
 18 221 Miguel Caldera        11 Texas,El Paso, TX      10.89      11.31   1.6  3 
 19 398 Anders Battle         11 Arizona,Phoenix, AZ    10.85      11.31   1.6  3 
 20 233 Dravius Jones         11 Texas,Lancaster, TX    11.01      11.34   5.2  2 
 21 603 Airick Johnson        11 Oklahoma,Midwest Ci    10.90      11.35   1.6  3 
  
Event 13  Boys 200 Meter Dash Elite
=====================================================================================
 Sponsor: Robert Cohen-Mondo
      GSWTFC: # 20.65  6/1985      Roy Martin, Florida                         
National Rec: $ 20.13  5/11/1985   Roy Martin, Dallas, Texas                   
    Name                    Year School                  Seed     Finals  Wind Points
=====================================================================================
  1   365 Ryan Milus          12 Arizona,Chandler, A    21.13      21.06   1.5  10   
  2   423 Tyrell Yardley      11 Utah,Clinton, UT       21.15      21.17   1.5   8   
  3   519 Joeal Hotchkins     12 Nevada,NV, NV          21.06      21.33   1.5   6   
  4   555 Shaun Murray        12 Nevada,NV, NV          21.07      21.76   1.5   5   
 --    50 Andre Carter        12 Unattached,Albuquer    21.24     X21.10   1.5 



Event 11  Boys 200 Meter Dash
========================================================================================
 Sponsor: John E. Haaland and Chris Haaland
      GSWTFC: # 20.65  6/7/2008    Brandon O'Conner, Florida                   
National Rec: $ 20.13  5/11/1985   Roy Martin, Dallas, Texas                   
    Name                    Year School                  Seed     Finals  Wind H# Points
========================================================================================
  1   313 Evan Taylor         12 Colorado,CO, CO        21.61      22.04   0.1  3  10   
  2   424 Brayden Brunson     12 Utah,Delta, UT         21.72      22.35   0.1  3   8   
  3   104 Jake Espinosa       11 New Mexico,NM, NM      21.33      22.39   0.1  3   5.50
  3   321 Isaiah Grady        11 Colorado,Aurora, CO    22.22      22.39   1.3  2   5.50
  5   803 Chris Sommers          Texas                             22.40   1.5  1   4   
  6   640 Shaun Powell        10 Texas,TX, TX           22.20      22.47   1.3  2   1.50
  6   802 Denzel Everhart        Texas                             22.47   1.5  1   1.50
  8   612 Jordon Hoover       11 Oklahoma,OK, OK        22.48      22.55   1.3  2 
  9   262 bryant johnson      09 Texas,littile elm,     22.00      22.83   0.1  3 
 10   300 Dyrell Torrey       12 Colorado,CO, CO        22.01      22.85   1.3  2 
 11   566 raymond turner      11 Oklahoma,del city,                23.15   1.5  1 
 12   815 Cody Wallace        11 Texas,Forney, TX                  23.24   1.5  1 
 13   827 Brayon Hartfield       Texas                  21.70      23.25   0.1  3 
 14   200 Estevan Vigil       11 New Mexico,NM, NM      21.86      23.27   0.1  3 
 15   221 Miguel Caldera      11 Texas,El Paso, TX      22.40      23.60   1.3  2 
 16   804 Kyndall Clayton        Texas                  22.00      24.58   0.1  3 
 --    49 Wayne Davis II      12 Unattached,Raleigh,    22.65     X22.06   1.3  2 


 --    58 Hunter Furr         12 Unattached,Albuquer    21.37     X21.15   1.5 
Boys 400 Meter Dash
===================================================================================
 Sponsor: Gardenswartz Team Sales-Tom Dragnmeister
      GSWTFC: # 46.06  2004        Cedric Goodman, Newman, Georgia             
National Rec: $ 44.69  7/24/1982   Darrell Robinson, Tacoma, Washington        
    Name                    Year School                  Seed     Finals  H# Points
===================================================================================
Finals
  1 577 Douglas Parker        11 Oklahoma,OK, OK        50.66      49.17   1  10   
  2 437 Michael Keith         12 Utah,South Jordan,     48.36      49.22   3   8   
  3 104 Jake Espinosa         11 New Mexico,NM, NM      48.97      49.32   3   6   
  3 535 Kami Jones            11 Nevada,NV, NV          51.90      51.73     
  4 518 John Cartier          11 Nevada,NV, NV          50.22      49.47   1   5   
  5 805 Joshua McKinney          Texas                  49.00      49.60   2   4   
  6 571 Jywayne Allen         09 Oklahoma,Ardmore, O    49.37      49.72   2   3   
  7 187 Warrick Campbell      11 New Mexico,Albuquer    49.21      49.82   2 
  8 573 Julian Frazier        12 Oklahoma,Broken Arr    48.85      49.99   3 
  9 413 Tanner Hunt           11 Utah,Hyde Park, UT     48.18      50.15   3 
 10 327 Eric Roth             12 Colorado,Colorado S    49.41      50.31   1 
 11 570 Gerrod Coney          11 Oklahoma,OK, OK        50.31      50.36   1 
 12 813 Anthony Whitaker      12 Texas,Houston, TX      49.00      50.74   2 
 13 316 Eddison Mason         11 Colorado,Colorado S    49.62      50.89   1 
 14 268 Timothy Schmuhl       10 Colorado,Broomfield    49.53      51.12   1 
 15 282 Devon Acker           12 Colorado,CO, CO        49.73      51.34   1 
 16 262 bryant johnson        09 Texas,littile elm,     49.50      51.73   1 
 17 806 Derwood Kirby            Texas                  49.00      52.95   2 
 18 553 Nick DePaoli          10 Nevada,NV, NV          51.85      53.07   2 
 19 827 Brayon Hartfield         Texas                  49.00      53.43   2 
 20 533 Bob DePaoli           12 Nevada,NV, NV          52.00      54.08   2 
 -- 59 Tavaris Tate           12 Unattached,Albuquer    45.78     X45.48   3 
 -- 56 Clayton Parros         12 Unattached,Albuquer    46.63     X45.71   3 
 -- 50 Andre Carter           12 Unattached,Albuquer    46.81     X47.08   3 
 
Boys 800 Meter Run
================================================================================
 Sponsor: Carlsbad Elks Lodge #1558
      GSWTFC: # 1:50.30  1984        Regis Humphrey, Denver, CO                
National Rec: $ 1:46.45  5/31/1996   Michael Granville, Bell Gardens, Californi
    Name                    Year School                  Seed     Finals  Points
================================================================================
Finals
  1 489 Sam Jones             12 Missouri,MO, MO      1:53.33    1:54.33   10   
  2 523 Aaron Adkins          12 Nevada,NV, NV        1:53.23    1:54.47    8   
  3 103 Bronson Duran         11 New Mexico,NM, NM    1:52.61    1:55.19    6   
  4 801 Kourtney Payne           Texas                           1:57.04    5   
  5 411 Devin Lang            12 Utah,Kaysville, UT   1:53.70    1:57.17    4   
  6 141 Gabe Aragon           12 New Mexico,Albuquer  1:53.57    1:57.47    3   
  7 273 Dain Kahn             12 Colorado,Boulder, C  1:57.00    1:58.10  
  8 446 Erik Peterson         12 Utah,South Jordan,   1:55.00    2:01.15  
  9 470 Alex Rhodes           11 Missouri,MO, MO      1:57.98    2:01.49  
 10 91 Kendall McVey          10 New Mexico,NM, NM    1:57.63    2:02.56  
 11 407 David Nester          12 Utah,Spanish Fork,   1:54.00    2:03.65  
 12 816 Stephan Gabillard        Texas                1:58.00    2:06.58  
 13 307 Will Maher            12 Colorado,Westminste  2:00.30    2:07.95  
 14 539 Preston Lyons         11 Nevada,NV, NV        2:03.30    2:09.09  
 15 283 Ian Cross             12 Colorado,Durango, C  1:56.90    2:09.52  
 16 254 Eric Alexander        10 Texas,Friendswood,   2:05.00    2:11.40  
 



Event 21  Boys 1500 Meter Run
================================================================================
 Sponsor: Harrison Homes-Chip Smith
      GSWTFC: # 3:50.24  1988        Ian Alsen, Northridge, CA                 
National Rec: $ 3:38.26  5/27/2001   Alan Webb, Reston, Virginia               
    Name                    Year School                  Seed     Finals  Points
================================================================================
  1    69 Pat Zacharias       11 New Mexico,NM, NM    4:02.00    4:03.39   10   
  2   395 Jonathan Brown      12 Arizona,Gilbert, AZ  3:55.00    4:06.40    8   
  3   127 Taylor Murray       12 New Mexico,NM, NM    4:06.00    4:06.50    6   
  4   509 Eric Sandall        11 Nevada,NV, NV        4:06.00    4:10.40    5   
  5   491 Daniel Everett      10 Missouri,MO, MO      3:59.90    4:13.46    4   
  6   281 Jeff Warren         12 Colorado,Highlands   4:03.00    4:13.92    3   
  7   288 Andrew Roberts      12 Colorado,Boulder, C  4:05.00    4:14.14  
  8   473 Caleb Hoover        10 Missouri,MO, MO      3:56.43    4:16.41  
  9   457 Gary Hatch          12 Utah,Springville, U  4:04.00    4:18.71  
 10   561 Al Galan            11 Nevada,Henderson, N  4:08.00    4:18.87  
 11   189 jonah ruybalid      12 New Mexico,Los Luna  4:07.11    4:19.84  
 12   219 Carlos Falcon       12 Texas,Houston, TX    4:27.43    4:20.20  
 13   138 Eric Fenton         10 New Mexico,NM, NM    4:10.34    4:21.66  
 14   823 Nathaniel Williams     Nevada                          4:45.22  
 --    61 Alex McCandless     11 Unattached,Albuquer  4:11.82   X4:27.40  



Boys 110 Meter Hurdles
========================================================================================
 Sponsor: Buddy and Geri Robertson
      GSWTFC: # 13.38  2004        Jason Richardson, Cedar Park, TX            
National Rec: $ 13.30  5/26/1990   Chris Nelloms, Dayton, Ohio                 
    Name                    Year School                  Seed     Finals  Wind H# Points
========================================================================================
  1 266 Tashaun Hill          12 Colorado,CO, CO        13.99      13.73   4.6  3  10   
  2 263 Tarique Hill          12 Colorado,CO, CO        13.95      13.75   4.6  3   8   
  3 270 Kelby Dias            12 Colorado,CO, CO        13.72      13.86   4.6  3   6   
  4 245 Imani Spivey          12 Texas,Cypress, TX      14.50      14.20   3.3  2   5   
  5 84 Rolando Trammell       12 New Mexico,NM, NM      13.80      14.25   4.6  3   4   
  6 382 Bryce Wood            11 Arizona,Phoenix, AZ    14.31      14.39   3.3  2   3   
  7 393 Damian Mayberry       12 Arizona,Chandler, A    14.41      14.48   3.3  2 
  8 615 Derio Long            12 Oklahoma,OK, OK        14.23      14.54   4.6  3 
  9 317 Cory Engel            12 Colorado,CO, CO        14.25      14.60   3.3  2 
 10 434 Matthew Maughan       12 Utah,Riverton, UT      14.72      14.70   6.3  1 
 11 603 Airick Johnson        11 Oklahoma,Midwest Ci    15.37      14.72   6.3  1 
 12 71 Charles Lewis          11 New Mexico,NM, NM      14.50      14.73   3.3  2 
 13 233 Dravius Jones         11 Texas,Lancaster, TX    14.70      14.80   6.3  1 
 14 354 Yusuf Muhammad        11 Arizona,Chandler, A    14.57      14.83   3.3  2 
 15 440 chandler rieske       12 Utah,payson, UT        14.72      14.89   6.3  1 
 16 275 Trevor Brown          11 Colorado,Colorado S    14.24      15.20   4.6  3 
 17 580 kolton taylor         12 Oklahoma,cleveland,    15.20      15.40   6.3  1 
 -- 590 Nathaniel Winfrey     12 Oklahoma,Stillwater    13.92         DQ   4.6  3 
 -- 49 Wayne Davis II         12 Unattached,Raleigh,    13.58     X13.35   4.6  3 



Boys 300 Meter Hurdles
===================================================================================
 Sponsor: Diane Cook
      GSWTFC: # 35.47  2007        Robert Griffin III, Copperas, TX            
National Rec: $ 35.28  6/20/2007   Jeshua Anderson, Lompoc, California         
    Name                    Year School                  Seed     Finals  H# Points
===================================================================================
Finals
  1 245 Imani Spivey          12 Texas,Cypress, TX      37.30      36.89   3  10   
  2 84 Rolando Trammell       12 New Mexico,NM, NM      37.67      37.24   3   8   
  3 317 Cory Engel            12 Colorado,CO, CO        38.05      38.20   3   6   
  4 590 Nathaniel Winfrey     12 Oklahoma,Stillwater    37.78      38.22   3   5   
  5 291 Aaron Praska          11 Colorado,Longmont,     38.10      38.70   3   4   
  6 71 Charles Lewis          11 New Mexico,NM, NM      38.18      38.70   3   3   
  7 290 Jordan Aguilar        12 Colorado,CO, CO        38.30      39.02   2 
  8 408 Eric Berntson         12 Utah,Smithfield, UT    38.32      39.40   2 
  9 275 Trevor Brown          11 Colorado,Colorado S    38.31      39.61   2 
 10 326 Vince Valdez          12 Colorado,CO, CO        38.81      39.77   2 
 11 354 Yusuf Muhammad        11 Arizona,Chandler, A    38.24      39.97   2 
 12 819 Tim Gblelee           11 Texas,TX, TX           39.00      40.20   1 
 13 393 Damian Mayberry       12 Arizona,Chandler, A    38.35      41.30   2 
 14 151 Garrett Nygren        12 New Mexico,Albuquer    39.11      41.30   1 
 15 372 Le'Sean Marks         11 Arizona,Chandler, A    39.50      42.78   1 
 -- 822 Malcom Nunley            Unattached             37.73     X38.07   3 


 




Boys 4x100 Meter Relay
===================================================================================
 Sponsor: Trish and Pat Porter
      GSWTFC: # 39.35  2003        Texas                                       
National Rec: $ 39.76  5/15/1998   Ft. Worth, Texas, Texas                     
                       Wesley, Clopton, Franklin, Wesley                 
    School                                               Seed     Finals  H# Points
===================================================================================
Finals
  1 Nevada  'A'                                         41.00      40.83   2  10   
     1) Joeal Hotchkins 12              2) Shaun Murray 12                
     3) John Cartier 11                 4) Aaron Harris 12                
  2 Arizona  'A'                                        39.90      40.88   2   8   
  3 Arizona  'B'                                        40.90     x41.21     
     1) Demitruis Burnett 12            2) Davonte Neal 09                
     3) Errick Johnson 11               4) Julian Gerdes 12               
  3 Utah  'A'                                           40.00      41.21   2   6   
     1) Parker Bluth 11                 2) Eric Berntson 12               
     3) Matthew Maughan 12              4) Michael Keith 12               
  4 Oklahoma  'A'                                       41.50      41.79   2   5   
     1) Antonio Brown 11                2) Daytawion Lowe 11              
     3) Jermie Robertson 11             4) Boyea Lockett 12               
  5 New Mexico  'D'                                     41.50     x42.00   2 
  6 New Mexico  'A'                                     41.50      42.40   1   4   
     1) Estevan Vigil 11                2) Derrek Montoya 12              
     3) Jake Espinosa 11                4) Jason Reagor 12                
  7 Colorado  'A'                                       41.75      42.53   1   3   
     1) Isaiah Grady 11                 2) Evan Taylor 12                 
     3) Gus Barnes 12                   4) Mike Carl 12                   
  8 New Mexico  'C'                                     42.30     x42.54   1 
     1) Larry Dupree 11                 2) Nate Wilkins 11                
     3) Bobby Wride 12                  4) Gizeh Ibanez 11                
  9 Texas  'B'                                          43.10     x42.67   1 
     1) Nicholas Arteaga 11             2) Mickey Williams 11             
     3) Shaun Powell 10                 4) Andre Childs                   
 10 Texas  'C'                                          41.80     x42.71   1 
     1) Chris Sommers                   2) Denzel Everhart                
     3) Derwood Kirby                   4) Kyndall Clayton                
 11 Oklahoma  'B'                                       41.98     x42.91   1 
     1) Derio Long 12                   2) Julian Frazier 12              
     3) Michael Ervin 11                4) Julian Wilson 11               
 12 Texas  'A'                                          41.00      43.57   2 
     1) bryant johnson 09               2) John Blass 12                  
     3) Cody Wallace 11                 4) Xsaiver Van Zandt -shaw 12     
 12 Utah  'B'                                           41.00     x43.57     
     1) Eric Berntson 12                2) Parker Bluth 11                
     3) Matthew Maughan 12              4) Michael Keith 12               
 




Boys 4x200 Meter Relay
===================================================================================
 Sponsor: Trish and Pat Porter
      GSWTFC: # 1:23.31                                                        
National Rec: $ 1:23.31  5/30/1998   Wyatt, Ft. Worth, TX, Texas               
                         Wesley, Clopton, Franklin, Wesley                 
    School                                               Seed     Finals  H# Points
===================================================================================
  1 Nevada  'A'                                       1:24.00    1:25.73   2  10   
     1) Joeal Hotchkins 12              2) Aaron Harris 12                
     3) Marcus Sullivan 12              4) Shaun Murray 12                
  2 New Mexico  'A'                                   1:28.50    1:27.38   1   8   
     1) Jake Espinosa 11                2) Estevan Vigil 11               
     3) Derrek Montoya 12               4) Gizeh Ibanez 11                
  3 Texas  'C'                                        1:28.00   x1:28.58   1 
     1) Denzel Everhart                 2) Derwood Kirby                  
     3) Joshua McKinney                 4) Chris Sommers                  
  4 New Mexico  'B'                                   1:29.00   x1:29.36   1 
     1) Wynton El 11                    2) Jason Reagor 12                
     3) Matthew Watkins 12              4) Bobby Wride 12                 
  5 Arizona  'A'                                                 1:29.41   2   6   
  6 Texas  'D'                                                  x1:30.38   1 
  7 Oklahoma  'A'                                     1:26.88    1:30.39   2   5   
     1) Daytawion Lowe 11               2) Antonio Brown 11               
     3) Jermie Robertson 11             4) Boyea Lockett 12               
  8 Oklahoma  'B'                                     1:26.00   x1:30.54   2 
  9 Colorado  'A'                                     1:25.50    1:31.27   2   4   
     1) Vince Valdez 12                 2) Aaron Praska 11                
     3) Dyrell Torrey 12                4) Trevor Brown 11                
 10 Texas  'A'                                        1:25.00    1:31.34   2   3   
     1) Xsaiver Van Zandt -shaw 12      2) Cody Wallace 11                
     3) John Blass 12                   4) bryant johnson 09              
 -- Utah  'A'                                         1:26.00         DQ   2 
     1) Parker Bluth 11                 2) Brayden Brunson 12             
     3) Jon Fergusun 12                 4) Matthew Maughan 12             
 
Boys 4x800 Meter Relay
================================================================================
 Sponsor: Joshua Simms
      GSWTFC: # 7:40.35  2003        New Mexico                                
National Rec: $ 7:32.89  6/14/2002   Auburn, Washington                        
                         Dickson,  Campbell, Lukezic, Vogt                 
    School                                               Seed     Finals  Points
================================================================================
  1 New Mexico  'A'                                   7:40.00    7:43.28   10   
     1) Marcus Dowdican 12              2) Bronson Duran 11               
     3) Gabe Aragon 12                  4) Curtis Beach 12                
  2 Missouri  'A'                                                7:57.39    8   
     1) Caleb Hoover 10                 2) Daniel Everett 10              
     3) Alex Rhodes 11                  4) Sam Jones 12                   
  3 Utah  'A'                                         7:38.00    8:01.65    6   
     1) Nathan Fletcher 12              2) Gary Hatch 12                  
     3) Hayden Hawks 12                 4) Devin Lang 12                  
  4 Colorado  'A'                                     7:53.00    8:14.36    5   
     1) Ian Cross 12                    2) Andrew Roberts 12              
     3) Roblet Muhudin 11               4) Jeff Warren 12                 
  5 Oklahoma  'A'                                     8:10.01    8:25.60    4   
     1) Taylor Moult 10                 2) Rilwan Jimoh 12                
     3) Terrell Beard 12                4) Brandon Sturgell 11            
  6 Nevada  'A'                                       7:50.00    8:26.24    3   
     1) Aaron Adkins 12                 2) Ryan Bartholomew 11            
     3) Brian Arvizu 11                 4) Jered Heter 11                 
 



Boys High Jump
==========================================================================================
 Sponsor: Heart and Sole
      GSWTFC: #  7-02  1995        Kevin Dotson, Los Alamos, NM                
National Rec: $  7-07  7/18/2002   Andra Manson, Brenham, Texas                
    Name                    Year School                  Seed     Finals            Points
==========================================================================================
Finals
  1 645 Bryan McBride         11 Arizona,Peoria, AZ   6-08.00     J2.03m    6-08.00  10   
     1.78 1.83 1.88 1.93 1.98 2.03 2.08 
        P    P    P    O    O    O  XXX 
  2 572 Dwayne Golbek         12 Oklahoma,Claremore,  7-01.00     J1.98m    6-06.00   8   
     1.78 1.83 1.88 1.93 1.98 2.03 
        P    P    P    O    O  XXX 
  3 643 Dylan Walashek        11 Arizona,New River,   6-06.00     J1.98m    6-06.00   6   
     1.78 1.83 1.88 1.93 1.98 2.03 
        P    P    P   XO    O  XXX 
  4 436 Michael Staker        12 Utah,Taylorsville,   6-08.00     J1.98m    6-06.00   5   
     1.78 1.83 1.88 1.93 1.98 2.03 
        P   XO    O    O   XO  XXX 
  5 107 Jordan Bolich         12 New Mexico,NM, NM    6-07.00     J1.98m    6-06.00   4   
     1.78 1.83 1.88 1.93 1.98 2.03 
        P    P   XO    O  XXO  XXX 
  6 116 Tim Young             12 New Mexico,NM, NM    6-08.00     J1.93m    6-04.00   3   
     1.78 1.83 1.88 1.93 1.98 
        P    O    O    O  XXX 
  7 414 Parker Cressman       11 Utah,Spanish Fork,   6-06.00     J1.93m    6-04.00 
     1.78 1.83 1.88 1.93 1.98 
        P   XO   XO    O  XXX 
  8 355 Matt Yalung           11 Arizona,Phoenix, AZ  6-08.00     J1.93m    6-04.00 
     1.78 1.83 1.88 1.93 1.98 
        O    O    O  XXO  XXX 
  8 644 Austin Malm           12 Arizona,AZ, AZ       6-06.00     J1.93m    6-04.00 
     1.78 1.83 1.88 1.93 1.98 
        O    O    O  XXO  XXX 
 10 482 Mitch Hatten          10 Missouri,MO, MO      6-07.00      1.88m    6-02.00 
     1.78 1.83 1.88 1.93 
        P    O    O  XXX 
 11 186 Christopher Phillips  12 New Mexico,las vega  6-04.00     J1.88m    6-02.00 
     1.78 1.83 1.88 1.93 
       XO    O    O  XXX 
 12 260 Eli Bogle             11 Texas,Fort Worth, T  6-04.00      1.83m    6-00.00 
     1.78 1.83 1.88 
        O   XO  XXX 
 13 293 Kobi Rex              11 Colorado,Colorado S    2.00m     J1.83m    6-00.00 
     1.78 1.83 1.88 
       XO   XO  XXX 
 -- 533 Bob DePaoli           12 Nevada,NV, NV        6-00.00         NH            
     1.78 
      XXX 
 -- 461 Scott Matheson        11 Utah,Lindon, UT      6-04.00         NH            
     1.78 
      XXX 






Boys Long Jump
===============================================================================================
 Sponsor: St. Pauls' Lutheran Church
      GSWTFC: #    25-10  2003        Dominic Ziegler, Killeen, TX             
National Rec: $ 26-09.25  6/23/1989   Dion Bentley, Pittsburgh, Pennsylvania   
    Name                    Year School                  Seed     Finals  Wind           Points
===============================================================================================
Finals
  1 345 Bryce Lamb            12 Arizona,AZ, AZ      24-05.00      7.89m   1.5  25-10.75  10   
     7.25m(0.5) FOUL      FOUL      7.06m(0.4) FOUL      7.89m(1.5)
  2 246 Tevin Bonner          12 Texas,El Paso, TX   24-03.00      7.34m   0.8  24-01.00   8   
     6.63m(1.4) FOUL      6.94m(2.0) FOUL      7.01m(5.8) 7.34m(0.8)
  3 204 Kenith Roseman        12 Texas,Grand Prairie 24-02.00      7.29m   1.0  23-11.00   6   
     7.29m(1.0) 7.14m(1.5) 7.16m(1.4) FOUL      7.07m(1.1) 7.17m(1.4)
  4 826 Jamal Pedn               Texas               23-07.00      7.09m   5.0  23-03.25   5   
     6.80m(1.9) 6.82m(0.7) 7.01m(3.0) 6.87m(0.8) 7.09m(5.0) 6.94m(3.5)
  5 581 Garrett Weir          10 Oklahoma,Bristow, O    6.72m      6.97m   1.2  22-10.50   4   
     FOUL      6.85m(0.5) 6.97m(1.2) FOUL      FOUL      6.93m(0.5)
  6 84 Rolando Trammell       12 New Mexico,NM, NM   23-03.00      6.92m   1.2  22-08.50   3   
     6.86m(+0.0) FOUL      6.92m(1.2) FOUL      FOUL      FOUL     
  7 584 Donva Adkism          12 Oklahoma,OK, OK     23-01.00      6.91m   1.4  22-08.00 
     6.56m(0.6) 6.91m(1.4) FOUL(0.6) 6.77m(1.0) 6.56m(1.7) 6.46m(0.6)
  8 461 Scott Matheson        11 Utah,Lindon, UT     22-01.50      6.85m   2.5  22-05.75 
     6.85m(2.5) 6.85m(1.4) FOUL                
  9 612 Jordon Hoover         11 Oklahoma,OK, OK                   6.73m   1.5  22-01.00 
     6.59m(0.8) 6.66m(2.9) 6.73m(1.5)           
 10 118 Larry Dupree          11 New Mexico,Rio Ranc 22-11.50      6.72m   1.5  22-00.75 
     6.28m(1.2) 6.72m(1.5) 6.12m(1.6)            
 11 517 Charles White         12 Nevada,NV, NV                     6.67m   0.2  21-10.75 
     FOUL      6.58m(0.4) 6.67m(0.2)           
 12 130 Nick Linden           12 New Mexico,NM, NM   22-02.25      6.56m   1.4  21-06.25 
     6.04m(1.8) 6.56m(1.4) FOUL(+0.0)         
 13 398 Anders Battle         11 Arizona,Phoenix, AZ 22-05.00      6.55m   3.9  21-06.00 
     6.55m(3.9) 5.95m(2.4) 5.85m(1.3)           
 14 254 Eric Alexander        10 Texas,Friendswood,  21-11.00      6.49m   0.2  21-03.50 
     6.39m(1.6) 6.49m(0.2) 5.51m(0.6)            
 15 252 amir curry            09 Texas,cedar hill, T 21-08.00      6.43m   1.1  21-01.25 
     6.00m(1.6) 6.43m(1.1) 6.14m(0.5)            
 15 142 Tyler McDonald        12 New Mexico,Albuquer 22-01.00      6.43m   1.6  21-01.25 
     6.43m(1.6) FOUL      6.31m(0.9)         
 17 808 Holden Beasley           Texas                   7.50      6.31m   1.9  20-08.50 
     6.18m(1.8) FOUL      6.31m(1.9)            
 17 349 Aaron S. Williams     12 Arizona,Scottsdale, 21-08.75      6.31m   1.8  20-08.50 
     FOUL      FOUL      6.31m(1.8)            
 19 436 Michael Staker        12 Utah,Taylorsville,  20-04.00      6.23m   1.4  20-05.25 
     6.12m(0.8) 6.07m(1.2) 6.23m(1.4)            
 20 276 Josh Valdez           12 Colorado,Fruita, CO    7.01m      6.02m   2.7  19-09.00 
     6.02m(2.7) FOUL      FOUL                
 21 312 Matt Randall          11 Colorado,CO, CO        6.85m      5.94m   1.4  19-06.00 
     5.94m(1.4) 5.77m(0.8) 5.57m(0.2)            
 -- 527 Evan Weinstock        11 Nevada,NV, NV       21-02.00         ND   NWI           
     ND(NWI)                  
 -- 191 Victor Dana           10 New Mexico,NM, NM   22-00.00         ND   NWI           
     ND(NWI)                  
 -- 488 James White           11 Missouri,MO, MO     23-01.25         ND   NWI           
     ND(NWI)               
 -- 309 Cameron Carter        10 Colorado,Highlands     6.80m         ND   NWI           
     ND(NWI)    x             
 



Boys Triple Jump
===============================================================================================
 Sponsor: Diane Decker
      GSWTFC: # 50-00.25  2003        Terrance Wheatley, RIchardson, TX        
National Rec: $ 54-10.25  7/29/2004   Kenny Hall, Tara, Baton Rouge, Louis     
    Name                    Year School                  Seed     Finals  Wind           Points
===============================================================================================
Finals
  1 345 Bryce Lamb            12 Arizona,AZ, AZ      52-06.25     15.38m   0.8  50-05.50  10   
     FOUL      14.21m(0.2) FOUL      FOUL      FOUL      15.38m(0.8)
  2 204 Kenith Roseman        12 Texas,Grand Prairie 48-11.00     15.14m   0.7  49-08.25   8   
     14.39m(0.8) FOUL      FOUL      14.40m(0.2) 14.56m(-1.0) 15.14m(0.7)
  3 233 Dravius Jones         11 Texas,Lancaster, TX 47-10.00     14.25m   0.2  46-09.00   6   
     13.62m(-0.2) 13.86m(0.5) 13.57m(1.0) 13.87m(1.1) 13.94m(-0.1) 14.25m(0.2)
  4 334 Michael Bolligar      12 Arizona,AZ, AZ      47-03.50     14.17m  -0.6  46-06.00   5   
     14.17m(-0.6) FOUL      13.72m(+0.0) 13.78m(0.9) FOUL      FOUL     
  5 517 Charles White         12 Nevada,NV, NV       49-00.00     14.15m  -0.4  46-05.25   4   
     13.67m(0.2) FOUL      14.15m(-0.4) FOUL      FOUL      FOUL     
  6 342 Cavin Langston        12 Arizona,AZ, AZ      46-02.25     13.86m   0.3  45-05.75   3   
     FOUL      13.86m(0.3) 13.52m(1.2) 13.10m(0.2) FOUL      13.67m(-0.2)
  7 252 amir curry            09 Texas,cedar hill, T 43-00.00     13.73m   0.6  45-00.50 
     FOUL      13.73m(0.6) FOUL      FOUL      13.58m(-0.2) 13.50m(NWI)
  8 187 Warrick Campbell      11 New Mexico,Albuquer 45-11.75     13.60m   1.0  44-07.50 
     FOUL      FOUL      13.60m(1.0) 12.47m(1.8) FOUL      13.36m(0.3)
  9 186 Christopher Phillips  12 New Mexico,las vega 44-00.00     13.13m   0.3  43-01.00 
     12.64m(+0.0) 13.13m(0.3) 13.07m(0.3)          
 10 145 Klay Parker           12 New Mexico,NM, NM   44-07.75     13.06m   1.3  42-10.25 
     12.93m(0.9) 13.06m(1.3) 12.85m(-0.1)           
 11 309 Cameron Carter        10 Colorado,Highlands    13.71m     12.59m   0.7  41-03.75 
     12.01m(2.3) 12.59m(0.7) FOUL                
 12 644 Austin Malm           12 Arizona,AZ, AZ      44-07.25     12.46m  -0.4  40-10.50 
     FOUL      12.46m(-0.4) FOUL                
 13 436 Michael Staker        12 Utah,Taylorsville,  40-06.00     12.28m   0.3  40-03.50 
     FOUL      FOUL      12.28m(0.3)           
 -- 84 Rolando Trammell       12 New Mexico,NM, NM   48-04.75         ND   NWI           
     ND(NWI) x  x             
 -- 648 Justin Jimmerson      12 Colorado,CO, CO       13.71m         ND   NWI           
     ND(NWI)    x             
 -- 349 Aaron S. Williams     12 Arizona,Scottsdale, 44-08.25         ND   NWI           
     ND(NWI)                  
 -- 75 Kyle Ntiforo           12 New Mexico,NM, NM   45-00.50         ND   NWI           
     ND(NWI) x  x             
 

Event 38  Boys Pole Vault
==========================================================================================
 Sponsor: Road Runner Food Bank (A)
 American Heart Association  (B)
      GSWTFC: #    4.85m  6/7/2008    Elliot Beski, Colorado                   
National Rec: $ 18-02.75  6/15/2003   Tommy Skipper, Sandy, Oregon             
    Name                    Year School                  Seed     Finals            Points
==========================================================================================
Finals
  1   585 jack whitt          12 Oklahoma,norman, OK    5.18m     J5.25m#  17-02.75  10   
     4.42 4.57 4.72 4.87 5.02 5.25 5.40 
        P    P    P   XO    O   XO  XXX 
  2   310 Chase Cooper        12 Colorado,Centennial    5.20m     J4.87m#  15-11.75   8   
     4.42 4.57 4.72 4.87 5.02 
        P    P    P   XO  XXX 
  3   377 Matthew Vipond      12 Arizona,Chandler, A 15-03.00     J4.72m   15-05.75   6   
     4.42 4.57 4.72 4.87 
        O    O    O  XXX 
  4   402 Dylan Austin        12 Arizona,AZ, AZ      15-06.00     J4.72m   15-05.75   5   
     4.42 4.57 4.72 4.87 
       XO    O  XXO  XXX 
  5   557 Bryan Artmann       12 Nevada,Henderson, N 15-00.00     J4.57m   15-00.00   4   
     4.42 4.57 4.72 
      XXO    O  XXX 
  6   207 Jared Beck          12 Texas,Rockwall, TX  15-07.00     J4.57m   15-00.00   3   
     4.42 4.57 4.72 
        O   XO  XXX 
  7   497 Isaac Mallory       12 Kansas,Gardner, KS  16-03.00     J4.57m   15-00.00 
     4.42 4.57 4.72 
       XO   XO  XXX 
  8   110 Chris Bever         12 New Mexico,NM, NM   14-09.00     J4.57m   15-00.00 
     4.42 4.57 4.72 
      XXO  XXO  XXX 
  9   279 Todd Paicurich      12 Colorado,CO, CO        4.60m      4.42m   14-06.00 
     4.42 4.57 
      XXO  XXX 
 10   360 Christian Young     11 Arizona,Bisbee, AZ  14-07.00      4.41m   14-05.50 
     3.81 3.96 4.11 4.26 4.41 4.56 
        P    P   XO    O  XXO  XXX 
 11   399 Walker Waldie       12 Arizona,Mesa, AZ    14-07.00      4.26m   13-11.75 
     3.81 3.96 4.11 4.26 4.41 
        P    O    O  XXO  XXX 
 12   636 Mike Swindle           Arizona             14-00.00      4.11m   13-05.75 
     3.81 3.96 4.11 4.26 
        P   XO    O  XXX 
 13    93 Dane Bevins         11 New Mexico,Rio Ranc 13-09.00      3.96m   12-11.75 
     3.81 3.96 4.11 
        P    O  XXX 
 14   451 Scott Craven        12 Utah,Centerville, U 14-06.00     J3.96m   12-11.75 
     3.81 3.96 4.11 
        O   XO  XXX 
 14   538 Alex Dillon         12 Nevada,NV, NV       14-00.00     J3.96m   12-11.75 
     3.81 3.96 4.11 
        O   XO  XXX 
 16   172 Matt Lee            12 New Mexico,Albuquer 13-03.00     J3.96m   12-11.75 
     3.81 3.96 4.11 
        O  XXO  XXX 
 17   195 Aaron Holt          12 New Mexico,Rio Ranc 14-03.00     J3.96m   12-11.75 
     3.81 3.96 4.11 
        P  XXO  XXX 
 --    81 Daniel Fant         11 New Mexico,Rio Ranc 14-03.00         NH            
     3.81 3.96 
        P  XXX 
 --   217 Ryan Hughes         12 Texas,Rowlett, TX   16-01.00         NH            
     4.42 4.57 
        P  XXX 
 --   235 Kyle Thompson       10 Texas,Argyle, TX    15-09.00         NH            
     4.42 
      XXX 
 --   206 Joseph Beck         09 Texas,Rockwall, TX  15-00.00         NH            
     4.42 
      XXX 
 --   214 Travis Stull        12 Texas,Dallas, TX    15-03.00         NH            
     4.42 
      XXX 
 --   363 TJ Perez            11 Arizona,phoenix, AZ 13-06.00         NH            
     3.81 
      XXX 
 --   376 Alec Hsu            12 Arizona,Phoenix, AZ 16-01.00         NH            
     4.42 4.57 
        P  XXX 
 --   237 Dustin Phillips     12 Texas,Rowlett, TX   14-07.00         NH            
     4.41 
      XXX 
 --   344 Chris Whitton       11 Arizona,Phoenix, AZ 14-00.00         NH            
     3.81 
      XXX 




Event 50  Boys Shot Put
==========================================================================================
 Sponsor: Dale Decker
      GSWTFC: #    68-10  2001        Kevin Bookout, Stroud, OK                
National Rec: $ 81-03.25  6/16/1979   Michael Carter, Dallas, Texas            
    Name                    Year School                  Seed     Finals            Points
==========================================================================================
Finals
  1   301 Mason Finley        12 Colorado,CO, CO       21.64m     20.85m   68-05.00  10   
      19.81m  FOUL  20.29m  FOUL  FOUL  20.85m
  2   605 cameron Tabor       12 Oklahoma,Norman, OK   18.91m     18.97m   62-03.00   8   
      FOUL  18.35m  FOUL  18.79m  18.81m  18.97m
  3   579 Ryan Minkley        11 Oklahoma,Ardmore, O   17.39m     18.08m   59-04.00   6   
      17.29m  18.08m  FOUL  16.33m  FOUL  17.62m
  4   126 Richard Chavez      11 New Mexico,NM, NM   59-04.00     17.82m   58-05.75   5   
      16.25m  17.66m  FOUL  17.82m  FOUL  17.32m
  5   477 Alex McDonald       12 Missouri,MO, MO     58-04.00     17.63m   57-10.25   4   
      FOUL  15.04m  16.29m  17.63m  FOUL  16.59m
  6   348 Nathan Estes        12 Arizona,Phoenix, AZ 58-07.00     17.06m   55-11.75   3   
      FOUL  13.41m  16.71m  FOUL  15.51m  17.06m
  7   351 Chris Chischilly    12 Arizona,Page, AZ    53-11.00     16.81m   55-02.00 
      15.53m  15.30m  16.21m  16.56m  16.81m  FOUL
  8   280 Mark Sparks         12 Colorado,Aurora, CO   18.28m     16.13m   52-11.00 
      FOUL  16.05m  FOUL  16.13m  FOUL  FOUL
  9    72 Carl Lueras         12 New Mexico,NM, NM   54-04.00     15.72m   51-07.00 
      15.01m  14.84m  15.72m         
 10   545 Donte Perry         12 Nevada,Las Vegas, N 53-05.00     15.71m   51-06.50 
      15.71m  15.58m  15.67m            
 11   800 Brandon Haynes      12 Texas,TX, TX        55-06.50     15.58m   51-01.50 
      15.58m  FOUL  15.50m           
 12   541 Zack Stetler        11 Nevada,NV, NV       54-05.00     15.30m   50-02.50 
      15.30m  FOUL  FOUL            
 13   225 Jeff Wilson         12 Texas,Dallas, TX    54-06.00     14.96m   49-01.00 
      14.70m  FOUL  14.96m            
 14    73 Marcus Oakley       12 New Mexico,NM, NM   52-08.50     14.29m   46-10.75 
      14.29m  FOUL  FOUL         
 15   193 Desmond Dorn        12 New Mexico,NM, NM   49-11.00     14.01m   45-11.75 
      FOUL  14.01m  FOUL          
 16   524 Paul Morton         11 Nevada,NV, NV       47-01.50     13.92m   45-08.00 
      13.92m  12.62m  FOUL           
 17   332 Mason Simmons       11 Arizona,Peoria, AZ  51-10.00     13.76m   45-01.75 
      13.76m  FOUL  FOUL            
 --   139 Kenny Howard        12 New Mexico,NM, NM   53-09.00         ND            
      ND                  
 --    77 Lance Lukkar        12 New Mexico,NM, NM   50-00.00         ND            
      ND               
 --   383 Alex Smyth          12 Arizona,Mesa, AZ    52-02.00         ND            
      ND                 
 

Boys Discus Throw
==========================================================================================
 Sponsor: McDade-Woodcock Inc-Bob McDade
      GSWTFC: # 216-02  1987        Kamy Keshmiri, Reno, NV                    
National Rec: $ 236-06  4/25/2009   Mason Finley, Buena Vista, Co              
    Name                    Year School                  Seed     Finals            Points
==========================================================================================
Finals
  1 301 Mason Finley          12 Colorado,CO, CO       71.87m     65.81m     215-11  10   
      FOUL  65.66m  63.93m  60.80m  63.52m  65.81m
  2 605 cameron Tabor         12 Oklahoma,Norman, OK   64.00m     58.07m     190-06   8   
      53.49m  55.42m  56.75m  58.07m  FOUL  FOUL
  3 348 Nathan Estes          12 Arizona,Phoenix, AZ   176-02     53.16m     174-05   6   
      48.63m  50.29m  53.16m  52.88m  FOUL  50.66m
  4 541 Zack Stetler          11 Nevada,NV, NV         178-00     53.09m     174-02   5   
      52.08m  51.24m  51.08m  50.53m  53.00m  53.09m
  5 280 Mark Sparks           12 Colorado,Aurora, CO   59.70m     52.05m     170-09   4   
      FOUL  49.57m  FOUL  FOUL  FOUL  52.05m
  6 126 Richard Chavez        11 New Mexico,NM, NM     159-05     51.55m     169-01   3   
      49.97m  51.55m  49.98m  47.77m  50.72m  50.73m
  7 403 Trent Murphy          12 Arizona,Mesa, AZ      192-07     50.31m     165-01 
      43.75m  FOUL  50.31m  FOUL  FOUL  FOUL
  8 225 Jeff Wilson           12 Texas,Dallas, TX      172-00     50.13m     164-06 
      50.13m  FOUL  FOUL  FOUL  47.14m  47.78m
  9 800 Brandon Haynes        12 Texas,TX, TX          173-09     49.70m     163-01 
      46.81m  FOUL  49.70m  FOUL  47.26m  47.03m
 10 579 Ryan Minkley          11 Oklahoma,Ardmore, O   44.82m     48.78m     160-00 
      47.35m  47.28m  48.78m            
 11 807 Chaz Laiijas             Texas                   1.75     48.27m     158-04 
      48.27m  45.39m  41.77m            
 12 811 Robert Herrera           Texas                            47.59m     156-02 
      43.41m  44.94m  47.59m            
 13 383 Alex Smyth            12 Arizona,Mesa, AZ      165-05     46.85m     153-08 
      46.85m  46.09m  FOUL           
 14 144 Zack Hernandez        11 New Mexico,NM, NM     151-10     44.69m     146-07 
      44.69m  43.62m  FOUL            
 15 477 Alex McDonald         12 Missouri,MO, MO       179-04     44.36m     145-06 
      FOUL  44.36m  FOUL         
 16 812 Kirby Carter             Texas                 165-04     43.72m     143-05 
      43.72m  FOUL  FOUL            
 17 351 Chris Chischilly      12 Arizona,Page, AZ      146-10     42.45m     139-03 
      40.00m  40.53m  42.45m            
 18 431 Jacob Thompson        12 Utah,Centerville, U   150-06     41.98m     137-09 
      41.98m  40.03m  41.33m            
 19 416 Benjamin Johnson      11 Utah,Hooper, UT       161-07     40.62m     133-03 
      FOUL  36.37m  40.62m           
 20 72 Carl Lueras            12 New Mexico,NM, NM   50-07.75     40.03m     131-04 
      40.03m  39.01m  FOUL            
 21 439 Kuyler Thompson       11 Utah,Clinton, UT      140-06     35.05m     115-00 
      31.65m  35.05m  34.21m            
 -- 1159 Jeremy Tuttle        10 Arizona,AZ, AZ      72-06.50         ND            
      ND               
 -- 1400 Aron Molinaro           Nevada                169-02         ND            
      ND                 
 -- 229 Sam Humphreys         12 Texas,Laredo, TX      189-02         ND            
      ND                 
 -- 73 Marcus Oakley          12 New Mexico,NM, NM   60-06.50       FOUL            
      FOUL  FOUL  FOUL          

 



Boys Javelin Throw
==========================================================================================
    Name                    Year School                  Seed     Finals            Points
==========================================================================================
Finals
  1 Devin Bogert              10 Texas,Tomball, TX     203-00     66.04m     216-08  10   
  2 Johannes Swanepoel        11 Kansas,Olathe, KS     214-05     63.70m     209-00   8   
  3 Sam Humphreys             12 Texas,Laredo, TX      220-01     60.91m     199-10   6   
  4 matt byers                12 Kansas,Wichita, KS    213-01     60.57m     198-09   5   
  5 Alex Kitterman            12 New Mexico,Albuquer   180-08     55.33m     181-06   4   
  6 Bryan Richards            11 New Mexico,NM, NM     178-08     54.30m     178-02   3   
  7 Blake Young               12 New Mexico,Lovingto   185-05     52.63m     172-08 
  8 Branam Yow                11 Texas,TX, TX          155-02     51.80m     169-11 
  9 Hayden Schaap             11 New Mexico,NM, NM     173-04     51.59m     169-03 
 10 Trevor Bolin              10 Texas,houston, TX     165-00     50.78m     166-07 
 11 Christian Trevino         11 New Mexico,NM, NM     178-05     50.63m     166-01 
 12 Matt Randall              11 Colorado,CO, CO       28.04m     47.78m     156-09 
 13 Richard York              12 Missouri,MO, MO       193-07     47.38m     155-05 
 14 Kyle Thompson             10 Texas,Argyle, TX      150-00     44.52m     146-01 
 15 Cale Campbell             11 Arizona,AZ, AZ        141-00     34.64m     113-08 
 -- Adam Hine                 12 Utah,UT, UT           181-06         ND            
 -- Ryan Diller               12 New Mexico,NM, NM     182-06         ND            
 -- Junior hernandez          10 New Mexico,NM, NM     177-06         ND         


Boys Hammer Throw
==========================================================================================
    Name                    Year School                  Seed     Finals            Points
==========================================================================================
Finals
  1 Nathan Estes              12 Arizona,Phoenix, AZ   194-00     57.69m     189-03  10   
  2 Kuyler Thompson           11 Utah,Clinton, UT      140-06     42.43m     139-02   8   
  3 Alex Smyth                12 Arizona,Mesa, AZ      166-00     42.28m     138-08   6   
  4 Kirby Carter                 Texas                 130-02     40.58m     133-02   5   
  5 Mason Simmons             11 Arizona,Peoria, AZ    120-00     39.86m     130-09   4   
  6 Josiah Young              12 New Mexico,NM, NM     115-00     37.00m     121-05   3   
  7 Carl Lueras               12 New Mexico,NM, NM     125-00     35.93m     117-10 
  8 Nick Calabro              12 New Mexico,NM, NM     115-00     32.48m     106-07 
  9 Jacob Thompson            12 Utah,Centerville, U   150-06     30.18m      99-00 
 -- Jeremy Tuttle             10 Arizona,AZ, AZ        150-00         ND            
 -- Jeff Poulin               12 New Mexico,NM, NM     115-00         ND            
 -- Mitch Hymas               12 New Mexico,NM, NM     115-00       FOUL            
   
Girls Results

.
Girls 100 Meter Dash Elite
=====================================================================================
 Sponsor: David and Kathy Haaland
      GSWTFC: # 11.20  2004        Ashely Owens, Denver, Co                    
National Rec: $ 11.11  6/26/1998   Angela Williams, Chino, California          
    Name                    Year School                  Seed     Finals  Wind Points
=====================================================================================
Finals
  1 253 Krystal Wynn          11 Texas,Euless, TX       11.84      11.69   6.9  10   
  2 493 Breeana Coleman       11 Kansas,Olathe, KS      11.60      11.73   6.9   8   
  3 554 Tierra Tyler          11 Nevada,NV, NV          11.84      11.95   6.9   6   
  4 238 Zoe Wright            11 Texas,Houston, TX      11.90      12.31   6.9   5   
  5 203 Nicolete Bell         11 Texas,Friendswood,     11.90      12.39   6.9   4   
 -- 627 Octavius Freeman         Unattached             11.09     X11.20   6.9 
 
Girls 100 Meter Dash
========================================================================================
 Sponsor: Meyer Supply Of New Mexico
      GSWTFC: # 11.20  2004        Ashely Owens, Denver, CO                    
National Rec: $ 11.11  6/26/1998   Angela Williams, Chino, California          
    Name                    Year School                  Seed     Finals  Wind H# Points
========================================================================================
  1 369 Serene Williams       11 Arizona,Peoria, AZ     12.03      11.81   1.3  2  10   
  2 442 Aubrie Haymore        12 Utah,Riverton, UT      11.98      11.96   1.3  2   8   
  3 551 Mackenzie Dunn        11 Nevada,NV, NV          12.43      12.02  -1.0  1   6   
  4 1513 Bealoved Brown          New Mexico                        12.12   1.3  2   5   
  5 567 Latisha Jacobs        12 Oklahoma,OK, OK        11.99      12.18   1.3  2   4   
  6 386 tamara Pridgett       11 Arizona,tucson, AZ     12.12      12.19   1.3  2   3   
  7 274 Samatha Kee           10 Colorado,CO, CO        12.35      12.28  -1.0  1 
  8 459 Bailee Whitworth      12 Utah,Centerville, U    12.31      12.36  -1.0  1 
  9 445 Charis Wingster       10 Utah,Riverton, UT      12.35      12.40  -1.0  1 
 10 323 GinAsia Hamilton      09 Colorado,Fountain,     12.25      12.47  -1.0  1 
 11 152 Jenna Banegas         11 New Mexico,Las Cruc    12.24      12.49   1.3  2 
 12 168 Krista Armstead       09 New Mexico,Rio Ranc    12.21      12.61   1.3  2 
 13 556 Joi Goynes            10 Nevada,NV, NV          12.85      12.68  -1.0  1 
 14 1512 Marla Aasha             New Mexico                        12.71   1.3  2 
 15 250 Kourtney Squires      11 Texas,Colleyville,     12.53      13.04  -1.0  1 


Event 12  Girls 200 Meter Dash Elite
=====================================================================================
 Sponsor: Meditrend-Gail and Rick Savage
      GSWTFC: # 23.74  6/7/2008    Victoria Jordan, Texas                      
National Rec: $ 22.11  5/3/2003    Allyson Felix, Los Angeles Baptist,NH,C     
    Name                    Year School                  Seed     Finals  Wind Points
=====================================================================================
  1   487 Olivia Lewis        12 Missouri,MO, MO        23.86      24.70   1.5  10   
  2   493 Breeana Coleman     11 Kansas,Olathe, KS      24.71      25.21   1.5   8   
  3   152 Jenna Banegas       11 New Mexico,Las Cruc    24.64      25.24   1.5   6   
  4   203 Nicolete Bell       11 Texas,Friendswood,     24.70      27.10   1.5   5   
 --   627 Octavius Freeman       Unattached             23.66     X23.36   1.5 
 --   617 Brianna Nelson         Unattached             23.82     X23.74   1.5 


Event 10  Girls 200 Meter Dash
========================================================================================
 Sponsor: Mike Danoff
      GSWTFC: # 23.74  6/7/2008    Victoria Jordan, Texas                      
National Rec: $ 22.11  5/3/2003    Allyson Felix, Los Angeles Baptist,NH,C     
    Name                    Year School                  Seed     Finals  Wind H# Points
========================================================================================
Finals
  1   253 Krystal Wynn        11 Texas,Euless, TX       24.84      24.51   0.4  2  10   
  2   350 Mackenzie Flanniga  11 Arizona,Chandler, A    24.79      24.71   0.4  2   8   
  3   651 Bealoved Brown       8 Texas,Beaumont, TX                24.74   0.4  2   6   
  4   551 Mackenzie Dunn      11 Nevada,NV, NV          25.33      24.76   0.4  2   5   
  5   323 GinAsia Hamilton    09 Colorado,Fountain,                25.09   0.4  2   4   
  6   303 Christine Scott     09 Colorado,CO, CO        24.95      25.22   0.4  2   3   
  7   274 Samatha Kee         10 Colorado,CO, CO        24.82      25.25   0.4  2 
  8  1503 Reagan Jones        09 Texas,TX, TX                      25.42   0.5  1 
  9    78 Kimberly Babicke    10 New Mexico,Los Alam    25.67      25.96   0.5  1 
 10   248 Breonna Baldwin     11 Texas,Murphy, TX       25.22      25.98   0.4  2 
 11   128 Tara DeWitt         11 New Mexico,Clovis,     25.68      26.13   0.5  1 
 12   455 Aubrey Bryson       10 Utah,Cedar City, UT    25.15      26.17   0.5  1 
 13   153 Jennifer James      11 New Mexico,Albuquer    26.18      26.51   0.5  1 
 14   134 Sondai Lonesome     12 New Mexico,Albuquer    25.94      27.13   0.5  1 
 15   250 Kourtney Squires    11 Texas,Colleyville,     25.21      27.19   0.5  1 
 



Girls 400 Meter Dash
===================================================================================
 Sponsor: Catherine Renee McKinney Anderson
      GSWTFC: # 52.99  1992        Eureka Hall, Safford, AZ                    
National Rec: $ 50.69  6/22/2002   Sonya Richards, Ft. Laurderdale, Flordia    
    Name                    Year School                  Seed     Finals  H# Points
===================================================================================
Finals
  1 224 Nia Fluker            10 Texas,Grand Prairie    54.08      54.78   4  10   
  2 442 Aubrie Haymore        12 Utah,Riverton, UT      55.61      54.80   4   8   
  3 487 Olivia Lewis          12 Missouri,MO, MO        54.10      55.00   4   6   
  4 558 Ashley Mosely         12 Nevada,NV, NV          55.20      55.78   4   5   
  5 284 Kelsey Williamson     12 Colorado,CO, CO        55.60      55.97   4   4   
  6 311 Samantha Berggren     10 Colorado,Grand Lake    55.80      56.36   4   3   
  7 397 Bianca Lewis          11 Arizona,Peoria, AZ     56.47      57.01   3 
  8 350 Mackenzie Flannigan   11 Arizona,Chandler, A    56.36      57.05   3 
  9 97 Rachel Montoya         12 New Mexico,NM, NM      58.25      58.34   2 
 10 406 Natalie Young         12 Utah,Springville, U    56.45      58.37   3 
 11 824 Kendrah Wren          11 Texas,Houston, TX      58.10      59.11   2 
 12 610 Marissa Thomas        12 Oklahoma,OK, OK        58.69      59.49   2 
 13 248 Breonna Baldwin       11 Texas,Murphy, TX       57.21      59.67   3 
 14 299 Emily Boldt           12 Colorado,Niwot, CO     57.50      59.84   3 
 15 182 Amber Lalla           10 New Mexico,Las Cruc    58.84    1:00.00   2 
 16 83 Michaela Brown         10 New Mexico,Albuquer    59.44    1:00.20   1 
 17 68 Arecely Macias         09 New Mexico,NM, NM      59.90    1:00.86   1 
 18 111 Lisa Garcia           12 New Mexico,NM, NM      59.41    1:01.12   1 
 19 128 Tara DeWitt           11 New Mexico,Clovis,     59.16    1:02.26   2 
 20 1503 Reagan Jones         09 Texas,TX, TX           58.00    1:06.53   2 
 -- 617 Brianna Nelson           Unattached             53.18     X53.27   4 
 

Girls 800 Meter Run
================================================================================
 Sponsor: Tim and Sue MacEachen
      GSWTFC: # 2:10.44  1989        Trina Edmond, Aurora, CO                  
National Rec: $ 2:00.70  7/24/1982   Kim Gallagher, Ft. Washington, PA         
    Name                    Year School                  Seed     Finals  Points
================================================================================
Finals
  1 417 Kelsey Brown          11 Utah,Orem, UT        2:15.80    2:10.92   10   
  2 467 Kianna Ruff           11 Missouri,MO, MO      2:09.86    2:14.51    8   
  3 311 Samantha Berggren     10 Colorado,Grand Lake  2:12.10    2:14.86    6   
  4 368 Andrea Klimowski      11 Arizona,Flagstaff,   2:19.01    2:18.58    5   
  5 552 Mariah Gramolini      11 Nevada,NV, NV        2:18.53    2:19.49    4   
  6 261 Taylor Buckner        11 Texas,TX, TX         2:10.00    2:20.13    3   
  7 188 Aleona Reyes          11 New Mexico,Belen, N  2:18.34    2:20.38  
  8 216 Leslie Schilsky       09 Texas,Houston, TX    2:16.00    2:21.59  
  9 641 Brooke Regan          12 Colorado,Loveland,   2:14.00    2:22.05  
 10 198 Julie Brasher         12 New Mexico,NM, NM    2:22.50    2:23.11  
 11 420 Jennifer McCune       12 Utah,Draper, UT      2:17.00    2:23.40  
 12 124 Carly Porter          11 New Mexico,Albuquer  2:24.29    2:23.40  
 13 582 Jamie Rateliff        12 Oklahoma,OK, OK      2:21.01    2:24.01  
 14 123 Dionna Montoya        11 New Mexico,Los Alam  2:24.13    2:24.55  
 15 464 Jessica Jackson       10 Missouri,MO, MO      2:13.00    2:24.95  
 16 215 Jhirikka Keller       12 Texas,Beamont, TX    2:19.00    2:25.31  
 17 378 Marcella Cartledge    09 Arizona,Scottsdale,  2:20.01    2:26.14  
 18 251 Emily Hill            10 Texas,Magnolia, TX   2:19.40    2:28.38  
 19 224 Nia Fluker            10 Texas,Grand Prairie  2:08.68    2:28.50  
 20 484 Nichole Beffa         10 Missouri,MO, MO      2:25.00    2:31.40  
 21 969 Kirstie Whipple       12 Texas,Levelland, TX  2:29.00    2:35.78  
 

Event 20  Girls 1500 Meter Run
================================================================================
 Sponsor: John Baker Foundation
      GSWTFC: # 4:31.54  1994        Rosie Gardner, Salt Lake City, UT         
National Rec: $ 4:14.50  7/4/2008    Jordan Hasay, Mission, SLObispo, CA       
    Name                    Year School                  Seed     Finals  Points
================================================================================
Finals
  1   272 Eleanor Fulton      10 Colorado,CO, CO      4:38.00    4:50.13   10   
  2   295 Kara Slavoski       11 Colorado,CO, CO      4:44.00    4:52.63    8   
  3   329 Clare Gallagher     11 Colorado,CO, CO      4:44.00    4:53.69    6   
  4   492 Courtney Wood       10 Missouri,MO, MO      4:40.00    5:00.43    5   
  5   256 Shannon Klenke      10 Texas,Houston, TX    4:58.09    5:05.66    4   
  6    96 Allison Bedonie     12 New Mexico,Albuquer  5:03.00    5:06.04    3   
  7   181 Caroline Kaufman    09 New Mexico,Cedar Cr  5:07.92    5:06.47  
  8   119 Elba Holguin        12 New Mexico,Albuquer  5:01.97    5:09.98  
  9   302 Megan Chipman       12 Colorado,Highlands   4:57.00    5:10.18  
 10   378 Marcella Cartledge  09 Arizona,Scottsdale,  5:07.00    5:10.39  
 11   158 Gloria Sevilla      11 New Mexico,NM, NM    5:06.35    5:18.20  
 12   484 Nichole Beffa       10 Missouri,MO, MO      5:05.00    5:41.39  
 --   629 Alexa Aragon        11 Unattached,Billings  4:46.24   X4:50.02  
 --   630 Danielle Aragon     09 Unattached,billings  4:50.11   X4:55.10  
 




Girls 100 Meter Hurdles
========================================================================================
 Sponsor: Trish and Pat Porter
      GSWTFC: # 13.30  2003        Alandra Sherman, Houston, TX                
National Rec: $ 12.95  6/16/1979   Candy Young, Beaver Falls, Pennsylvan       
    Name                    Year School                  Seed     Finals  Wind H# Points
========================================================================================
Finals
  1 462 Precious Selmon       12 Missouri,MO, MO        13.90      13.67   4.0  4  10   
  2 381 Larissa Matthews      12 Arizona,Chandler, A    13.97      13.69   4.0  4   8   
  3 493 Breeana Coleman       11 Kansas,Olathe, KS      14.00      13.83   4.0  4   6   
  4 405 Shaye Maurer          12 Utah,Cedar City, UT    14.60      14.06   2.0  3   5   
  5 425 Angela Kaplar         12 Utah,Alpine, UT        14.97      14.30   2.0  3   4   
  6 506 LeTristan Pledger     10 Kansas,Kansas City,    14.41      14.44   2.0  3   3   
  7 286 Kita Alvares          11 Colorado,Colorado S    14.56      14.71   2.0  3 
  8 324 Kami Mendez           09 Colorado,CO, CO        14.53      14.75   2.0  3 
  9 373 Kala Stepter          12 Arizona,Oro Valley,    14.81      14.75   2.0  3 
 10 401 Jaide Stepter         09 Arizona,Oro Valley,    15.25      14.83   2.5  2 
 11 292 Kalie Kirk            12 Colorado,Monument,     14.49      15.05   2.0  3 
 12 586 Calline Andrews       11 Oklahoma,Ardmore, O    15.06      15.09   2.5  2 
 13 1505 Cadija Harris           Arizona                           15.29   1.1  1 
 14 249 Angela Hart           11 Texas,Flower Mound,    15.34      15.31   2.5  2 
 15 649 Carley Herring        11 Missouri,MO, MO        15.40      15.39   2.5  2 
 16 210 Sasha Gibson          11 Texas,TX, TX           14.30      15.66   4.0  4 
 17 76 Alysha Bolduc          09 New Mexico,NM, NM      16.85      18.16   1.1  1 
 -- 620 Jasmine Stowers          Unattached             13.52     X13.32   4.0  4 
 -- 55 Dannielle Davis        10 Unattached,Albuquer    14.39     X14.42   4.0  4 
 

Girls 300 Meter Hurdles
===================================================================================
 Sponsor: Trish and Pat Porter
      GSWTFC: # 40.40  2006        Shalina Clark, Evanston, Illinois           
National Rec: $ 39.98  5/19/2001   Lashinda Demus, Long Beach, California      
    Name                    Year School                  Seed     Finals  H# Points
===================================================================================
Finals
  1 168 Krista Armstead       09 New Mexico,Rio Ranc    44.94      44.94   2  10   
  2 373 Kala Stepter          12 Arizona,Oro Valley,    43.64      44.96   2   8   
  3 278 Vanessa Samuel        12 Colorado,CO, CO        44.34      45.07   2   6   
  4 286 Kita Alvares          11 Colorado,Colorado S    44.51      45.34   2   5   
  5 649 Carley Herring        11 Missouri,MO, MO        45.45      46.11   1   4   
  6 357 Breanna Leslie        12 Arizona,Mesa, AZ       45.70      46.30   1   3   
  7 401 Jaide Stepter         09 Arizona,Oro Valley,    44.27      46.37   2 
  8 160 Mariah Sanchez        10 New Mexico,Belen, N    46.21      46.74   1 
  9 292 Kalie Kirk            12 Colorado,Monument,     44.63      47.63   2 
 10 586 Calline Andrews       11 Oklahoma,Ardmore, O    45.00      47.73   1 
 11 76 Alysha Bolduc          09 New Mexico,NM, NM      46.62      49.86   1 
 12 569 Allison Latham        10 Oklahoma,Tulsa, OK     47.92      50.63   1 
 -- 620 Jasmine Stowers          Unattached             43.00     X43.47   2 




Event 22  Girls 3200 Meter Run
================================================================================
 Sponsor: John Moon
      GSWTFC: # 10:18.71  1997        Amy Swier, Aztec, NM                     
National Rec: $  9:48.59  5/24/1996   Kim Mortensen, Thousand Oaks, Californi  
    Name                    Year School                  Seed     Finals  Points
================================================================================
Finals
  1   335 Jessica Rydberg     12 Arizona,Pinetop, AZ 10:32.23   10:45.78   10   
  2   415 Shalaya Kipp        12 Utah,Slc, UT        10:55.00   11:08.93    8   
  3   108 Jacqueline Campos   12 New Mexico,Santa Te 11:18.01   11:12.35    6   
  4   465 Megan Yohe          11 Missouri,MO, MO     10:31.00   11:13.88    5   
  5   329 Clare Gallagher     11 Colorado,CO, CO     11:15.00   11:15.48    4   
  6   308 Ashlee Smalley      12 Colorado,Greeley, C 11:17.00   11:23.21    3   
  7   438 Kelsey Braithwaite  09 Utah,Perry, UT      11:03.00   11:24.42  
  8   185 Julia Foster        10 New Mexico,Albuquer 11:26.75   11:27.18  
  9   454 Macinze O'Very      12 Utah,River Heights, 11:10.00   11:31.15  
 10   492 Courtney Wood       10 Missouri,MO, MO     10:58.00   11:35.50  
 11   422 Brooke Hodson       12 Utah,Orem, UT       11:10.00   11:44.04  
 12   297 Melissa Roberts     10 Colorado,CO, CO     11:21.00   11:49.96  
 13   175 Kate Norskog        10 New Mexico,Santa Fe 11:32.87   11:51.72  
 --   626 Sarah Higgins          Unattached          11:04.00  X11:49.94  




Girls 4x100 Meter Relay
===================================================================================
 Sponsor: Repo-Depot Mobile Home Sales-Bronson Duran
      GSWTFC: # 44.11  2006        Texas                                       
National Rec: $ 44.50  4/23/2004   Poly, Long Beach, CA, Poly, Long Beach, CA  
                       Solomon, Lee, Picott, Solomon                     
    School                                               Seed     Finals  H# Points
===================================================================================
Finals
  1 Arizona  'A'                                        47.10      46.26   2  10   
     1) alexis Clay 10                  2) tamara Pridgett 11             
     3) Serene Williams 11              4) Larissa Matthews 12            
  2 Texas  'A'                                          47.14      46.68   2   8   
     1) Nicolete Bell 11                2) Krystal Wynn 11                
     3) Zoe Wright 11                   4) Bealoved Brown 8               
  3 New Mexico  'A'                                     47.20      48.41   2   6   
     1) Sondai Lonesome 12              2) Jennifer James 11              
     3) Kimberly Babicke 10             4) Chase Ealey 09                 
  4 Utah  'A'                                           47.50      48.68   1   5   
     1) Aubrey Bryson 10                2) Aubrie Haymore 12              
     3) Angela Kaplar 12                4) Bailee Whitworth 12            
  5 Nevada  'A'                                         47.00      49.60   2   4   
     1) Tierra Tyler 11                 2) Joi Goynes 10                  
     3) Mackenzie Dunn 11               4) Ashley Lively 12               
  6 Utah  'B'                                           48.50     x49.75   1 
     1) Aubrey Bryson 10                2) Aubrie Haymore 12              
     3) Angela Kaplar 12                4) Bailee Whitworth 12            
 
                    




Girls 4x200 Meter Relay
===================================================================================
 Sponsor: David and Kathy Haaland
National Rec: $ 1:33.87  4/9/2004    Poly, Long Beach, CA, Poly, Long Beach, CA
                         Solomon, Lee, Woods, Solomon                      
    School                                               Seed     Finals  H# Points
===================================================================================
  1 Texas  'B'                                                  x1:40.08   1 
  2 Missouri  'A'                                                1:40.83   1  10   
     1) Carley Herring 11               2) Olivia Lewis 12                
     3) Kianna Ruff 11                  4) Lacee Scott 12                 
  3 Utah  'A'                                         1:40.00    1:42.99   2   8   
     1) Aubrey Bryson 10                2) stephanie harwood 10           
     3) Angela Kaplar 12                4) Liz Ricks 11                   
  4 Nevada  'A'                                       1:39.00    1:44.73   2   6   
     1) Joi Goynes 10                   2) Marica King 12                 
     3) Tierra Tyler 11                 4) Mackenzie Dunn 11              
  5 New Mexico  'A'                                   1:44.78    1:45.22   1   5   
     1) Sondai Lonesome 12              2) Tara DeWitt 11                 
     3) Kimberly Babicke 10             4) Jennifer James 11              
  6 Texas  'A'                                        1:40.00    1:45.28   2   4   
     1) Angela Hart 11                  2) Reagan Jones 09                
     3) Sasha Gibson 11                 4) Kourtney Squires 11            
 -- Colorado  'A'                                     1:42.00         DQ   2 
     1) Christine Scott 09              2) Emily Boldt 12                 
     3) Kalie Kirk 12                   4) Samatha Kee 10               




Girls 4x800 Meter Relay
================================================================================
 Sponsor: Carlsbad Elks Lodge #1558
      GSWTFC: # 8:56.04  2007        Utah                                      
National Rec: $ 8:43.12  4/25/2008   Roosevelt, Greenbelt, M, Roosevelt, Greenb
                         Lockhart, Johnson, Ogunomokun, Stanley            
    School                                               Seed     Finals  Points
================================================================================
  1 Colorado  'A'                                     8:58.00    9:08.33   10   
     1) Eleanor Fulton 10               2) Kara Slavoski 11               
     3) Samantha Berggren 10            4) samantha thompson 12           
  2 Missouri  'A'                                     9:00.32    9:35.72    8   
     1) Sam Levin 10                    2) Jessica Jackson 10             
     3) Kianna Ruff 11                  4) Diane Robison 11               
  3 Utah  'A'                                         9:09.00    9:46.60    6   
     1) Kelsey Brown 11                 2) Aubrey Bryson 10               

     3) Brooke Hodson 12                4) Shalaya Kipp 12                




Girls High Jump
==========================================================================================
 Sponsor: Trish Porter
      GSWTFC: # 1.86m  6/7/2008    Shanay Briscoe, Texas                       
National Rec: $  6-04  4/24/2209   Toni Young, Del City, Ok                    
    Name                    Year School                  Seed     Finals            Points
==========================================================================================
Finals
  1 452 Lauren Crockett       10 Utah,Ogden, UT       5-08.00     J1.78m    5-10.00  10   
     1.48 1.53 1.58 1.63 1.68 1.73 1.78 1.83 
        P    O   XO   XO   XO  XXO    O  XXX 
  2 259 Shanay Briscoe        11 Texas,Houston, TX    5-08.00     J1.78m    5-10.00   8   
     1.48 1.53 1.58 1.63 1.68 1.73 1.78 1.83 
        P    P    O    O    O    O   XO  XXX 
  3 405 Shaye Maurer          12 Utah,Cedar City, UT  5-08.00     J1.68m    5-06.00   6   
     1.48 1.53 1.58 1.63 1.68 1.73 
        O    O    O   XO  XXO  XXX 
  4 410 Brianne Campbell      12 Utah,Riverton, UT    5-04.00     J1.63m    5-04.25   4.50
     1.48 1.53 1.58 1.63 1.68 
        O    O    O    O  XXX 
  4 472 Morgan Whitson        11 Missouri,MO, MO      5-08.00     J1.63m    5-04.25   4.50
     1.48 1.53 1.58 1.63 1.68 
        O    O    O    O  XXX 
  6 428 Jaclyn Jones          12 Utah,Delta, UT       5-06.00     J1.58m    5-02.25   1.50
     1.48 1.53 1.58 1.63 
        O    O    O  XXX 
  6 267 Holly Odneal          12 Colorado,CO, CO        1.53m     J1.58m    5-02.25   1.50
     1.48 1.53 1.58 1.63 
        O    O    O  XXX 
  8 490 Anna Holtermann       11 Missouri,MO, MO      5-05.00     J1.58m    5-02.25 
     1.48 1.53 1.58 1.63 
        O    O   XO  XXX 
  9 213 Krystyn Bradley       10 Texas,Spring, TX     5-02.00     J1.58m    5-02.25 
     1.48 1.53 1.58 1.63 
        P    O  XXO  XXX 
 10 609 Lacey Rhodes          11 Oklahoma,Mustang, O               1.53m    5-00.25 
     1.48 1.53 1.58 
        P    O  XXX 
 10 1505 Cadija Harris           Arizona                           1.53m    5-00.25 
     1.48 1.53 1.58 
        P    O  XXX 
 12 222 Destiny Roseman       11 Texas,Grand Prairie  5-02.00      1.48m    4-10.25 
     1.48 1.53 
       XO  XXX 
 12 514 Kiah Mayo             10 Nevada,Las Vegas, N  5-03.00      1.48m    4-10.25 
     1.48 1.53 
       XO  XXX 
 

Girls Long Jump
===============================================================================================
 Sponsor: Joy Junction
      GSWTFC: # 21-02  2005        Sarah Matthews, Longmont, CO                
National Rec: $ 22-03  6/12/1976   Kathy McMillan, Raeford, North Carolina     
    Name                    Year School                  Seed     Finals  Wind           Points
===============================================================================================
Finals
  1 462 Precious Selmon       12 Missouri,MO, MO     19-03.00     J6.26m   3.7  20-06.50  10   
     5.91m(2.4) 6.26m(3.7) FOUL      FOUL      FOUL      FOUL     
  2 333 Samantha Collins      12 Arizona,Mesa, AZ    18-10.00     J6.03m   3.2  19-09.50   8   
     5.81m(4.4) 5.63m(5.9) 5.36m(-1.0) 5.59m(0.8) 5.66m(+0.0) 6.03m(3.2)
  3 506 LeTristan Pledger     10 Kansas,Kansas City, 19-10.00     J5.97m   1.1  19-07.00   6   
     5.76m(3.3) 5.39m(1.9) 5.62m(1.1) 5.89m(1.3) FOUL      5.97m(1.1)
  4 264 Brittany Lewis        10 Colorado,CO, CO        5.48m     J5.91m   2.1  19-04.75   5   
     5.74m(4.5) 4.73m(3.9) 5.72m(1.9) FOUL      5.89m(3.3) 5.91m(2.1)
  5 338 alexis Clay           10 Arizona,marricopa,  18-07.00     J5.65m   4.6  18-06.50   4   
     5.65m(4.6) 5.50m(5.7) FOUL      5.29m(3.0) FOUL      FOUL     
  6 609 Lacey Rhodes          11 Oklahoma,Mustang, O 18-03.00     J5.52m   1.7  18-01.50   3   
     5.52m(1.7) 5.26m(3.2) 5.25m(3.8) 5.32m(1.9) 5.08m(0.8) 5.17m(4.7)
  7 292 Kalie Kirk            12 Colorado,Monument,     5.44m     J5.52m   2.9  18-01.50 
     FOUL      5.52m(2.9) FOUL      3.97m(1.3) 5.06m(0.5) 5.08m(2.7)
  8 459 Bailee Whitworth      12 Utah,Centerville, U 17-10.00      5.48m   0.9  17-11.75 
     5.25m(4.7) 5.08m(1.9) 5.48m(0.9)            
  9 405 Shaye Maurer          12 Utah,Cedar City, UT 18-00.75      5.47m   2.6  17-11.50 
     5.47m(2.6) 5.22m(1.6) 5.01m(2.7)            
 10 80 Emily Weeks            11 New Mexico,Los Alam    5.36m      5.42m   2.7  17-09.50 
     5.42m(2.7) 5.16m(1.8) 5.37m(2.9)            
 11 343 Lindsay Honea         11 Arizona,AZ, AZ      17-03.00      5.37m   1.6  17-07.50 
     5.01m(5.4) 4.96m(2.5) 5.37m(1.6)            
 12 222 Destiny Roseman       11 Texas,Grand Prairie 17-02.00      5.34m   2.4  17-06.25 
     FOUL      5.34m(2.4) FOUL                 
 13 552 Mariah Gramolini      11 Nevada,NV, NV       17-05.00      5.30m   3.8  17-04.75 
     5.30m(3.8) 5.17m(1.9) 4.77m(1.4)            
 14 212 Madi Steenbergen      11 Texas,TX, TX        17-06.00      5.29m   2.1  17-04.25 
     5.29m(2.1) 5.27m(0.5) 5.23m(0.2)            
 15 230 Nicole Dory           11 Texas,TX, TX        17-05.00      5.27m   2.6  17-03.50 
     5.27m(2.6) 5.22m(5.1) 5.04m(0.6)            
 16 367 Lindsay Jantzi        11 Arizona,Phoenix, AZ 17-00.00      5.16m   2.8  16-11.25 
     4.97m(3.4) 5.10m(2.8) 5.16m(2.8)            
 17 824 Kendrah Wren          11 Texas,Houston, TX   18-01.00      5.14m   5.6  16-10.50 
     5.14m(5.6) 5.09m(2.3) 4.91m(-0.1)            
 18 380 Miranda Brower        12 Arizona,Tucson, AZ  17-10.00      5.12m   4.5  16-09.75 
     5.12m(4.5) FOUL      3.96m(1.7)            
 19 490 Anna Holtermann       11 Missouri,MO, MO     17-03.00      5.07m   1.0  16-07.75 
     4.94m(2.1) 5.07m(1.0) 5.00m(1.8)            
 20 271 Chrissy Slanger       12 Colorado,Durango, C    5.20m      5.05m   2.2  16-07.00 
     FOUL      4.69m(0.2) 5.05m(2.2)            
 21 548 Krystal Onyema        10 Nevada,NV, NV       16-04.25      4.90m   2.2  16-01.00 
     4.83m(3.0) 4.90m(2.2) 4.83m(3.3)         
 22 79 Monquisha Coleman      12 New Mexico,Albuquer    5.40m      4.87m   2.4  15-11.75 
     FOUL      4.75m(3.1) 4.87m(2.4)           
 23 532 Carlotta Island       12 Nevada,Henderson, N 15-06.00      4.84m   4.7  15-10.50 
     4.84m(4.7) 4.76m(2.7) 4.77m(1.7)         
 24 514 Kiah Mayo             10 Nevada,Las Vegas, N 16-00.00      4.69m   2.4  15-04.75 
     FOUL      4.67m(1.7) 4.69m(2.4)            
 25 167 Yeshemabet Turner     10 New Mexico,NM, NM      5.21m      4.53m   1.8  14-10.50 
     FOUL      FOUL      4.53m(1.8)            
 26 512 Alexys Lewis          11 Nevada,NV, NV       15-11.00      4.28m   2.5  14-00.50 
     4.28m(2.5) FOUL      4.25m(3.7)            
 -- 611 Constance Ezugha      12 Oklahoma,OK, OK     19-08.00         ND   NWI           
     ND(NWI)    x             
 -- 220 Lillan Nwora          11 Texas,TX, TX        17-08.00         ND   NWI           
     ND(NWI)                  
 -- 347 Maddie Nossek         11 Arizona,Payson, AZ  17-01.00         ND   NWI           
     ND(NWI)                  
 -- 635 Kasha McDougald       10 Kansas,KS, KS       18-07.00         ND   NWI           
     ND(NWI)                 
 -- 159 Diera Davis           12 New Mexico,NM, NM      5.26m         ND   NWI           
     ND(NWI)                  
 -- 485 Lindsay Vollmer       10 Missouri,MO, MO     18-10.50         ND   NWI           
     ND(NWI) x  x             
 -- 132 Chantelle Riddle      11 New Mexico,NM, NM      5.74m         ND   NWI           
     ND(NWI)               
 -- 551 Mackenzie Dunn        11 Nevada,NV, NV       17-02.50         ND   NWI           
     ND(NWI)    x             
 -- 390 Jasmine Todd          09 Arizona,Chandler, A 18-05.00       FOUL                 
     FOUL      FOUL      FOUL              
 -- 55 Dannielle Davis        10 Unattached,Albuquer 18-04.00     X5.51m   1.5  18-01.00 
     5.42m(-1.1) 5.51m(1.5) 5.16m(1.8) 4.94m(+0.0) 5.21m(2.1) 5.50m(2.7)
 




Girls Pole Vault
==========================================================================================
 Sponsor: Harrison Rental Properties, Inc.-Phyllis and Harrison Smith (A)
 Special Olympics (B)
      GSWTFC: #    4.12m  6/7/2008    Rachel Laurent, Louisiana                
National Rec: $ 14-02.50  2/10/2007   Toni Anthony, Castileja,CorpusChristi    
    Name                    Year School                  Seed     Finals            Points
==========================================================================================
Finals
  1 205 Shade Weygandt        12 Texas,Mansfield, TX 13-06.00     J4.27m#  14-00.00  10   
  2 361 Shaylah Simpson       12 Arizona,Phoenix, AZ 12-09.75     J3.84m   12-07.25   8   
  3 396 lacey palmer          12 Arizona,Mesa, AZ    12-06.00     J3.54m   11-07.25   6   
  3 287 Jenna Adams           11 Colorado,Littleton,    3.50m     J3.54m   11-07.25   5   
  5 218 Jordan Oddo           12 Texas,Arlington, TX 12-01.00     J3.39m   11-01.50   1.50
  5 379 Emily Heisler         11 Arizona,Phoenix, AZ 11-09.00     J3.39m   11-01.50   4   
  5 358 Heather Arseneau      11 Arizona,Phoenix, AZ 11-06.00     J3.39m   11-01.50   1.50
  8 304 Libby Westfall        12 Colorado,CO, CO        3.50m      3.34m   10-11.50 
     2.89 3.04 3.19 3.34 3.49 
        O    O    O    O  XXX 
  8 318 Valentina Pauna       10 Colorado,Fort Colli    3.38m      3.34m   10-11.50 
     2.89 3.04 3.19 3.34 3.49 
        O    O    O    O  XXX 
 10 511 Taylor Frantom        11 Nevada,Henderson, N 10-09.00      3.24m   10-07.50 
 11 294 Kelly Yelverton       12 Colorado,Lyons, CO     3.24m      3.19m   10-05.50 
     2.89 3.04 3.19 3.34 
        O    O  XXO  XXX 
 12 230 Nicole Dory           11 Texas,TX, TX        10-06.00      3.09m   10-01.50 
 13 367 Lindsay Jantzi        11 Arizona,Phoenix, AZ 10-09.00      3.04m    9-11.75 
     2.89 3.04 3.19 
        O    O  XXX 
 13 499 Keegan Williams       11 Kansas,Shawnee, KS  10-05.50      3.04m    9-11.75 
     2.89 3.04 3.19 
       XO    O  XXX 
 13 544 Ashley Lively         12 Nevada,Las Vegas, N 10-06.00      3.04m    9-11.75 
     2.59 2.74 2.89 3.04 3.19 
        O    O  XXO  XXO  XXX 
 13 563 Emily Kashka          12 Nevada,Henderson, N 10-09.00      3.04m    9-11.75 
     2.89 3.04 3.19 
       XO    O  XXX 
 13 495 Linda Kuenzi          12 Kansas,Lenexa, KS   11-00.00      3.04m    9-11.75 
     2.89 3.04 3.19 
        O   XO  XXX 
 18 534 Karli Johonnot        10 Nevada,Las Vegas, N 10-01.00      2.74m    8-11.75 
     2.74 2.89 
       XO  XXX 
 18 87 Anika Newell           10 New Mexico,NM, NM      2.97m      2.74m    8-11.75 
     2.59 2.74 2.89 
        P    O  XXX 
 18 133 Annie Stirling        10 New Mexico,Angel Fi    3.08m      2.74m    8-11.75 
     2.59 2.74 2.89 
       XO    O  XXX 
 -- 179 Taylor Black          10 New Mexico,Las Crue    2.91m         NH            
     2.59 
      XXX 
 -- 90 Keyla Tumas            12 New Mexico,Los Alam    3.05m         NH            
     2.59 
      XXX 
 -- 51 Sydnie Leroy           12 Unattached,Albuquer 12-06.00     X3.54m   11-07.25 





Girls Shot Put
==========================================================================================
 Sponsor: Fleet Feet
      GSWTFC: # 52-00.50  2003        Michelle Carter, Dallas, TX              
National Rec: $ 54-10.75  5/10/2003   Michelle Carter, Red Oak, TX             
    Name                    Year School                  Seed     Finals            Points
==========================================================================================
Finals
  1 483 Jill Rushin           11 Missouri,MO, MO     46-10.25     14.40m   47-03.00  10   
      13.81m  ND  ND  ND  14.40m  ND
  2 478 Katie Evans           12 Missouri,MO, MO     47-07.00     13.50m   44-03.50   8   
      ND  12.28m  ND  ND  13.50m  13.13m
  3 537 Avione Allgood        09 Nevada,NV, NV       43-07.00     12.14m   39-10.00   6   
      11.96m  11.55m  12.09m  11.76m  12.14m  11.80m
  4 150 Madison Bean          12 New Mexico,Albuquer   13.50m     11.99m   39-04.00   5   
      11.60m  11.67m  11.48m  11.99m  11.62m  11.40m
  5 122 Brooklyn Gallegos     12 New Mexico,NM, NM     12.72m     11.81m   38-09.00   4   
      FOUL  FOUL  11.51m  11.10m  FOUL  11.81m
  6 418 Jamie Duckworth       11 Utah,riverton, UT   39-08.00     11.79m   38-08.25   3   
      11.72m  11.05m  11.33m  11.48m  11.79m  11.46m
  7 536 Destanae Howerton-Da  11 Nevada,NV, NV       42-00.00     11.78m   38-07.75 
      11.78m  11.56m  11.66m  11.46m  11.36m  11.23m
  8 387 Ashley Weber          09 Arizona,Hereford, A 35-00.00     11.60m   38-00.75 
      ND  ND  11.60m  11.06m  ND  ND
  9 306 Adrienne Lettow       11 Colorado,Arvada, CO   12.19m     11.30m   37-01.00 
      10.85m  11.28m  11.30m            
 10 427 Becca Hutton          12 Utah,Orem, UT       40-00.00     11.24m   36-10.50 
      ND  10.93m  11.24m            
 11 89 Larissa Bookout        12 New Mexico,Tularosa   11.33m     11.12m   36-05.75 
      10.85m  10.74m  11.12m            
 12 392 Hannah Carson         10 Arizona,Chandler, A 40-08.00     11.07m   36-04.00 
      ND  ND  11.07m            
 13 521 Brittany Jackson      09 Nevada,NV, NV       38-02.50     10.99m   36-00.75 
      10.92m  10.99m  ND         
 14 209 Adrienne Long         11 Texas,Mesquite, TX  38-11.00     10.97m   36-00.00 
      10.68m  10.97m  10.73m            
 15 289 Elizabeth Robertson   11 Colorado,Colorado S   11.58m     10.76m   35-03.75 
      ND  10.76m  10.53m           
 16 599 Sarah Tolson          11 Oklahoma,Pawhuska,  37-01.00     10.48m   34-04.75 
      9.23m  9.66m  10.48m         
 17 441 Amanda Pais           12 Utah,Salt Lake, UT  35-02.00     10.33m   33-10.75 
      9.93m  ND  10.33m         
 18 421 Lindsay John          11 Utah,Murray, UT     38-03.00      9.88m   32-05.00 
      9.88m  ND  9.78m            
 19 429 Jennika Wright        12 Utah,UT, UT         41-01.50      9.73m   31-11.25 
      9.73m  ND  ND            
 20 157 Alex Mebrano          12 New Mexico,NM, NM     11.92m      9.38m   30-09.25 
      FOUL  8.78m  9.38m           
 21 120 Angela Steenport      12 New Mexico,Bayard,    11.25m      9.32m   30-07.00 
      ND  9.32m  ND         
 -- 67 Chase Ealey            09 New Mexico,NM, NM     12.09m         ND            
      ND                 
 -- 623 Kearston Peoples         Kansas              45-09.25         ND            
      ND               
 -- 340 Amanda Weber          11 Arizona,Hereford, A 36-00.00         ND            
      ND                
 -- 259 Shanay Briscoe        11 Texas,Houston, TX   44-01.00         ND            
      ND    x             
 -- 435 Tulai Lupeamanu       10 Utah,Herriman, UT   41-04.75         ND            
      ND x  x             
 

Girls Discus Throw
==========================================================================================
 Sponsor: Athlete's Edge - Steve Pino
      GSWTFC: # 167-02  2005        D'Andre Carter, Dallas, TX                 
National Rec: $ 190-03  5/13/2008   Anna Jelmini, Shafter, CA                  
    Name                    Year School                  Seed     Finals            Points
==========================================================================================
Finals
  1 599 Sarah Tolson          11 Oklahoma,Pawhuska,    139-09     43.14m     141-06  10   
      40.35m  42.37m  43.14m  41.02m  43.00m  41.53m
  2 483 Jill Rushin           11 Missouri,MO, MO       150-00     42.61m     139-09   8   
      38.64m  FOUL  FOUL  FOUL  42.61m  FOUL
  3 478 Katie Evans           12 Missouri,MO, MO       160-00     41.81m     137-02   6   
      FOUL  41.81m  36.53m  41.42m  FOUL  FOUL
  4 600 Elyssia Johnson       12 Oklahoma,Ardmore, O   134-07     39.92m     131-00   5   
      39.92m  FOUL  39.49m  FOUL  38.96m  39.88m
  5 537 Avione Allgood        09 Nevada,NV, NV         136-10     39.83m     130-08   4   
      36.39m  34.38m  39.83m  38.17m  37.33m  FOUL
  6 449 Tiffany Hellstrom     12 Utah,Ogden, UT        127-04     39.71m     130-03   3   
      36.59m  FOUL  39.71m  35.91m  36.97m  34.09m
  7 521 Brittany Jackson      09 Nevada,NV, NV         123-00     36.51m     119-09 
      36.51m  34.62m  35.32m  FOUL  36.04m  31.36m
  8 441 Amanda Pais           12 Utah,Salt Lake, UT    125-03     36.32m     119-02 
      26.31m  36.32m  FOUL  FOUL  FOUL  FOUL
  9 427 Becca Hutton          12 Utah,Orem, UT         118-02     35.01m     114-10 
      34.51m  35.01m  FOUL          
 10 536 Destanae Howerton-Da  11 Nevada,NV, NV         139-11     34.49m     113-02 
      FOUL  34.49m  FOUL         
 11 209 Adrienne Long         11 Texas,Mesquite, TX    140-01     33.67m     110-05 
      FOUL  32.33m  33.67m           
 12 596 Leneé Brown           10 Oklahoma,Ardmore, O   36.59m     32.94m     108-01 
      32.94m  FOUL  FOUL           
 13 362 Juiann Lieb           11 Arizona,Phoenix, AZ   119-10     32.88m     107-10 
      FOUL  FOUL  32.88m           
 14 613 Nychole Brown         11 Oklahoma,Ardmore, O   32.00m     30.42m      99-10 
      FOUL  28.76m  30.42m           
 15 421 Lindsay John          11 Utah,Murray, UT       112-11     30.35m      99-07 
      FOUL  FOUL  30.35m         
 16 429 Jennika Wright        12 Utah,UT, UT           107-07     29.35m      96-03 
      29.35m  27.28m  28.79m          
 17 157 Alex Mebrano          12 New Mexico,NM, NM                28.59m      93-09 
      28.59m  FOUL  FOUL            
 -- 392 Hannah Carson         10 Arizona,Chandler, A   139-00         ND            
      ND    x             
 -- 211 Whitley Ellison       12 Texas,Arlington, TX   152-10         ND            
      ND    x             
 -- 463 Erin Atkinson         11 Missouri,MO, MO       127-01         ND            
      ND x  x             
 -- 460 Danielle Bell         12 Utah,Ogden, UT        132-05         ND            
      ND x  x             
 




Girls Javelin Throw
==========================================================================================
 Sponsor: Ann DeHart
      GSWTFC: # 167-05  2005        Rachel Yurkovich, Newberg, Oregon          
National Rec: $ 176-05  4/30/2005   Rachel Yurkovich, Newberg, OR              
    Name                    Year School                  Seed     Finals            Points
==========================================================================================
Finals
  1 392 Hannah Carson         10 Arizona,Chandler, A   160-00     46.62m     152-11  10   
      44.75m  44.50m  43.78m  44.99m  45.75m  46.62m
  2 449 Tiffany Hellstrom     12 Utah,Ogden, UT        151-09     44.68m     146-07   8   
      42.16m  42.63m  44.68m  41.97m  41.69m  43.35m
  3 537 Avione Allgood        09 Nevada,NV, NV         143-09     42.42m     139-02   6   
      39.62m  FOUL  FOUL  42.42m  38.60m  37.18m
  4 92 Kristi Covarrubia      12 New Mexico,Las Cruc   39.60m     41.24m     135-04   5   
      34.40m  33.52m  36.91m  40.99m  FOUL  41.24m
  5 190 Felicia Chavez        09 New Mexico,Cuba, NM   36.93m     36.63m     120-02   4   
      34.95m  35.44m  35.48m  36.63m  34.08m  31.67m
  6 380 Miranda Brower        12 Arizona,Tucson, AZ    118-00     32.53m     106-09   3   
      30.90m  32.53m  32.23m            
  7 441 Amanda Pais           12 Utah,Salt Lake, UT     99-10     30.92m     101-05 
      30.11m  30.92m  30.18m           
  8 343 Lindsay Honea         11 Arizona,AZ, AZ        110-00     30.82m     101-01 
      FOUL  30.82m  29.91m            
  9 468 Breanne Borman        09 Missouri,MO, MO       100-00     29.32m      96-02 
      29.32m  26.95m  27.60m           
 10 521 Brittany Jackson      09 Nevada,NV, NV         140-00     26.36m      86-06 
      24.78m  26.36m  FOUL            
 11 213 Krystyn Bradley       10 Texas,Spring, TX       92-01     26.30m      86-03 
      26.20m  25.79m  26.30m         
 12 490 Anna Holtermann       11 Missouri,MO, MO       100-00     25.12m      82-05 
      23.27m  25.12m  24.90m           
 -- 1504 Heather Bergman         Unattached                      X48.12m     157-10 
      40.00m  48.12m  45.67m  46.38m  46.43m  43.41m
 -- 810 Ashlee Aldredge          Unattached            156-03    X44.35m     145-06 
      42.17m  40.00m  42.23m  FOUL  41.58m  44.35m