34th Great Southwest Classic


June 4-6, 2009 at U. of New Mexico, Albuquerque NM
DyeStat on-site with John and Donna Dye

WINNERS TABLE

RESULTS
Track - Field - Multi



PIX


DONNA ON THE SIDE




JD Action Albums


Multis - Saturday


Heats: Track - Field


Leading Athletes

:
Boys - Girls


Entries

: Boys - Girls
Schedule

Prior Years on DyeStat
2008 - 2007 - 2006-1998

the meet's own web site


USA routs New Bern


USA rabbits wouldn't be caught - Sal Gonzalez' account of the race.

Tavaris Tate MS and Clayton Parros NJ warmed up for their US All Star showdown with New Bern NC's 4x400 relay with a torrid battle in the open 400, Tate winning 45.48 to 45.71, the best two times in the country this year. Three hours later they led a wire to wire victory over record seeking New Bern NC, 3:06.35 to 3:13.18, with Curtis Beach NM and Andre Carter GA filling out the team.



Tavaris Tate (right) and Clayton Parros near the end of the open 400.


Saturday Highlights


3 huge US#1's

: Bryce Lamb 25-10.75 LJ (briefly), Shade Weygandt 14-0 PV and Tavaris Tate 45.48. Beach splits 1:50; fast but windy hurdles; fast but windy 100s; 4 girl long jumpers better than 19-4; hurdle double by Jasmine Stowers; sprint double by Octavious Freeman with 23.36 US#2; throws double by Mason Finley; sprint double by Ryan Milus AZ.




Beach breaks another record in decathlon;




Maurer wins Heptathlon


Decathlon - Local hero

Curtis Beach

(left) scored 7466 points to break Craig Brigham's 1972 record of 7359 for HS decathlon with international implements. Beach scored 7719 points using HS implements, second only all time to his record 7909 at Arcadia in April.
Heptathlon -

Shaye Maurer UT

(right) , lost the lead in the javelin, but regained it with a bang with a first place finish in the 800. She scored 4963 points overall, sixth best on the GSW all time list. Missouri soph Lindsay Vollmer had moved in to first with a win in the javelin, but struggled throughout the 800 with a hip flexor injury that caused her to pass her last two long jumps. She still finished second overall with 4775 points, GSW #9 all time.



Winners Table
BOYS

Event

GIRLS

Elite: Ryan Milus AZ 10.31 +2.4
SW: Tyrell Yardley UT 10.62 +3.9

100
Elite: Octavious Freeman FL 11.20 +6.9
SW: Serene Williams AZ 11.81 +1.3

Elite: Ryan Milus AZ 21.06 +1.5
SW: Evan Taylor CO 22.04 +0.1

200
Elite: Octavious Freeman FL 23.36 +1.5
SW: Krystal Wynn TX 24.51 +0.4

Tavaris Tate MS 45.48

400
Brianna Nelson SC 53.27

Sam Jones MO 1:54.33

800
Kelsey Brown UT 2:10.92

Pat Zacharias NM 4:03.39

1500
Alexa Aragon MT 4:50.02

Wade Meddles NV 9:29.28

3200
Jessica Rydberg AZ 10:45.78

Wayne Davis NC 13.35 +4.6

100/110H
Jasmine Stowers SC 13.32 +4.0

Imani Spivey TX 36.89

300H
Jasmine Stowers SC 43.47

Nevada 40.83

4x100
Arizona 46.26

Nevada 1:25.73

4x200
Texas B 1:40.08

Elite: USA All Stars 3:06.35
SW: Texas A 3:18.10

4x400
Colorado 3:48.40

New Mexico 7:43.28

4x800
Colorado 9:08.33

Bryan McBride AZ 6-8

HJ
Lauren Crockett UT 5-10

Bryce Lamb AZ 25-10.75

LJ
Precious Selmon MO 20-6.5 +3.7

Bryce Lamb AZ 50-5.5

TJ
Jasmine Todd 39-6 +2.1

Jack Whitt OK 17-2.75

PV
Shade Weygandt TX 14-0

Mason Finley CO 68-5

SP
Jill Rushin MO 47-3

Mason Finley CO 215-11

DT
Sarah Tolson OK 141-6

Devin Bogert TX 216-8

JT
Heather Bergman KS 157-10

Nathan Estes AZ 189-3

HT
Jill Rushin MO 122-10

Curtis Beach NM 7719 HS (7466 Intl)

Dec/Hep
Shaye Maurer UT 4963

Last Year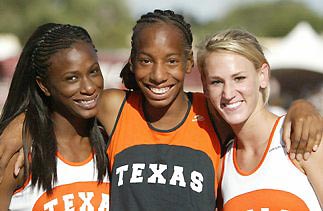 Three Texas high jumpers all matched the meet record of 6-0.
From left, Shanay Briscoe, Brigetta Barrett, and Victoria Lucas
photo by John Nepolitan



Albuquerque is a mile high city and high ranking preps abound in the GSW entries. There are two national record holders, 8 national leaders this season, 7 US#2 performers, and numerous state champs. The national record holders are local hero Curtis Beach (decathlon 7909) and Mason Finley CO (discus 236-6).





New Bern boys vs. sub-47 all star team!




New Bern NC's stellar 4x400 relay

, which set a national record indoors (3:13.06) earlier this year, will shoot for the outdoor record (3:07.40 by Hawthorne CA in 1985) in the closing event Saturday night June 6. Meet director John Haaland announced that he has assembled an all-star squad of one-lap burners to help New Bern go all out. The all stars are: Tavaris Tate MS, 400m national leader (45.71), Clayton Parros NJ (46.63), Andre Carter GA (46.85) and Markus Wheaton AZ (46.80) - that adds up to 3:05.95, quite a rabbit. The National Scholastic Sports Foundation will assist with the all-star team's travel expenses under its ongoing program to help elite athletes travel to national meets, Clayton Parros is thrilled to join US "Dream Team."



GSW has risen from regional to national significance over the years.

Athletes from the core states (AZ, CO, KS, MO, NV, NM, OK, TX and UT) are joined by top competitors from the rest of the country. This year's meet is affected by the swine flu scare, which caused the Texas state meet to be postponed to the same weekend as GSW. Also, the California state meet is the same weekend this year. Some of the top athletes will be missing, but there will still be plenty of elite competition.