Watching Reggie Wyatt
Senior star waits a year for another shot
by Dave Devine, DyeStat/ESPN RISE senior editor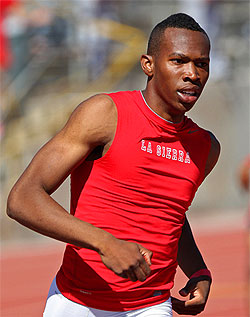 Photo by Andrew McClanahan


Witness Reggie Wyatt sweeping through the far turn of the Arcadia High School track, emerging from the shadowy night into the bright glare and audible gasps of a tumescent homestretch crowd.

He is leading this hurdle race by an astonishing margin, making a mockery of the staggered start.

He is devouring real estate with telescopic strides.

He is like something from a comic book, muscles taut beneath a scarlet sleeveless shirt, high-fade haircut rising to an aerodynamic faux-hawk. He is streamlined and smooth and efficient.

Or he is something winged and prehistoric, swift and sinewy and adaptable. Switching lead legs as necessary, barreling toward the finish with ferocity.

His race with the other teenagers in this contest was over after the first 100 meters; he competes only against the clock now. He could catch a hurdle and still win. He could fall and gather himself and stumble across the line in victory.

The crowd knows it.

They rise as he angles through the curve, the way crowds have always risen for bravura performances at athletic events—in a wave, each person that scrambles to his feet blocking the view of other spectators farther down, until the entire grandstand is craning and leaning and hooting and pointing and drawing breath between their teeth and elbowing strangers in glee.


The fading field of hurdlers knows it.

They battle for second and third and personal records and the right to claim they were runner-up to Reggie Wyatt one cool evening in California.

The meet announcer knows it.





Jeshua Anderson sets USR 35.28 for 300mH at 2007 California State Meet, trailed by Reggie Wyatt's 35.90 sophomore class record



"Reggie Wyatt in another world!" boys' announcer David Mitchell hollers into the night. "This is a great field and he's trashing it!"

Indeed.

This is determination paired with talent on full, devastating display. Maturity extracted and distilled from potential and promises. This is what a year of waiting looks like, unleashed on an all-weather track.



* * *



Only two weeks earlier, at the Asics Mt. Carmel Invitational in San Diego, California, Wyatt had run the fastest times in the nation for high school boys in both the 400-meter dash and the 300-meter hurdles. He had done so in a span of forty minutes, and then declared to a reporter that he'd focus solely on the 300 hurdles at the Arcadia Invitational, with intent to pursue Jeshua Anderson's 2007 national record of 35.28.

"I want the national record," Wyatt said that day, "and I plan to only run the 300-meter hurdles at Arcadia so I can get it early."

If there's anyone with an appreciation for the difficulty of improving that record, it is Wyatt—he watched it unfold from a lane away at the 2007 California CIF Finals (right). At the time, he was a rangy sophomore, tagging Taft senior Anderson to the line like a nettlesome kid brother. Anderson shaved four-hundredths of a second from George Porter's twelve year-old standard in that race, while Wyatt was rewarded for his tenacity with a sophomore class record of 35.90. He already held the freshman record at 37.42.

The future was bright.



* * *



Rewind this race, from the curve back to the start.

The air is electric as the field is introduced at their blocks on the backstretch. Everyone knows Wyatt has big plans, April aspirations for a record which realistically should remain unthreatened until May, when the weather is warm and his fitness has peaked. In the sporting world, there are those who speak blithely about chasing records and come across as unrealistic and quixotic at best, cocky at worst. And there are those who mention taking down all-time marks in a way that sounds matter-of-fact and reasonable and self-assured. Wyatt fits into the latter category, as if this quest is a simple case of time paired with opportunity, and not a question of ability.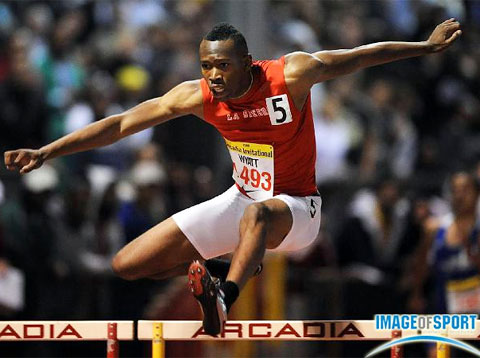 Photo by Kirby Lee, image of sport


Even with this race circled on his calendar, he is, by his own admission, uneasy in the starting blocks. The blocks had been slipping as he bolted through his pre-race stride-outs, and it happens again when the crowd quiets and the starter fires his pistol. The gun goes off; Wyatt floors it, but ends up chopping his stride at the first barrier.

"I was very disappointed with my start," he'll say later. "I had to stutter step to my first hurdle, and it just threw my whole race off. So my second hurdle, I had to make up ground."

Watching Wyatt "make up ground" is like something out of Star Trek—as if he somehow disassembles himself the moment his lead foot clears the first hurdle, and then rematerializes in full stride at the lip of the second hurdle. What do they call it onboard the USS Enterprise? Teleportation.

In hurdling, they call it twelve-stepping.

There are 35 meters between barriers in the long hurdle races. The typical stride pattern is either 13 or 15 steps between those barriers. Completing the distance in 12 strides requires covering nearly 115 feet, with loping footfalls 9.6 feet apart. Uncommon at higher levels of the sport—especially between the first and second hurdle— it's almost unheard of at the high school level.

But Wyatt is not your average high school hurdler. At a chiseled, lanky 6'-5", he appears built for the event, a perfect marriage of physiology and athletic pursuit. The space between the first and second hurdle disappears in a blur as Wyatt scrambles to compensate for his stutter at the first barrier. By the third hurdle he has laid waste to the stagger. Running in lane five, he gaps the entire field into the turn and draws an audible gasp from the crowd.


The spring of 2008 should have been a perfect storm of high school boys' hurdling. Jeshua Anderson was gone, graduated and competing in football and track for Washington State University, but in his wake was one of the most promising groups of long hurdlers in prep history. William Wynne of McEachern GA was Nike Outdoor National champion and World Youth Championship gold medalist in the 400-meter hurdles the previous summer. Robert Griffin of Copperas Cove TX had run history's #3 time for 300-meter hurdles at the Texas state meet. Wyatt was a rising junior, with freshman and sophomore class records for 300m hurdles and achievements in the 400m hurdles which included a sophomore class record at Nike Outdoor Nationals and a silver medal at the World Youth Championships, both times chasing Wynne to the line.

High school track fans salivated for the meet at which Wynne, Griffin and Wyatt settled into the blocks in bordering lanes.

It never happened.





Reggie Wyatt wins the 300m hurdles at the 2009 Arcadia Invitational



Griffin, a highly-recruited quarterback, elected to graduate in December and begin classes at Baylor University so he could join the football team for spring ball. He managed to run for the Baylor track team that season as well, and at the 2008 NCAA Outdoor Track and Field Championships, when he should have been wearing a cap and gown with his fellow high school seniors, he finished third in the 400-meter hurdle final, running 49.46. His 49.22 PR at the Big 12 Championships a few weeks earlier would have been a national high school record.

Wynne reeled off a string of impressive performances as a Georgia senior, culminating at the 5A State meet where he ran a then-US#1 36.28 300m hurdles, won the 110H in 13.52 (nwi) and ran a leg on the runner-up 4x400 squad. His post-season included a clash of titans at USATF Junior Nationals, where he was third in the 400H to college freshmen Jeshua Anderson and Johnny Dutch, running 50.42, and the USATF Youth Champs in North Carolina, where he hit 51.32 to win handily. In late July, at the USATF Junior Olympics, Wynne blitzed a seasonal best and US#1 49.84, which stands as #7 all-time for high schoolers.

Wyatt, meanwhile, transferred from Riverside J.W. North CA, his high school home for two years, to La Sierra High, and was ruled ineligible for the entire year due to California transfer regulations. Relegated to open meets and events he could enter unattached, he still managed marks of 50.42 and 50.46 for the 400m hurdles, a 46.63 open 400, and a US#1 and PR 35.71 for 300m hurdles at the Great Southwest Classic.

High school fans were left wondering what might have been.

Wyatt was left with a healthy appetite for redemption.



* * *



If you were seeking a metaphor for hurdling in the realm of music, you could do worse than that uniquely-American creation known as Jazz. The syncopated beats, the bursts of speed punctuated by flights of fancy, the improvisational scribbling over carefully-laid plans—all of it resonates with the rhythms, fluidity and adaptation of the barrier events.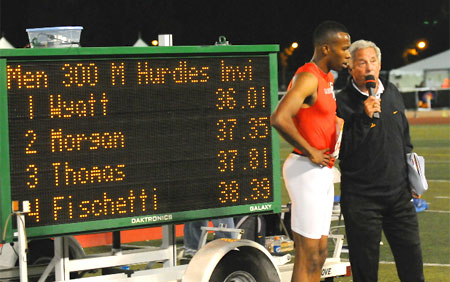 Photo by Donal Pearce


Renaldo "Skeets" Nehemiah?

Edwin Moses?

Both seem like Jazzmen in retrospect, each a captivating blend of technician and artist.

And as Reggie Wyatt rounds the curve and squares his shoulders toward the straight, he's bordering on Jazz too. Miles Davis though the turn, John Coltrane down the stretch.

"I don't usually alternate down the homestretch," he'll say later, "but today was a little off, so I had to alternate, but I was ready for it."

Switching lead legs the remainder of the way, improvising and scribbling notes he hadn't planned, Wyatt buckles slightly off the last hurdle and still lunges across the line in 36.01. Not the sub-36 time he was hoping for, but a nation-leading time by a wide margin nonetheless.

"I was hoping," Wyatt says in reference to the record. "The weather was good. It's a perfect place, so I'm just going to keep pushing and hope to get this record. After the race I wasn't even tired or anything, so I know I can go get that time….run that 35."

There will be other races and other chances. This coming weekend Wyatt plans to run the 400-meter hurdles at the Mt. SAC Relays, where he'll aim to slip under 50-seconds. The California state meet series offers ample opportunity to run fast 300 hurdle races, culminating in the CIF Final, where he can seek to replicate Anderson's record run from 2 years ago.

He'll have his shots.

On this night, in this stadium, his margin of victory alone is enough to indicate the likelihood of an all-time mark in the coming weeks.

"I want to get the record," he says evenly to a ring of reporters. "It's coming."

At this point, there is no reason to doubt him.