10th Nike Indoor Nationals

March 15-16, 2008 at Prince George's County Sportsplex, Landover MD

DyeStat on-site



Preview: Jillian Smith





"The Hill" prepares Southern Regional runners for big time meets - by Elliot Denman.





By Elliott Denman, National Scholastic Sports Foundation




When members of Coach Brian Zatorski's girls track and field team at Southern Regional High School in Manahawkin, NJ get the word "we're going to The Hill" for training sessions, many grimace, some shudder, a few invent urgent reasons to be elsewhere.

"The Hill" is about 350 meters of steady rise located on the otherwise pancake-flat area of Southern Regional's home base in Ocean County. Right there is Bruno's, an Italian restaurant. To do "a Bruno" - running the length of "The Hill" - is an exercise in character-building. Strength and speed are vital side products, too, of course.
Love it or not, Zatorski's runners have learned that mastering "The Hill" and doing "a Bruno" are critical ingredients in mastering everything else in their sport.

The top-end results have been eye-opening, and seem destined to continue for years. One of Southern's first big stars was Lauren Lewis, now concluding a standout career at the University of Arkansas. Then came the redoubtable Danielle Tauro, now making big-time marks as a freshman at the University of Michigan.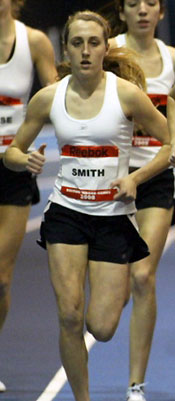 And now there's Jillian Smith, the junior sensation who has won just about everything in sight this winter and is a top gold medal candidate in the mile at the Nike Indoor Nationals. left, Smith at Boston Indoor 2008 - photo by John Nepolitan

Smith and Chelsea Cox, a rapidly improving sophomore 800-meter runner, constitute Southern Regional's delegation to the NIN meet this weekend. However, an original plan to run the distance medley relay - Southern's Rams are, after all, the 2007 Penn Relays DMR champions - has been scratched. (Smith's 3:33.6 1,200 meters got Southern off to a solid start at Penn in 2007; Tauro anchored in 4:50.7. The team ran 11:45.54, fifth fastest ever at Penn.)

While many expect Smith to better all of Tauro's marks before her own graduation, she won't be caught in anyone else's identity, either. As she told reporters after her Millrose victory, "there's always pressure like that, but I try to take it off because I'm not Danielle. I'm her friend and competitor and (former) teammate. But I have my own expectations, I'm my own person."

Look for something extraordinary - doing it "my way" - from Smith in Landover, Md. She comes in as America's fastest miler (off her 4:48.83 victory at the Reebok Boston Indoor Games) and with no Saturday relay assignment to cut into her energy supply, figures to be fresh and fast and ferocious.

"The sky's the limit for Jill," Zatorski said after Smith, who was Tauro's only serious challenger in last June's NJSIAA Meet of Champions, delivered a solid 4:52.26 in second place at that South Plainfield, NJ event. "And you know what?" he quickly added. "She's just getting started."
Has she ever this junior season.

Running cross country for the first time in her life - she'd been a soccer player in autumn as a freshman and sophomore - she won everything in sight, including Ocean County, Shore Conference and State Group IV individual crowns. Then she ran into Voorhees High's Melanie Thompson at the NJSIAA Meet of Champions. In a desperation sprint to the finish line at Holmdel Park, Thompson beat out Smith by an eyelash, 18:02 to 18:03.

About the only real disappointment she felt all autumn was running 11th - one spot back of Nationals qualifying - in the Footlocker Northeast Regionals. But not winning that San Diego trip may have proven a blessing in disguise. Given a two-week head start in training for the indoor season, she's gone from one brilliant performance to another.

A week after speeding a 31-second final 200 meters for the 4:48.83 Boston win (where Canada's Jessica Parry ran second in 4:53.05 and Plattsburgh, NY's Mary Kate Champagne was third in 4:55.57), the spotlight shifted to Madison Square Garden's 101st edition Millrose Games, the nation's longest running indoor invitational and the only one still being held in a major big-city arena.
.
Sure enough, Smith succeeded two-time Millrose champion Tauro as girls mile champion and kept the crown right there in Manahawkin for a third consecutive year with a 4:50.87 triumph. Delivering a devastating rush over the final laps, she won decisively over Mississippi's Cory McGee (4:55.82), with two New York Staters, Kristin Reese of Carmel (4:56.21) and Saratoga Springs' Hannah Davidson (4:57.68) right behind , and Garden State rival Thompson of Voorhees fifth (4:59.01.)

The Eastern States Championships at New York's Armory Track Center saw Smith reel off a 4:46.8 anchor 1,600 meters, bringing Southern's Rams from far off the pace to a rousing second place, trailing only Warwick, N.Y., 11:49.59 to 11:58.50.
NJSIAA statewide competition always provides fierce action, and has been another major venue for Smith's success. Last spring, she took the Group IV outdoor crowns with 2:14.99 two-lap and 4:52.21 four-lap performances, and this winter delivered 2:14.08 and 5:06.69 victories in the NJSIAA Group IV Meet of Champions at the Bennett "Air Bubble" facility in Toms River.

And she concluded that Group IV meet in dramatic fashion with a 55.9 anchor 400 that lifted Southern to the 4x400 relay title in 3:55.53, meet record time. A week later, she capped her in-state indoor season with a repeat Meet of Champions triumph in the 1600 (5:00.96) and a 56.1 anchor split on the winning 4x400 team(with Julia Beekman, Katherine Wymbs and Chelsea Cox) that ran 3:56.7.6.

That Meet of Champions was a sensational venue, too, for Cox, who ran a 2:14.88 800 only to be edged by Pope John's Emily Carrollo, who ran the identical time and gained the decision by less than an eyelash. Cox's 57.5 rousing third leg in the 4x400 then set the stage for Smith's sizzling anchor.
Zatorski, a former decathlete who takes all his team's successes in stride, often laughs that he has so much talent on his squad that "all I can do is mess it up." But the truth is that the achievements of Lewis, Tauro, Smith and Cox, et al,have inspired a crew of others to train just as hard, display just as much dedication, and be ready to carry on the Southern tradition for years and years to come.

Zatorski points to an array of other young athletes - topped by Ashley Miller, "a 400-800 type who is the real deal," and Maggie Kaszuba, a future all-events throws star who can already toss a football over 40 yards - as coming stalwarts of the Southern program.

Smith ran a 5:30 mile while in Middle School, then took the freshman mile race at the Nike Outdoor Nationals in 2006, all preludes to her varsity stardom in 2007 and 2008.
Just as you'd expect, Smith has been receiving heaps of healthy-sized packets of "fan mail" from major college track coaches around the nation.

With academic credentials that now rank her 18th in a class of 545, all kinds of undergraduate opportunities will be opened to her. But one decision has already been made - she will major in marine science/biology. As Zatorski tells one and all, "she is the real package, man."
.
But let's not rush this process or look too far ahead. Smith's high school career is still on fast forward, as Landover fans will see this weekend. In open competition,such as the Nike Indoor and Nike Outdoor national meets, the Southern Regional girls run as the Hammer Track Club.

Hammer away, ladies.








NIN Index page