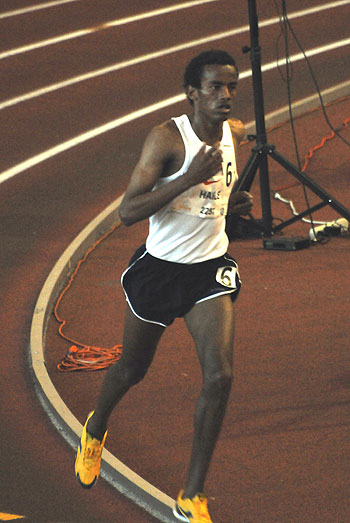 A little over five months ago, Solomon Haile was a fairly strong runner among a slew of talented harriers on his local running club. On Saturday, at the 2008 Nike Indoor Nationals in Landover, Maryland, he became a national champion at 5000 meters in a time that shattered the meet record by more than ten seconds.
What a difference a shift in geography makes.
In late 2007, Haile (left, photo by John Dye) moved from his home in Addis Ababa, Ethiopia to join a small collection of family members already living in the United States. His older sister, Naomi, had to come to America to attend college several years ago, and arranged for Haile and another sister to join her in Virginia last fall. The tall, soft-spoken 18 year-old arrived with a desire to study hard, improve his English, and perhaps earn a scholarship to college.

"I didn't even know he was running in Addis," his sister Naomi says. "He was always a soccer player."
When Haile showed up at Sherwood High School in Maryland to speak with track coach Dan Reeks, saying he planned to enroll as a junior, Reeks was as surprised as anyone.
"He came to us," the coach says of his new charge. "He just showed up outside my classroom door and said he'd be coming to Sherwood."
If Reeks was unsure of what he had on his hands at the time of that fortuitous doorway meeting, he knows now.
In just a handful of races this winter, Haile has emerged as one of the most promising—and unexpected—distance talents in the country. Completely untested thus far, it remains a mystery how fast he may eventually be able to run. On Saturday morning he sliced more than ten seconds off Jason Witt's year-old Nike Indoor Nationals 5k record, dropping a 14:53.93 meet record that was also less than a second off Mohammud Ige's 2005 junior class mark. After breaking free from Neal Darmody (Quince Orchard MD sr) in the early laps, Haile looked smooth and unpressed as he stamped out consistent, controlled laps the rest of the way.
Darmody, who swept the 1600 and 3200 at the recent Maryland 4A state indoor meet, is among a few who've had an opportunity to observe Haile's talents up close—he's tangled with him twice in the Ethopian's abbreviated US high school career.
"When [Haile] started throwing in the surges," Darmody said of their 5k tussle, "trying to pass me, that kind of wore me out because he was throwing them in repeatedly, one after the next. I really wanted to latch on, but the last surge was too much."
After an opening mile passed in 4:48, with Darmody leading and Haile appearing fidgety just off his right shoulder, Darmody stayed at the fore through a mile and half, at which point Haile moved authoritatively on the backstretch and immediately put 20 yards on his competitor. From there, Haile unfurled his fluid stride through 9:30 at 2 miles, 14:21 at the bell, and the 14:53 win. Darmody would go on to finish third in 15:13.41, just behind John Luttrell (Kettering OH -15:13.06).
"Neal is a good runner," a gracious Haile said after the race. "He is a strong runner. I tried to follow him and stay with him. I tried to keep him in there a little bit. When I passed him one more time, he couldn't stay with me."
Hailes says this without conceit or arrogance. He almost sounds surprised, as if he didn't expect the victory to come as effortlessly as it did.
As with many recently-arrived African emigrants who emerge on the US prep running scene, questions of age have dogged Haile in the past few months. He didn't help matters when he registered for a road race shortly after his arrival and provided his age as 20 to avoid the necessity of a guardian co-signer on the race registration form. However, Haile's sister Naomi insists her brother is 18, with a January 1990 birthday.
Darmody, for his part, doesn't dwell on the age question or reveal any malice at the sudden arrival of a surprise in-state challenger. "I think that sometimes people figure just because he's a newcomer, they can disrespect him, but he should get all the respect. He's a great runner, and I'm very happy that he's here—it's just great competition. The two mile outdoors is going to be great with him…I'm learning from him each race."
Given the limited range of Haile's US racing experience, he may have some things to learn as well. One thing is certain: he draws on a deep tradition of high-level running in his native country. Asked whether athletes like Ethiopian great Haile "Geb" Gebrselassie are an inspiration, Haile breaks into a wide smile and answers without hesitation.
"Yeah…I mean he is a hero to the whole world. He is our motivator. A lot of young Ethiopians want to be like him."
Solomon Haile may not be the next Gebrselassie, but as a mid-year arrival no one saw coming, he stands a good chance of reshuffling the prep running scene before his truncated high school career has drawn to a close.