By Rich Gonzalez, DyeStat.com/ESPN Rise
PALO ALTO, CA – To the surprise of almost no one, San Diego's top distance runner impressively posted the top time of the day at Saturday's 35th edition of the Stanford Invitational.
To the surprise of most everyone, the runner's name was Molly, not Mackey.
Rancho Bernardo sophomore Molly Grabill notched her fourth course record of sorts in as many weekends, this time trampling a talent-packed field of individuals in the featured Girls Seeded Championship to wrap up the meet, which annually draws top high school programs from the West Coast sprinkled with regional powers from elsewhere.
While Grabill snared the biggest headlines among individual competitors, it was an underclass-saturated lineup from Arcadia High that grabbed center stage on the boys' side. With three sophomores scorers and only one senior in its varsity seven, the Apaches led an impressive showing by Golden State teams ranked from 6th to 12th coming in, more than holding their own against squads from the Pacific Northwest that entered the season ranked among the Top 25 nationally. Arcadia of Southern California won the featured Boys Seeded race by a comfortable 34-point cushion while Davis of Southern California placed third despite having a key scorer pulled from the course by his coach in mid-race after struggling under the effects of oppressive heat.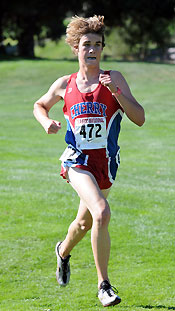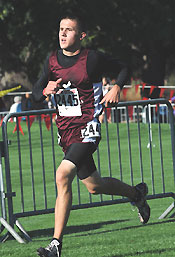 The individual boys battles continued the ascent of two notable recent surprises, specifically Seeded Boys race winner
Walter Schafer
(left) of Cherry Creek (CO) and Division IV-V boys winner
Wade Meddles
(right) on Sierra Lutheran (NV). The two athletes – one being in the shadows of a high-profile teammate 12 months ago and the other having no teammates at all 12 months ago – continue among the fastest-rising stars on the national landscape in 2008.
The team wars on the girls' side were ultra-competitive, with
Torrey Pines
of San Diego – ranked third in the California Region coming in – besting
Mountain View
of the Central Coast Section by just eight points in the Seeded Girls Championship race. But in a post-meet 'full merge' of results from the 141 varsity teams competing across five divisional races, it was Mountain View prevailing over Torrey Pines on a sixth-runner tiebreaker.
And
ESPN360.com
, in its first venture into a webcast of a high school cross-country meet, was there to document every stride of the action. Working with the global sports broadcasting giant's new division of high school sports programming (ESPN Rise), ESPN360.com utilized six cameras and a team of close to 25 workers to cover the day-long action across the Stanford golf course.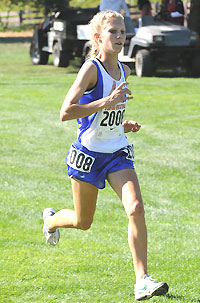 Molly Want A Record?
She had already been collecting various records like most teens collect new tunes on their Ipod, but as a performing artist of sorts come race day Rancho Bernardo sophomore Molly Grabill sweet beat still hadn't topped the national charts. Until now. Grabill, hailing from a region where short courses are the norm, was competing at her longest race distance of the year and easily against her most challenging cast, yet still marveled. The San Diego area teen took the lead from early pacesetter Alyssa Andrews from Gig Harbor (WA) as they approached three kilometers, with Grabill then asserting her own tempo and stepping on the pedal just enough to discourage her rivals down the stretch.
Competing along a new 5,000-meter layout rated a majority of runners as slower than last year's layout – despite having the course's lone tough hill removed – Grabill ended up prevailing by nearly 80 meters to win in 17:35. Andrews held on for second in 17:52.
With the race comprised by 4 of the top 10 individuals ranked in the California region's Division I as well as top runners from Washington, Oregon and Colorado, Grabill earned her most impressive stripes yet. Yet, despite recording her fourth record in as many weeks – now three overall course records to go along with one sophomore class course record – Grabill, ninth at this meet a year ago, continues on an even keel.
After winning last weekend's Mt. Carmel Invitational, she talked about striving for "consistency" as a main goal. This time out, her focus was on remaining "well grounded" and not getting too caught up in her successes. By achieving such abstract short-term goals that are far easier – and much less stressful – to gauge than merely an endless chase for course records, she and Coach Terry Dockery open up a wealth of opportunities for maturation and progress down the road, all while enjoying the journey.




On paper, they arrived here as the slight favorites and the highest ranked California Region squad in attendance (#6), but facing two other California Top 10-ranked teams and six additional "bubble teams" in the California Region rankings, not to mention three powerful teams from the state of Washington.
On paper, they departed as Seeded Race champions.
In capturing what he affirmed as its biggest race win in school history, veteran Arcadia High cross-country coach Jim O'Brien was left wide-eyed with pride by the end of Saturday's festivities, his boys scoring just 128 points to secure victory in the 32-team Seeded Championship. Of the top dozen eventual team placers, all twelve entered the meet either ranked or listed as bubble teams in their respective region.
Yet while the form charts held up well, perhaps the one facet of Arcadia's solid performance that requires emphasis is the fact that three from the team's lead quartet – Ammar Moussa, Eric Garibay and Allen Leung – are just 10th graders! Add in team leader and senior Renaud Poizat – oh, and did we mention the Apaches also won the all-divisions combined junior varsity race – and one can quickly see Arcadia is closing in on – and primed to overtake – the Golden State's superpowers.
Nearly lost among the hoopla surrounding Arcadia's win was the exceptional showing by Davis, which took a close third in the race, four points behind Washington power Jackson High, which was paced by senior Ben Lance and junior Connor Frederickson and Mitchell Briggs. Davis, however, showed well despite not having key runner Corey Coates finish the race as coach Bill Gregg summoned him off the course as he was in duress. Even so, siblings Matt and Drew Peterson led the group, which beat regional stalwarts Seattle Prep (4th with 171), Petaluma (5th with 176) and Mountain View (6th with 182). If Coates finishes in his usual #2 spot on the team (safely ahead of its #3), the Blue Devils could have won the race. But for now at least… coulda-shoulda-woulda.
Arcadia's 1st Ammar Moussa (111) and
2nd Renaud Poizat (112) finish 7th and 9th.

Arcadia's 3rd Eric Garibay (104) and
4th Allen Leung (107) finish 23rd and 25th.

Torrey Pines seals the deal
Third place here 12 months ago, Torrey Pines returned in search of the top spot. Mission accomplished.
Despite having only two returnees from last year's group of Stanford race finishers, Torrey Pines this time out boasted four finishers among the first 30 scorers – including three freshmen – in the Seeded Girls race to win with 136 points. The victory was sealed when senior Erin Gillingham crossed as the team's final scorer. Preseason all-state junior Megan Morgan led the effort (4th in 18:10) while the frosh trio of Alli Billmeyer, Ashlyn Dadkhah and Soffe Watson added stellar support.
The San Diego region is peppered with top frosh newcomers in 2008, not to mention powerhouse girls teams such as Torrey Pines, Rancho Bernardo, and Rancho Buena Vista, making the prospects down south hotter than ever come postseason.
Mountain View of the Central Coast Section (with arguably the best combined boys/girls showing in the meet for Coach Evan Smith) was a very close second with 144 points and led by senior Mary Reynolds top-10 individual finish. Davis, the only school with top-five team finishes in both genders, was officially was third with 192.
Indeed, Every Teammate Counts
There were two excellent examples of the Nike Cross Nationals slogan of "Every Teammate Counts" ringing out loudly.
The first came in the Seeded Girls where, where Davis of Northern California, Cherry Creek of Colorado, and Rancho Bernardo of Southern California all finished with 192 points for their five respective team scorers. The tiebreaker in such cases is to compare each of those teams' sixth placers. That's how Davis, with team sixth-placer Charlotte Haar (58th overall among scorers for all teams), forged ahead of the other two schools.
The second example was even more of a nailbiter. In the Division IV-V combined boys race, Lakewood of Washington and Palma of Central California each scored 141 points in besting everyone else in the field. When it came down to comparing each of those two teams' sixth placer to determine the race's team champion, Lakewood's James Mattson edged out Palma's Miguel Soria by just one place. The margin of difference? Mattson finished ahead of Soria by just one second.
Although not an actual race result, another example came in the post-meet results 'merge' (combining the performances from all races into one simulated race)m where Mountain View and Torrey Pines each totaled 339 points in the girls stats summary, with Zoe Pappas' better sixth-place finish putting Mountain View atop those 'virtual' standings.
Indeed, every teammate counts.
Other leading highlights, newsmakers.
While most of the top teams and individuals were showcased in the meet's two Seeded races, there were exceptional showings elsewhere.
Teamwise, Campolindo of Moraga (CA) stormed to a 31-point win in the Division III boys affair as money-time performer Robert Pulford finished second and started the team's 66-second scoring gap. "Campo" finished second overall in the post-meet scoring merge, toppling several in-state and out-of-state large-schools powers.
While previously at College Park and now at Campolindo, Coach Chuck Woolridge's teams have built a reputation on excellent late-season showings. With Pulford an excellent leader for a close-knit bunch completely buying into the team concept, look for that trend to continue … and for teams like Barstow and Petaluma to be under fierce pressure. Campolindo beat Petaluma in Stanford's merged results tabulation while Barstow was competing in the Los Angeles area.
Individually, Nohe Lema of Willow Glen eased away from the lead pack midway through the Division III boys race to beat favored Mackey "Mac" Fleet, among others with the eventual victor admitting he was a bit concerned in preseason about the prospects of facing Fleet and Bakersfield Foothill's Chris Schwartz in postseason divisional action. Willow Glen coach Victor Santamaria has been methodic in his racing approach with Lema thus far in 2008, holding him back to run with teammates in the early season, keeping his top charge both hungry and fresh for the bigger meets, with Stanford being the first target race in the plan. So far, so good.
Fleet, who should contend for a berth to FootLocker Nationals at year's end, appeared fine both before and after his race on Saturday, but appeared very sluggish during the race itself, his legs listless and his tall frame collapsing into the plush grass on each stride. He did reveal beforehand of dealing with a slight cold.
The top performer in Boys Division IV/V was Sierra Lutheran junior Wade Meddles, who won in 15:28. His time, although coming a few hours before the hottest time of the day, held up as second fastest of the day. Meddles beat Branson's Steven Iglehart for top honors in the race. It has been an incredible start to Meddles' cross-country career. A 4:24 1600-meter performer in track as a sophomore at a school (Smith Valley) that did not offer cross-country, Meddles was forced to move when his family lost its house during the recent mortgage meltdown plaguing the country. He settled at Sierra Lutheran, a small school in Northern Nevada, and is off to a very quick start, including a second-place finish to Bryan Tibaduiza at the season-opening Reno Twilight Classic.
Melissa Skiba of Oak Park was an impressive winner in the Division III girls race, also posting the #3 time of the meet while beating three of California's top five ranked Division III runners head on. She could easily hold her own in the larger division races, but longtime Oak Park coach Kevin Smith has had many teams and individuals excel over the years while taking a conservative early-season approach and then releasing the reins for postseason.
For girls' teams, Aptos was dominant in the Division I (non-seeded) race and finished among the top five teams from all divisions combined. The group was the only squad showing especially well over the weekend that had not yet been on the regional rankings of bubble list. They will be now.
Potential Effect on the Rankings
So how will the team rankings change based on developments at Stanford?
Probably not a whole lot, but we'll have to wait until Thursday's next rankings release to be sure.
For starters, the top regional squads pretty much topped their respective regions in the results, especially on the boys side. For the males, no unlisted squad broke up the nine California ranked or bubble teams on the boys side in the merged results, although Jesuit should see its stock slide a bit after being beaten by all other ranked and bubble teams.
For the girls, Torrey Pines fared well in winning, while bubble team Mountain View and unlisted team Aptos likely will see their placement shift to the upside. Conversely, previously sixth-ranked Carondelet (despite not having top runner Nicole Hood) race on varsity this time out) likely will drop from the California Region top 10 for now.
In the Northwest, Jackson and Seattle Prep likely will flip-flop in order in the boys rankings while both leapfrogging a Mead team they defeated head-on. For the girls, Gig Harbor endured a rough outing here and should plummet until it re-asserts itself. From the Southwest, Cherry Creek will likely remain listed for both genders.
Overall, California's boys region was the big winner. Although the top five California teams did not attend, it was stated on the ESPN360.com webcast before the Seeded Boys race that the Northwest Region – specifically for Washington teams after U.S. #1 North Central – appeared to be somewhat lacking in depth and perhaps over-ranked when three Washington teams appeared in the preseason national rankings. At the same time, this appears to be the strongest California boys field in memory, already projected a tad better than in 2006, when Golden State teams went 2-4-8 at Nike Team Nationals.
The biggest potential winner from the past weekend? Arcadia's boys. Jackson does appear to be the #3 team in the Northwest Region and if it can upset either of the top two at the NXN Northwest Regional championship, that's a potential at-large point for Arcadia in the quest for berths to nationals.
Of course, there's plenty of racing still to go!