October 11, 2008 at Van Cortlandt Park, New York NY. DyeStat on-site.



Boys Individuals


Solomon Haile had a plan, and it worked.
Joe Rosa breaks sophomore record.



by Jim Lambert



Solomon Haile came to the Bronx with just one thing in mind. And he got it in sizzling fashion.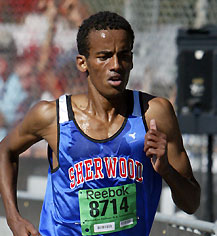 Haile, who moved to the United States from Ethiopia a year ago today, tore apart the legendary Van Cortlandt Park 2.5-mile
layout with an eye-popping 12:06.7 to smash the course record while capturing the boys E Division title at the 36th Manhattan
Invitational.

Haile, a senior at Sherwood High School in Maryland, broke the course mark of 12:10.6 set in 2006 by Tommy Gruenewald of
Fayetteville-Manlius.

Haile said he had a plan and stuck to it.

``I came here to break the record and knew I'd have to push pretty hard by myself the last part of the race to get it,'' said
Haile, the 5-K Nike national champion indoors and outdoors last year. ``I was at 10 flat at two miles and I knew I could run
under 2:10 for that last half. It's great to have a record like this. I'm very proud to have done this.''

Haile's performance should not come as a shock. After all, he did run 14:38 on the track last spring for 5-K.

``One of my goals is to get to the Foot Locker nationals and hopefully I can win it,'' said Haile, who will turn 19 on Jan. 23.

``Breaking this record and going this fast is hopefully something that I can continue to build on and keep getting faster.''

Haile is one of nine siblings and has lived with a sister in Maryland since moving to the United States. ``I will call up my brothers and sisters and tell them of what I've done,'' said Haile. ``They are all very proud of my running.''

Haile doesn't have any college visits lined up yet, but he's does have big plans for the future. ``I know my running can take me pretty far, and hopefully I'll
run all the way to the Olympics one day,'' he said.

Boys Varsity E results



Joe Rosa breaks sophomore record



While Haile's heroics was certainly the story of the day, he wasn't the only record setter. Sophomore hot shot Joe Rosa of West Windsor-Plainsboro
North in New Jersey, also lit up the trails, hammering out a 12:20.0 victory in the Eastern States Championship race.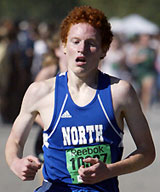 Rosa's 12:20.0 smashed the sophomore course record of 12:29.9 set in 1983 by John Trautman of Monroe-Woodbury in New York, and is the fourth fastest time ever run by a New Jersey runner at Van Cortlandt. Craig Forys of Colts Neck (12:10.7 in 2006), Brad Hudson of North Hunterdon (12:15.7 in 1983) and Brian Leung of West Windsor South (12:17.9 last year) are the only New Jerseyan's to run faster at Van Cortlandt than Rosa.

Rosa also broke the sophomore course record at Holmdel Park last week by winning his race in 15:38, tied for No. 9 in course history.

``This is just awesome,'' said Rosa. ``I just keep surprising myself with what I'm doing. Before this year I never really broke any records. Now I'm getting them all the time and it's
just great to see all the hard work pay off.''

Rosa was in control of the race most of the way.

``On the uphills I was in front, but on the down hills I'd lose the lead and then get it back again,'' said Rosa. ``On the little road before the bridge by the 2-mile mark, I started to really push it, and I got the lead for good.''


Boys Eastern States results



photos by John Nepolitan