SteveU's DyeStat XC Top 25


2008 Individual XC Rankings
By Steve Underwood

The annual DyeStat XC Top 25 series (formerly Foot Locker Favorites and renamed given additional options available now) are national and regional rankings of cross-country runners based on distance-running accomplishments to date, with an emphasis on XC and 3200/2M track results, rather than a projection of how the Foot Locker Finals or NXN Finals will turn out (predictions run later in the season).
Long Learning Curve
The Boys Preseason National Rankings
The Top 25
This year's top returning male harriers, mostly from the Class of 2009, aren't coming in with the sub-9s and All-American standing of their predecessors, but with knowledge that success will come if they negotiate the learning curve.
Club Colorado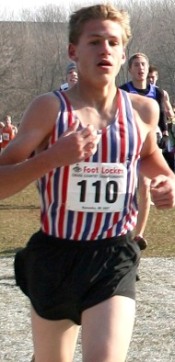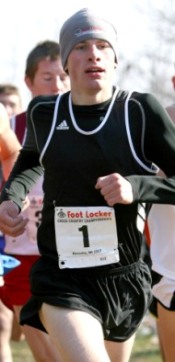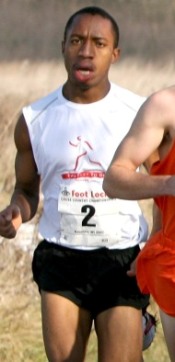 Returning Foot Locker Finalists Nicolls, Appel, and Manilafasha all live in the Denver area.


Story and rankings by SteveU
Photos by Vic Sailer, Photorun.net; John Nepolitan, and John Dye

Evan Appel, for one, believes in the group of boys harriers that are following in the huge footsteps of the Fernandezes, Derricks, Fouts, Puskedras and Lowes of the world.

"I would completely agree," he says, "that there are really no 'heavy favorites' going into this season, with all of last year's Foot Locker All-Americans in college now."

Pause.

"I also feel, though, that the Class of 2009 will prove to be a strong class with guys from all over the nation pulling in fast times."

The Dakota Ridge CO senior does well, in a few simple statements, to sum up and convey the collective state of a decidedly unproven group of runners who take to hill and dale this fall.

It's not uncommon for seniors to dominate the boys XC and track national championship races each year, leaving a lot of spots to fill for All-Americans the following seasons. Of course, that's not always true on the girls side, with underclassmen often winning titles and the places right behind them. This fall, in fact, features the return of the three previous Foot Locker champions, as well as the 2007 NTN individual champ, on the female side.

But more often than not, in recent years, there have been at least a few guys who have, as juniors, done so well that they have dominated preseason talk going into the next fall. In 2006, you had a "Big Four" of Matt Tebo, Evan Jager, Michael Cybulski, and Craig Forys coming in that had big-time creds; Tebo and Jager had already run 8:47y and 8:50y, for example. Last fall was similar, with Ben Johnson, Luke Puskedra, Colby Lowe, Chris Derrick and Sean Keveren coming back, and of course with German Fernandez finally fulfilling the potential he'd shown as a soph. These groups had really built heavy momentum for their senior years.

Consider these numbers

Last fall, there was just one non-senior in the Foot Locker Finals top 20. In both 2005 and 2006 there were five.
The numbers are similar for 2M/3200 times. There is only one athlete returning at 9:00 or better for 2-miles (or 3200 equivalent); the previous two years there were six each..
Of course, one year is never the perfect predictor for the next, and the differences and time-frames considered are not dramatic enough to constitute some major trend. But this much is true: There are more national medals, trophies and All-American spots there for the taking this year, and there's no one out there for anyone to be intimidated by – that is, if you're a runner that is just below national-class and seeking to break through.

This year's national favorites can be broken down into three categories. There are those whose careers have followed fairly linear paths each season and seem ready to keep advancing – like Bobby Nicolls CO.

There are others that have been on the national stage, but have yet to really make their mark there – like Appel, Joseph Manilafasha CO, and Thomas Porter VA, each of whom are two-time Foot Locker Finalists that have yet to break the top 20 there. Similarly, there's Doug Smith NJ, the 9:01 3200 talent who hasn't made FL Finals yet, but has had disappointments in track nationals amid other successes.

And finally there are those who progressed strongly last spring and seem ready to break through this fall – like Chris Schwartz CA, Zach Ornelas TX, and Solomon Haile MD.

Once again, it's a group dominated by seniors, with Tyler Udland NJ one of the few juniors who looks like a top-15 level runner right now. A super soph class includes Craig Lutz TX, Zach Wills OH, James Martin IN, and the Rosa brothers from NJ. But they are likely a year away from breaking in.

Nicolls seems like the best bet for top-shelf national success this fall, with the combined credentials of being the best returning Foot Locker Finals finisher, almost at the top of last spring's best 2-milers, and with a wicked 30:19 10k under his belt this summer.

But most of the others face what could be simply called a learning curve. It will have to be more than just business as usual for them to break through and make it to the top or at least the top echelon.



(continued below)







Athlete




Last Year: Finals/Reg.

Returning Finals/Region


Comments




1.

Bobby Nicolls

, 2009
Regis Jesuit HS, CO


Foot Locker
18th/9th MW

Foot Locker
1st/2nd MW

Nicolls, who started the season with a solid win over Appel, has good range of creds as top FL Finals returnee, a 9:03 2-miler, and a 30:19 10k runner this summer. His progression has been steady.


2.

Chris Schwartz

, 2009
Foothill HS, CA


Foot Locker
37th /7th W

Foot Locker
5th /1st W

Although last fall ended with a tough run in San Diego, the defending Cal state champ has otherwise become a consistent runner and had the top US 3200 this past spring (8:58) among non-seniors.


3.

Evan Appel

, 2009
Dakota Ridge HS, CO


Foot Locker
21st/10th MW
Foot Locker
2nd/3rd MW
One of three 2-time FL qualifiers, Appel has known how to peak for Kenosha. With a 9:09 in track, he was solid, but not quite with some of his peers. He's motivated to take it to a new level this fall.


4.

Doug Smith

, 2009
Gill-St. Bernards HS, NJ


Foot Locker
DNC/15th NE

Foot Locker
DNC/1st NE

Smith has been considered the most, or close to the most talented runner in the Class of 09, but has had ups and downs on the national level and he knows it. At his best, he can beat anyone in the country.


5.

Joseph Manilafasha

, 2009
Denver North HS, CO


Foot Locker
22nd/7th MW

Foot Locker
3rd/1st MW
After super soph XC season, Joseph didn't impress in track or XC last fall, but made it back and improved in San Diego. In track last spring, again, his PRs were down the list. But don't bet against him.


6.

Steve Sulkin

, 2009
York HS, IL


NXN
4th/6th MW

NXN
1st/2nd MW
Sulkin appears poised to become the next great York runner. He's the top returnee in IL, as well as NXN Finals. Reports are that super workouts this summer could elevate him to this level and beyond.


7.

CJ Brown

, 2009
Southlake Carroll HS, TX


NTN
5th/2nd S
Foot Locker
24th/3rd S

NTN
2nd/1st S
Foot Locker
4th/1st S

CJ has played Robin to Colby Lowe's Batman at SLC, and in Texas overall, for what seems like forever. It will be fun to see how he does now. Track times not super, though he led off that 9:56 DMR at NON.


8.

Wes Rickman

, 2009
Falcon HS, CO


Foot Locker
DNC/17th MW

Foot Locker
DNC/5th MW

Rickman is as high as 8th on this list for 1 reason, 1 very big reason - an unlooked for 9:00.38y for 4th at NIN last winter. It was a huge breakthrough that injuries have kept him from getting close to since.


9.

Zach Ornelas

, 2009
Vista Ridge HS, TX


Foot Locker
DNC/39th S

Foot Locker DNC/12th S

It's a long way from 39th at FL South to 9th in the country, but Ornelas came far in the winter and spring, with solid big meet doubles and an NON steeple title. A bigger base is paying dividends.


10.

Solomon Haile

, 2009
Sherwood HS, MD


did not run US high school last fall

did not run US high school last fall
Solomon loves the track 5k, that was clear as he swept the NIN and NON at that distance. His other track times weren't quite as fast, so will be interesting to see how he does in 1st US XC season.


11.

Thomas Porter

, 2009
Mountain View HS, VA


Foot Locker
40th/8th S

Foot Locker
6th/2nd S

He hasn't dazzled in San Diego, nor really torn it up on the track, but it's hard to discount a 2-time FL Finalist. He's really shown up at McAlpine the last two years - can he make it closer to the top now?


12.

Brett Johnson

, 2009
Ocean City HS, NJ


Foot Locker
DNC/25th NE

Foot Locker
DNC/3rd NE

After a great breakout spring that produced a 4:08.51y PR, it's easy for non-New Jersey fans to forget that a miler like Johnson also did pretty well in XC last fall and is the #3 FL NE returnee.


13.

Drew Shields

, 2009
Fishers HS, IN


NTN
DNC/4th MW
Foot Locker
DNC/16th MW

NTN
DNC/1st MW
Foot Locker
DNC/4th MW

The 4:09.64 mile Shields finished up with last spring should propel him nicely into this echelon of runners. Will have to decide if he wants to try the NXN/Foot Locker double again.


14.

Trevor Dunbar

, 2009
Kodiak HS, AK


NTN
DNC/3rd NW
Foot Locker
DNC/52nd W
NTN
DNC/2nd NW
Foot Locker
DNC/16th W
Dunbar's otherwise great junior XC season ended with a 52nd at FL West. But he confirmed his talent with 9:06.41 at Golden West and should be ready to do damage at a national XC meet this fall.


15.

Robby Andrews

, 2009
Manalapan HS, NJ


DNC/DNC

DNC/DNC

Of all the great NJ runners this fall, this 800/1600 star is the top returnee from the NJ MOC - beating Johnson, Udland, Molke, etc. Will he decide to take his season beyond that point this time?


16.

Tyler Udland

, 2010
Millburn HS, NJ


Foot Locker
DNC/4th NE
(soph race)

Foot Locker
DNC/14th NE
(overall)

Udland was 26th at NJ MOC as a soph last fall and 4th in FL NE soph race ... then he leads NJ's stunning youth movement with 9:04.80 to win MOC in track, the nation's best soph 3200. Sky's the limit.

17.

Graham Bazell

, 2009
Atholton HS, MD


Foot Locker
DNC/114th NE
Foot Locker DNC/35th NE

Bazell's way more talented than his FL NE finish would indicate - like 9:04.55y (MWD Gala) talent. Reportedly has asthma problems in cold, though, hurting late fall efforts. 9:13 3200 runner as soph.


18.

Dominick Robinson

, 2009
Campbell County HS, WY


NXN
DNC/3rd HL

NXN
DNC/2nd HL

Robinson's kind of flown under the radar, but won't be able to much longer after 9:07.79 3200 PR at Golden West. Went NXN route last fall as individual with 3rd in Heartland race.


19.

Reed Connor

, 2009
The Woodlands HS, TX


NXN
24th/DNC S

NXN
11th/DNC S

If Conner gets a long string of healthy training, watch out. His 24th at NXN last fall was with little training after issues sidelined him at the region meet. 9:08 3200 in spring showed more of potential.


20.

Joash Osoro

, 2009
Bismarck HS, ND


NXN
DNC/1st HL
Foot Locker
DNC/18th MW

NXN
DNC/1st HL
Foot Locker
DNC/6th MW

Though his track times were not nationally impressive, Osoro has gone far to prove XC chops already, with NXN Heartland win last fall and solid follow-up at FL Midwest. Ready for next level.


21.

David Wilson

, 2009
Brookline HS, MA


NXN
7th/3rd NE

NXN
3rd/1st NE

After an amazing fall 07 that saw him backup top teammate Robert Gibson and finally surpass him with his 7th at NXN, Wilson had to fight injuries in track. If healthy, he goes to near top of NE heap.


22.

Donny Roys

, 2009
Medina HS, OH


NXN
10th/21st MW

NXN
4th/13th MW

Roys followed a disappointing 21st in NTN MW last fall with a super 10th at the Finals. A fall at state capped a less-than-hoped-for track season, but a fast start this fall has him near top of MW contenders.


23.

Robert Molke

, 2009
Don Bosco HS, NJ


NXN
21st/6th NE

NXN
8th/2nd NE

After leading his Don Bosco teammates to their breakout NTN bid, Molke showed his track talent in the spring with a 9:10 3200. He's right in the thick of top group in one of deepest states in US.


24.

Elliot Jantzer

, 2009
Phoenix HS, OR


Foot Locker
DNC/18th W

Foot Locker
DNC/2nd W

18th at FL West last fall, Jantzer enter's his senior year as #2 returnee from that region. Solid track season yielded 8:39 3k performance. Had best time overall at OR state meet last fall out of 4A.


25.

Bryan Tibaduiza

, 2009
Galena HS, NV


NXN
DNC/4th SW
Foot Locker
DNC/22nd W

NXN
DNC/1st SW
Foot Locker
DNC/4th W

Tibaduiza set new standards for excellence in Nevada last fall and competed well in both NXN and Foot Locker West. A fast start already this fall should have him thinking national contention.




(continued from above chart)



Appel: Building from successes and lessons learned



"I feel as though this is my season to shine," says Appel. Along with his Foot Locker races, he had a chance at national acclaim in the Arcadia 3200 this past spring, but was 9th in 9:09.68 – a PR, but 23 seconds out of first. In the past, runners like Brent Vaughn and Bret Schoolmeester have come down from Colorado and popped huge sub-8:50 PRs at Arcadia, but it wasn't Appel's time – yet.

"Over the years, I've had a slow rise up the ladder, filling in the places left from those who graduated the year before," he says. "Now being the oldest in high school, I feel tremendous pressure to perform, not only for myself, but also for my team, family, state, and potential colleges. This season will build off of last year, in regard to both successes and lessons learned. Every year has seen a slight increase in mileage, and this summer's training reached into the low 70s. The main thing that helps me in cross country is experience … learning a solid race strategy and applying it in different scenarios."

Appel also realizes that where he lives plays no small part in his success, if he takes advantage of it, in more ways than one. He lives at 8500 feet, for one, and fellow Foot Locker Finalists Nicolls and Manilafasha don't just live in the same state, they live within about half an hour of each other. Nine-flat 2-miler Wes Rickman is just over an hour away from the trio.

"(We) are in a unique position … with the top three returners from last year's race (as well as guys like Wes Rickman) all living in the same metropolitan area," Appel admits. "Having your competition close to home ensures that you get a lot of experience against your biggest rivals and that you stay sharp as the season progresses. I have been racing Bobby Nichols since 8th grade, and Joseph since freshman year, so we have all known of and raced each other for years now. It also means that the state titles here are worth something, not just a build up race to the post-season."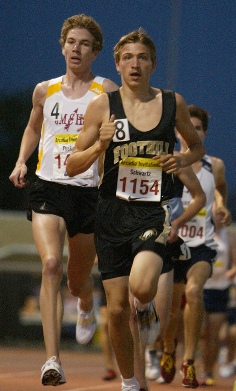 Leading early at Arcadia didn't stop Schwartz from setting his then-PR of 9:01.45


The learning curve has been long and gradual for Appel, but it's all there for him to make the next breakthrough. He has to use his nearby peers, but not get in a comfort zone that makes it tough to adjust to out-of-state competition.



Schwartz: Better pacing allows talent to shine through



That 2008 Arcadia meet was also was a significant measuring stick for Chris Schwartz. Then a talented Foothill CA junior, he surely had his 2007 Arcadia experience in the back of his mind. "I went out too fast and I didn't finish well," he says of that sophomore effort. "My coach was mad. When I went back to practice, my coach forced me to do repeat 400s on pace. It was the first time I had ever done a workout like that. I had to hit pace every time because if I didn't, my coach was going to add another 400."

It wasn't the first time Schwartz had pacing problems. That was the rap on the talented athlete. "During my freshman year in both track and cross country, and in my sophomore year in cross country, I sometimes took the lead when I should not have."

But his next 3200 that spring, at Mt. SAC, set the stage for all that was to come. He ran 9:13 there, his best time of his sophomore year. Then last fall, he was pretty consistent most of the year and wound up winning the D1 title, clocking the 2nd best time of the day behind German Fernandez's course record in D4. A 7th at Foot Locker West followed, but then Foot Locker Finals, Schwartz's first national meet, found him near the back in 37th. "I was a little shocked by everything," he says, "but this year I don't think I will let that bother me now that I have already experienced the race last year."

Then Arcadia rolled around again. This time, Schwartz did himself proud, hitting a new PR 9:01.45 for fourth. He would then run 8:58.50 behind Fernandez at the CIF Finals. That was the best 3200 by a non-senior last spring.

As for this fall?

"My summer training has been great," he says. "I have been doing harder workouts and putting in more mileage … My main goal is to repeat as a state champion in cross country and to be a state champion in track. I know it will be hard because there are so many good runners in CA. My coaches are not changing much from last year, everything we did we had some success with it. The only thing that will change is that the workouts will be harder.

"I just want to run my best in every meet and, when the time comes, I will worry about the times. I do want to run fast times, but if I compete well my times will be good. As far as NXN and Foot Locker, right now the plan is to run at Foot Locker and I am hoping to place in the top 10."

Schwartz can see the end of the learning curve, at least for his high school years. He may have already negotiated the toughest turns. Now he just has to keep doing what he's doing and be confident that he can achieve the results.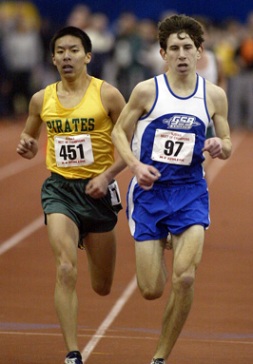 Smith didn't win at NJ Indoor MOC, but his runner-up 9:01 in this great duel was a super performance.


Smith: He's learned a LOT



Doug Smith was at Arcadia this past spring, too. He was in a different race, figuratively, than winner Chris Derrick, but the 14:35 was a solid effort for him. Yet, most of the other major races during the junior year for this Gill-St. Bernards NJ standout represented the ups and downs of a roller coaster.

Some of the high points: A scorching 15:10 win at the Paul Short XC meet; a 12:32 win in the first race at Manhattan, not the fastest of the day, but a decisive win nonetheless in a showdown with Brandon Jarrett (DNF); an unlooked-for 8:24.3 in a low-key 3k indoors; a PR 9:01.86 3200 in a narrow defeat to Brian Leung at the indoor NJ MOC.

Some low points: A DNF at the NJ MOC in XC; non-qualifying 15th at FL Northeast; a distant 7th in the NIN deuce; an even-more distant 15th overall in the NON 2M.

These, from a guy who ran 9:04 and 14:40 (2nd NON) for 3200 and 5k as a soph, who was generally considered the best of the Class of 09 at the time.

Smith, who reportedly is shooting for NXN as an individual this fall, understands this and isn't at all reticent about his anguish about that and his determination to have a monster senior year.

"Every day I go out for a run, I think of how devastated I was after cross country MOC, Footlocker NE, MOC outdoor track, and NON," he says. "Even hearing people talk about those days, even when they're joking, get me going. Makes me want to go out for a run and pound the whole way. It's those times as a runner, though, that make this sport so tough.

"The way I was running last cross country season, I would've been 'disappointed' with 15:30 at MOC," he continues. "Then sickness hit, and I'm not someone to admit that I'm sick, hurt, and so on. So I kind of just let it go, thinking I'll be fine, and, well, I wasn't. But it is times like those that made me realize that I'm not just a kid anymore and that I have to take care of myself and admit that something is wrong. Those are things that you learn the hard way in running. You think that you'll be able to get through it one day when you have a good run, but the next you feel totally different."

Plenty of learning obviously had to take place for Smith, especially when it came to being honest about health issues … and how many high school juniors would say, "I'm not just a kid anymore?"

With his coach, Ryan Grote, Smith reevaluated how he trained, prepared for races, and cared for his body – then went into indoor season "wanting revenge."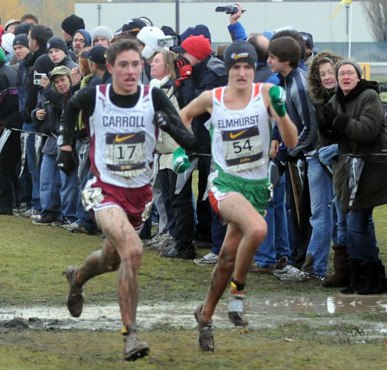 Two more to watch: Steve Sulkin (right) and CJ Brown, 4-5 at NTN Finals last fall, are the top two returnees from that event.


"I can't really complain much about my indoor season. I would've like to win indoor MOC, but Brian Leung ran a great race. NIN, though, is a different story. I try to consider that part of outdoor track, so I can just say that outdoor track, as a whole, sucked.

"The only way I can describe outdoor track is, VERY disappointing, except for two weekends, Arcadia and Groups. Other than that, I think about the other races all the time … I think, hmm, what would've happened if I closed well at Penn Relays, or the Henderson Invite or MOC; would my season be different if I won those? Could've, would've, should've, blah, blah, blah. It doesn't really matter now.

"Ah, gives me nightmares just thinking about it though."

Learning can be painful, and Smith finally decided he tried to put out too many hard efforts and wasting time thinking about breaking 9:00 "instead of actually doing it." This summer, he's worked on putting in a big base, and taking care of other things, like his eating habits. "My girlfriend (Voorhees NJ star Melanie Thompson) says they are horrible," he laughs. But he adds taking a lot of sugar out of his diet may be part of why he's felt so good most of the summer.

"For me, the biggest thing I think for XC season is taking ONE race at a time. Not going to look ahead at the big ones, or worry about times as much, and who else is in the race, and to always remember how much I love running and how happy it makes me. This might sound cocky, but I'm going to have the mindset that it's just me in the race, and no one else, and that the only number I want to think of is #1. I think I lost that "fire" to succeed, as my dad would say, last season.

"All in all, I feel like I've learned A LOT during my running career in high school and I'm praying that I've figured out what has gone wrong and that I'm fixing it correctly, so that this year is a year that I'll never forget … and my goal is to make sure no one else ever forgets!"

Smith's intensity can be a challenge in developing consistency, though it also might be what powers him to a big breakthrough. Until he harnesses everything and gets it moving smoothly in the right direction, the curve will continue for him. If he accomplishes that this fall, watch out.



The next big step



Learning curves … they can be long and broad, and seemingly never-ending, only to suddenly turn sharp or come to a halt with dramatic success. Appel, Schwartz, and Smith all have a pretty good sense of what they've had to learn to try and turn talent and hard work into results … and GREAT results, not just good. No doubt, a few dozen others are looking at the landscape, in their own state, region or nationally, and thinking how they can do the same. "Can I transfer that 20th in the Foot Locker or NTN region last year to making it to the big show this year?" "Can I build on that 9:10 I ran in track and really take the next big step up?"

Everyone's got a different curve to negotiate and different stories. In a year with lots of opportunities and few sure things, the guys who best put it all together, and learn and apply their lessons, will be the ones on the podium in the end.


Top 25 Index