Great American
Cross Country Festival

Veterans Park, Hoover AL - Saturday, October 13, 2007

DyeStat Onsite with SteveU and Pat Davey
Winners Table



Results


from FlashResults.com
Nike ROC Boys
Nike ROC Girls
Seeded Invite Boys
Seeded Invite Girls
Small School Boys
Small School Girls
Red Invite Boys
Red Invite Girls
JV Boys
JV Girls
Freshmen Boys
Freshmen Girls
University ROC Men
University ROC Women

Preview

Schedule

Box Assignments

2006 Coverage

Prior Years (1999-2005)

Meet's Own Page




NEW - Stories/Sums by SteveU and pix by Pat Davey -

ROC GIRLS - ROC BOYS - Seeded Boys/Girls - Small School Boys/Girls - Red Invite Boys/Girls -



Coming ... "Davey on the Side"





Ashley Brasovan FL

(17:06) & Sean Keveren TN (15:37) course records; Team titles to

Mountain Brook AL girls and

Oak Ridge TN boys




Sean Keveren and Ashley Brasovan in the final meters. Photo by Davey, runmichigan.com

Wellington FL junior's huge victory the big story at 2007 Great American

By SteveU

A later date, a mild fall day and some national championship contenders were the right mix for two course records during the Nike Race of Champions at the 9th Annual Great American Cross-Country Festival Saturday afternoon in Hoover AL.

In the much-hyped Nike Girls Race of Champions, Wellington FL jr

Ashley Brasovan

took the lead at 2k over Emily Reese GA and ran away to a 42-second victory, destroying Kathy Kroeger's course record (17:29) from last year and making a pretty good case for being called the best runner in the country. Reese and Brasovan went through the mile in a fast 5:23 and Brasovan laid the hammer down a quarter-mile later. When she rocketed through 2 miles in 10:52, it was clear a record was on.

Kroeger herself rallied into second, continuing her comeback from layoff and injury with a very solid 17:48. Next were Emilie Amaro FL 18:01, Emily Reese GA 18:04 and Stephanie Morgan OH 18:09, all part of the lead pack earlier.

The

Mountain Brook AL

girls who had just Friday moved up to DyeStat SE#2 and Harrier US#7, added another big invitational title to their 2007 resume, scoring 75 to forge a 24-point margin***. With their team missing injured Leslie Boozer, its two top runners struggling a bit with off days, freshman Marie Demedicis stepped up with a big 7th-place effort to lead the Spartans. SE#9 Collins Hill GA took second with 99, followed by SE#7 Oak Ridge TN 124, SE bubble team Assumption KY 133, and SE#3/US#17 Episcopal FL, which was a disappointing fifth with 154.

(***Ed. - places and scoring were revised from what was first published Saturday)

Two races earlier, Brentwood TN sr

Sean Keveren

had pulled away from a tough-hanging pack at 4k and run to a 15:37 victory, nipping Ben Hubers' CR by a second. Unlike the girls race, the pace was a relatively mellow 5:00 at the mile, as Keveren had plenty of company. He gradually asserted himself and had control by 2M (10:04), but Crested Butte Academy's Joe Bosshard was staying just behind and a small chase pack was still within striking distance.

Keveren pushed "Rig Hill" at 4k, though, and built a 20M margin. There was a lot of place-changing in the last half-mile, with Matthew Sonnenfeldt TN (2nd-15:45), Bill Matthews TN (3rd-15:46), and Pat McGregor AL (4th-15:53) all passing Bosshard (5th).



DyeStat SE#8 Oak Ridge TN

used a consistent effort across the board to score 101 points and win by 35. They toppled SE#3 Baylor, which was 2nd with 136. Next were NY#5 Kellenburg 148, SE#5 Hoover AL 154 and SE#7 Parkview GA 173.

The combination of moving the race from September to mid-October combined with a dry course and very mild 70-degree temps (during the ROCs) to help produce fast times.



Winner's Table

(results from flashresults.com)
Athletes Coming From 13 States

SteveU Preview
Girls Nike Race of Champions Individual Battle Could Highlight Meet

Defending champ Kathy Kroeger TN (left) is gradually rounding into form. Other returnees from the lead pack (center pic) last year will include Floridians Ashley Brasovan (3057) and Emilie Amaro (4th in group; Cory McGee (2452) is not returning). The boys favorite looks to be another TN runner, Sean Keveren (right pic).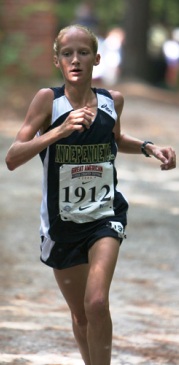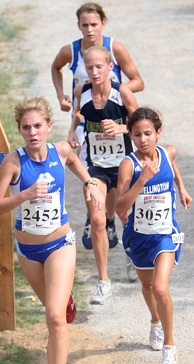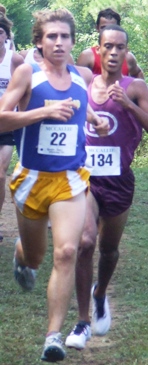 Girls Race of Champs Stars include:
2006 Foot Locker Champ and defending Great American champ Kathy Kroeger TN
2006 NIN 2-mile champ Ashley Brasovan FL
2006 NON Mile champ Stephanie Morgan OH
2006 FL Finalist Emilie Amaro FL
2006 FL Finalist Kayla Hale FL
2005 FL Finalist Emily Reese GA




Schedule


Great American Cross Country Festival

SATURDAY, OCTOBER 13
Event # Race/Event Start

1 Open 3K Race 7:00 am

2 Small School Champs, Boys 5K 7:30 am new time *** 8:15 am
3 Small School Champ, Girls 5K 7:55 am new time *** 8:45am

4 College/University Men, 8K 8:20am cancelled
5 College/University Women, 5K 8:55am cancelled

- Opening Ceremonies 9:20am

6 Nike Race of Champions, Boys 5K 9:30am
7 Nike Race of Champs, Univ. Men 8K 9:55am
8 Nike Race of Champions, Girls 5K 10:30am
9 Nike Race of Champs, Univ. Women 5K 10:55am

10 Invitational Boys, Seeded 5K 11:20am
11 Invitational Girls, Seeded 5K 11:45am

12 Invitational Boys, Red 5K 12:10pm
13 Invitational Boys, White 5K 12:35pm
14 Invitational Girls, Red 5K 1:00pm
15 Invitational Girls, White 5K 1:25pm
16 JV Boys 5K 1:50pm
17 JV Girls 5K 2:15pm
18 Freshman Boys 5K 2:40pm
19 Freshman Girls 5K 3:05pm
20 Invitational Boys, Blue 5K (if necessary) 3:30pm
21 Invitational Girls, Blue 5K (if necessary) 3:55pm

END 4:20pm

Harrier Ball (Includes Dinner) 7:00-11:00pm