Many of the athletes listed in "10 Best Matchups" could qualify for this next list, but below you'll find some of the greatest, most dominant athletes in our sport today – all in Greensboro this weekend. Chances are, they will not be defined by who they match up against, but how they match up against the best marks in history. Some of them may be pushed, but it's more likely that their biggest "rival" will be the clock, the bar, or that line in the sand. Don't miss it when these athletes toe the line and sprint, run, jump or throw.
10 Top Show Stoppers
(not in order)
Boys Mile: Sam Borchers, OH
Is any prep track athlete more riveting right now than Borchers? Sometimes the most impressive moments come in the least consequential races, like when the Yellow Springs sr. slingshotted the entire first eight in the Roosevelt Memorial 800 this spring, starting to sprint into the wind at 400 meters and going from 9th to first by the top of the backstretch. It was the greatest acceleration these eyes have ever witnessed. Borchers has run well this year, but everyone is waiting for him to truly back up that unlooked-for 3:46 1500 from last spring. This is a great chance, as a monster field of sub-4:10 guys push him.
Boys 110H: Johnny Dutch, NC
The drama is never far from the surface when Johnny Dutch is on the track. There was that DQ in the 400H and victory in 110H last spring in Greensboro, the USR 55H early in the winter, and the winning performance amid the flyers and 2-section final at NIN. This weekend he will attempt to defend his 110H title and grab the 400H title he lost last year for hooking a hurdle. Both events will command attention
Boys PV: Spencer McCorkel, AR
You have to be daring to be a vaulter, especially when you're trying to scale heights more than three times your size. From that perspective, it was a double-dare when McCorkel passed what turned out to be the winning height at NIN and missed his record shot. It cost him, but he had no regrets and doesn't like to waste time at lower heights. Spencer has blazed away this spring, overcoming injury to vault 17-07 and 17-09. If you haven't seen a vaulter attempt 18 feet before, chances are that you will this weekend. The national record belongs to super hulk Tommy Skipper (18-3 at the Golden West in 2003).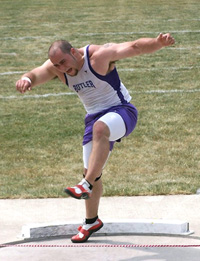 Boys SP: Jimmie Pacifico, OH
And here, also proving that height doesn't matter, is Pacifico (right), who is 5'8" and has thrown more than 71 feet in the shot. Consistency, not really his friend in the past, has been the key for dominant indoor and outdoor campaigns. The NIN champ is the best putter since Brent Noon in 1990. Have you ever seen a 72-foot shot put? Chances are, you haven't. Chances are, you will this weekend.
Boys HT: Walter Henning NY
There aren't too many prep athletes that would merit, say, a farewell tour. But Henning is one of them. With an appealing blend of strength, speed, style and grace, the New Yorker has turned the event into an art form and achieved his long sought-after US record. Gather around the cage and say farewell to this Hero of the Hammer.
Girls 400: Jessica Beard, OH
Less than a month ago, you looked at Jessica Beard and saw someone who had dealt with some nagging injuries; had won NIN, but was really not in top form; and who looked like she might be rounding into shape in time to perhaps defend her NON and USATF Jr. titles. Then you raised your eyebrows when she popped the 53.03 at OH regionals … then tried to gather your eyeBALLs after they popped out of your head when you saw her skip the 52s entirely en route to her devastating 51.63 at OH State meet. Beard is better than ever, bringing thoughts of amazing record-holders like Francena McCorory and Sanya Richards to mind. Do NOT miss it when she takes to the track for the one-lapper.
Girls 800: Chanelle Price, PA
All winter and spring long, Price has dealt with the expectations of becoming the next Kim Gallagher and, with surpassing grace, has dominated the 800 as any event has rarely been dominated. Along with way, she has developed breathtaking range from 400 (53 relay leg) to the mile (4:50 indoors). She's a pretty solid XC runner, too. Last weekend, she finally dipped under 2:05 and should be fresh again Saturday to continue to chop away at the legendary 2:00.07 USR. She'll have another year to go for it.
Girls 100: Jackie Coward, TN
With some of the best form this event has ever seen, Coward has ruled the action over the sticks this spring. Others may have better pure speed, but she gets up and down like no other. She won't get to face Vashti Thomas, with her 13.03 (2.0 wind) from CA State, but the junior (13.27) will race returning-to-form April Williams TX, and (like Price) continue a long quest toward a distant goal (12.95 USR) in Greensboro.
Girls Shot Put: Kamorean Hayes, NC
Few things in the sport are more distinctive than when Hayes stands in the shot circle before each throw and points toward where she wants the ball to land. It's a spiritual experience. It's the competition, though, that could use some spiritual guidance as they attempt to break her winning streak of more than 2 years. Hayes is always ready for the big meets and improving a few inches into the 53s would put her top 5 all-time.
Girls Discus: Emily Pendleton, OH
Speaking of unbeatable throwers, Pendleton has carried the same distinction for the past two seasons. With her 183-3 earlier this spring, she moved within five feet of the great Suzy Powell's HSR. With her blend of solid strength, speed, and technique, Pendleton came from a little D3 school in Ohio to her NON/USATF double last year. She won't sneak up on anyone this year, but probably won't lose, either.