by Doug Speck
DyeStatCal co-editor and Arcadia meet announcer


1968 –

With the idea of a evening track meet for area schools, Arcadia High Track Coach Doug
Smith held the first Arcadia Invitational for 23 schools and six track clubs. The meet featured a
slate of events for the young ladies of the club variety, as this was contested in the pre-CIF
female days. The list of officials included a number of great names in local history: Andy
Bakjian, Fred Barton, Paul Risinger, Don Nordvold, and others, with coaches including Ed
Austin of Mira Costa and Frank Chong of Glendora. Club coaches included Mihay Igloi (Santa
Monica TC), Fred Jones (LA Mercurettes), Bob Seaman (Crown Cities TC), and Ron Allice
(Long Beach Comets).

Andy Young (LB Jordan) took the Boys 440 at 48.7 (this was back in the days of yard
distances), with Dave Whiteing (Mark Keppel, Alhambra) posting a 1:55.1 880, and Dave
Gneere (Fontana) registering a 4:23.5 mile. Tony Baker (Mira Costa) started the Arcadia
distance tradition with a 9:14.4 two-mile win over Chuck Smead (Santa Paula). Fontana swept
the Boys' relays, with 43.1 for the 440, 3:34.8 for the sprint medley, and 3:22.8 for the mile relay
clockings. Luther Reagan (LB Jordan) was 6-06 in the Boys HJ, with Ernie Cathcart (Fontana) a
winning 59-03 SP effort. Tracy Smith, a 1963 Arcadia grad and State Mile Champ while a prep,
who would go on to place eleventh in the high-altitude Mexico City Olympics of 1968 at 10,000
meters, won a special Open 3000-meter run at 8:00.6.

Pernetta Glenn (LA Mercurettes) swept the Girls' sprints at 11.2 (100y) and 25.4 (220), with
her club a 49.3 440-yard relay winner.

1969

Participation grew in the second of the Arcadia Invitationals, with Ron Johnson (West
Torrance) starting to build the distance event momentum that has highlighted the evening meet
each year, winning the two mile with a fine 9:08.8 performance. Ova Wildridge (Fontana) took
the 100 yard event at 10.0 and the Fontana relay squads swept the 4x100 (42.8) and 4x440
(3:25.4). Dean Lingenfelter (Ganesha, Pomona), of the very athletic family from the greater
Pomona Valley area (relative Tyson would be a 60-foot shot-putter at Upland HS later), took the
120 Yard High Hurdles at 14.7.

1970

The Meet that Director Doug Smith marked as a huge step in the competition's development
was the 1970 affair. Coach Earl Engman, the Meet Director of the Southern Section
championship affairs and a number of State competitions until his death a few years ago, had a
super team at Santa Ana High School during his years as a coach there. He made the decision to
bring his super squad up fron Orange County for the 1970 Arcadia meet, and the affair gained a
more "Southern California" sense with the participation of one of the state's top programs from
out of the greater San Gabriel Valley area. The Saints let no one down, with Jackie White, a
statuesque, tall, and stylish sprinter taking the 100 yard event at 10.0, with a spot on the team's
41.8 state leading 4x100 relay winners! Murray from Mira Costa continued the South Bay's
success in the distance events, winning the mile at 4:16.9. The Two Mile marked the top three
prep times in the nation for the year, with long-time Villa Park Coach Dave White winning for El
Modena of Orange and their fine program at 9:03.0, with Ron Johnson (West Torrance) next at
9:05.0, and Larry Greer (Lakewood next at 9:06.4

1971

The 1971 Arcadia Invitational was moved from its mid-April meet date to May 1st due to wet
grounds when it rained. Unfortunately, we were only able to find the Girls Results in our local
history archives.

Teresa Hayes of Fillmore was an amazing young lady in those days, as she took the 100 yard
event (11.4), 440 (60.2), 50 yard hurdles (7.8), and long jump (16-10). Laguna Beach, an early
area track power, was a 51.7 440 relay winner, with Palos Verdes taking the 800 medley at
1:52.7.


1972

The 1972 marked what could be called the first "great" Arcadia Invitational Meet. Robert
Harrell of Santa Ana returned to the meet with a stunning 47.5 440 and 1:51.4 880 double win,
then added a 46.4 relay split on a 3:16.8 4x4 winning squad. Junior Barrie Williams of North
Torrance took the mile at 4:06.7, breaking world record holder Jim Ryun's age-16 national record
of 4:07.8, with three others under 4:10.0, with smooth-striding Curtis Beck (Santa Monica), a
league rival of Williams, next at 4:07.0, Jose Amaya (Wilson, LA) 4:09.5, and Mark Schilling
(Garden Grove) 4:09.9. Terry Williams (Lompoc) took the two mile at 8:57.2 with Mark Genet
of the powerful Santa Ana program next at 9:01.8. Crenshaw, behind fine sprinter Wendell
Tyler, who went on to football glory with UCLA and the Los Angeles Rams (and whose son
Marc was one of the stars of State Division III Champs Oaks Christian (Westlake Village), won
the 440 relay at a quick 41.9.


1973

The 1973 competition was another super one. Jim Spillane (Palos Verdes), better known as
an All-Ameircan basketball player who went to UCLA and was a part of the last John Wooden
team that won the NCAA Championship in 1974-75, shocked with a 24-10 Long Jump effort
that won there over El Rancho Football star Mark Bailey (23-07.5). LA Fremont took the 4x1
(42.5) and 4x4 (3:19.3) relays. The home school's Bob Cass took the 880 at 1:54.8, with a super
group from Taft of Woodland Hills 2-3-4 in that race. Bob O'Brien (Bellflower) took the mile
with a 59 second final 440 at 4:10.2, with nine in the competition finishing under 4:20. Harold
Ketting (Aviation, Manhattan Beach), a school closed down to lack of enrollment, with students
dispersed to Redondo and Mira Costa, took the two mile at 9:10.0. Another top field event
mark was Dave Doupe of Inglewood's 64-11.75 Shot Put.

Ruth Kleinsasser (Azusa) led the Girls action in 1973, with a fine 2:14.0 880 Meet Record. Ruth
was the eventual conqueror of famed Mary Decker in the 1978 National Championships at
2:01.99 over 2 laps while running for Citrus College, and she was a 1984 Olympic Games double
finalist (800 6th 2:00.34 and 1500m 8th 4:08.92). During a lengthy career Ruth raced to a
seventh in the World Championships in 1995 and had an 800m best of 1:58.65 and 1500m
clocking of 4:00.18 (both from 1984). Of all the male and female distance runners in the history
of the Arcadia Invitational she probably accomplished more at the Olympic level world-wide
than any other athlete.

1974

Distance events were the feature in the 1974 Arcadia Meet, with titanic mile and two mile
contests. Andy Clifford (Sunny Hills, Fullerton) took the mile 4:07.1 over Ralph Serna (Loara,
Anaheim) 4:07.6, John Musich (Burbank) 4:08.9, with Eric Hulst (Laguna Beach) and Jim
Schankel (Lompoc) fourth and fifth, both at 4:09.1. Twelve dipped under 4:18 in the mile
contest. Hulst, just a sophomore, amazed, as he came back to take the two mile at 8:59.8 over
Schankel who was 9:04.8. Hulst was one of a great group of young runners across the nation
that year, with eventual University of Oregon star, soph Rudy Chapa (Hammond, Indiana, a
school that had three sub 9 minute two milers in 1975) also under 9:00 as a tenth grader in 1974.
13.9 Hurdlers from Muir, Pasadena, Jim Austin and Fred Shaw, went 1-2 in the 120 Yard High
Hurdles, with Wilson (San Francisco) sub 14 second star Mike Kirtman third. The Wilson of San
Francisco crew kind of opened the world of prep track and field to the uniform fashion scene,
wearing bright green and white striped uniforms, and as the state's top 4x100 relay group added
some style into the baton passing, with each of the three runners who received exchanges an
exaggerated march couple of steps before they accelerated up to racing speed and accepting the
baton.

1975

The Field events took some of the headlines away from the distances in the 1975 Arcadia
Meet, with the first prep competition ever where two athletes from the same school cleared 16-00
in the Pole Vault, with the Orange County duo from Villa Park, Keith Schimmel and Tim
Vahlstrom, going 1-2 with that mark. The event was referred to by Jack Shepard of Track and
Field News as probably the best regular season vault competition ever, with Brian Worden (Notre
Dame, Sherman Oaks) also at 16-00 and Brian Goodman (Agoura) 15-06 in fourth. Distances
were hot once again, with Ralph Serna racing a 59.8 final 440 to win the mile at 4:07.0 over
juniors Thom Hunt (Patrick Henry, San Diego) 4:08.1, Jim Arriolla (Gahr, Cerritos) 4:09.1, and
Eric Hulst (Laguna Beach) 4:11.3. Brian Hunsaker (Corona del Mar, Newport Beach) came on
board for the two mile, blazing a 4:24 first mile on the way to an 8:58.2 win over Hunt (9:02.6)
and Serna (9:02.8), with Mark Spilsbury (Foothill, Santa Ana) next at 9:04.6. Brian Theriot
(Newport Harbor, Newport Beach) cranked a 47.6 to win the 440, with soph Chip Benson
(Lutheran, LA) 48-05 to win the Triple Jump, and Newport's Dave Kurrasch a 66-10.25 Shot Put
to win over eventual Olympian Dave Laut (Santa Clara, Oxnard) 64-08.

Reading through the 1975 program finds some interesting names, with Mike Granville Sr
(Lynwood), the father of the eventual National Record setting Mike Jr from Bell Gardens at
1:46.48, a 1975 Arcadia Invite two lap competitor. Eventual Olympian Alice Brown (Muir,
Pasadena) was in the Girl sprints in 1975.

1976

The mid-1970's distance crew continued to tear it up at the Montreal Olympic year 1976
Arcadia Invitational. Thom Hunt, the current San Diego Mesa College Coach after a six year
stint at Patrick Henry HS in San Diego was hot off a 4:02.7 indoors that winter, and had a
4:06.6-8:49.6 double the week previous to Arcadia as he battled sucessfully with Eric Hulst
(Laguna Beach). Hulst decided to push the middle of the 1976 Arcadia two mile, with good
surges after a 4:24.3 first mile that never could shake the San Diegan Hunt. Thom finished
strong, 61.2 for the final lap on the way to a #5 US Prep History effort of 8:45.2. Hulst was
8:47.2, with Don Moses (Crescenta Valley, La Crescenta) 8:52.6, Mark Spilsbury (Foothill, Santa
Ana) 8:53.6, and Sal Godinez (Salesian, LA) 8:54.4, making five under 8:55! Eventual USC star
Billy Mullins (Hamilton, LA) took the 440 over Donn Thompson (Gahr, Cerritos) 47.2-47.5, with
Hamilton a 41.7 440 relay winner. Greg Caldwell (LA Fremont) won the Triple Jump at 50-05,
current UCLA Coach (then a prep soph) Anthony Curran (Crespi, Encino) the Pole Vault at 15-
07, footballer Dennis Smith (Santa Monica), a six-time pro-bowler for the Denver Bronco's as a
defensive back, took the High Jump at 6-10.5, with Mark Malone (El Cajon Valley) the Discus at
186-03. Crescenta Valley clocked a state leading 10:13.6 distance medley relay in taking
University (LA) 10:15.2.


1977

The young ladies started to steal the top headlines with the 1977 Arcadia meet, with that
half of the sport now rolling along at the CIF level, with the strong club programs bolstered by
prep teams that raised the number of female high school age participants in the sport to huge
levels. It was a wiry lass from North Bakersfield HS, Linda Goen, who wowed the crowd with a
distance double no male athlete would seriously consider at this level. at 7:15 in the evening
Goen cranked a 4:54.7 mile in winning comfortably there, then returned less than 45 minutes
after finishing at 8:00 to run the 880. The red-clad Bakersfield star with the economical stride
blazed in at 2:10.2, lower than the National Federation record at the time, giving the Arcadia
meet its first National Federation Record performance in its history. Goen went on to a great
prep career, with the widely publicized start at this competition that year.

Eventual UCLA Women's Coach, Jeanette Bolden, a super star at Centennial of Compton,
took the 100 yard event at 10.7, with Rolling Hills the mile relay at 3:58.6 for the other top Girls'
efforts.

Pasadena's James Sanford, eventually considered the World's fastest human while a student
at USC, amazed with some super relay carries and individual efforts here. James took the 440 at
48.0, cruised to a Meet Record 21.2 for the 220 distance, and was on strong PHS Relays, just
missing catching LA Fremont with both 42.3 in the 4x1 and adding a 47.8 in the 4x4 event.
Hemet's Mark Fricker took the Mile event at 4:11.3 over Charlie Christensen (Edison,
Huntington Beach) 4:11.4, with Chuck Assuma (Eisenhower, Rialto) taking a tight two mile at
9:08.8 over Tom O'Neil (Jesuit, Sacramento) 9:09.4, and Frank Assuma 9:09.4, with two others
under 9:10. Curtis Perry (Banning, Wilmington) took the 120 Yard High Hurdles at 14.02.

In the Field, Anthony Curran (Crespi, Encino), a junior) was a 16-01.5 Pole Vault winner,
with Rod Smith (Western, Las Vegas) taking the High Jump over Dennis Smith (Santa Monica),
with both at 6-10. Dokie Williams (El Camino, Oceanside), a mid-1980's star with the then Los
Angeles Raiders after a good career at UCLA, took the 1977 Triple Jump at 49-09. David
Thompson (Santa Ynez) was the Discus winner at 188-00.



1978

1978 was a year of rain on the original April 15th meet date, so there was a two week delay
in the action back in the days of dirt tracks! The extra time to prepare fit nicely in the plans of
one Southern Californian, whose efforts here created a legend that ended in gold in the 1984
Olympic Games in the Los Angeles Coliseum. Valerie Brisco (Locke, LA) was in against some
great groups in the 100-200 and 400 meter event, with her squad also in the 4x400 meter relay.
Brisco absolutely glided thorugh through great efforts of 11.57 100m, 53.77 400m, a National
Federation Record, and 23.77 for 200m. At the end of the evening she came from waaaay back
in the 4x440 relay with a 53.4 leg that had her team win over Satna Ana Valley 3:56.7-3:56.9.
Coach Bob Kersee of UCLA and Olympic fame later said it was the first time he saw Valerie
run, and he was instantly sold on the potential of this young lady that he would take to Olympic
Gold six years later!

Michael Sanford (Pasadena) would dominate the Boys' speed events this year, blazing 10.57
(100m) and 21.46 (200m) efforts over great fields, with Rod Bethany (Fontana) keeping the
action going up through the 400 with a dominating 47.05 win. Dave Porath (Atwater) impressed
with a weight double, 63-07.25 (SP) and 204-11 Discus, the latter the #4 prep throw in US
History! Mike O'Reilly of San Rafael, who has been a key Assistant to Vin Lanana at Stanford
and now at Oregon, was the 1500m Boys winner at a fine 3:51.5, as the meet tried to keep a
"metric" trend in distances. Gardena took a snappy Boys 4x100 relay at 41.5, with the Currans
of Crespi (Anthony Pole Vault 16-05 and Willie 36.15 300 Meter Low Hurdles). Great
horizontal jumping had Dokie Williams (El Camino, Oceanside), later of LA Raider fame, win
again at 50-08.75 in the Triple Jump, with Tony Pitts (Santa Ana Valley) 24-05 in the Long
Jump. David Mack, who would run sub-1:50 in a great race the next year with Jeff West, took
the Boys 800 at 1:53.6, with Tony Campbell (Banning, Wilmington) taking State Champ Philip
Johnson (Gardena) at 14.0 in the Highs.

Sharon Ware of Berkeley anchored her team to a 47.30-47.38 win over Westchester,
anchored by Gwen Loud. Loud returned to win the Long Jump in 20-04.75, the top jump in the
nation! Sharon Hulse (Edison, Huntington Beach) won the Girls 1500 at 4:33.0. Ellen Fargo
(Crescenta Valley, La Crescenta) took State High Jump champ Kari Gosswiller (Upland) at 5-08,
as Kari was going for her third straight win here. Jackie Nelson (Canyon, Anaheim) was 43-03 to
win the Shot Put. Susie Meek (Palos Verdes) was a 9:56.5 3000m Girls winner, with Christie
Pyle (Hoover, Glendale) a 154-06 Discus winner (and National Leader) .


1979

1979 was a super Arcadia Meet, with nine Meet Records coming from a great evening of
competition. The meet marked the first big-time emergence of the Howard family, with the
military clan down from Alaska in the San Bernardino area where they attended San Gorgonio
HS. I remember at the old "Track Writers" luncheons, which used to be attended by 20-30
sports writers each Monday during the season, organized by the Franken family, snapping to
attention when I mentioned the novelty of a top relay group made up of four sisters, a couple of
whom would go on to medal in the Olympics. Andrea, Tina, Denean, and Sherri took the 4x400
event over Berkeley in a 3:51.9 Meet Record time, with Sherri taking the 200 at 23.8 over Gwen
Loud and the 400 at 53.9. The group would move to Kennedy of Granada Hills and three of
them help make up a National Record setting 4x400 crew, and Denean eventually setting a
National 400m record in this competition.

Berekely HS was a super presence once again in the Arcadia meet, with Sharon Ware taking the
100 at 11.84 (auto timing used only in events up through the 400), Judy Young the 100 hurdles
in a 14.33 Meet Record, and the 4x100 team racing a 46.6 Meet Record in taking down their
own 47.30 clocking from 1978. LA City rivals, David Mack (Locke) and Jeff West (Crenshaw)
met in a breath-taking 800, with Mack taking the win on the lean with both at 1:49.9 (MR).
Their battle down the homestretch was a classic, and David later anchored a 3:13.1 MR 4x400
team. Paul Medvin (University, LA) cranked 3:49.7 for 1500 meters (off distances run at 1500
and 3000m this year), with Jeff Nelson racing to a three second 3k win at 8:18.4. In the Girls'
distance events Linda Goen (North, Bakersfield) continued her magical career here, racing 2:10.5
to win the 800 and 4:31.8 to take the 1500, with famed Vickie Cook winning the Girls 3k run at
9:53.1.

Out in the field Don Mosebar (Mt. Whitney, Visalia) took the Shot at 61-06.5, and Hank
Kraychir (San Jacinto) the Discus at 188-07 (Hank's kids, boys and girls, are all current weight
stars at the prep level). High Jump Meet Records went to Lee Balkin (Glendale) 7-00 and Tanya
Alston (Chico) at 5-10. Susie Ray (Villa Park) blew the Meet Record out over four feet in the
Girls Shot to 47-10 while staying ahead of Rosario Ramos (Anaheim) 47-03 and Ramona Ebert
(Schurr) 44-09, with Ramona now a Fresno State Assistant Coach after great college and open
careers of throwing. Long Beach State Coach Gwen Loud was the Women's Long Jump winner
at 19-10 for Westchester HS.

In the Distance Medley Relays Eisenhower of Rialto, featuring the Assuma twins, was 10:10.4 to
win the Boys' contest, with Santa Barbara, who had Cindy Schmandt anchoring, racing 12:14.0
to take the Girls' contest–Ike won by over 10 seconds, with the Dons a female winner by nearly
20!

1980

The 1980 Arcadia meet was highlighted by a National Record performance in the Distance
medley relay by Fountain Valley HS. Middle distance stars Bonnie McGlinchy and Annabelle
Villanueva powered the Barons to their 12:04.3 clocking, with Vickie Cook's Alemany helping
make the record possible with their second place effort. Some great Boys' field event
competitions took place that year. Greg Denby (Crenshaw) set a Meet Record with a 7-01 in the
High Jump, with Greg returning a couple of decades later to watch his daughter, Nichole, take
the Arcadia 100 meter hurldes against Canadian Felicia Perditen. The "jumping crew" at Muir
HS, Charles Mayfield (24-04.5 winner in the Long Jump), and Ricky Holliday (who would set a
still standing Federation Triple Jump record of 52-10 in the Arcadia pit in a League Prelims meet)
were part of great horizontal jump fields. The Triple Jump featured the four top jumpers in the
country, with an exciting competition having Fremont's Jerome Miller win at 50-01, with
Holliday next at 50-00, and Mission San Francisco soph Ken Frazier was third at 49-11.5.
Centennial of Compton readied for its State Meet National Record in the 4x400 with a 3:14.8
domination of a good group here, with Michael Turner from the squad a 47.91 400 meter winner.
The Howard sisters were down to three at the prep level, with Cheryl Cook joining Sherri,
Denean, and Tina in a Meet Record 3:46.3 4x400 run, with the squad also eventually setting a
National Record in the event.

1981

A two week rain delay featured a meet that was a part of the North-South build to the
spectacular 1981 State meet, called by many the best ever. Berkeley was an awesome Northern
California group, and they would take on all-comers from everywhere in those days!!

It was great weight star Natalie Kaaiawahia (Fullerton) who started the show with a 9" extension
of her own National Record in the Shot Put, out to 50-10 after a good introduction by Meet
Announcer Dwain Esper. After that the Berkeley against the world show began! Muir's
Bernard Mathis ran down Walter Murray of Berkeley in the Boys 4x1 event to win at 41.98, but
the Berkeley Girls were sharp at 46.79 to win there. In the 100 it was Yellojacket stars Kenny
Robinson (10.67) and Sharon War (11.94) who dominated. Eventual Berkeley HS 800m
National Record Setter Pete Richardson cruised here to a 1:52.02 win. The Boys 4x4 relay at the
end of the meet had Berkeley anchor runner Ulysee Walker, with a 50 yard lead, somehow drop
the baton and end up finishing fifth. The next Berkeley trip south there would be a National
Record in the 1980 state meet in that baton event!!

In the distances, Jon Butler (Edison) was 8:57.19 to take the 3200 meter event, with the Santa
Barbara Girls squad just missing their recently set National Record in the distance Medley with a
12:04.27 run. Compton's Eddie Davis dominated in a 4:13.85 1600 win, but El Modena's Steve
Valen would take him at the end of the Distance Medley, with both running 4:13 anchors on the
way to 10:15.06-10:15.13 times. Rennie Durrand (Laguna Beach) raced to a 2:11.80 Girls 800
victory. Poor Teresa Barrios (University, Irvine) stopped at the end of the 3200m while leading
at seven laps, with Lori Lopez (Sacred Heart) racing by to a 10:42.05 win, with Barrios surprising
with her toughness, ending second.

Gayle Kellon (Walnut) the first great female prep 300m Hurdler, blasted a 43.34 win this
sophomore year for her. Chris Chrisman (Riverside Poly) was an opportune 14.25 Highs winner
and 36.85 300 Lows (not intermediates in those days), with Ed Tave and David Ashford
tangling near the end of the High's, and Blair's James Knowles tripping right at the end of a
potentially huge performance in the longer race.

John Frazier (Antelope Valley), later of UCLA and coaching fame, was a 63-10.25 Shot Put
winner, with Antonio Dobbins (Burroughs, Ridgecrest) a 193-07 Discus win. Anthony Caire
(Pius X) was 7-00 in the High Jump, with Ron McCoy (Edison, Fresno) popping a 24-05 Long
Jump. Sherifa Sanders (Berkeley) was 19-02.75 to take the Girls Long Jump, and add to her
14.17 100 hurdles win, with Laura DeSnoo (American HS) a 164-09 Discus victory.

1982

A great 100-200-400 sweep highlighted by a 400 National Record performance by Denean
Howard during her evening of action helped to make this a special meet. The evening resulted in
eleven Nation Leading performances, with 19 of the 32 contests resulted in State leading efforts.

Denean's evening started with a 12.01-12.10 win over Zelda Johnson (Garey), with the 400 a real
test against defending State Champ Gervaise McCraw. Howard pulled away the last half of the
race to destroy her 53.65 National Federation Record with a 52.90 run!! Fifty minutes after
racing the 400 record, she lined up against a good 200 meter field, and was able to win there at
23.9. Her efforts that evening were among the most impressive in Arcadia history.

Harold Kuphaldt (Bella Vista) pushed the 1600 pace and no one was able to come get him in his
4:11.25 win, with runner-up Andre Woods (Eldorado, Las Vegas) 4:12.27 returning to gradually
move up through the field and take the 3200m, an impressive double, in 9:07.74. Rennie
Durrand (Laguna Beach 2:11.19 800m), still National Mile Record Holder today Polly Plumer
(University 4:53.45 1600m, and Vickie Cook a 3200m win over pace-setter Shannon Stryker
(Tustin) 10:28.97 - 10:31.55. Plumer returned to anchor University to a California record
11:59.11 Distance medley relay win.

Fabian Cooper (Washington) took the 400 at 47.21, and Hamilton's Antonio Manning had a fine
10.86-21.82 sprint double. Ron Brown (Bishop Amat) took Mission Viejo's Steve Kerho at
14.04 in the High's, but Kerho came back for a big 37.14 Intermediate hurdles win. Gayle
Kellon (Walnut) blasted a 42.70 girls 300 hurdles race,

Natalie Kaaiawahia (Fullerton) led the field action again. She was only seen inches short of her
own National Federation Discus record with a 172-04 win, the came backin the Shot with a fine
49-09 effort. Rick Luiten of neighboring Monrovai was 193-08 to take the Boys' Discus event.

LA Washington cranked 41.7 to take the Men's 4x100 relay, with Dorsey blazing a Nation
Leading 46.81 Girls 4x1 race. Blair McMurray anchored Compton to a 3:17.6 4x4 win.

1983

Natalie Kaaiawahia (Fullerton) and Danny Harris (Perris) were the Athletes of the meet for this
affair, with the Fullerton HS athlete another fine weight double, throwing 50-08.75 and 171-00
to take her events. Danny Harris anchored his team to a 41.72 400 meter relay win, raced a 14.38
Highs win against a good group, and blazed one of prep history's best ever 300 Meter Lows
clocking of 36.07. In the 4x400 event Harris could have finished off a magical evening with four
winner's watches. But unfortunately his team dropped the baton at the end of the third leg as
Harris readied to race the anchor. Danny went on the infield, picked it up, and still raced 47.7
for his leg as his squad finished fourth.

Hawthorne HS, under Coach Kye Courtney, started to emerge as a power, with soph Henry
Thomas taking the 200 at 21.36 (Meet Record) and the squad racing 3:18.05 in the 4x4 for the
win. Antonio Manning (Hamilton) had bested Thomas over 100m in a hand-timed 10.6 and had
a huge lead before pulling up on the homestretch of the 200. The Cougar Girls took the 4x100
meter relay at 47.17.

Eric Reynolds (Camarillo) and Jeff Cannada (Arizona) had a big rivalry in the distances indoors,
with a continuation here. This time it was Reynolds the winner in a big last lap sprint 8:49.06-
8:53.68. Paul Greer (St. Augustine, SD) was a 4:10.75-4:10.84 1600 winner over Ruben Esparza
(El Modena). Tania Fischer (Chaminade) steadily paced a 4:50.74 1600 win, with Laura
Cattivera (Mira Costa) moved past early leader Katie Dunsmuir (Palisades) on the way to a
10:31.90 3200 win. Maurice Crumby (Balboa, San Francisco) cleared 7-00, then had the High
Jump bar raised to 7-05 and had good attempts! Gary Brown (Bishop Amat) was strong in a
47.80 400 win, with deaf student, Charles Smith (Las Vegas HS) 24-02.25 to win the Long
Jump.

Gayle Kellon (Walnut) added another 300m Hurdles win to her resume, this year 42.32 to win by
a three seconds. Lisa Winston was a quick 11.82 100 meter winner. Carole Jones (Chino) took
the Meet Triple Jump record out to respectability for those times with a 39-02 efort, with Foothill
of Santa Ana a 12:09.54 Girls Distance Medley win.

1984

A beautiful Southern California evening had the Arcadia meet feature six Nation-Leading
efforts, ten California Seasonal Bests, and five excellent Meet Records fell during the action.

The two stars of the show were Ray Brown (Muir) and Choo Choo Knighten (Locke). Brown
edged ahead of Hawthorne star Henry Thomas near the end of his team's 41.18 win, and he
came back in a dramatic and close 100 to nip the Hawthorne athlete 10.54-10.58. Thomas took
the 200 at 21.38 and anchored a 3:16.38 4x4 winning squad. Knighten started her evening with
a Meet Record 13.93 100 meter hurdles win, was third in the 100 at 12.07 twenty minutes later,
then was the 400 winner at 53.85. She anchored her squad to fifth in the 4x400 relay, all with a
grace and fluidity that had long made her a Golden State favorite with fans.

Some awesome doubles took place. Eric Shermerhorn (Woodbridge) was 1:51.74 in the 800,
then came back to storm from behind down the straightaway to the win in the 400 at 48.14,
joining Robert Harrell as the only to pull that double off at this meet. Roman Gomez (Belmont)
had been down with some kidney problems, but he came back here to crank a 59 second closing
lap to win the 1600 at 4:09.77, then went from seventh to first for his team on the anchor in the
Distance Medley during a 4:13.2 leg that bolstered the team to a 10:19.34 win.

Yvette Bates (Berkeley) came very close to her recent 41-10.25 National Triple Jump record with
a 41-09.25 win here. Kirsten O'Hara (Palos Verdes) blazed a solo 10:18.41 3200 that lowered
the old Meet Record by over ten seconds! Pam Alexander (Arlington) threw a Nation-Leading
44-08.5 in the Shot Put, with all-around talent Michelle Taylor (Ganesha) surprising with a 42.3
300 hurdle win. Greg Aitkenhead (Mission Viejo) was 64-06.75 to top John Bender (Shafter)
63-04.5 and Brian Blutreich (Capistrano Valley) 62-08.25. Raymond Young (Hawthorne) was a
fine 37.2 300 Intermediate Hurdles winner, with Terrance Strong (Bakersfield) a fine 50-11.25 to
win the Triple Jump. Gail Devers (Sweetwater), still running strong well into the 2000's at the
Olympic level, took the Girls 100 at 11.98, a National Leader so far that year.

1985

Another magical duo topped the action in 1985 at Arcadia. Henry Thomas (Hawthorne) and
Chewuakii Knighten (Choo-Choo) had achieved a lot before their senior years in this meet, but
they would top them all, each carting away four winner's watches for the evening (only Valerie
Brisco had ever done it before).

Knight was attempting the 100 Hurdles (7:35), 100 flat (7:55), 400 (8:25), and 200 (9:20)
quadruple. She blasted a Meet Record 13.71 in the Hurdles, and was ahead of the pack during
her 12.00 100 run. In the 400 she would be tested by eventual Olympic level stars Linetta
Wilson (Muir) and Janeene Vickers (Pomona). There were five together as they entered the
homestretch, with Knighten digging down and finding enough strength to win at 54.18. People
were really tuned into this great act by the 200, with the Locke star able to pull away from the
field right near the end during her 24.19 win. Her "story within a meet' was very fun to observe.

Henry Thomas was in high gear this senior year, with two relays and 100-200 action on the
night's agenda, and the squad just off it's amazingly still standing 3:07.40 4x400 National
Record from the Texas Relays. Over five meters down at the start of his final anchor 4x100 leg,
Thomas let no one down with a screeching straightaway leg that took the Cougars to the win at
41.82. This was going to be special and it got better!! In the 100 Thomas exhibited a knee lift
that just powered him away from the field to a shocking 10.40 Meet Record clocking. Ora
McMurray from Burbank used to do a great deal of high quality movies that were used in
coaching films and the like. He had 16 millimeter high speed (which slowed Henry down in the
movie) of Thomas this evening and it was maybe the fastest, smoothest running this author has
ever seen by a California prep. Remember, we were on dirt in those days and do not think many
preps at all ever ran faster than 10.40 on that surface. The magic continued over a half a lap, with
Thomas blowing the field away with a 20.79 clocking to take down the meet standard. Thomas
cruised to his fourth watch for the evening, racing a 50.2 split on the 4x400 relay after the team
had given him a huge lead for his anchor leg. Henry was truly in one of those "zones" they talk
about great athletes moving into that evening!

Hawthorne's team was very, very strong on both sides, with the Girls here blasting a 45.80 400
Meter Relay win, the #4 clocking in US Prep History at the time.

Olympian great Danny Everett of Fairfax had his coming out this evening. I remember seeing
where he ran like 48.5 the day before Arcadia and I thought, "what is this guy doing," as that
was about his PR before this weekend. I remember him not having a great lane at Arcadia and
everyone was expecting Orange County star Chip Rish to run away with the contest. But down
the stretch, on the torn up (dirt again here) inside lanes it was Everett who blazed to a 46.79 win,
with seemingly more in the tank–his career went all the way to Olympic gold!! Brian Blutreich
had thrown 210 feet in the Discus this season, and was 201-00 to win here before going over to
the Shot Put, where he tossed a fine 66-06.5 National Leader.

Kristen Dowell (Santa Teresa) picked a tough 800-1600 double and dominated, racing a
controlled 4:53.57 that put defending State Champ Shannon Clark back to third. In the 800
Dowell was another impressive winner, by over two seconds in 2:12.59 win. Roman Gomez
(Belmont) was another distance doubler! Roman was a 4:12.21 1600m winner, then came back
in the Distance Medley, with his team intent on special clocking here. Gomez was out in front
and ran 4:19 with the squad recording a 10:14.93 winning time.

Five 5-10 or better Girl High Jumpers, led by National Record Setter Latrese Johnson (Clovis) (6-
02.75) would battle, with Yleana Carrasco (Anaheim) edging the new record setter on misses at
6-00. George Porter (Cabrillo, Lompoc) stretched his huge frame out to a 36.42 Meet Record in
the 300 Hurdles. Kim Taylor (Valencia, Placenita) was a fine 39-05.5 Girls Triple Jump winner.

1986

A great boys 3200 and the three races run by Janeene Vickers (Pomona) in the meet were the top
overall efforts in the 1986 Arcadia meet.

The Boys 3200 would feature Mark Dani (Valhalla), and twins Eric and Mark Mastalir (Jesuit),
with Daren Stonerock (Saugus) hot locally. Dani had run 8:49.1 indoors for two miles, with the
Mastalirs both under 4:12 for a mile during the winter indoor season. Dani took the pace out
with a 4:24 first 1600, but it was the twins who dominated late, Eric closing fast to a super
8:48.55 win and Marc next at 8:51.99.

Janeene Vickers would try a challenging 100 Hurdles, 400, and 300 Hurdles triple here. After
blasting to a 13.81 short hrudles win, she finished second to strong Princess Bennett in the 400,
and came back to blast a fine group in the longer hurdle run at 43.41. Clad in a black body suit,
the gazelle-like Vickers was named Female Athlete of the meet for her two Nation Leading
hurdle wins here.

Kamy Keshmiri (Reno, Nv), a junior, topped a good discus field with a 199-02 effort (and a
narrow foul at 205), prefacing his next year Arcadia competition that would include a destruction
of the Prep All-Time best in the event. On the Girls side, Tracy Crawford tossed a Nation
Leading 153-08 to stun a strong group and win.

Laura Chapel (University City) had a magical day in the 1600 and 800 events, attempting a
tough double. Laura topped a strong group with a huge final 400 in a Meet Record 4:50.14 1600
win, then came back to do the same at half the distance, rolling by Kim McAllister (Locke) on
the way to a 2:11.91 win.

Madera's Ronnie McCree was impressive in the sprints, finishing hard in a 10.75 win over soph
Quincy Watts (Taft) and Muir's Ron Ealy. It was no fluke, with the Central Section star racing
tough near the end of a 21.37-21.39 (Ealy) 21.46 (Watts) race.

Jackie Anderson (Mt. Miguel) had a fine series in her 39-03 Girls Triple Jump win, with Curtis
Rogers (Johnson, Sacramento) two jumps only in the competition, but they topped out at 24-
05.75 for the win.

Another soph, Travis Hannah (Hawthorne) blazed a strong anchor leg on the Cougar winning
3:21.46 4x400 team. Hawthorne's Tami Stiles won the sprints at 12.23 and 24.46, with 47.79
and 3:53.34 enough to also win the relays for the Hawthorne powerhouse. Newbury Park's
Melissa Sutton nipped Tracy Williams (Mountain View) right at the tape 10:29.96-10:30.58.

1987

Arcadia joined the "all weather" age in 1987, with all that had been achieved before on a good
crushed brick faciiity. With the installation of a nine lane all weather track the meet could be
expanded into an earlier in the day "Open" session where athletes could "graduate" up over the
years to the Invitational portion, and the surface installed proved to be a quick one! The super
performances this first go round here showed the investment was very worthwhile. Of the thirty
one events held fourteen winners had the top mark in the Nation for the year, and with every
single state leader in the meet, eighteen of the winning marks were the best for the state so far
during the current season!

The track stuff was awesome, but interestingly, the day's best mark, that started the show this
year, was off that main track surface. The Discus featured Kamy Keshmiri (Reno, Nv), whose
dad was originally from Iran and had been a 1960's Community College star at Hancock under
Coach Jack Cook before moving slightly out of state to the neighboring University of Nevada at
Reno, and remaining there. Kamy was 214-11 earlier in 1987 to take down the National Record
of 213-06 by Clint Johnson of Kansas in 1980. Dwight Johnson of Arizona had thrown 204-9
the previous weekend this season and would challenge Keshmiri here. Johnson was taking the
ACT in Arizona Saturday morning and barely made it to the meet for the final flight, following
Kamy's 214-06 from the prelims with a 212-11 in the first throw of the finals that woke the
Nevada star up! Johnson was 208-01 on his fifth throw, with Kamy fouls on #4 and #5. Johnson
fouled on his final toss, with guaranteed winner Keshmiri nothing to lose as he stepped into the
ring. He let one go after he described as a Agood pull, that never seemed to come down and
landed far beyond any of the other markers, with Kamy jumping up and down around the ring
and his dad hopping over the fence to join him in a celebration. The measurement was 224-03,
an amazing 5% increase on the previous best in the event! Kamy came back with a lifetime best
of 65-02.25 to win the Shot Put before accepting Male Athlete of the Meet honors. Kira
Jorgensen (Vista) blazed to a 4:51.03 and 10:24.23 distance double to earn the Female Athlete of
the Meet Honors this evening.

Brent Burns (Acalanes, Lafayette) leared an impressive 17-03 in the Pole Vault. Eleventh grader
Quincy Watts (Taft) was quickly growing into a legend as he blazed a super 10.51 100 win into a
-3.0 meter per second wind! Watts returned to blast 20.89 in the 200, and the eventual Olympic
Gold Medalist over 400 meters came back back in the 4x400 for Taft with a 45.7 leg that helped
his squad to second in 3:18.79 behind Independence (San Jose) 3:18.30. Steve Lewis (American,
Fremont), shockingly an Olympic Gold Medalist over 400 meters the very next 1988 season,
won the 400 here at a Meet Record 46.70. Paul Thomas (Jesuit, Sacramento) handed San Diego
HS's Marc Davis his first defeat of the year against a prep with a 61.6 final 400 in an 8:53.92-
8:56.38 3200 win. Scott Robinson (Bellarmine) blazed a 4:10.80 1600 win. Rio Mesa took the
Boys Distance Medley in a fine 10:15.70, with Palos Verdes taking the Girls version at 12:23.01
over Hawthorne's 12:25.59. The Hawthorne Cougars had a tremendous overall program,
stepping down to take the 4x100 relay at 46.75, and the 4x400, with Kee-Sha Adams anchoring
in 53 during the 3:48.94 win.

Jackie Anderson (Mt. Miguel) impressed with a 41-00.25 Triple Jump win. El Monte's LaShawn
Simmons took Efie Daetz (Leigh) 13.78-13.94 in the 100 hurdles, with Daetz coming back for a
42.72 300 hurdles win. Dana Hall (Ganesha) had a Boys Hurdle double win - 14.09-14.12 over
Michael Bates (Az) and 37.53 over John Montgomery (Independence).

In the field, Dawn Dumble (Bakersfield) had a Girls weight double 44-10.5 in the Shot and 146-
10 in the Discus. Maddette Smith (Quartz Hill) took the Girls LJ at 19-00. Soph Angela
Burnham (Rio Mesa) was a Girls sprint double winner 12.07 in the 100 and 24.47 over half a lap!
Percy Knox Jr (Antelope Valley), who had been over 26-00 windy this spring showed up taped,
but still took the Long Jump at 23-10.25, with Anthony Terrrell (Mission San Jose) taking a
strong Triple Jump field with a 49-02 jump.


With the all-weather facility, Arcadia started an Open (Day) meet, with some good results there.
Brian Bridgewater (Washington) was 21.61 for 200m, with Darren Bernard (Thousand Oaks)
48.25 for 400. Laurie Smith (Valley Sacramento) was 14.49 for the 100 Lows to set impressive
early Meet standards for that portion of the day!

1988

The second year on the school's all-weather track marked the entry of athletes from all across the
country in what was another great meet on a beautiful evening. Seventeen new Nationa-Leading
Efforts and twenty-three State Leading efforts marked the competition described as one of the
meet's best ever. The participation of national powers such as South Oak Cliff, Dallas, Texas,
and Tilden of Brooklyn, then the nation's top female squad, added to the element of excitement
for the evening.

South Oak Cliff had Curtis Conway of Hawthorne, later of USC and Pro Football game, then a
junior blow by on the anchor leg and take the Cougars to a 41.22-41.60 win. Later in the 1600
meter relay the two schools battled, with SOC ahead on the anchor and Travis Hanna closing for
Coach Kye Courtney's group. Twelve meters down after a 22.2 first 200 meters on the anchor
split, Hanna blasted the homestretch and finished in 45.5 as the group raced a Nation-Leading
3:11.33. Tilden came in and had some fine individual events, but Hawthorne completed its
magical night in the 4x400 relay, winning 3:48.44-3:50.13 over the New York group.

Laurie Gomez (Boardman, Ohio) would battle with Kinney National Cross Country champ Kira
Jorgensen (Rancho Buena Vista), with the midwesterner spanking the local lass in a 4:48.59 1600
(National Leader and Meet Record), with Gomez later coming back to win the 3200 at 10:31.40
and complete an impressive double win. Gomez went on to an All-American career at North
Carolina State and is a coach there now. Christy Ward (Grants Pass, Or) took the Shot Put in 46-
07.75, with Melisa Weis (Bakesfield) the #10 All-Time Californian performance in winning the
Discus at 160-11. Ian Alsen (Granda Hills) was 58.2 for the final 400 to win the 1600 at 4:09.67,
then shocked when he returned to cover the final 200 in 28.5 during an 8:59.54 3200 win.
Angela Burnham (Rio Mesa) edged Inger Miller (Muir), the daughter of Jamaican Olympic Gold
Medalist Lennox Miller, over 100 (11.65) and 200 (23.94) meters. Michael Bates (Amphitheater,
Tucson, Az), another eventual Pro Footballer, was 13.70 for a Meet Record and National Leader
in the Highs. Michael came back to win the 100 10.61-10.62 over Brian Bridgewater
(Washington, LA), with Brian taking the 200 21.03-21.17 over the Arizonan. Reggie Betton
(Antelope Valley) shocked with a 7-02 High Jump Clearance, with Lance Lehman (North
Phoenix) a 16-06 Vault winner, and Diatori Gildersleeve (Grant, Sacramento) a 24-05.25 Long
Jump winner. Kaleaph Carter (Edison) was a 63-02.75 in the Shot, with Russell White (Crespi)
49-00.5 in the Triple Jump, and John Wirtz (Leland) 187-08 in the Discus.

The Arcadia Open competition in the morning had some great marks. Kevin Jones (Mt. Miguel)
was 1:53.09 in the 800, Joe Devine (Sagus) 4:15.9 in the 1600, with Kerry Tate (Upland) 10.84
(100) and 48.69 (400) clockings. Jaki Henderson (Alhambra) was 56.38 for 400.

1989

The 1989 Invitatational featured over three hundred schools from fifteen states, with the action
ending with fourteen new Nation Leading efforts and twenty new State Leaders for the season
so far. In addition, five meet records fell!

Dion Bentley (Pittsburgh, Pa) had jumped 26-06.5 during the indoor season in the Long Jump,
and steadily improved to 25-03.25 for a Meet Record through five jumps here before a narrow
foul 26-04 jump to thrill the crowd. Jayson Lavender (Wichita Falls, Tx) sailed 17-03.25 in the
Pole Vault to thrill the folks with another Meet Standard.

Marshall of Oklahoma City had a super Girls team, with Leah Kirklin Triple Jumping 41-08 for a
Meet Record and the making her the #6 US Prep Performer ever. The Marshall girls passed the
baton in a super manner for a 46.79 400m relay win, with team member Thelma Franks a 13.77
Hurdles winner also. Kirklin added a 19-02.5 Nation-Leading Long Jump to add to the winner's
watch haul for one of the nation's fine programs that had really never traveled far as a group!

Candy Roberts (Don Lugo) threw 166-04 in the Discus to top the Bakersfield HS duo of Melissa
Weis 163-01 and Dawn Dumble 161-06. Inger Miller (Muir) and Angela Burnham (Rio Mesa)
split a great 100-200 duel! Miller was 11.59-11.63 in the 100, with Burnham 23.63-23.91 in
taking down Valerie Brisco's 23.77 Meet Record! Jeff Laynes (Skyine), who has had an ageless
career in the sport, blazed a 10.56 to take the Boys 100, with Barry Smith (Mission SF) a 21.34
200 winner. Montbello, Denver, Colorado star Albert Ransom took the 400 at 46.57. The
Hawthorne boys raced a 40.78 400m relay for a new Meet Record, then returned to take the 4x4
at 3:14.95, with the Cougar Girls winners there at 3:51.33. Karen Hecox (South Hills) showed a
strong finish to take the 1600 over Washington's Lisa Dressel in 4:53.94, with the courageous
Dressel taking the 3200 at 10:41.23. Kira Jorgensen (Rancho Buena Vista) raced a 4:57.2 anchor
leg to take her squad to a Nation Leading 12:17.98 Distance Medley Relay. Florida's Scott
Peters took the 800 at 1:52.51, with Burbank's Todd Lewis winning an exciting 1600 in 4:11.20.
Soph Luis Quintana (Arroyo Grande), current Arizona State Distance Coach, was third at
4:12.24. Bryan Dameworth (Agoura) led the whole way in a 9:03.62 3200 win. Corona del Mar
was anchored by Eddie Lavelle (earlier 4:11.94 for second in the 1600) at 4:12.9 as they ran
10:09.71 in the Distance medley.

1990

An exciting national field battled once again in 1990 at Arcadia. Great action all over the facility
took place with fourteen event winners record the best time in the nation for the year, and
twenty-one winners the best time in the state for the 1990 outdoor season!

The Girls' sprints featured teams like Sterling (Houston, Tx) and Tilden (Brooklyn, NY), the
nation's hottest, coming to battle California's best! In the 4x1 relay Muir blazed 46.07 to win
over Sterling, with Muir's Inger Miller edging Rio Mesa frosh Marion Jones 11.71-11.78 in a
great 100 into a 2 mps wind. In the 200 Marion blasted the turn, with Miller finally edging up
and past for a 23.57-23.80 win, the 23.57 the best in the nation and Jones' 23.80 a new National
Frosh record and indicator of things to come. The meet closed with a classic 4x4, as Tilden's
Michelle Williams, cranked a 24.2 opening 200 on the anchor, then struggled in at 31.3 for the
final half lap to hold on to the win at 3:48.62 over Mornignside 3:49.11, Muir 3:49.59, and
Sterling 3:50.13. Sterling had run a district meet Friday evening, and flown Saturday morning,
so their fatigue was forgivable, with Coach Edward Robinson still excited about the trip! Tilden
had raced 12:13.49 to take the Distance Medley to show the strength of their program!

Andy Maris (Washington) reversed places from the Kinney National Cross Country
championships with Bryan Dameworth (Agoura), stalking the Californian until the final lap
before dashing by down the final straightaway 8:53.78-8:53.85. Coley Candaele (Carpinteria)
kicked strongest to take a great 800 at 1:51.12, with Louie Quintana (Arroyo Grande) a 4:09.82-
4:09.87 winner over Brian Gaestelum (Birmingham). Karen Hecox (South Hills) repeated in the
Girls 1600 at 4:52.05.

Brent Noon (Fallbrook) had four throws over 70 feet in the shot put, his farthest out to 71-04.25
to destroy the old Meet Record of 66-10.25. Jerome Price (University City) started the early
action with a 25-08.5w Long Jump, and Phouphet Singbadnith (Magnolia) powered a 51-00.75
Triple Jump Meet Record. Juliana Yendork (Walnut) had a fine 40-07w to take the Girls TJ
event, with Melilsa Weis (Bakersfield) 169-09 to win the Discus.

Washington (LA) raced 41.12 to take the Boys' 400m relay event.

1991

The 1991 Arcadia Invitational marked another super meet, featured by the big-time emergence of
eventual Olympic Gold Medalist Marion Jones. Seventeen National Outdoor Leaders, and
twenty-one State Leading efforts marked another great evening!

Zundra Feagin of Florida was 11.35 and 23.13 in the sprints as a junior, and second in the World
Junior Championships at 100m. Teresa Foster was a flyer from Louisiana, and they would be
here to face Marion Jones. Jones had run 11.62 and 23.70 in taking both sprint titles as a frosh.

Marion screeched a monster anchor to take her team to a win in the Open 400m relay to warm the
crowd up. In the 100 Jones rode a good start to a steadily increasing lead to win 11.38-11.62
over Feagin, with the performance a stunning one, the Meet Record, National Age-15, and US
Soph Class Record. Over 200 Marion was even more impressive blasting 22.87, a clocking that
astounded everyone, and lowered the Federation Record of 23.19 by Sheri Howard from 1980!
Marion had arrived and the rest of her career is history!!!

Ricky Carrigan (Compton) had a great Boys spring double against top fields, 10.62 and 21.90 to
earn the male half of Athlete of the Meet that Jones took for the Girls. Eventual Olympic
medalist in the marathon, Deena Drossin (Agoura) was 10:19.63 in taking Milena Glusac
(Fallbrook) 10;24.61. Dave Hartman (Canyon, CC), now the coach at University of Georgia,
won the Boys 3200 in a Nation-Leading 9:00.63. Shelley Taylor (Edison) took the Girls 1600 at
4:53.00, with Wyoming star Jim McCreery 4:10.78 to take the Boys' contest. Becky Spies
(Livermore) was 2:10.17 to win the 800, with Bryan Woodward (LB Poly), later an All-
American at Georgetown, won the Boys 800 in one of his first serious 800's at 1:52.60. Thomas
Barber of Florida sailed the Boys Discus 205-09 for an impressive win there, with New Jersey's
Aaron Echternacht 65-02 to take the Shot Put. Danielle Brown (Sunny Hills) shocked with her
Triple Jump improvement to a 39-05.5 win, with Nichole Irving (Florida) a 19-07 Girls LJ
winner.

William Penn (Philadelphia) put together a fine 3:45.61 Meet Record Girls 4x400 Relay, with
Milena Glusac returning to anchor Fallbrook to a fine 12:11.09 win with a 5:01.9 1600 leg. San
Pasqual took the Boys' contest, despite anchor runner Robert Walker, having the baton knocked
out of his hand on the first lap, costing him more than a few seconds off their 10;23.60 winning
time. Eventual NCAA Decathlete from New Mexico, Mario Sategna, showed his all-around
abilities, taking the Pole Vault at 16-00, then ducking over for the 300 Hurdles and winning at
37.44! Celeste McVey (Redlands) took future great, then frosh Suzy Powell (Downey,
Modesto), in the Discus at 150-02. Erin Blunt (San Pasqual) won the 300 hurdles in a Nation-
Leading 42.69, with Derek Shepard (Lincoln, San Francisco) 47.60 to take the 400.

1992

Marion Jones (Rio Mesa) was the star of another Arcadia Invitational, as the "bigger than life"
personality and runner blasted good sprint fields once again.

Marion was 11.51 in the 100 and 23.43 in the 200 to win easily against top groups, with LB Poly
a super frosh duo of Andrea Anderson, an eventual Olympian, and Aminah Haddad.

Shelley Taylor (Edison) again starred in the 1600, eding Nikki Shaw (Fillmore) 4:51.98-4:53.85.
Tayor then returned to nip Agorua's Amy Skieresz (an eventual NCAA Champ at Arizona) in the
Distance Medley, racing 4:53 on the anchor to pace Edison to a 12:09.37-12:09.39 win over
Agoura. Miesha Marzell (O'Dowd) was a fine 2:11.57 to win the Girls 800. Angel Martinez
(San Gabriel) led the Boys' distance groups, kicking strongly in a 9:02.82 3200 win, then
returning with a 4:13.9 anchor to lead the Matadors to a 10:18.18 victory.

Eventual Gatorade National Athlete of the Year Jeff Buckey (Bakersfield) had the whole show
rocking early with a 208-11 Discus win, with Tyson Lingenfelter (Upland) improving over 3 feet
in one night to win the Shot Put at 62-10.

Bryan Woodward (LB Poly) was a veteran 800 runner by now, and cranked a 1:50.76 to
dominate a good field. Brian Wilkinson (Merced) was 59.1 for the final 400 in his 4:11.17
1600m win. Kam Warner (West, Bakersfield) was 14.16 to win the 100 Hurdles, and Long
Jumped 16-06.25. Suzy Powell (Downey, Modesto) was 157-03 to take the Discus. Marques
Holliwell (West Bakersfield) became the first frosh male athlete to win an event at Arcadia when
he took a close 100 (4 within .01) at 10.80, with George Page (Az) 21.42 to win the 200, and
anchoring his Maryvale team to a 41.65 400m relay win. The 300 Hurdles went to Desmond
Smith (Hawthorne) 37.86 and Twila Sims (Lompoc) 42.86. Robert Purdue (Valley, Sacramento)
was 24-03.75 to win the Long Jump.

1993

Foot Locker stepped into help with sponsorship this year, and there was a great show on the
Track and in the Field!

Marion Jones (now at Thousand Oaks HS) would close out her career here in style, with the Long
Jump added to her list of events this year. Marion started the meet with a fine 11.48 100 to take
LB Poly's Andrea Anderson (11.66). In the Long Jump, Foot Locker's Mike Powell (world
record holder) observed closely, with Marion juming 20-09.25 (#13 in HS History), with Powell
indicating that due to her inexperience he felt she could go 22 or 23 feet quite easily with more
coaching and tenure in the event. Marion took rival Jennifer Wilson (Penn, Philadelphia) in the
200 23.49-23.98, and once again took home Athlete of the Meet Award (and eight winner's
watches through the years here).

The Men's Athlete of the Meet was a very unexpected ninth grader. Michael Granville was an
age-group legend, and was entered here in the middle of the pack at 800 meters. I still remember
never figuring out who won the event while watching in the 1:51's, and it turned out to be the
frosh Granville from Bell Gardens HS!! The 1:51.61 clocking took the national Frosh and Age-
15 National Records at the time!!

Kirsten Heaston (Ygnacio Valley) was amazing in the Shot Put, improving out to 51-05.5, the #5
prep throw ever, and taking down Natalie Kaaiwahia's Meet Record of 50-10, which was the
National Record at the time. Vacaville HS Coach Kay Nekota was a lead off 1200 (3:43) on an
Agoura squad anchored by Amy Skiersz in 4:56 that ran US Prep History's #8 All-Time Distance
Medley of 11:57.02.

Louisiana junior Desmond Johnson took a strong 400 field at 47.38, with Arizonan Ari
Rodriguez a 4:10.10 1600m winner after Agoura's Ryan Wilson was out at 3:05 through the
1200. Bob Keino (NJ), son of 1968 conqueror of Jim Ryun, Kip, took the 32000 at 9:02.73.
Arizonan Doug Reynolds took the Discus at 194-06, with Tyson Lingenfelter (Upland) the Shot
at 63-11. Brandon Vance (Los Gatos) took the Pole Vault at 16-03. Suzy Powell (Downey,
Modesto) took her string of Discus wins here to two with a 167-07 victory, with Washington's
LaShonda Christopher a 40-09 Tripel Jump winner. Amy Acuff, a UCLA and Olympic level star
from Texas, took the Girls High Jump at 5-10.

Paul Turner (University City) took the Boys' 100 at 10.62, with Anthony Volson (Merced), an
eventual USC footballer, the 200 winner at 21.47. Long Beach Poly took a tension-packed Girls
400m relay at 45.80 that had National Indoor 4x200 Relay record-setters Skyline (Oakland) and
sub-46 team Morningside, in the field.

Amy Skieresz (Agoura) took the Girls 1600 at 4:57.97, with Milena Glusac (Fallbrook) a
10:26.72 3200 winner. Miesha Marzell (O'Dowd) was a 2:11.69 800m winner. Jared Hansen
(Parma, Id) won the Long Jump at 23-10.5 and had a chance to spend some time with his hero,
Mike Powell.

1994

A National Record by Suzy Powell in Discus, and eighteen National Leaders (the record we
think) headlined a great 1994 Meet.

Suzy Powell (Downey, Modesto), just off basketball, as her team was successful into March's
playoffs, but she still put together some super Discus throwing, taking down Melissa Weis's
Federation Record of 176-10 with a 178-08 opening toss!!

Pat Johnson (Redlands) and Bryan Howard (Canyon Springs) were very sharp locally in the
sprints, but at 85 meters in the 100 it was Jermaine Stafford (Rochester, NY), who found a super
gear and blazed to a 10.46 win (Howard 10.55 and 10.57 for Johnson). Stafford, coming off the
flu scratched from the 200 (he was the 1993 USATF Jr Champ at 20.70), and Pat Johnson won
there at 21.18.

Mebrathom Keflezighi (San Diego), eventual Athens Olympic medalist in the Steeplechase, had a
great local rivalry going with Mark Hauser (St. Augustine, SD), with Meb out in 59-2:02-3:06,
then powering through a 62 final lap to win 4:08.32-4:09.46 over Hauser. In the 3200 Meb
returned to set the pace through six laps. Nathan Nutter (Arizona) then took over a blasted a
final 800 of 2:04 on the way to an 8:54.23 win.

Long Beach Poly took the Girls 400 relay at 45.90, with Morningside a Meet Record 3:43.71
4x400 on that side. Andrea Anderson (LB Poly) was 11.57 to take the 100 and 23.48w to win
the deuce. Virginia's Latasha Colander, an eventual Olympian in the 400 was second in the 200
at 23.58w and took the 100 Hurdles at 13.95. Angela Harris (Skyline, Oakland) was a fine 42.33
in taking the 300 hurdles. Monique Hennagan of South Carolina was only sixth in the 100, but
she came back mad in the 400 to race 52.87, taking down a Meet Record that was at one time a
National Record, Denean Howard's 52.90 from 1982. Utah's Sarah Gardner won the 1600 at
4:53.11 over eventual Stanford star Sarna Renfro (Washington) 4:55.24. Carrie Garritson (Buena
Park) was a 10:39.33 3200 winner. Kristi Johnson (Fresno) was the 800 winner at 2:12.46.

Male Athlete of the Meet was won by Ken Haslip (Muir). The Mustang was a part of a 41.06
400m relay team, outleaned Virginian Charles Reid in the Highs 13.98-14.05, raced a 36.94
300m Hurdles for a win, then lined up with the Mustang group in the 4x400. Douglass HS of
Atlanta Georgia, who featured Milton Campbell, had lost to Muir in the National Scholastic
Indoor and hoped for revenge. Muir ran Haslip on leg two on the 4x400 and gave the Mustangs
a big lead. Milton Campbell raced 47.0 on the third leg to bring Douglass back close, but
amazing frosh, Obea Moore, raced 46.5 to anchor Muir's 3:13.38 winners! Michael Granville had
taken Campbell earlier in the meet over 800m 1:51.90-1:52.56, with Obea Moore next at 1:54.26.
Desmond Johnson (Louisiana) took the 400 at 47.20, with Jeremy Fisher (Camarillo), now a
coach at the University of Oklahoma, won the High Jump at 7-00 after buzzing excitement over
his 7-04 clearance earlier in the year. Wisconsin's Luke Sullivan won the Discus at 192-00, with
Jamaal Chase (Quartz Hill) a 24-02.5 Long Jump winner.


1995

Fifteen States took part in the 1995 Arcadia meet, with seventeen National Leaders and eleven
other event winners recording the number two mark in the country outdoors up to that point in
the year. It was described as maybe the best meet in the affair's history afterwards.

In the 800 Michael Granville (Bell Gardens) would meet Orin Richburg (Logan), who had raced
1:48.4 on a sprint medley the previous weedend, and Obea Moore (Muir), who started the
seasons out at the longer distances. Michael G did not mess around, out at 24.5 and 51.8, flew
past the 600 at 1:20.2 and no one ever really established contact, with Granville finishing in a
stunning 1:47.96, with Richburg (1:49.12) and Moore (1:49.16) not bad for the other top medals.
Granville's time was a US Eleventh Grade Record, and the #4 prep time ever run!! Moore's was
the #2 time ever run by a soph!

In the Girls Horizontal Jumps monster fields had LaShonda Christopher (Washington) jump 42-
01.25 in the Triple Jump, among the top dozen in prep history, while Logan's Jernae Wright
would power 20-09.75 in the Long Jump, another #12 AT US performance that took down
Marion Jones' Meet Record!

Deworski Odom (Philadelphia) was trying a 100-HH double. A 10.26 sprinter who was second
in the World Junior Champs at 100m the previous summer, Odom sat back in the blocks, and
eventually blasted back past the field to a 10.44 win. Just 21 minutes after the 100 Odom blazed
13.61 in the Highs to take down the 13.70 Meet Record set by Barcelona 200m silver medalist
Michael Bates. Julia Stamps (Santa Rosa) blazed a 4:47.78 1600 for a Meet Record in destroying
the field, with Erik Mickelson (Washington) racing 4:10.61 to take the Boys' contest. Mike
Schneider (Arizona) took the Boys 3200 at 8:58.75, with Amy Skieresz 10:31.60 to win the
Girls' race.

Melissa Price introduced the girls Pole Vault to the crowd with an 11-06 win and near miss at 12-
01 to open folks' eyes as to what the young ladies could do in that event! Joanna Hayes (North,
Riverside) took the 100m Hurdles at 13.98, with Florida frosh Char Foster just missing the
National Grade Record with her 42.69 300 barrier victory. Slade Combs (Utah) marked a win
over eventual World and Olympic Champ in the Intermediates, 37.04-37.19 over University
City's Felix Sanchez.

The Muir Boys 400m relay squad all were sophs, and they amazingly won, setting a US
Frosh/Soph record at 41.18 in defeating four other teams under 41.60!! In the 4x400
Morningside started the anchor with a big lead, but soph Obea Moore cranked 45.5 and ran them
down to a 3:14.52 win, with the crowd chanting afterwards, "Obea, Obea, Obea," it was
amazing!!

The Girls' meet centered around sprint showdowns involving LB Poly, Logan, Morningside, and
Muir. Poly had baton problems in the short relay, with Logan racing away to a 45.90 win. In the
100 Andrea Anderson (LB Poly) was made, and charged back for an 11.59-11.74 win over
Logan's Kelly White. In the 200 White was a 23.85 winner. Anderson blazed a 53.0 anchor (the
event she would medal in the Olympics in 2000) to anchor Poly to a 3:43.54 Meet Record 4x4.
Esperanza and Mission San Jose battled in the Girls Distance Medley, with Elisa Riedy racing
4:55.4 but not quite able to catch Courtney Pugmire's 4:59.4 for Esperanza, with the Orange
County school winning 12:06.45-12:06.72.

Newcomer Frosh star Angela Williams (Chino), an age-group legend, had been running the 400
this spring, and was the winner here at 54.57. Clarence Scott (Fremont) spanned 24-06.75 to
take the Long Jump. Kristie Johnson (Fresno) battled Australian Saleena Roberts in the 800,
with Johnston just winning on the lean 2:09.63-2:09.65. Washington's Heather Gambill took the
Girls Shot (46-09.5) and Discus (158-11) with good marks, with Jeremy Lingenfelter (Upland)
adding to his brother's two golds in the meet with a 60-04 Shot Put win.

1996

The 1996 Arcadia Meet featured a National Record by Seilala Sua in the Girls Discus, with
twenty winning efforts this year in another excellent affair National Leaders for the spring season
thus far.

Seilala Sua signed at UCLA on Friday, then took down Suzy Powell's National Record here on
Saturday, tossing 180-02 in a strong field where fifth was 150-02.

Logan was in the habit of taking the Girls 4x1 here and was 46.15 to take it this go-round. Muir
was meeting Sterling HS of Houston in the Boys 4x1, but the Mustangs could not keep ahold of
the baton, while the Texans showed super hand-off form in racing to a 41.11 win. About that
same time a huge monster LJ event was unfolding, with Clarence Scott (Fremont) winning at 25-
01.5 over Patrick McCall (Carson) 25-01w (24-07.5 ok), Ronney Jenkins (Hueneme) 24-09, and
Gerald Williams (Lynwood) 24-04.5.

Kim Mortensen (Thousand Oaks) continued her super year in the 1600, racing a negative split
4:44.9 meet Record, with Washington's Kell Griffin 4:12.51 to win on the Boys' side. Makio
Haywood (Muir) was 13.93 to win the Boys Highs, with Colorado's Dominique Calloway a
13.73 Girls 100 Hurdles Meet Reord winner. Romesha Craig, daughter of 49er running back
Roger Craig, took the 100 at 11.80 for St. Francis of Mountain View. Soph Miguel Fletcher
(Alemany) took the Boys' race at 10.86, but was upset by Adian Logan (upland) in the 200 when
Logan blasted a 21.09 over Miguel's 21.24.

Michael Granville (Bell Gardens) won his fourth consecutive 800 here, racing 1:48.80 to handle
Obea Moore (Muir) 1:50.05, with Tara Mendozza of Colorado setting a new Girls Meet Record
with her 2:08.02 win. Felton Charles (McClymonds) cranked a 46.68 400 win, with Joe Naivalu
(Fremont, Sunnyvale) a fine 37.33 in winning the Intermediates. Char Foster returned from
Florida and took the Girls 300 Lows at 42.90. East HS of Salt Lake City shocked in the Girls
Distance Medley, as they blazed the #6 prep time ever to win at 11:53.85. Angela Williams
(Chino) raced the 200 and was a 23.73 winner. Seilala Sua (Florida) added a 50-06 Shot Put win
to her National Discus record for the day! Bakersfield soph Van Mounts was 62-07.5 to win the
Boys Shot Put. Nevada's Ike Olekaibe impressed with a 49-11.5 Triple Jump win.

Meet Records finished the evening, with Long Beach Wilson, anchored by Kinchasa Davis,
3:42.32 on the Girls' side, and Muir, with Obea Moore anchoring at 45.0, 3:08.92. Once again,
the evening ended with the crowd shouting, "Obea, Obea, Obea!"

1997

Another great group showed up in 1997 with some great running and action on the field from
beginning to end! Some great dashing focused attention there, with Obea Moore stepping up to
the 800 again to cause excitement.

Muir blew everyone away with two teams in the Men's 4x100 relay, going 1-2 at 40.28 and
40.90, the latter the fastest ever "B" time ever run by a squad in the same meet!! Obea Moore
would come back in the 800 once again, and he went out like a madman, racing 24.0 and 50.5
through the 400. He was under 1:18 at 600 meters, but it was James Levine (Golden Valley,
Merced) who closed best to win at 1:49.21 as Obea ended up fourth. At the one-lap distance
Washington's Ja'
Warren Hooker won a classic race at 46.23 from Tony Berrian (Atwater) 46.49. Miguel Fletcher
(Alemany) took the 100 at 10.70, but Sultan McCullough (Muir) emerged with a big-time 200
effort of 21.04 to win there over Hooker's 21.20. Obea Moore was on the training table after the
800, so the 4x4 Muir team had to face all-comers without their star. Amazingly, the crew raced
3:10.99 to win the event, with Obea's typical 45 second leg giving them the National Record
(3:07.40 by Hawthorne—still never broken!!). Coach Clyde Turner's sprint crew was so
impressive for a few years. Unfortunately Obea was bothered by injury for the remainder of the
year.

On the Girls' side it was more speed, with Angela Wiliams (Chino) dropping to the 100 to win at
11.50, and Kinchasa Davis (Wilson, LB), who had earlier raced 52.61 in the 400, screeching a
23.53 200 win. Davis shut down the Girls meet in style, starting 25 meters down on William
Penn of Philadelphia on the anchor leg of the 4x4, and proceeded to eat up the margin in the
final 200 of a 51.3 leg on the way to a 3:40.33 Meet Record win!

Good Hurdles action had Dominique DeGrammont (Tustin) a 13.72 Boys HH winner, with
Kenyon Rambo (LB Poly) a 36.66 300mIH winner. Michelle Perry (Quartz Hill), UCLA star
and eventual Olympian, made her breakthought in the Girls 100m barrier event, winning at 13.88
over State Champ Nicole Hoxie. Wiliam Penn of Phillie's Angel patterson raced 41.94 in the
300's to take down Gayle Kellon's ancient 42.34 Meet Record.

Northern California greats Kristen Gordon (Carondelet) and Julia Stamps (Santa Rosa) went at it
over 1600m, with Kristen the narrow winner 4:46.24-4:46.88. Isaac Hawkins (Washington) led
the Boys' distance events with a negative split 8:58.47 3200.

1998

A rain-out make-up date had the competition two weeks later than normal on April 25th. With
one athlete at UCLA breaking their leg in the discus event earlier in the day and a huge storm
headed Arcadia way the decision was made to postpone the meet two weeks. It was still a very
successful meet with a ton of great performances. Obviously not everyone could make it back
for the make-up date, which was a shame.

Double winners abounded, with the quick young ladies grabbing the headlines! Angela Williams
(Chino) rocketed 11.32 in the 100 to finally have someone take down Marion Jones' Meet
Record of 11.38, and Angela returned to blaze 23.48 for the 200. Super frosh and age-group
legends Monique Henderson (Morse, SD) and Leshinda Demus (Wilson, LB) met over one lap,
with Henderson a 52.96-53.28 winner at the start of great prep and open careers! Wilson (Long
Beach), with its program now in really high gear as one of the nation's best, took the 4x100 relay
at 46.35 and the 4x4 in a Meet Record 3:39.48!

On the Men's side in the competition it was the weight folks who hogged the headlines. Reedus
Thurmond (Serra, Gardena) blasted a 209-00 National Leader in the Discus, with Van Mounts
leading the group when they headed over to the Shot with a massive 69-03.5 Nation-Leading
effort! Miguel Fletcher (Alemany) raced a 10.60 to win the 100 over eventual Oakland Raider
running back Justin Fargas (Notre Dame) 10.64, with Fletcher returning to crank a 20.94 200
over eventual fellow USC Trojan, Sultan McCullogh (Muir) 21.17. Marcell Allmond (St. Paul,
Whittier – guess where he ended up also, USC) was a hurdle double winner at 14.01 and 37.80.

A great Girls Discus had Mandy Borschwa (Washington) toss 173-04 to win over Kirsta Kier
(Ohio) 171-03, and Stephanie Brown (Arroyo Grande0 168-07, with Brown an eventual 2004
US Olympian.

1999

A fun 1999 Arcadia Meet had participation once again from coast to coast. Some great sprint
match-ups had interesting results, as Kentucky's Casey Combest, who had set an impressive
National Prep Indoor Record of 6.57 for 60 meters recently (that time beat the winning NCAA
time for the year), and people from all over came to challenge California's best!!

Darrel Rideaux of Long Beach Poly would lead California's charge against Combest, with the
Kentucky star the rage of the sport with coverage all the way up through Sports Illustrated
during an amazing winter! He seemed unbeatable, but the powerful Rideaux on a breezy evening
ran Combest down as the two gathered for their final 30 meters of the 100 event. Rideaux raced
to a 10.65 (-1.7 mps wind) win, with Combest shutting down after Darrel raced by, finishing
fifth. The crowd was really into the match-up, with the internet operational and featuring
interviews with Combest and Rideaux the week before the meet, Casey confidently speaking of
his trip west, and Rideaux later indicating he was not going to let someone come into his
"kitchen and take his milk out of the refrigerator!" Rideaux, after his race glided back down the
straightaway like a giant bird, which the crowd just loved! With buddy Kareem Kelly taking the
200, Poly blazed 40.45 in the 4x100 relay. However, in the 4x4 event was a determined Vallejo
squad blasting a 3:13.61 to beat Poly and the field!
From Florida came Erica Whipple, an age-grouper of some note, to face top sprint fields,
including Coach Tony Wells of Colorado's latest star, Alexis Joyce. The super soph Whipple was
in a "zone" this evening, blazing 11.57 in the 100 and 23.46 in the 200 to solidly whip everyone,
and leave all gasping, including Coach Wells, who spoke of the Floridan's potential—she did go
to the University of South Carolina with some success later. The Long Beach Wilson girls were
sharp in the Relays, blazing 46.47 (4x1) and 3:42.58 (4x4) to take both of those contests.

Alejandra Barrientos (San Lorenzo Valley) was highly touted in the 1600 by Coach Rob Collins,
but had been boxed in at Stanford and just not put it together—that all changed here! Against a
top field that included Katie Hotchkiss and Arizona's Sarah Gorton Allie raced along nicely for
three and a half laps, and uncorked a 31 second final 200 in racing to a huge 4:47.94 win and
setting up a great prep career over the next couple of seasons.

Nichole Denby (North, Riverside) had her dad, who cleared 7-01 in this meet as a prep for
Crenshaw HS in the High Jump, standing close by when she raced in the hurdles against
Canadian star Perdita Felician, with the Californian leaning in to win 13.87-13.87! Colorado's
Ricardo Moody blazed 13.67 to take the Boys High Hurdles, with Lauren Fleshman (Canyon) a
10:21.36 3200 Girls winner and Adam Tenforde of Washington an 8:57.19 Boys winner there.
Canadian Tanya Wright raced 2:08.11 to take the 800, with Jill Camarena (Woodland) 47-05.75
in the Shot.

2000

The meet moved a year to Citrus College for a year, with some fine results. According to John
Dye of DyeStat.com, which had assumed the national lead in reporting prep track and field
news, the event had "an amazing 282 DyeStat Elite cut-off marks, with 14 US #1 marks and 40
top 3 US Performances!"

Lashinda Demus (Wilson, Long Beach) was voted the Female Athlete of the Meet for a breath-
taking 40.97 300 meter hurdles run, and blazing a 52 second anchor leg for her winning 4x4 team
(3:44.23). A Wilson B team had earlier run 3:51.41, a top ten time in the US to that point in that
season—Coach Terry Kennedy really had the depth.

Rickey Harris came from Virginia as one of the nation's top hurdlers, and he won a "re-run"
High's race (gun malfunction first time) at 13.51, and came back to race 47.04 to win the 400.

Angel Perkins (Gahr) raced a classic 400 with Monique Henderson (Morse), emerging the winner
52.62-53.25.

San Lorenzo Valley (Felton) raced a fine 11:55.68, the #11 clocking in US Prep history, a record
they would secure later in the season at the Penn Relays. Exciting 3200's has Josh Rohatinsky
(Utah), the last NCAA Division I cross-country champ, win at 9:01.94, with Anita Siraki
(Hoover, Gl) a 10:18.61 winner over a fine girls group. Ryan Bousquet (Esperanza) closed with a
58 second final 400 at 4:09.37,with Liz Morse (Corona del Mar) a 2:09.40 800. Alejandra
Barrientos preceded her anchor of the San Lorenzo Valley Distance Medley group with a 4:46.60
1600 win over Wyoming's Alicia Craig 4:49.59. Bennie Robinson (LB Poly) edged Warren
Rogers (Serra) 10.41-10.46 in the 100, with Nik Arrhenius (Utah) leading the field at 207-00 in
the Discus. Aisha Margain (Berkeley) raced 23.85 in the 200. Blessing Ufodiama (LB Poly)
was 41-01.75 in the Triple Jump, with Jill Camarena (Woodland) 49-11.5 in the Shot and 160-06
to take the Discus.

2001

New Meet Director Rich Gonzalez yanked the Invitational to the next level this April, with a
wild mile match-up that was one of the most featured events in the history of the meet, but that
was not even the top mark in the Meet!!!! Alan Webb (Virginia) was the first prep to break 4
minutes in the mile indoors a few weeks prevous and he would meet Ryan Hall (Big Bear), who
was hot locally, and a great national field over four laps. That would be a classic race, but it was
not the meet headliner as far as a quality mark.

Nik Arrenhius (Utah) made his yearly late winter (for him) trek south to Arcadia, with some
hoped for special results—they did happen With the event won, Arrenhius stepped into the ring
for his final toss and sailed the platter way past never-never land, destroying the old National
Record (set by Kamy Keshmiri of Nevada) by nearly ten feet (!) on the way to a landing at 234-
03. That platter never seemed to come down and float forever on the way to the record!!

Over at the mile a great field joined Webb and Hall. With the internet and DyeStat.com
cranking up the prep publicity over such match-ups all eyes were glued to that top twosome over
the first three laps. With the contest still very competitive with 200 meters to go, Webb launched
it into huge overdrive, rocketing around the final turn and into the homestretch to a big win,
actually easing down a tad near the finish. He passed the 1600 meter line in a still-standing
National Federation Record 3:59.51, and continued to the mile finish at 4:01.81. Hall was
actually nipped by Florida's John (4:05.54) and Sean (4:07.25) Jefferson, and was fourth at
4:08.37. Bobby Lockart (Virginia) was 8:57.08 to take a super two mile event. The Jefferson's
team, Atlantic of Del Ray Beach, Florida, edged South Lakes (Reston) again in the Distance
Medley 9:57.88-10:04.55. Megan Kaltenbach (Colorado) topped a great field in the Girls 3200
at 10:11.97 over Hoover's Anita Siraki (10:16.79).

Lashinda Demus (Wilson, LB) was 40.70 in racing a great 300 meter hurdles, with a big leg on
the Wilson 3:39.12 4x4 squad! North (Riverside) blazed 45.44 to take the Girls 400 relay event.

Allyson Felix (LA Baptist) really stepped out into the spotlight, with the eventual World Champ
and Olympic medalist an 11.83-23.48 sprint double winner. Monique Henderson (Morse) and
Angel Perkins (Gahr) met once again in their classic 400m series in this meet, with Henderson
taking this battle 52.51-53.21.

Gemyal Alexander (Bakersfield) soared 25-01 in the Long Jump, with Jeff Garrison an
impressive 36.37 in the 300 hurdles while winning by over a second! Strong Girls field eventers
were Melissa Astete (Birmingham) 13-0 in the Pole Vault, Candice Baucham (LB Poly) 42-03.5
in the Triple Jump, and Karen Freberg (SanLuis Obispo) 50-10.5 in the Shot Put.

2002

2002 Marked the initiation of a Friday "Burnin' Batons" session with so many great teams in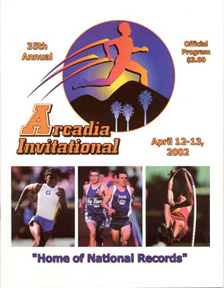 town for the weekend of the meet. A.P. Randolph of New York took the Girls 4x200, 4x800
(8:58.30 #5 Time in Prep History), and the 1600m Medley Relay (4:00.01 #15 AT US School),
with LB Poly taking the Boys 4x800 (7:53.62) and 4xmile (17:42.11). Red Bank (NJ) added a
20:51.38 4xmile win
The affair was a great hit and looked as if it will grow!!

Saturday's competition was headlined by a ton of great action, with the Boys 3200 the deepest
eight lapper in many years at the prep level. Wisconsin's Chris Solinsky (Boys Athlete of the
Meet) rolled to an 8:48.44 win, with five others under 8:57.0 and 14 under 9:10!! Bobby Curtis
(Kentucky) 4:08.29 led a fast 1600 (3 under 4:10), with Amber Harper (Utah) 4:51.73 Girls 1600
titlest, and Megan Kaltenbach (Colorado) 10:21.01 in running away with the Girls 3200 run.

Allyson Felix (LA Baptist) was turning into prep history's greatest sprinters ever, with an 11.54
and 23.08 double that earned her the Girls Athlete of the Meet. On Saturday Long Beach Poly
added more relay wins, with the Boys 40.96 and 3:13.30 4x1 and 4x4 triumphs, with the
Jackrabbit Girls adding to the winners' watch haul with 46.07 and 3:39.19 wins on that side!
Heidi Magill (Utah) was a fine 2:06.34 800 winner, with Noah Bryant (Carpinteria) 65-11 to take
the Boys Shot Put with Jared Morgan (La Quinta) a 197-10 Discus winner. Boys sprint winners
were Gary Jones (Skyline) 10.55 and eventual Heisman Trophy winner Reggie Bush (Helix) took
the 200 at 21.11. Kaylene Wagner (Dos Pueblos) was a 6-00 High Jump winner, with Michelle
Sanford (Woodbridge) a fine 41-09 in the Triple Jump, and Chaunte Howard (North, Riverside)
a 19-07 Long Jump titlest. Girls weight winners were Rachel Varner (Bakersfield) 48-04.5 and
Billie Jo Grant (Arroyo Grande) 170-08.

2003

The 2003 was a stunner! Xavier Carter from Florida, Allyson Felix's senior year "going out"
efforts, prep history's best ever Boys 3200 was headed once again by Wisconsin's Chris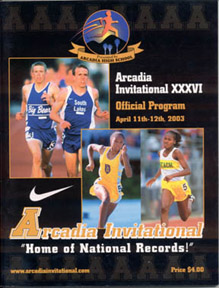 Solinsky, with Long Beach Poly's Girls taking four relays including a stunning all-time 800
medley blazer, highlighted the amazing night. North of Riverside added an amazing 14.4 or so
average for the Shuttle Hurdle Relay to take down the prep all-time best there!

Xavier Carter from Florida was legendary in the South and he brought his act West for Arcadia.
No male athlete had ever taken the 100, 200, and 400 in this meet, with the racing order 100,
400, and 200. Against a super group in the 100, Carter raced past LB Poly's Derrick Jones
(10.44) and North Carolina's eventual National Record Holder over 100m, J-Mee Samuels (10.49
here as a soph), to a 10.38 win that showed an amazing blend of power and speed. In the 400
event Carter faced a good group, but made a "glide-move" between 250 and 300 meters to
power away from the mortals on the way to a 46.72 win. It was not thought possible, but Carter
came back to crank 20.85 in the slight rain that fell near the end of the Meet. One of the best
evenings in the history of the competition. Fellow sprinter Allyson Felix (LA Baptist) cranked
11.29 to take the 100m and 22.97 in the 200, matching Marion Jones' "threepeat" in the sprints.
Prep history's greatest 3200 had Chris Solinsky towing a super group through 8 laps with an
8:43.24 win, as four were under 8:50, and eleven total under 9:00 in an amazing sight to behold
if one was a distance fan.

The Long Beach Poly girls were awesome with four relay wins. In Friday's Relay session the
Jackrabbits gave a serious go at the 800 medley relay, which is a 100-100-200-400 event. With
Shalonda Solomon cranking a mid 51 second anchor leg the Poly crew blased the old record of
right at 1:42.0 with an amazing 1:38.37 run!! An unreal effort that added to the Meet's haul of
National Records over the years. Poly added a 45.01 400m Relay on Saturday with a 3:43.03
1600m baton win. The Long Beach Poly Boys' group took the 400m Relay (41.40) and 1600m
(3:15.77) baton events.

Coach Charles Leathers' North HS of Riverside squad showed their amazing depth, racing an
impressive 57.49 with a squad of Gayle Hunter, Dominique Manning, Ashlee Brown, and Lili
Calhoun to break the old record by more than a second (58.89 Palm Beach Lakes FL 1998).

Brittany Daniels (West, Tracy) was 42-00 to take the Girls Triple Jump, with Utah's Amy
Menlove a surprise 19-11 Girls Long Jump titlest. Jessica Pressley (Laguna Creek) 49-10.25
(Girls Shot) and Billie Jo Grant, another Discus win for Arroyo Grande at 178-08, headed the
Girls weight events, with Virginia's Steve Huntzinger (64-01.5) and Leif Arrenhius (continuing
the family string from Utah at 209-06 in the Discus) the Boys winners. Super talent Mike
Morrison (New Jersey) impressed with a 7-03 High Jump win and 24-03.5 Long Jump champ.
Donovan Kilmartin (Idaho) was a 16-06 Vault winner.

A ton of other folks flew during the two days. Kathleen Trotter (New Jersey) was 4:48.62 to
win the 1600, with Megan Kaltenbach (Colorado) 10:25.01 for a third 3200 win. Ashlee Brown
(North, Riverside) had a fine hurdle double of 13.95 (100mH) and 43.01 (300mH). San Pasqual
had a fine 11:58.80 Girls Distance Medley effort.

2004

Another cranking affair started out the Olympic year and the outdoor season. The Long Beach
Poly girls on Friday rolled once again to a National Record, this time in the oft-run 4x200 relay,
with Shana Solomon, Jasmine Lee, Shana Woods, and anchor Shalonda Solomon taking down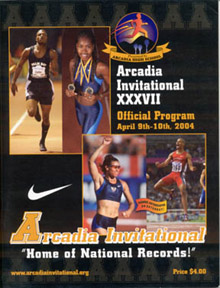 the old prep best by .64 with an amazing 1:33.87 clocking. This was part of a a sweep of the
4x100 through 4x800 relay by the super Jackrabbit squad. Shalonda Solomon followed her
record relaying with a fine 11.50 100m triumph. On Saturday the Poly Girls raced 44.95 for the
4x100 and 3:36.43 for the 4x400, both #6 All-Time prep marks as part of a frightening weekend
of racing!

Elzie Coleman (Newburgh Academy, New York) took the Boys 200 and 400 21.49 and blazed a
46.25 400 win over one Ted Ginn of Ohio, who has gone to be quite a star at Ohio State in
Football. A great close to the Boys meet had Glenville, Long Beach Poly, and Newburgh
(closing fast with Coleman) in the 4x400, with Poly a winner 3:16.94-3:16.95 (Glenville) and
3:17.42 (Newburgh).

Katelyn Kaltenbach (Colorado) won a battle of National Cross Country Champions with Zoe
Nelson (Wyoming), 10:20.39-10:23.70. Andrew Bumbalough (Kentucky) took a great 3200 at
8:49.87 over New Mexico's Shadrack Kiptoo (8:52.56), with four others under 9:00. Ryan Deak
(Colorado) tok the Mile over Washington's Laef Barnes 4:12.22-4:13.13. West Catholic
(Philadelphia) was sharp in the Girls 400 with Nicole Leach 53.58 and the 800 with Latavia
Thomas 2:07.51 romping over the fields!!

On the field Erica McLain (Texas) was a fine 43-00.5 Triple Jump winner, with Washington's
Nate Rolfe moving up a place from the previous year with his 204-00 first throw Discus win.
Gayle Hunter (North, Riverside) had a towering 20-07.75 Long Jump win. Megan Howard
(Arroyo Grande) was a 48-04 Shot Put winner with Centennial of Bakersfield's Melissa Faubus a
170-01 Discus victory.

Don Lugo (Chino) had a fine double in the Boys' 4x1 mile (17:23.67) and Distance Medley
Relay (10:16.94)., with San Pasqual adding a Girls 11:55.16 Distance Medley win.

2005

"Arcadia riddles Nike List of US Leaders," was the DyeStat.com headline for the 2005 Arcadia
Meet. Event after even featured solid efforts that set the tone for the national outdoor season.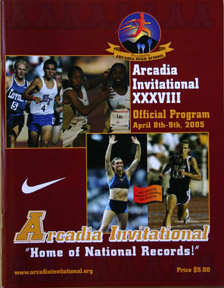 Exciting speedster events up through the 400 lead the action! Long Beach Poly (41.03) and
Rancho Cucamonga (46.65 Girls) led the opening one lap relay. Sa'de Williams off that RC
team flew the rest of the evening, with a 53.56 400 win over Bianca Knight of Mississipi,andshe
came back for a 23.63 200m triumph. Jamere Holland (Taft) raised some eyebrows with a win
over J-Mee Samuels (North Carolina) at 10.52 in the 100, with a determined Samuels a 21.10
200m winner. Samuels went on later in the year to set a National Prep best of 10.08 in the 100.
David Klech (California, SRV) was a fine hurdle doubler, prefacing his 2006 flyer with a 36.28
300m Hurdles win and 14.13 Highs victory.

Bre Felnagle of Washington burned the final half lap in 31 during her impressive 4:48.42 Mile
win that was the top outdoor time in the nation for the year, with Ken Cormier of Arizona a
4:12.67 Boys winner. Chris Barnicle of Massachusetts was the Two Mile winner at 8:56.20,
with Kelly Parrish of Florida the Girls champ there ina fine 10:27.65. The West Catholic of
Philadelphia Girls squad took three relay titles during the weekend, closing with a fine 3:42.52
4x400 win, with Latavia Thomas from the group racing a fine 2:06.76 800m win. Upstart frosh
athlete, Yasmin Woodruff from St. Mary's of Inglewood was 11.75 in an upset Girls 100
triumph, with Brittany Daniels (West, Tracy) a fine 43-11 Triple Jump win and 19-05 Long Jump
victory. David Gettis (Dorsey, LA) was powerful in a 46.81 400 meter win, then anchored a fine
3:11.49 Dorsey 4x4 winning squad. The Corona del Mar Girls flew the Distance Medley event
to win at 11:51.66, among prep history's quickest ever and a Meet Record. Ryan Whiting of
Pennsylvania was an impressive weight doubler, with a 66-03 Shot Put and 199-07 Discus
winner!

2006

The 2006 was another classic affair on a beautiful Southern California weekend. An impressive
six Meet Records went down on a Saturday evening session rarely matched in intensity, with
good Open and Friday relay action!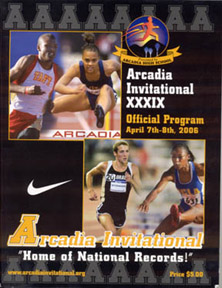 David Kletch (California) with the long orange socks flew in the 300 hurdles, throwing caution
to the wind with the breeze down the backstretch behind him, racing ahead by an amazing
distance over each after the first flights of the event to break the finish beam in a breathtaking
35.45, prep history's #4 clocking ever, interestingly his best time of the year as he was later
injured. Klech took the Highs at 13.97 into the wind. Other stars abounded! Bryshon Nellum
of Long Beach Poly ran down Colorado's JT Scheuerman in the 400 46.20-46.24 in a great race,
with the Poly group taking the 4x100 (40.83), 4x200 (1:26.92), and 4x400 (3:14.90) relay events,
Nellum prominent in each of those runs. The Poly Girls added 1:36.80 4x200 and 3:40.47 4x400
wins, with Shana Woods anchoring there to go with her 14.06 100 Hurdles win and 41.90 300
meter barrier championship run.

Jamere Holland (Taft) rolled in the sprints, blazing a personal best 10.36 wind legal lifetime best
just after Jahvid Best (Salesian) had raced 10.39w in the Seeded section. Anne St. Geme
(Corona del Mar) and super frosh Jordan Hasay (Mission College Prep) headlined the Girls
distance events. St. Geme set a tough early pace on the way to a 4:46.10 Mile win, then
anchored the #7 US All-Time Distance Medley winning squad that set a Meet Record with an
11:42.86 run. Hasay, long golden braids bouncing, caught the crowd's fancy and was given a
standing ovation the last lap of her dominating 10:07.56 3200 win that took down age 14 and
frosh records all the way up through the universal level! Michael Coe (Cabrillo) set a torrid early
pace and ended with a fine 4:08.14 mile win. Arizonan Kenyanna Wilson took the Girls 100 in a
super 11.48. AJ Acosta (El Camino, Oceanside) raced a fine 8:51.30 3200, with Farrell of New
York a fine distance relay double of 7:55.90 (4x800 Friday) and 10:17.28 (Distance Medley
Saturday). Royal of Simi Valley clocked a fine 17:19.31 4xMile to head Friday's baton session!
Darius Savage (Morse) was a super 206-04 in the Boys Discus to start Saturday evening's show
and added a 60-04.5 Shot win. Zuheir Sharif (Franklin, Elk Grove) was 50-02 in the Triple Jump
and 23-06 in the Long Jump. Wayne of Ohio added its annual Shuttle Hurdle Boys win at
61.42. Fine Girls field event efforts went to Claremont's Ashika Charan 41-05.5 in the Triple
Jump and Tori Anthony (Castilleja), at 13-02 in the Pole Vault.