Arcadia Friday





LB Poly gets a USR 1:28.43 in the 800 SMR, capped by Bryshon Nellum's 45.6 anchor





April 6, 2007 Arcadia CA High School



DyeStat on-site coverage



Event Summary by Dave Devine - Pictures by John Dye - Results - Marc Davis Video with Poly boys USR and interview

Blazin' Bryshon Highlights 8 US#1's at Friday's Blazin' Batons
By Dave Devine


Arcadia, CA - As the sun dropped and the California night turned cooler, Bryshon Nellum and his Long Beach Poly teammates heated things up at the 40th annual Arcadia Invitational. The Friday night relay events at Arcadia are billed as the Blazin' Batons, and it doesn't get much hotter than a new national record.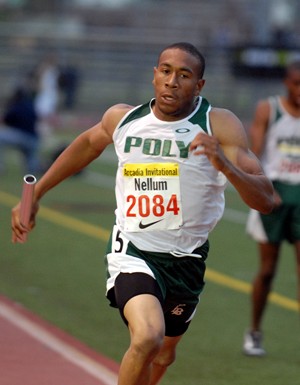 In the Boys 800 Medley Relay, Nellum (left) took the stick from 200m leg Joey Hughes (21.3) and ripped into the initial turn of his 400m anchor with meet announcer Matt Farmer alerting the crowd that a 46.5 split was necessary for the Jackrabbits to topple Glenville Heights' 2003 national record. Ohio superstar Tedd Ginn anchored that 1:28.95 showing; the question buzzing through the bleachers as Nellum blistered down the backstretch was whether he could produce the split required to take down the record.

"I could hear [the announcer]," Nellum said after the race. "I was just trying to maintain my speed."

Maintain he did, closing down the homestretch in 45.6 to slice a half second off the four year-old time with a new US record of 1:28.43.

While Long Beach Poly was the only squad to bring down a national mark, the night was packed with national leading times. In all, eight different relay teams scored US#1 times.

The Xavier Prep AZ girls got things off to a great start with their US-leading 9:02.99 4x800 win over a tough Eleanor Roosevelt MD team (9:04.98). Minutes later, the La Sierra CA boys came back with a US#1 of their own, riding a 1:53.2 anchor leg by Dylan Knight to turn back Silverado NV (Sean Zurko 1:51.2) and drop a 7:44.90.

All four sprint medley relays produced yearly list-leaders as well, including Long Beach Poly's USR, Cheyenne NV in the Boys' 1600 sprint medley relay (3:31.29), and Logan CA in both the Girls' 800 medley relay (1:43.42, with an devastating 54.1 anchor by ninth grader Thandi Stewart) and the Girls' 1600 sprint medley (4:00.98).

The final two invitational events on the track offered the seventh and eighth US leaders of the night. Crescenta Valley CA's Claire Collison (5:02.3) brought her teammates home to a 4xMile title and the top time in the country with a 20:47.10. The boys from El Toro CA followed suit, getting the baton to anchor Abdow Haji 30 meters clear of the pack, then watching him spin out the lead to a US#1 17:53.59 victory.

Other first night highlights included:
Eleanor Roosevelt MD taking first in the 4x200 (1:38.57) and two seconds (in the 4x800 and the 800 medley relay)
George Washington CO winning the boys 4x200 with a quick 1:27.70
Brophy Prep AZ taking the boys' shuttle hurdle relay in 59.28 and Muir (CA) taking the girls' in 1:01.87.
Long Beach Poly Boys set National Record 1:28.43 in 800 meter Sprint Medley


A brilliant 45.60 anchor by Bryshon Nellum (left) brought the green and white clad Poly Boys home a half second better than the old national record (1:28.95 by Ted Ginn's Glenville Heights OH in 2003).

photos by John Dye

Eleanor Roosevelt MD invades California
The girls of Eleanor Roosevelt MD were favored in five events from 4x200 to 4xMile. In early action, they lost the 4x800 to Xavier AZ but beat SoCal power Wilson Long Beach in the 4x200 as Eleanor Roosevelt's Takecia Jameson (blue in photo below) held off Wilson Long Beach's Shelise Williams by 0.05 second, 1:38.57 to 1:38.62.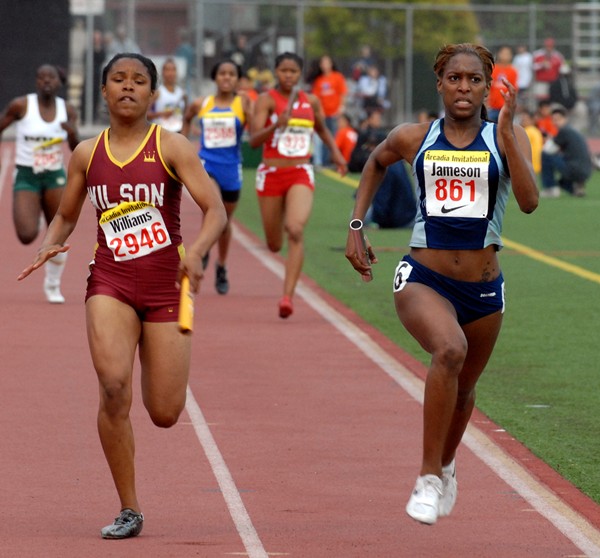 results by Royal Results and EPI Sports
FRIDAY NIGHT
#EPISports_Results_Maincontainer table , #EPISports_Results_Maincontainer { padding-left: .5em; font-family: Arial; font-size: 12px; text-decoration: none; font-weight: normal; white-space: normal; width: 800px; } #EPISports_Results_Maincontainer table.EPISports_Results { width: 650px; } #EPISports_Results_Maincontainer div.EPISports_Results_Event_Header { padding-top: 5px; } #EPISports_Results_Maincontainer div.EPISports_Results_Event_Header a { font-weight: bold; color: #1e62aa; text-decoration: underline; } #EPISports_Results_Maincontainer div.EPISports_Results_Event_Header a:hover { color: #ca610d; } #EPISports_Results_Maincontainer thead tr.EPISports_Results_Header { font-weight: bold; text-decoration: underline; } #EPISports_Results_Maincontainer #EPISports_Logo { float: right; }
| | | |
| --- | --- | --- |
| 1 | Great Oak | 9:32.84 |
| 2 | Madera | 9:33.93 |
| 3 | Serrano | 9:35.88 |
| 4 | Eleanor Roosevelt Hs 'b' | 9:37.65 |
| 5 | Corona | 9:38.99 |
| 6 | San Marcos | 9:39.31 |
| 7 | Ruyton Girls School 'b' | 9:40.85 |
| 8 | Lakewood | 9:41.30 |
| 9 | Crystal Sprngs | 9:47.20 |
| 10 | Claremont | 9:49.56 |
| 11 | Upland | 9:49.57 |
| 12 | Wilson-hh | 9:52.50 |
| 13 | Inglemoor High School | 9:53.38 |
| 14 | Indian Hills Track | 9:54.93 |
| 15 | Sacred Hrt Chr | 9:59.51 |
| 16 | Escondido High School | 10:04.03 |
| 17 | Garfield | 10:17.16 |
| 18 | Arcadia | 10:18.75 |
| 19 | Eleanor Roosevelt Hs 'c' | 10:21.03 |
| | | |
| --- | --- | --- |
| 1 | Xavier College Prep | 9:02.99 |
| 2 | Eleanor Roosevelt Hs | 9:04.98 |
| 3 | Bishop O'dowd | 9:12.15 |
| 4 | Poly Lb | 9:14.52 |
| 5 | Ruyton Girls School | 9:16.88 |
| 6 | Iona Prepursuline School | 9:27.02 |
| 7 | Harvard-westlk | 9:30.34 |
| 8 | Mountain Ridge High School | 9:31.71 |
| 9 | Lutheran Orange | 9:34.37 |
| 10 | Fairfield | 9:38.41 |
| 11 | Vista Murrieta | 9:40.52 |
| 12 | Gunn | 9:41.67 |
| 13 | Clovis | 9:45.52 |
| 14 | Fountain Vlly | 9:46.89 |
| 15 | Cimarron-memorial High School | 9:48.06 |
| 16 | South Pasadena | 9:57.77 |
| | | |
| --- | --- | --- |
| 1 | San Lorenzo Vl | 8:02.67 |
| 2 | Servite | 8:02.87 |
| 3 | Torrance | 8:04.92 |
| 4 | Esperanza | 8:07.53 |
| 5 | Garfield | 8:08.27 |
| 6 | Escondido High School | 8:10.16 |
| 7 | Granite Bay | 8:12.84 |
| 8 | Serrano | 8:12.85 |
| 9 | Madera | 8:13.29 |
| 10 | La Salle | 8:16.34 |
| 11 | Paramount | 8:16.38 |
| 12 | San Pedro | 8:21.24 |
| 13 | Maria Carillo | 8:22.35 |
| 14 | Shaker High School | 8:24.80 |
| 15 | Poly Lb | 8:27.95 |
| 16 | Fairfield | 8:30.21 |
| 17 | Inglemoor High School | 8:33.05 |
| 18 | Clara Barton High School | 8:37.99 |
| 19 | Horizon High School | 8:39.22 |
| 20 | Glendora | 8:42.38 |
| 21 | Shenendehowa High School | 8:44.44 |
| 22 | Palo Alto | 8:48.69 |
| | | |
| --- | --- | --- |
| 1 | La Sierra | 7:44.90 |
| 2 | Silverado High School | 7:46.12 |
| 3 | Santa Margarit | 7:51.51 |
| 4 | Indian Hills Track | 7:57.31 |
| 5 | Cheyenne Central | 7:58.25 |
| 6 | Monsignor Farrell | 7:59.48 |
| 7 | Upland | 7:59.79 |
| 8 | Dana Hills | 7:59.86 |
| 9 | Great Oak | 7:59.93 |
| 10 | Oak Park | 8:00.69 |
| 11 | Arcadia | 8:02.41 |
| 12 | Lakewood | 8:03.54 |
| 13 | Iona Prepursuline School | 8:04.35 |
| 14 | Strongsville High School | 8:07.57 |
| 15 | James Logan High School | 8:08.24 |
| 16 | Vista Murrieta | 8:09.92 |
| 17 | Battle Mountain High School | 8:11.84 |
| | | |
| --- | --- | --- |
| 1 | Edison | 1:31.37 |
| 2 | Oceanside | 1:32.14 |
| 3 | Muir | 1:32.16 |
| 4 | Lawndale | 1:33.44 |
| 5 | Warren | 1:34.00 |
| 6 | Agoura | 1:34.74 |
| 7 | La Salle | 1:35.04 |
| 8 | Madera | 1:35.87 |
| 9 | Glendora | 1:40.82 |
| | | |
| --- | --- | --- |
| 1 | Cimarron-memorial High School | 1:31.73 |
| 2 | Alta Loma | 1:31.86 |
| 3 | Santa Rosa | 1:31.86 |
| 4 | Cerritos | 1:32.08 |
| 5 | Shenendehowa High School | 1:33.71 |
| 6 | Paso Robles | 1:33.84 |
| 7 | Inglemoor High School | 1:35.23 |
| 8 | Vista Murrieta | 1:35.24 |
| -- | Pittsburg | DQ |
| | | |
| --- | --- | --- |
| 1 | Diamond Ranch | 1:29.05 |
| 2 | Carson | 1:31.64 |
| 3 | Cheyenne High School Track And | 1:31.93 |
| 4 | Gahr | 1:32.00 |
| 5 | Crenshaw | 1:34.11 |
| 6 | Garfield High School | 1:35.85 |
| | | |
| --- | --- | --- |
| 1 | George Washington High | 1:27.70 |
| 2 | Rancho Cucamonga | 1:28.61 |
| 3 | James Logan High School | 1:29.04 |
| 4 | Desert Vista | 1:30.02 |
| 5 | Middletown High School | 1:30.66 |
| 6 | Poly Lb | 1:30.91 |
| 7 | Strongsville High School | 1:31.01 |
| | | |
| --- | --- | --- |
| 1 | Edison | 1:46.24 |
| 2 | Centennial | 1:47.26 |
| 3 | Inglemoor High School | 1:49.18 |
| 4 | Eleanor Roosevelt Hs 'c' | 1:49.61 |
| -- | Xavier College Prep | DNF |
| | | |
| --- | --- | --- |
| 1 | Los Altos | 1:42.90 |
| 2 | Bear Creek | 1:43.58 |
| 3 | Knight | 1:45.66 |
| 4 | Fountain Vlly | 1:45.67 |
| 5 | Claremont | 1:46.27 |
| 6 | Cypress | 1:46.56 |
| 7 | Los Gatos | 1:47.33 |
| 8 | Etiwanda | 1:48.06 |
| 9 | Redlands | 1:49.62 |
| | | |
| --- | --- | --- |
| 1 | Poly Lb 'b' | 1:42.16 |
| 2 | Vallejo | 1:42.58 |
| 3 | Eleanor Roosevelt Hs 'b' | 1:43.96 |
| 4 | Carson | 1:45.47 |
| 5 | Wilson 'b' | 1:46.82 |
| 6 | Menlo Atherton | 1:48.05 |
| 7 | St. Mary's Academy 'b' | 1:48.50 |
| 8 | Harvard-westlk | 1:48.69 |
| 9 | Garfield High School | 1:49.18 |
| | | |
| --- | --- | --- |
| 1 | Eleanor Roosevelt Hs | 1:38.57 |
| 2 | Wilson | 1:38.62 |
| 3 | Centennial-com | 1:41.72 |
| 4 | Poly Lb | 1:42.13 |
| 5 | St. Mary's Academy | 1:42.51 |
| 6 | Rancho Cucamonga | 1:45.73 |
| | | | |
| --- | --- | --- | --- |
| 1 | Canyon-cc | 61.95 | 1 |
| 2 | Torrey Pines | 63.21 | 1 |
| 3 | Sultana | 65.37 | 1 |
| 4 | Marina | 66.25 | 2 |
| 5 | Mt. Pleasant | 66.32 | 1 |
| 6 | Mira Costa | 66.74 | 2 |
| 7 | Muir | 67.87 | 2 |
| | | |
| --- | --- | --- |
| 1 | Diamond Ranch | 63.29 |
| 2 | Notre Dameso | 63.95 |
| 3 | Poly Lb | 64.41 |
| 4 | La Quintalq | 67.32 |
| | | |
| --- | --- | --- |
| 1 | Brophy Prep. | 59.28 |
| 2 | Vista Murrieta | 62.20 |
| 3 | Fordham Prep Hs | 63.67 |
| 4 | San Jacinto | 64.19 |
| | | | |
| --- | --- | --- | --- |
| 1 | Murrieta Vally | 61.95 | 1 |
| 2 | Great Oak | 65.34 | 1 |
| 3 | Vista Murrieta | 66.23 | 1 |
| 4 | Saugus | 68.56 | 1 |
| 5 | Cypress | 69.12 | 2 |
| 6 | Upland | 72.31 | 2 |
| 7 | Huntington Bch | 74.83 | 2 |
| -- | Harvard-westlk | DQ | 2 |
| | | |
| --- | --- | --- |
| 1 | Muir | 61.87 |
| 2 | Ridgewood High School | 62.55 |
| 3 | Mission Viejo | 63.46 |
| 4 | Oak Ridge | 68.02 |
| | | |
| --- | --- | --- |
| 1 | Poly Lb | 1:28.43 |
| 2 | Carson | 1:34.23 |
| 3 | Los Alamitos | 1:35.79 |
| 4 | Shenendehowa High School | 1:36.22 |
| 5 | Middletown High School | 1:37.08 |
| 6 | Crenshaw | 1:37.78 |
| 7 | Inglewood | 1:38.02 |
| 8 | Inglemoor High School | 1:39.53 |
| 9 | James Logan High School | 1:40.05 |
| | | |
| --- | --- | --- |
| 1 | Great Oak | 3:41.39 |
| 2 | San Lorenzo Vl | 3:41.80 |
| 3 | Knight | 3:42.79 |
| 4 | South Pasadena | 3:44.84 |
| 5 | Walnut | 3:45.03 |
| 6 | Maria Carillo | 3:45.30 |
| 7 | Indio | 3:46.58 |
| 8 | Serrano | 3:46.60 |
| 9 | Los Alamitos | 3:48.77 |
| | | |
| --- | --- | --- |
| 1 | Dos Pueblos | 3:36.70 |
| 2 | Dana Hills | 3:38.09 |
| 3 | Centennial-com | 3:38.90 |
| 4 | Harvard-westlk | 3:39.20 |
| 5 | Upland | 3:39.64 |
| 6 | Gahr | 3:40.41 |
| 7 | Arch Mitty | 3:42.52 |
| 8 | Shenendehowa High School | 3:51.88 |
| 9 | Shaker High School | 3:52.40 |
| | | |
| --- | --- | --- |
| 1 | Cheyenne High School Track And | 3:31.29 |
| 2 | Vista Del Lago | 3:31.72 |
| 3 | Rancho Cucamonga | 3:32.63 |
| 4 | Cimarron-memorial High School | 3:35.03 |
| 5 | Fairfield | 3:37.70 |
| 6 | Hollywood | 3:39.92 |
| 7 | Paso Robles | 3:40.96 |
| 8 | Ridgewood High School | 3:44.40 |
| 9 | Helix | 3:54.62 |
| | | |
| --- | --- | --- |
| 1 | James Logan High School | 1:43.42 |
| 2 | Eleanor Roosevelt Hs | 1:47.16 |
| 3 | Bishop O'dowd | 1:48.72 |
| 4 | St. Mary's Academy | 1:49.67 |
| 5 | Mt. Eden | 1:53.53 |
| 6 | Inglemoor High School | 1:54.92 |
| 7 | Crenshaw | 1:56.13 |
| 8 | Garfield High School | 1:58.34 |
| | | |
| --- | --- | --- |
| 1 | Los Gatos | 4:12.71 |
| 2 | Serrano | 4:15.80 |
| 3 | Etiwanda | 4:17.53 |
| 4 | Carson | 4:20.60 |
| 5 | Rosary | 4:21.04 |
| 6 | Sultana | 4:27.45 |
| 7 | Eleanor Roosevelt Hs 'c' | 4:45.65 |
| -- | Helix | DQ |
| | | |
| --- | --- | --- |
| 1 | San Lorenzo Vl | 4:12.56 |
| 2 | South Pasadena | 4:15.04 |
| 3 | Saratoga | 4:15.62 |
| 4 | La Quintalq | 4:18.23 |
| 5 | Eleanor Roosevelt Hs 'b' | 4:20.42 |
| 6 | Cimarron-memorial High School | 4:25.01 |
| 7 | Upland | 4:29.33 |
| | | |
| --- | --- | --- |
| 1 | James Logan High School | 4:00.98 |
| 2 | Centennial-com | 4:04.21 |
| 3 | Bishop O'dowd | 4:05.02 |
| 4 | Ramapo High School | 4:05.40 |
| 5 | Eleanor Roosevelt Hs | 4:05.53 |
| 6 | Ridgewood High School | 4:09.21 |
| 7 | Harvard-westlk | 4:13.35 |
| 8 | Xavier College Prep | 4:20.18 |
| 9 | St. Mary's Academy | 4:34.24 |
| | | |
| --- | --- | --- |
| 1 | Ruyton Girls School 'b' | 21:49.25 |
| 2 | King, Ml | 21:51.56 |
| 3 | Ventura | 21:53.59 |
| 4 | Madera | 21:54.47 |
| 5 | Trabuco Hills 'b' | 21:57.09 |
| 6 | Yucca Valley | 21:57.36 |
| 7 | Arroyo Grande | 22:00.13 |
| 8 | Great Oak | 22:02.20 |
| 9 | Warren | 22:08.47 |
| 10 | Redlands | 22:10.30 |
| 11 | Poly Lb | 22:13.92 |
| 12 | Corona | 22:14.98 |
| 13 | El Modena | 22:15.29 |
| 14 | Chaparral | 22:17.29 |
| 14 | Santiago Cor | 22:17.29 |
| 16 | El Toro | 22:17.53 |
| 17 | Upland | 22:24.92 |
| 18 | Los Osos | 22:27.68 |
| 19 | Canyon-ana | 22:32.28 |
| 20 | Brea Olinda | 22:34.80 |
| 21 | Granite Bay | 22:45.60 |
| 22 | Maria Carillo 'b' | 22:55.49 |
| 23 | El Capitan | 23:01.95 |
| 24 | Santiago Cor 'b' | 23:03.15 |
| 25 | Fountain Vlly 'b' | 23:03.85 |
| 26 | Centennial | 23:17.43 |
| 27 | Arcadia | 23:32.83 |
| 28 | Taft | 23:43.90 |
| 29 | San Pedro | 23:47.72 |
| 30 | Bell Gardens | 24:02.60 |
| | | |
| --- | --- | --- |
| 1 | Crescenta Vlly | 20:47.10 |
| 2 | Davis | 20:49.12 |
| 3 | O'connor High School | 21:04.02 |
| 4 | Maria Carillo | 21:09.49 |
| 5 | Ruyton Girls School | 21:15.45 |
| 6 | Los Gatos | 21:18.19 |
| 7 | Simi Valley | 21:21.14 |
| 8 | Ayala | 21:21.64 |
| 9 | Eleanor Roosevelt Hs | 21:23.31 |
| 10 | St. Francis | 21:26.71 |
| 11 | Esperanza | 21:34.45 |
| 12 | Oak Park | 21:35.06 |
| 13 | Murrieta Vally | 21:35.68 |
| 14 | Trabuco Hills | 21:50.75 |
| 15 | Fountain Vlly | 22:00.82 |
| 16 | Dana Hills | 22:11.56 |
| 17 | El Camino | 22:17.61 |
| 18 | Bishop O'dowd | 22:17.92 |
| 19 | Monta Vista | 22:19.11 |
| 20 | San Ramon Vlly | 23:11.89 |
| 21 | Eisenhower H.s. | 23:56.56 |
| | | |
| --- | --- | --- |
| 1 | Brea Olinda | 18:22.83 |
| 2 | Clovis East | 18:24.13 |
| 3 | Galena H.s. | 18:24.66 |
| 4 | Thousand Oaks | 18:24.82 |
| 5 | San Ramon Vlly | 18:26.79 |
| 6 | Rio Mesa | 18:31.38 |
| 7 | El Toro | 18:35.22 |
| 8 | Trabuco Hills | 18:38.99 |
| 9 | Warren | 18:39.04 |
| 10 | Ayala | 18:39.57 |
| 11 | Arcadia | 18:41.13 |
| 12 | Eisenhower H.s. | 18:41.35 |
| 13 | Corona | 18:42.23 |
| 14 | Maria Carillo | 18:43.76 |
| 15 | Oak Ridge | 18:45.64 |
| 16 | Strongsville High School | 19:00.23 |
| 17 | Ventura | 19:00.39 |
| 18 | Colony | 19:00.74 |
| 19 | Shenendehowa High School | 19:01.34 |
| 20 | Mcfarland | 19:01.46 |
| 21 | Woodbridge | 19:02.42 |
| 22 | Garfield | 19:04.94 |
| 23 | El Capitan | 19:05.30 |
| 24 | San Pedro | 19:06.57 |
| 25 | Taft | 19:09.69 |
| 26 | Monsignor Farrell | 19:18.57 |
| 27 | Sacred Hrt Chr | 19:21.84 |
| | | |
| --- | --- | --- |
| 1 | El Toro | 17:53.59 |
| 2 | Oak Ridge 'b' | 17:56.24 |
| 3 | Ventura 'b' | 17:58.89 |
| 4 | Willow Glen | 18:00.17 |
| 5 | Carlmont | 18:00.87 |
| 6 | Horizon High School | 18:02.04 |
| 7 | Chino Hills | 18:02.69 |
| 8 | Madera | 18:03.55 |
| 9 | Arcadia | 18:07.27 |
| 10 | Valencia-pl | 18:10.20 |
| 11 | Dana Hills | 18:11.19 |
| 12 | Shenendehowa High School 'b' | 18:13.75 |
| 13 | Murrieta Vally | 18:15.64 |
| 14 | Cheyenne Central | 18:18.83 |
| 15 | Oak Park | 18:19.18 |
| 16 | Upland | 18:20.01 |
| 17 | Ridgewood High School | 18:27.89 |
| 18 | Crescenta Vlly | 18:32.72 |
| 19 | Sultana | 18:36.51 |
| | | | | |
| --- | --- | --- | --- | --- |
| 1 | Slykhous, Nicole | 12 | Corona Del M | 11:13.66 |
| 2 | Jauregui, Brianna | 10 | Saugus | 11:17.89 |
| 3 | Feng, Jean | 10 | Monta Vista | 11:18.78 |
| 4 | Baird, Erin | 10 | Agoura | 11:19.04 |
| 5 | Kenney, Kalyn | 11 | Temecula Val | 11:21.12 |
| 6 | Moreno, Dani | 9 | Warren | 11:23.31 |
| 7 | Sitker, Margaret | 12 | La Salle | 11:26.56 |
| 8 | Poindexter, Megan | 12 | Clovis | 11:30.52 |
| 9 | Janzen, Chelsea | 9 | Buchanan | 11:30.67 |
| 10 | Murakami, Amber | 9 | Saugus | 11:36.43 |
| 11 | Mcduffee, Maggie | 11 | Fountain Vll | 11:36.78 |
| 12 | Bodenhamer, Jessie | 12 | Torrey Pines | 11:39.74 |
| 13 | Druffel, Cory | 11 | Pullman High | 11:42.42 |
| 14 | Bolce, Katie | 11 | St. Francis | 11:43.87 |
| 15 | Giove, Nicole | 11 | Fountain Vll | 11:49.69 |
| 16 | Ramirez, Leticia | 12 | Rosary | 11:55.95 |
| 17 | Delaney, Brieanna | 11 | Canyon-ana | 11:59.62 |
| 18 | Worsham, Lisa | 12 | Monta Vista | 12:28.93 |
| | | | | |
| --- | --- | --- | --- | --- |
| 1 | Boughton, Matt | 11 | Desert Vista | 9:29.90 |
| 2 | Drosky, Greg | 11 | Las Lomas | 9:31.40 |
| 3 | Conway, Chris | 11 | Desert Vista | 9:32.00 |
| 4 | Yochum, Will | 12 | Dos Pueblos | 9:32.60 |
| 5 | Jacobs, Brad | 12 | Saratoga | 9:33.10 |
| 6 | Gallagher, Kyle | 11 | Sultana | 9:33.50 |
| 7 | Schmidt, Simon | 10 | Redondo | 9:34.40 |
| 8 | Van Halen, Aric | | Oakwood High Sch | 9:34.50 |
| 9 | Buscho, David | 12 | San Rafael | 9:35.40 |
| 10 | Kris, Brown | 12 | Garfield Hig | 9:39.40 |
| 11 | Dorantes, Luis | 11 | Whittier | 9:39.50 |
| 12 | Salg, Andy | | Grant High Schoo | 9:39.90 |
| 13 | Velasquez, Brandon | 11 | Otay Ranch H | 9:40.00 |
| 14 | Hawkes, Sam | 12 | St. Joseph-n | 9:40.90 |
| 15 | Joshi, Ankur | 11 | Indio | 9:41.10 |
| 16 | Brill, Eric | 12 | Kentwood Hig | 9:42.90 |
| 17 | Dyson, Eric | 11 | Fountain Vll | 9:44.80 |
| 18 | Durell, Kenny | 11 | Davis | 9:45.90 |
| 19 | Donahue, Scott | 12 | Jesuit | 9:49.60 |
| 20 | Mcelroy, Matt | 9 | Edison-hb | 9:51.20 |
| 21 | Rhoton, Clinton | 12 | Cedar High S | 9:51.90 |
| 22 | Doolittle, Spencer | 11 | Ayala | 9:52.20 |
| 23 | Mcdonald, Charlie | | Seattle Prep | 9:53.00 |
| 24 | Schelling, Josh | 11 | Galena H.s. | 9:56.00 |
| 25 | Woodward, Erik | 12 | Desert Vista | 9:56.60 |
| 26 | Krakaski, Kyle | 11 | Brophy Prep. | 9:57.50 |
| 27 | Walker, Andrew | | Seattle Prep | 9:58.00 |
| 28 | Castillo, Mario | 10 | Warren | 9:58.70 |
| 29 | Wolfsmith, Lance | 10 | Sobrato | 9:59.40 |
| 30 | Wolfe, Taylor | 11 | Snohomish Hs | 10:08.50 |
| 31 | Kalinowski, Danny | 11 | Mira Costa | 10:17.90 |
| 32 | Liedtke, Zach | 12 | Eisenhower H | 10:44.30 |
| | | | | |
| --- | --- | --- | --- | --- |
| 1 | Azubuike, Kc | 12 | Chino Hills | 164-05 |
| 2 | Morcilio, Josh | 12 | Yucca Valley | 162-01 |
| 3 | Rodriguez, Louis | 12 | La Puente | 161-05 |
| 4 | Kephart, Don | 12 | Acalanes | 159-00 |
| 5 | Correa, Jesus | 12 | Rosemead | 158-01 |
| 6 | Ellis, Collin | 11 | Bakersfield | 157-11 |
| 7 | Torres, Oscar | 12 | Paso Robles | 156-09 |
| 8 | Slater, Justin | 12 | La Sierra | 154-03 |
| 9 | Dannewitz, Ryan | 11 | San Jacinto | 149-09 |
| 10 | Garcia, Eduardo | 12 | Rubidoux | 149-04 |
| 11 | Bailey, Joe | 11 | Logan James | 148-02 |
| 12 | Pendelton, Jake | 10 | Esperanza | 147-10 |
| 13 | Arnold, Dustin | 12 | Sonora | 147-04 |
| 14 | Austin, Sam | 12 | Nipomo | 145-07 |
| 15 | Quirke, Colin | 11 | Los Gatos | 143-04 |
| 16 | Galpin, Jake | 11 | Huntington B | 142-08 |
| 17 | Lehauli, Lawrence | 10 | Paramount | 139-02 |
| 18 | Devries, Eric | 11 | Hemet | 136-05 |
| 19 | Cioni, Shane | 11 | Upland | 136-01 |
| 20 | Cotton, Jerrell | 12 | Knight | 130-06 |
| 21 | Drummond, Trevor | 11 | Lodi | 106-00 |
| -- | Sigala, Chance | 9 | Clovis | Foul |
| -- | Gabbard, Stephan | 12 | Huntington B | Foul |
| | | | | |
| --- | --- | --- | --- | --- |
| 1 | Altizer, Jeff | 12 | Thousand Oak | 14-07.00 |
| 2 | Matoesian, Justin | 12 | Crespi | 14-01.00 |
| 3 | Coscino, Blake | 11 | Dana Hills | 14-01.00 |
| 4 | Ostrom, Ethan | 11 | West Valley | 14-01.00 |
| 5 | Creighton, Chris | 11 | Whitney | 14-01.00 |
| 6 | Astor, Jeff | 12 | Loyola | 13-07.00 |
| 6 | Vale, Josh | 12 | Shenendehowa | 13-07.00 |
| 6 | Jacobs, Kyle | 12 | Shenendehowa | 13-07.00 |
| 6 | Faulkenberry, Justin | 11 | Centennial | 13-07.00 |
| 6 | Quillan, Lyle | 12 | Clovis East | 13-07.00 |
| 6 | Stone, Eric | 12 | Arcadia | 13-07.00 |
| 6 | Woodard, Tyler | 12 | Canyon-cc | 13-07.00 |
| 6 | Myers, Andy | 12 | Diamond Ranc | 13-07.00 |
| 6 | Millias, Stephanos | 12 | San Ramon Vl | 13-07.00 |
| 15 | Brown, Dusty | 11 | St. Paul | 13-01.00 |
| 15 | Simioni, Ryan | 11 | Edison-hb | 13-01.00 |
| 15 | Strawitz, Kyle | 11 | Notre Dames | 13-01.00 |
| 18 | Kilpatrick, Brandon | 12 | Snohomish Hs | 12-07.00 |
| 18 | Phillips, Nico | 11 | Rancho Cucam | 12-07.00 |
| -- | Orlandi, Andrew | 12 | Monsignor Fa | NH |
| -- | Reckas, Ben | 12 | Coalinga | NH |
| -- | Kitka, James | 11 | Thousand Oak | NH |
| -- | South, Rith | 11 | Wilson | NH |
| | | | | |
| --- | --- | --- | --- | --- |
| 1 | Beighton, Katelyn | 12 | Los Alamitos | 11-07.00 |
| 2 | Kasai, Sarah | 12 | Glendora | 10-07.00 |
| 3 | Brown, Jennifer | 12 | Rancho Cucam | 9-07.00 |
| 4 | Liberatore, Camille | 10 | Palisades | 9-07.00 |
| 4 | Fowler, Athena | 10 | Dana Hills | 9-07.00 |
| 6 | Shibel, Amy | 12 | Notre Dames | 9-07.00 |
| 7 | King, Kristina | 11 | Mira Costa | 9-07.00 |
| 8 | Schartz, Elizabeth | 11 | Upland | 9-07.00 |
| 9 | Hines, Amber | 12 | Wilson | 9-01.00 |
| 10 | Nguyen, Melissa | 10 | Glendora | 8-07.00 |
| 10 | Rapp, Nicole | 11 | Chino Hills | 8-07.00 |
| | | | | |
| --- | --- | --- | --- | --- |
| 1 | Wallace, Breanna | 12 | Yuba City | 37-10.50 |
| 2 | Franklin, Maddie | 11 | Arroyo Grand | 36-08.00 |
| 3 | Murphy, Kyleah | 9 | Yucca Valley | 36-04.00 |
| 4 | Tuiotimariner, Christy | 12 | Corona | 36-02.25 |
| 5 | Chirbas, Faith | 12 | Granite Bay | 35-08.00 |
| 6 | Francis, Alex | 11 | Notre Dames | 35-07.50 |
| 7 | Ooten, Kim | 12 | Rancho Verde | 35-03.25 |
| 8 | Guerrieri, Lauren | 12 | Davis | 34-10.75 |
| 9 | Logel, Valerie | 12 | El Capitan | 34-07.50 |
| 10 | Leckina, Rithy | 10 | Stagg | 34-07.00 |
| 11 | Walker, Taylor | 11 | Pullman High | 33-11.75 |
| 12 | Mccray, Shelby | 12 | La Salle | 33-05.25 |
| 13 | Moton, Antanisha | 10 | Knight | 32-10.50 |
| 14 | Lynch, Elizabeth | 10 | Cimarron-mem | 32-02.75 |
| 15 | Mckee, Meagan | 9 | Santa Tersa | 31-01.25 |
| 16 | Robusto, Jordan | 12 | Upland | 28-08.25 |
| 17 | Laulu, Minetta | 11 | Paramount | 26-11.25 |
| | | | | | |
| --- | --- | --- | --- | --- | --- |
| 1 | Valdez, Alex | 11 | Schurr | 21-11.50 | 2.0 |
| 2 | Campos, Pedro | 12 | University C | 21-05.50 | 8.3 |
| 3 | Burks, Philip | 11 | Royal | 21-05.25 | 0.9 |
| 3 | Spriggs, Edward | 12 | Gardena | 21-05.25 | 1.5 |
| 5 | Aubery, Daniel | 12 | Alta Loma | 21-05.00 | -0.6 |
| 6 | Lu, Xiao | 12 | Temple City | 21-04.00 | 2.9 |
| 7 | Young, Elliot | 12 | Torrance | 21-02.75 | 1.3 |
| 8 | Russell, Terrance | 12 | Narbonne | 20-11.75 | 2.5 |
| 9 | Moore, Maurice | 12 | Pittsburg | 20-10.50 | 1.2 |
| 10 | Gillett, Cameron | 11 | La Mirada | 20-06.75 | 2.0 |
| 11 | Garcia, Andre' | 12 | Buhach Colon | 20-02.25 | 0.9 |
| 12 | Hudson, Michael | 11 | Paramount | 20-00.50 | 0.8 |
| 13 | Hudson, Austin | 12 | Muir | 19-09.25 | 1.1 |
| 14 | Hopson, Jordan | 12 | Trabuco Hill | 19-08.50 | +0.0 |
| 15 | Culver, Justin | 12 | Knight | 19-07.50 | 0.9 |
| 16 | Swanson, Dan | 12 | Strongsville | 19-01.25 | 2.0 |
| 17 | Hanson, Matt | 12 | Oak Ridge | 18-11.75 | 1.5 |
| 18 | Battle, Avory | 12 | Desert Vista | 18-11.25 | 1.8 |
| 18 | Dawkins, Rodney | 12 | San Jacinto | 18-11.25 | +0.0 |
| 20 | Bansbach, Kevin | 10 | Cimarron-mem | 18-10.75 | -0.3 |
| -- | Mcclain, Billy | 12 | Mt. Eden | Foul | NWI |
| | | | | |
| --- | --- | --- | --- | --- |
| 1 | Armstrong, Shannnon | 11 | Oaks Christi | 5-01.00 |
| 2 | Horton, Janea | 10 | Edison | 5-01.00 |
| 2 | Schafer, Stephanie | 11 | Monte Vista | 5-01.00 |
| 4 | Sliva, Nicole | 11 | Arch Mitty | 5-01.00 |
| 4 | Ballentine, Samantha | 10 | Lodi | 5-01.00 |
| 6 | Johnson, Tayler | 9 | Oak Park | 5-01.00 |
| 7 | Pate, April | 11 | Carter | 5-01.00 |
| 8 | Mitchell, Audrey | 10 | Murrieta Val | 5-01.00 |
| 9 | Fitzpatrick, Erica | 12 | San Pedro | 4-11.00 |
| 9 | Rosa, Jessica | 12 | Miller, A.b. | 4-11.00 |
| 9 | Scales, Christine | 11 | Los Gatos | 4-11.00 |
| 9 | Somervill, Kayla | 10 | Hemet | 4-11.00 |
| 9 | Westland, Katie | 12 | Tesoro | 4-11.00 |
| 9 | Lane, Jenn | 11 | St. Joseph-n | 4-11.00 |
| 15 | Stanton, Shenelle | 12 | Carson | 4-09.00 |
| 15 | Steadman, Linda | 10 | Logan James | 4-09.00 |
| 15 | Nicolaisen, Sarah | 12 | Ka'u High S | 4-09.00 |
| 15 | Conley, Casey | 12 | Cypress | 4-09.00 |
| -- | Jenkins, Jasmine | 10 | La Salle | NH |
| -- | Kinsey, Leandria | 12 | Carson | NH |
| -- | Linton, Briauna | 11 | Narbonne | NH |
| -- | Panzarello, Chelsea | 11 | Lodi | NH |
| | | | | | |
| --- | --- | --- | --- | --- | --- |
| 1 | Le Flore, Natalie | 11 | La Mirada | 37-02.00 | 1.6 |
| 2 | Broomfield, Gabriel | 11 | Sonora | 36-00.75 | 1.8 |
| 3 | Alexander, Alana | 10 | Centennial | 36-00.25 | 0.6 |
| 4 | Woods, Tianna | 11 | Poly Lb | 35-09.00 | 1.6 |
| 5 | Lott, Aisha | 11 | Arch Mitty | 35-05.25 | -0.1 |
| 6 | Oyewole, Michelle | 12 | Galt | 35-04.75 | -0.3 |
| 7 | Hanson, Tai | 12 | Upland | 34-11.75 | 2.2 |
| 8 | Oatis, Lauren | 11 | Chino | 34-10.75 | 0.2 |
| 9 | Smith, Lakeisha | 11 | Poly Lb | 34-10.25 | 1.0 |
| 10 | Edwards Van Muijen, Abig | 11 | Monte Vista | 34-08.00 | 1.9 |
| 11 | Dubois, Gabby | 11 | Wilson | 34-05.50 | 1.6 |
| 12 | Law, Kim | 10 | Dana Hills | 34-05.00 | +0.0 |
| 13 | Panzarello, Chelsea | 11 | Lodi | 34-00.00 | 1.4 |
| 14 | Leung, Elise | 11 | Monta Vista | 33-10.75 | 1.4 |
| 15 | Sorensen, Bonnie | 12 | Huntington B | 33-08.25 | 0.8 |
| 16 | Dunivant, Sydney | 11 | Burroughsbu | 33-06.25 | +0.0 |
| 17 | Nirivanah, Konsty | 12 | Madera | 32-03.50 | 3.0 |
| 18 | Daniels, Ria | 11 | Cimarron-mem | 32-02.00 | +0.0 |
| -- | Leggett, Kacey | 11 | Knight | Foul | NWI |
| | | | | |
| --- | --- | --- | --- | --- |
| 1 | Egelhoff, Matt | 10 | Rancho Cotat | 6-03.00 |
| 2 | Sharpe, Jules | 10 | Oaks Christi | 6-03.00 |
| 3 | Russell, Terrance | 12 | Narbonne | 6-01.00 |
| 4 | Mcclain, Kellan | 11 | Granite Bay | 6-01.00 |
| 5 | Thayer, Adam | 12 | Brophy Prep. | 6-01.00 |
| 6 | Popelar, Evan | 12 | Dana Hills | 6-01.00 |
| 6 | Burley, Isaac | 12 | Sultana | 6-01.00 |
| 8 | Perez, Trent | 11 | Servite | 6-01.00 |
| 9 | Elbashir, Sadiq | 12 | Logan James | 6-01.00 |
| 10 | Maybury, Zac | 11 | Rio American | 6-01.00 |
| 10 | Lillywhite, Spencer | 12 | Folsom | 6-01.00 |
| 10 | Pappas, Rob | 11 | Leigh | 6-01.00 |
| 13 | Lacour, Skylar | 10 | Rancho Verde | 5-11.00 |
| 13 | Schur, Sam | 11 | St. Joseph-n | 5-11.00 |
| 13 | Sanchez, Roberto | 12 | San Marcos | 5-11.00 |
| 13 | Souza, Mike | 11 | El Camino | 5-11.00 |
| 13 | Maraj, Vijay | 11 | Yucca Valley | 5-11.00 |
| 13 | Brown, Ronald | 11 | Beaumont | 5-11.00 |
| 13 | Bowie, Trevonne | 12 | Palmdale | 5-11.00 |
| 20 | Dysick, Cory | 12 | Brophy Prep. | 5-09.00 |
| -- | Larocca, Mike | 11 | Dana Hills | NH |
| | | | | |
| --- | --- | --- | --- | --- |
| 1 | Vankomen, Travis | 12 | Davis High S | 55-09.50 |
| 2 | Sida, Jose | 12 | Hemet | 53-05.25 |
| 3 | Morcilio, Josh | 12 | Yucca Valley | 52-03.00 |
| 4 | Spencer, Neil | 12 | Cimarron-mem | 52-00.00 |
| 5 | Weintraub, Jacob | 12 | Redondo | 51-01.00 |
| 6 | Probasco, Alex | 12 | Mira Costa | 50-05.50 |
| 7 | Kephart, Don | 12 | Acalanes | 50-02.25 |
| 8 | Grosky, Kyle | 11 | Esperanza | 49-11.50 |
| 9 | Austin, Sam | 12 | Nipomo | 49-07.00 |
| 10 | Demartinis, Sam | 12 | Notre Dames | 49-05.00 |
| 11 | Schwendtner, James | 11 | Shenendehowa | 49-01.25 |
| 12 | Prandini, Mark | | Clovis | 48-11.25 |
| 13 | Ferrigno, Brent | 11 | Notre Dames | 48-09.75 |
| 14 | Mckelvey,pj | 12 | West Torranc | 48-09.00 |
| 15 | Peterson, Nick | 12 | Canyon-cc | 48-06.50 |
| 16 | Frantzich, Herm | 12 | Clovis | 47-06.00 |
| 17 | Sugishita, Ken | 11 | Arroyo Grand | 47-00.50 |
| 18 | Galpin, Jake | 11 | Huntington B | 46-10.00 |
| 19 | Godinez, Guillermo | 11 | Upland | 46-00.75 |
| 20 | Sanders, Jordan | 11 | Burbank | 45-09.25 |
| 21 | Thurston, Brandon | 11 | Inglemoor Hi | 45-02.50 |
| 22 | Huitt, Vince | 11 | Downey | 44-11.00 |
| 23 | Wilson, Kyle | 12 | Arroyo Grand | 44-05.50 |
| 24 | Lehauli, Lawrence | 10 | Paramount | 43-02.00 |
| | | | | |
| --- | --- | --- | --- | --- |
| 1 | Agwuenu, Ify | 12 | Ayala | 138-01 |
| 2 | Gutierrez, Samantha | 11 | Tchs Track A | 133-11 |
| 3 | Hammar, Rachel | 11 | Buhach Colon | 131-01 |
| 4 | Turner, Ashley | 11 | West Valley | 125-05 |
| 5 | Kuschner, Rachel | 12 | Harvard-west | 122-04 |
| 6 | Nawab, Gina | 11 | Mt. Carmel | 119-08 |
| 7 | Dailey, Sina | 11 | Mission Viej | 118-11 |
| 8 | Francis, Alex | 11 | Notre Dames | 118-06 |
| 9 | Roth, Molly | 11 | Mira Costa | 117-00 |
| 10 | Doherty, Nicole | 12 | Trabuco Hill | 116-10 |
| 11 | Miller, Janeen | 11 | Clovis | 116-05 |
| 12 | France, Brittany | 12 | Trabuco Hill | 115-06 |
| 13 | Dennis, Kimberly | 12 | St. Lucy's | 114-08 |
| 14 | Olsen, Janelle | 12 | Burroughrid | 113-10 |
| 15 | Boggeln, Laura | 12 | Huntington B | 105-09 |
| 16 | Carter, Erica | 12 | Dana Hills | 105-03 |
| 17 | Dunford, Allison | 12 | Davis High S | 102-08 |
| 18 | Bass, Emily | 12 | Helix | 101-05 |
| 19 | Caldwell, Liz | 12 | Helix | 100-11 |
| 20 | Lynch, Elizabeth | 10 | Cimarron-mem | 99-10 |
| 21 | Williams, Jahne | 12 | Knight | 99-09 |
| 22 | Dixon, Rebecca | 12 | Upland | 96-10 |
| 23 | Tovi, Luiji | 9 | Upland | 92-08 |
| 24 | Mayanascik, Christy | 11 | Upland | 92-05 |
| | | | | | |
| --- | --- | --- | --- | --- | --- |
| 1 | Liu, Tiffany | 12 | Corona Del M | 17-11.25 | 1.4 |
| 2 | Leroy, Bree | 11 | Gig Harbor T | 17-08.50 | 0.6 |
| 3 | Hudson, Olivia | 9 | Wilson | 17-05.25 | 1.5 |
| 4 | Broomfield, Gabriel | 11 | Sonora | 16-09.25 | 1.1 |
| 5 | Roessler, Bethany | 12 | Xavier Colle | 16-04.75 | 0.8 |
| 6 | Clayton, Courtney | 12 | Mayfield | 16-04.00 | 0.7 |
| 7 | Mia, Pasini | 11 | San Marcos | 16-02.50 | 1.7 |
| 8 | Richards, Atira | 10 | Harvard-west | 16-01.25 | 0.9 |
| 8 | Le Flore, Natalie | 11 | La Mirada | 16-01.25 | 0.8 |
| 10 | Barnes, Shawnta | 9 | Bell Gardens | 16-01.00 | 0.7 |
| 10 | Orange, Kiyoko | 10 | Logan James | 16-01.00 | 0.5 |
| 12 | Edwards Van Muijen, Abig | 11 | Monte Vista | 16-00.00 | 1.1 |
| 13 | Silletto, Ashley | 12 | Tesoro | 15-11.25 | 1.8 |
| 13 | Todd, Monica | 9 | Trabuco Hill | 15-11.25 | 0.3 |
| 15 | Yates, Jessica | 12 | Snohomish Hs | 15-09.75 | 1.2 |
| 16 | Smith, Lakeisha | 11 | Poly Lb | 15-03.50 | 0.9 |
| 17 | Hanson, Tai | 12 | Upland | 14-10.00 | 1.1 |
| 18 | Henry, Ashley | 9 | Rancho Cucam | 14-07.00 | 1.3 |
| 19 | Cuerington, Samantha | 10 | La Salle | 14-00.75 | 1.1 |
| | | | | | |
| --- | --- | --- | --- | --- | --- |
| 1 | Dejongh, Ethan | 11 | Mt. Whitney | 44-06.75 | 1.2 |
| 2 | Cheatam, Aaron | 12 | Brophy Prep. | 43-07.00 | 1.3 |
| 3 | Kern-wilson, Seagram | 12 | Bear Creek | 43-05.75 | 1.5 |
| 4 | Mays, Aaron | 12 | Rubidoux | 43-02.75 | 2.2 |
| 5 | Marchall, Jai | 12 | Warren | 42-09.75 | 0.7 |
| 6 | Henry, Da Juan | 12 | Valley Chr. | 42-05.25 | 2.4 |
| 7 | Miller, Sean | 12 | Iona Prepur | 42-03.75 | 2.2 |
| 8 | Hopson, Jordan | 12 | Trabuco Hill | 42-03.00 | 0.2 |
| 9 | Culver, Justin | 12 | Knight | 41-10.25 | 2.7 |
| 10 | Bongers, Jacob | 12 | Harker | 41-08.75 | 1.6 |
| 11 | Sutter, Justin | 10 | Granite Bay | 41-05.50 | 1.6 |
| 12 | Reyes, Matt | 11 | Galt | 40-06.00 | 1.1 |
| 13 | Rome, Kyle | 12 | Shenendehowa | 40-04.25 | 3.1 |