800 Sprint Medley





Arcadia Invitational





April 6-7, 2007 Arcadia CA High School



DyeStat on-site coverage



Results - photos by John Dye

| | |
| --- | --- |
| Poly 1:28.43 USR! | James Logan 1:43.42 |
| | |
Poly LB Boys have an explosive anchor in Bryshon Nellum, run a USR 1:28.43
B-800 Sprint Medley
As Long Beach Poly 100m leadoff Evant Orange folded into the blocks in lane 5, the crowd was already buzzing about a possible national record shot. He handled his stick duties well, getting a clean handoff to #2 man Isaiah Green, who shot up the backstretch to a waiting Joey Hughes. Around Green, contenders like Logan CA and Middletown OH were already falling off. Hughes broke things open on the 200 leg with a 21.3 PR, getting the baton to Bryshon Nellum well clear of Crenshaw High and with a fighting chance at Glenville Heights OH's 2003 record of 1:28.95.

Tellingly, just as Nellum rounded the curve toward home, the stadium lights flickered on to illuminate the record attempt. Nellum looked relaxed but focused as he closed on the finish line with an electrifying 45.6 anchor that sliced a half second off the old mark. As his team celebrated their 1:28.43 USR at the end of the track, one of them could be heard repeating a question to Bryshon, making sure he'd heard him correctly.

"You said 45 was easy?"

Nellum just nodded and embraced his squad. It might not have been easy, but he made it look that way.
G-800 Sprint Medley
Eleanor Roosevelt was back in action for the special 800 medley section. They and Logan CA were both out well, with O'Dell CA and St. Mary's Academy CA moving up to contend at the handoff to the 400 anchor. The race looked to be a barnburner at that point, but no one had an answer for Logan's frosh phenom Thandi Stewart, who ran 54.24 as an eighth grader. Stewart dropped a stellar 54.1 anchor here to gap the field, take the 1:43.42 win for her Logan teammates, and relegate the Greenbelt MD squad to a 1:47.16 and their second relay silver.

By Dave Devine

Results
Boys
Poly anchor exchange - Joey Hughes hands off to Bryshon Nellum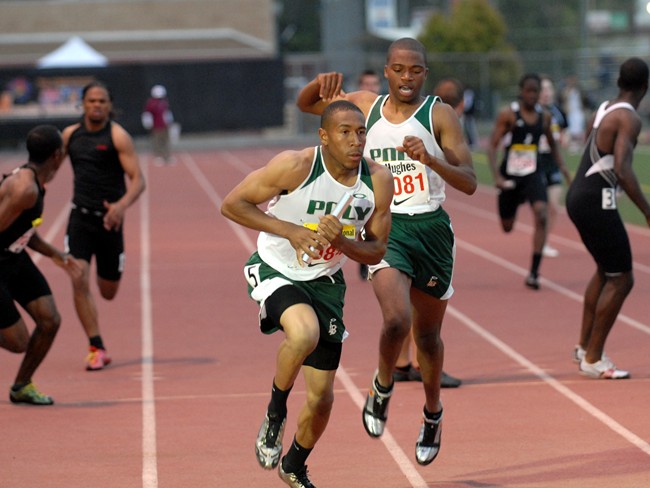 Licensed to Royal Results - Contractor License
                                        Hy-Tek's Meet Manager 4/6/2007 08:02 PM
                  Arcadia Invitational - 4/6/2007 to 4/7/2007                  
                              Arcadia High School                              
                                    Results                                    
 
Men 800 Sprint Medley Invitational
=========================================================================
    School                                               Seed     Finals 
=========================================================================
  1 Poly (Lb)  'A'                                    1:32.00    1:28.43  
     1) Green, Isaiah 12                2) Orange, Evant 11               
     3) Hughes, Joey 11                 4) Nellum, Bryshon 12             
  2 Carson  'A'                                       1:33.80    1:34.23  
  3 Los Alamitos  'A'                                 1:33.00    1:35.79  
     1) Feighner, Wes 11                2) Soto, Derrick 12               
     3) Henderson, Sean 11              4) Washington, Brantynn 11        
  4 Shenendehowa High School  'A'                     1:34.00    1:36.22  
     1) Campoli, Chris 12               2) Riberty, Tyler 11              
     3) Whitaker, Seth 12               4) Fogarty, Tyler 12              
  5 Middletown High School  'A'                       1:33.10    1:37.08  
     1) Conley, Daryl 11                2) Amos, Tylor 12                 
     3) Hunter, Dj 10                   4) Howard, Marc 12                
  6 Crenshaw  'A'                                     1:40.20    1:37.78  
     1) Carter, Raymond 12              2) Bradford, Andre' 12            
     3) Blu-Smith, Elijah 12            4) Johnson, Moriah 10             
  7 Inglewood  'A'                                    1:33.55    1:38.02  
     1) Freeman, David 11               2) Crowder, Javon 12              
     3) McDonald, Dondre 12             4) Warren, Darryl 10              
  8 Inglemoor High School  'A'                        1:38.90    1:39.53  
     1) Kozol, Jonny 12                 2) Mukai, Mickey 11               
     3) Palmer, Andy 11                 4) Victor, Austin 11              
  9 James Logan High School  'A'                      1:32.67    1:40.05  
     1) Wethington, Keagan 12           2) Powell, Quentin 12             
     3) Sangco, Bobby 12                4) Gaines, Jonathon 11            

James Logan anchor exchange - Victoria Humphrey hands off to Thandi Stewart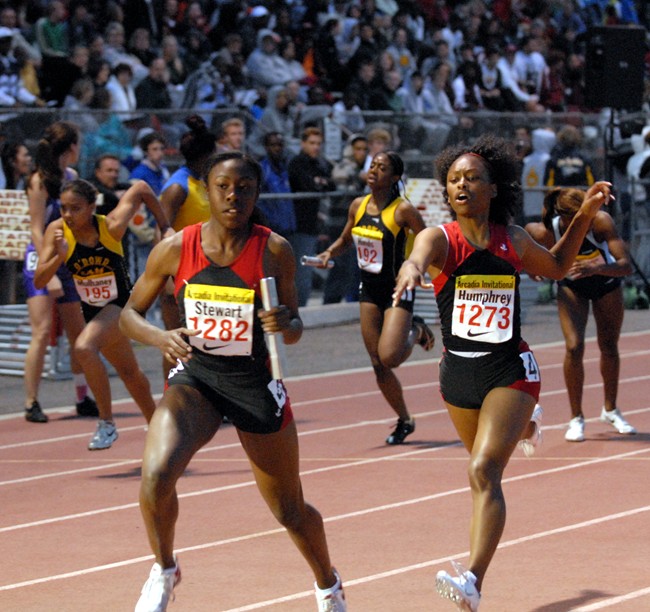 Licensed to Royal Results - Contractor License
                                        Hy-Tek's Meet Manager 4/6/2007 08:23 PM
                  Arcadia Invitational - 4/6/2007 to 4/7/2007                  
                              Arcadia High School                              
                                    Results                                    
 
Women 800 Sprint Medley Invitational
=========================================================================
    School                                               Seed     Finals 
=========================================================================
  1 James Logan High School  'A'                      1:44.78    1:43.42  
     1) Johnson, Victoria 9             2) Powell, Donnise 10             
     3) Humphrey, Victoria 12           4) Stewart, Thandi 9              
  2 Eleanor Roosevelt HS  'A'                         1:44.00    1:47.16  
     1) Anyanwu, Doris 10               2) McCammon, Jenea 10             
     3) Jameson, Takecia 12             4) Stanley, Tasha 11              
  3 Bishop O'Dowd  'A'                                1:48.10    1:48.72  
     1) gibbs, jordan 10                2) toler, morita 12               
     3) Mulhaney-Banks, Shane 11        4) Hinds, Jennifer 12             
  4 St. Mary's Academy  'A'                           1:56.00    1:49.67  
     1) Price, Charnel 9                2) Chatman, Lateen 12             
     3) Curtis, Jasmine 10              4) Fabien, Anisha 10              
  5 Mt. Eden  'A'                                     1:48.27    1:53.53  
     1) Clark, Sharonda 11              2) Rodriguiz, Itzia 11            
     3) Parker, Kamilah 12              4) Garrett, Cherrelle 12          
  6 Inglemoor High School  'A'                        1:49.20    1:54.92  
     1) Chapin, B 12                    2) Dillard, A 12                  
     3) Finch, Lindsay 11               4) Hall, A 10                     
  7 Crenshaw  'A'                                     1:52.30    1:56.13  
     1) Davis, Kiana 10                 2) Desiree, White 11              
     3) Grisby, Leslie 11               4) James, Marshia 11              
  8 Garfield High School  'A'                         1:50.20    1:58.34  
     1) Means, Chathren 11              2) Sonza, Sierra 11               
     3) Harrison, McKinsey 11           4) White, Chorlett 11