300 Hurdles





Arcadia Invitational





April 6-7, 2007 Arcadia CA High School



DyeStat on-site coverage



Results -
Jackie Coward 41.66

for a hurdle double

Jeshua Anderson 35.75

US#9 all time

photos by John Dye

B-110 and 300 Hurdles
The boys' hurdle events saw another pair of flip-flop finishes, with Terry Prentice (Diamond Ranch CA) taking the 110s over Jeshua Anderson (Taft CA), and Anderson flipping the script on Prentice over the longer distance. Prentice was all alone over the last barrier in the high hurdles, snapping his lead leg down and closing hard for a US#2 13.77 that was 2-tenths up on Anderson's 13.96. Anderson had something left for the 300 hurdles though, where he ran the sort of aggressive race many expected, and produced history's #9 all-time high school mark with his 35.75 dismantling of the field. The talented Prentice was nearly a full second back, finishing as runner-up in 36.74.

G-300 Hurdles
Jacquelyn Coward (Knoxville West TN), already a champion in the girls' 100 meter hurdles, became the night's only individual double winner with her 41.66 win in the longer hurdle event. Long Beach Poly sophomore Turquoise Thompson, who anchored her 4x100 squad to a title earlier in the night, kept things interesting with a hard-closing finish in lane 8, but Coward had the advantage all the way over the last barrier, blowing across the line well clear of Thompson's 41.96.
By Dave Devine

Results
Boys
 
Licensed to Royal Results - Contractor License
                                        Hy-Tek's Meet Manager 4/7/2007 09:02 PM
                  Arcadia Invitational - 4/6/2007 to 4/7/2007                  
                              Arcadia High School                              
                                    Results                                    
 
Men 300 Meter Hurdles Seeded
=========================================================================
    Name                    Year School                  Seed     Finals 
=========================================================================
  1 Stephone, Jordan          11 Garfield Hig           38.64      37.96  
  2 Yowell, Jacob             12 North Torran           38.50      38.00  
  3 McOmber, Josh             12 West Valley            38.59      38.24  
  4 Paris, Robbie             11 Santa Monica           39.05      38.96  
  5 Walker, Devron            11 Dominguez              39.00      39.62  
  6 Birchard, Casey           11 Murrieta Val           39.19      40.64  
  7 Carter, Deleon            11 West                   38.60      42.45  
  8 Hines, Alfred             12 Poly (Lb)              38.44      45.97  
 
Men 300 Meter Hurdles Invitational
=========================================================================
    Name                    Year School                  Seed     Finals 
=========================================================================
  1 Anderson, Jeshua          12 Taft                   36.26      35.75  
  2 Prentice, Terry           12 Diamond Ranc           37.06      36.74  
  3 Habberstad, Trevor        12 Canyon-CC              38.22      37.99  
  4 Hersey, Eric              12 Los Altos              37.34      38.38  
  5 Young, Kendrick           12 Clovis East            38.30      39.09  
  6 Polk, Ray                 11 Brophy Prep.           38.12      39.60  
  7 Shaw, Maurice             12 Colony                 38.29      40.39  
 -- Vale, Josh                12 Shenendehowa           38.00        DNF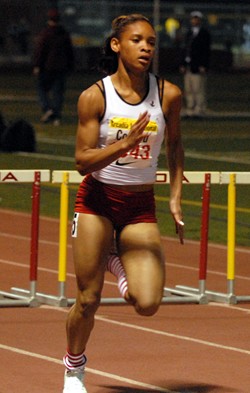 Women 300 Meter Hurdles Seeded
=========================================================================
    Name                    Year School                  Seed     Finals 
=========================================================================
Section  1  
  1 Baysinger, Jasmine        12 Miller, A.B.           45.16      44.75  
  2 Taylor, Chelsea           11 Mission Viej           45.05      44.89  
  3 Mulhaney-Banks, Shane     11 Bishop O'Dow           44.46      45.16  
  4 Collins, Kelly            11 Santa Margar           45.03      45.54  
  5 Armstrong, Brittany       10 Centennial-C           45.20      45.66  
  6 Truluck, Imani            11 Malibu                 45.16      46.01  
  7 Roy, Natalie              12 Mission Viej           45.18      47.11  
  8 Blanchard, Sasha          11 La Reina               45.15      47.44  
  9 Baltimore, Ashtynn        10 Marlborough            44.78      47.83  
 
Women 300 Meter Hurdles Invitational
=========================================================================
    Name                    Year School                  Seed     Finals 
=========================================================================
  1 Coward, Jacquelyn         11 Knoxville We           41.32      41.66  
  2 Thompson, Turquoise       10 Poly (Lb)              43.03      41.96  
  3 Jameson, Takecia          12 Eleanor Roos           42.00      42.77  
  4 Youngblood, Jamesha       12 Hercules               41.72      43.14  
  5 Forbes, Shannon           12 Peninsula              44.20      43.75  
  6 Profit, Kiani             12 Muir                   41.79      45.34  
  7 Pearson, Lyndsay          11 San Marcos             44.17      45.92