by Doug Speck
DyeStatCal co-editor and Arcadia track announcer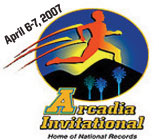 If you are a track fan this weekend the action is at Arcadia HS for the Friday-Saturday Arcadia Invitational. Some great relay action on Friday, super Open competition during the day on Saturday, and a great Invitational portion Saturday evening. Hope to see you there, with below ten reasons why if you are a track fan you had better have a pretty darn good excuse if you are some place else!!

1) Women's Triple Jump
With National Indoor Prep Record Holder Ke'Nyia Richardson (Holy Names, Oakland) time to go back to the "drawing board" and the practice runway and pit since her destruction of the Prep Indoor Record of 43-11.5 by Juliana Yendork (Walnut, Ca) from 1991 with a 44-06.75 bomber at the National Scholastic Indoor Meet in mid-March, some good stuff should be on the horizon outdoors!! With the 44-06.75 "not the perfect jump," Ke'Nyia will look for that outdoors starting this weekend, with a good group in tow in the chase for the 44-11.75 National Outdoor Record by Brittany Daniels (Merrill West, Tracy) from 2004. Jamesha Youngblood (Hercules) was 42-02.5 to take the Nike Indoor Title in March, with Briana Stewart (Logan) 41-06, Vashti Thomas (Mt. Pleasant) 40-06.75, Taylor Nichols (Stockdale, Bakersfield) 40-05, and Amanda Hunter (Marlborough) 40-00.25 help to make up prep history's deepest ever April Invitational fields!!
2) Women's 100 Meter Hurdles
Wow! The National Indoor record holder will battle a fast-improving West Coast crew for national barrier bragging rights!! Jacquelyn Coward (West, Knoxville, Tennessee) had a stunning indoor season, taking down the old 8.33 National 60 Meter Hurdles record held by Nichole Denby (North, Riverside) and New Jersey's Charmaine Walker, twice, first to 8.29, then a mind-boggling 8.17. Remember Denby ran 13.20 outdoors at the 100 meter hurdle distance, so Coward's 13.59 from last season as a best should drop significantly this spring, possibly this weekend! Charles Ryan, a Golden Stater who prepped in the Bay Area and was at UCLA before heading east to the University of South Carolina coaches Coward. Vashti Thomas (Mt. Pleasant, San Jose) impressed with a 13.46 run last weekend at Stanford, the #4 California performance ever, among the top twenty all-time, and one of the fastest March prep times ever run with hers a 2006 Nation Leading effort! Defending California State Champ Julian Purvis (St. Elizabeth, Oakland) (13.60) had a good indoor season, with Ke'Nyia Richardson over here from the Triple Jump pit with a 13.88, and Dahlys Marshall (Valley Christian, San Jose) 13.90 last weekend for third at Stanford. Washington's best, Devin Brooks (Holy Names, Seattle) was 13.93 (13.86w) last May while taking the state title, with half a dozen such sub 14 second hurdlers never gathered nationally in the same field in early April before. Coward was second here last year to Shana Woods, so she wants a winner's watch this go-round!!
3) Women's Pole Vault
Anytime Tori Anthony (Castilleja, Palo Alto) steps on the vault runway this year during her senior year "farewell prep tour," one had better keep a close eye out on the action. Tori cleared 14-02.5 this winter indoor season for an All-Time Prep Best Indoors or Outdoors, and with some good support here she may be able to take it higher! She was a 13-06.5 National Scholastic Indoor Championship winner a few weeks back, and there is a good field to challenge! National Soph Record Holder (13-05.75) Allison Stokke (Newport Harbor) looks to be vaulting with confidence, a 13-01 clearance a week ago, with Natasha Barthel (St. Francis, Mountain View) 12-10, and Emily Mattoon (Rancho Bernardo) 12-07 leading a good pack.
4) Women's Two Mile
A great eight lap field is led by last year's champion, Jordan Hasay (Mission College Prep, San Luis Obispo), with the central coast star hot off a National Federation 1600 record a week ago of 4:39.13, which took down an over 20 year old prep standard!! Last year Hasay set a National Frosh Record with her 10:07.56 3200 meter run, with a 10:04.07 National Soph Class Record already this spring! A great group will be on the track with Jordan, with Christy Adamyk (Glendora) 10:19.83 and Marie Lawrence (Reno, Nv) 10:20.95, among the country's best. State 1600 champ Christine Babcock (Woodbridge) undefeated and much improved this Fall in Cross Country before shutting her season down, may move up to run here, which would be interesting. A ton of others will break through to super clockings as the blond-tassled Hasasy helps take the pacers through the laps. Only three prep Women have ever broken 10:00 outdoors for 3200 meters, with the National Two Mile Record (the full distance the group is running here) 10:01.08 by Molly Huddle (NY) from 2002.
5) The Sprints!!
Always a meet favorite are the dash events as folks sort out bragging rights over the short events and relays. On the Girls' side a frosh star is impressively grabbing recent headlines as the race for "California's fastest prep" goes on, an honor that means no small amount when in recent decades one looks at the exploits all the way to the Olympic level of former Golden Staters like Florence Griffith-Joyner, Marion Jones, Gail Devers, and the like! Ashton Purvis (St. Elizabeth, Oakland) had fine age-group credentials, but she put together a shocking winter indoor season, which included a wholesale destruction of the former Prep Frosh 200 meter Record with a 23.55 in the National Scholastic Indoor meet (Marion Jones ran 24.40 at the same age). Purvis just edged in ahead of senior Cherrelle Garrett (Mt. Eden) 11.64-11.65 last week in a 100 at Stanford, with Garrett leading a movement of Purvis's elders to keep the youngster in her place in both sprints!!
On the Boys' side a great series of sprint events features Brandon Saine (Piqua, Ohio) 10.38 and 20.74w last year and "Mr. Football" in his state this fall on the way after signing to play football at The Ohio State University. He will meet Cal Berkeley signee Jahvid Best (Salesian, Richmond), an open winner here last year at 10.39w (Piqua was third Invitatonal 10.54 in 2006 here). Dondre McDonald (Inglewood) has run 10.68 and last week focused on the half-lap event and recorded a Nation-Leading 21.22.
The above dashes and the relays up through the 4x4 will be super exciting!!
6) Women's One Mile
A National Federation Record and only be a half-dozen down the list! It could very well happen here, with a dynamite four lap group led by some flyers!! Alex Kosinski (Oak Ridge, El Dorado Hills) moved quickly to the head of the national class this winter, with a Nike Indoor Nationals Mile win over thought to be invincible Danielle Tauro (NJ). The Sac Joaquin star has continued her momentum outdoors, last weekend at Stanford relaying a 4:40 1600 meter split while racing away from the pack during a thirteen second team win, then following up with a 2:07.4 800 meter leg, showing pretty impressive leg speed! She will battle with a great group led by defending State 1600 meter champ Christine Babcock (Woodbridge, Irvine) 4:41.29 last June, who was far and a way a better runner this past Fall Cross Country season (where she was the State Division II Champ with Kosinski, coming back from injury, was second). Shannon Murakami (Saugus) is among the nation's top half dozen at four laps with her 4:43.04 best, so do not exclude her from any "top-end" calculations!
7) Men's Hurdle Races
Dynamite fields will gather here. Jeshua Anderson (Taft, Woodland Hills) exploded a couple of weeks back to a 36.26 300 Meter Hurdle clocking, stunning for mid-March! He leads the country and looks for competition. Terry Prentice (Diamond Ranch, Pomona) was 36.79 last year and 36.88 last week in chasing Anderson's 36.47, with Terry out easy, seeming to measure the Taft star, with Anderson one of those hurdlers who seems to fly and take the hurdles as they come in fine style! Their 300 barrier contest here will be a classic.
Before the long hurdles, there will be a great 110 Meter High's contest. Prentice, the State Champ, was 13.59 last year and 13.99 last weekend with surprising Maurice Shaw (Colony, Ontario) close at 14.08! Ray Stewart (Logan, Union City) raced a wind-legal National Best 13.91 to win last weekend at Stanford, with Jeshua Anderson (Taft) 14.13, Ray Polk (Brophy, Arizona) 14.17, and Ohio's Skylar Jones (Middletown) 14.13 last year to help make one of the top High's gatherings in one of these parts in recent years!!
8) Eleanor Roosevelt High School of Maryland
Friday this east-coast power has put together relays on the Women's side at a higher quality than any team in Meet History, and their squad will spill over into Saturday's action! The Roosevelt program has long been a super one, with special momentum over the last couple of years, with all running events from the sprints up through the 5k Cross Country distance covered in fine style. At the recent Nike Indoor Nationals they took the 4x2 (1:39.86) , 4x4(3:45.02), 4x8 (9:07.31), and Distance Medley Relay (11:48.68) Relays in a spectacular sweep. They have qualified for the Nike Team National Championships in Cross Country over the 5k distance for the last two years, and were the nation's dominant team this past winter indoor track and field season! They are a classy group whose success seems to belie their mild manner. We have had the pleasure to watch them in East Coast Nike Indoor and Outdoor Championship action over the last couple of years and now we can enjoy them locally!! Now California and the rest of the country ain't going to give it all away easy, so they had better come to run, but me still thinks they be downloadin' a lot of metal from the carry-ons before they go through the airport security x-rays on the way home. They will be fun to watch and they have a ton of great people!!
9) Two Lap Action!!
Both Men's and Women's fields are frightening!!
On the Boys' side, if someone can clear out the traffic a tad and get out at 1:22.0 through the 600 like Cory Primm (Westlake) was last weekend, someone will go under 1:50! Primm (Westlake, Westlake Village) is the state champ at 1:50.53, and was a cranking 1:50.60 solo last weekend, and he looks for competition. We think he will find it Saturday, with Washington's Isak Bergman (Ellensburg) last year's Golden West Invite Champ at 1:50.68, and North Carolina's Dylan Ferris (1:51.95) one place ahead of Primm in the recent Nike Indoor Nationals. Ryan Gamboa (Upland) 1:51.67, Rocky Richardson (Madera) 1:52.33, and Sean Zurko (Silverado, Las Vegas, Nv) 1:52.39 will be tough!!
Four sub-2:10 stars lead the Women's side, with Carlmont's Justine Federonic hot lately off a 2:09.59 two weeks back and 4:55.29 1600 win at Stanford. From around the state Emily Dunn (Esperanza, Anaheim) looks ready to fly (2:09.32 2006), with Dominique Jackson (Fairfield 2:08.25 2006), and Mia Lattanzi (Palo Alto) (2:09.61 2006) hoping to fend off a talented crew, including new Arizona State record holder Natalie Johnson (Xavier College Prep - 2:10.80) and talented frosh star Thandi Stewart (Logan), who was 2:11 in middle school!!
10) Men's Pole Vault
The Men are high-flying also in this competition, with a good group of 16 foot or better stars! Casey Roche (St. Francis, Mountain View) was an amazing 17-05 last summer for one of the top underclass vaults ever, with a 16-06 win last weekend at Stanford. Nico Weiler (Los Gatos) has been over 16-06 this winter and had a National Scholastic Indoor win in March! Reno's Cameron Kroll was 16-04.75 for a personal best last weekend, with Arizona's Shea Kearney (Desert Vista) 16-02 and Jeremy Loshinske (Brophy Prep) 16-00. Add Placer's Connor Landry at 16-00 and a half dozen at 16 feet or better sounds super!!
See you there!!!