100/110 Hurdles





Arcadia Invitational





April 6-7, 2007 Arcadia CA High School



DyeStat on-site coverage



Results -

Jackie Coward 13.60 MR, Terry Prentice 13.77

Jackie Coward (center) edges ahead of Vashti Thomas (right)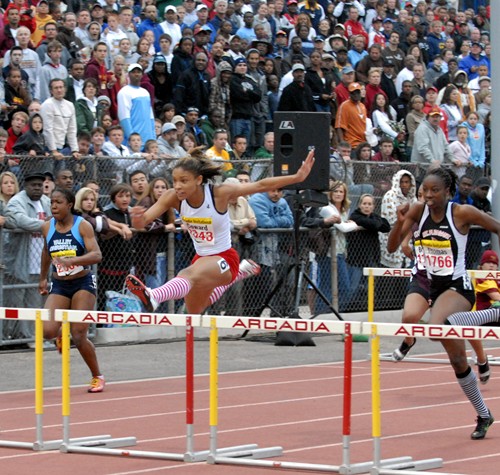 photo by John Dye

B-110 and 300 Hurdles
The boys' hurdle events saw another pair of flip-flop finishes, with Terry Prentice (Diamond Ranch CA) taking the 110s over Jeshua Anderson (Taft CA), and Anderson flipping the script on Prentice over the longer distance. Prentice was all alone over the last barrier in the high hurdles, snapping his lead leg down and closing hard for a US#2 13.77 that was 2-tenths up on Anderson's 13.96. Anderson had something left for the 300 hurdles though, where he ran the sort of aggressive race many expected, and produced history's #9 all-time high school mark with his 35.75 dismantling of the field. The talented Prentice was nearly a full second back, finishing as runner-up in 36.74.
G-100 Hurdles
In the pre-meet publicity, this race was tabbed as "one to watch" by those in the know. Jacquelyn Coward (Knoxville West), a national hurdle record holder indoors, made the trip from Tennessee to take on the best that California had to offer, and perhaps take a shot at a national record. Given the sub-13 territory of the existing high school 100 hurdle mark, a US record may have been a bit ambitious, but Coward and fellow junior Vashti Thomas (Mt. Pleasant CA) waged a memorable battle over the sticks nonetheless. With her red and white striped socks hiked to her knees, Coward was trying to erase the memory of a close second at last year's Arcadia, where she was run down in the last two hurdles by Shana Woods. Erase it she did, with aggressive hurdling and a diving finish that held off Thomas, 13.60 to 13.68. Both times were under the old meet record of 13.71.

By Dave Devine
Results
Boys

Men 110 Meter Hurdles Seeded
=========================================================================
    Name                    Year School                  Seed     Finals 
=========================================================================
  1 Habberstad, Trevor        12 Canyon-CC              14.55      14.41  
  2 McOmber, Josh             12 West Valley            14.64      14.52  
  3 Brookins, Ronald          12 Helix                  14.65      14.62  
  4 Shaw, Ken                 12 San Jacinto            14.56      15.08  
  5 Morris, Domonic           12 Crenshaw               14.02      15.53  
  6 Potter, Sean              12 Monsignor Fa           14.60      19.41  
 -- Moore, Matt               12 Brophy Prep.           14.40         DQ   False Start
 
Men 110 Meter Hurdles Invitational
=========================================================================
    Name                    Year School                  Seed     Finals 
=========================================================================
  1 Prentice, Terry           12 Diamond Ranc           13.59      13.77  
  2 Anderson, Jeshua          12 Taft                   14.10      13.96  
  3 Shaw, Maurice             12 Colony                 14.26      14.08  
  4 Hersey, Eric              12 Los Altos              14.20      14.12  
  5 Polk, Ray                 11 Brophy Prep.           14.17      14.33  
  6 Lawson, Chris             12 Great Oak                         14.82  
 
                        

Licensed to Royal Results - Contractor License
                                        Hy-Tek's Meet Manager 4/7/2007 07:21 PM
                  Arcadia Invitational - 4/6/2007 to 4/7/2007                  
                              Arcadia High School                              
                                    Results                                    
 
Women 100 Meter Hurdles Seeded
=========================================================================
    Name                    Year School                  Seed     Finals 
=========================================================================
Section  1     Wind: +0.0
  1 Holden, Latisha           12 Barstow                14.18      14.39  
  2 Truluck, Imani            11 Malibu                 14.61      14.65  
  3 Stewart, Brianna          11 Logan James            14.33      14.71  
  4 Dugall, Stella            12 Mt. Pleasant           14.40      14.75  
  5 Liehr, Whitney            12 Palos Verdes           14.57      14.80  
  6 Johnson, Phylicia         12 Gardena                14.62      14.84  
  7 Collins, Kelly            11 Santa Margar           14.59      15.04  
 
Women 100 Meter Hurdles Invitational
=========================================================================
    Name                    Year School                  Seed     Finals 
=========================================================================
  1 Coward, Jacquelyn         11 Knoxville We           13.59      13.60  
  2 Thomas, Vashti            11 Mt. Pleasant           13.50      13.68  
  3 Marshall, Dahlys          11 Valley Chrst           14.24      14.12  
  4 Ibia, Golden              11 Evergreen Va                      14.47  
  4 Brooks, Devin             12 Holy Names A           13.86      14.47  
  6 Roy, Natalie              12 Mission Viej           14.30      14.83  
  7 Profit, Kiani             12 Muir                   14.22      15.20