Southeast states - DE, MD, DC, VA, NC, SC, GA, FL, AL, TN, KY, WV
Schedule
Course
Local Information
Contact Us
Send News
Results
Boys -
Oak Ridge TN 90,
Team 703 (Jefferson Alexandria VA) 98
Girls - Suwanee XC Club (Collins Hill GA) 68, Tatnall RC (Wilmington DE) 79
NTN Webcast -

Regional highlights online on Nov. 15, Nov. 22 and 29, followed by live webcast Dec. 1 of NTN finals in Portland.

Activities - Friday Night Fun Fest and Saturday night dance and pizza party wrap around the races.

about the course -

experts give their take on Veterans Park.



Final Entries - teams and individuals.



Shalane Flanagan will be here!


Nike elite runner Shalane Flanagan will be on hand at the Southeast regional champions.

Shalane Flanagan


HS: Marblehead MA
HS PR: Mile 4:46.91i, 2 Mile 10:23.82
Shalane is in the process of re-writing US distance records. In the last year she has become the fastest American ever at 3000 (indoors) and 5000m, running 8:35.34 for 3000m and 14:44.80 for 5000m. She was an outstanding collegian winning 2 NCAA XC championships and earning 15 All-America honors at North Carolina. She is a two-time US cross country champion and 2-time US 5000m champion, represented the US at the Olympics in 2004 and was a member of this year's World Championship team in Osaka.




1ST NTN SOUTHEAST REGION CHAMPIONSHIP


Here's your chance to see how your team stacks up against the best teams in the SE US and/or to prepare your team for next year. The top two high school XC teams qualify for an all expense paid trip to the Nike Team National Championship meet December 1st in Portland, Oregon!

NEW - Course map with 200m markers | Map to Hoover |

Interactive Meet Brochure with photos and descriptions.
(BIG 5mb file - be patient. Need Adobe Acrobat to open it.)



Pre-regional meet at Veterans Park


10/13 Great American Cross Country Festival Details



News Log




Schedule



FRIDAY, Nov. 23
Hoover High School (1000 Buccaneer Dr., Hoover, AL 35244)

5:00 – 6:30 pm Race Packet Pick Up
5:00 – 6:30 pm $5 Pasta Dinner
5:00 – 6:45 pm EXPO
6:45 – 9:00 pm Program & Fun Stuff

SATURDAY, Nov. 24
Veteran's Park (4700 Valleydale Road, Hoover, AL 35242)

7:30 am Community Race – Iron Bowl Challenge
8:45 am Opening Ceremonies
9:00 am Girl's Championship
10:00 am Boy's Championship
11:00 am Awards
7:00 pm $10 Pizza & Dance Party Hoover High School (big screen TV for football fans)



Course



Interactive Course Description with photos and text.
(BIG 5mb file - be patient. Need Adobe Acrobat to open it.)



5k course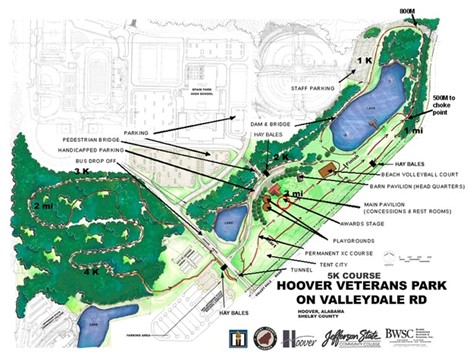 2-mile course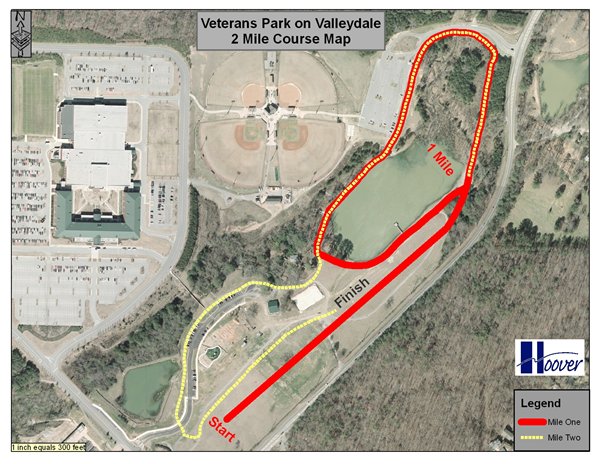 Course Map with 200m markers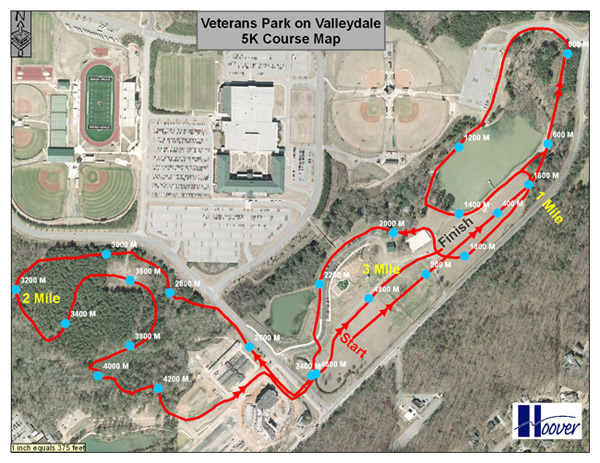 Directions to Course



DIRECTIONS TO SPAIN PARK HIGH SCHOOL AND VETERANS PARK ON
VALLEYDALE RD. XC COURSE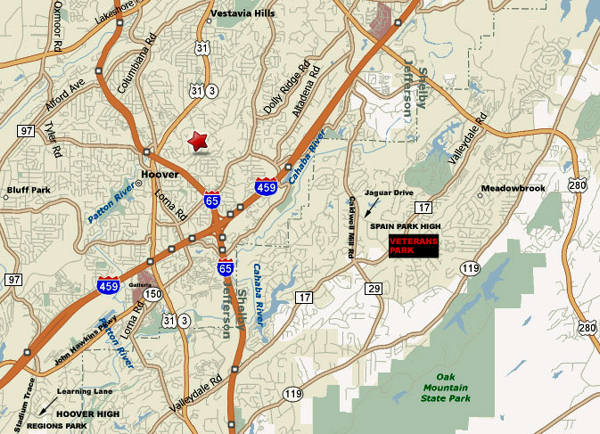 From I-59 Southbound (from TRUSSVILLE/ GADSDEN).


1. Merge onto I-459 S via the ramp on the LEFT toward MONTGOMERY /
I-20. (Go 16.9 miles.)
2. Merge onto I-65 S via EXIT 15 toward MONTGOMERY. (Go 3.0 miles.)
3. Take the CR-17 / VALLEYDALE RD exit- EXIT 247. (Go 0.4 miles.)
4. Turn LEFT onto CR-17 N / VALLEYDALE RD. (Go <0.1 miles.)
5. Turn LEFT onto CR-29 / CALDWELL MILL RD. (Go 3.2 miles.)
6. Turn RIGHT onto JAGUAR DRIVE to Spain Park High School. (Go 1.3
miles.)
7. Follow JAGUAR DRIVE to Parking for XC Course.



From I-20 Southbound (from LEEDS / ATLANTA).


1. Merge onto I-459 S via EXIT 136 toward MONTGOMERY /
TUSCALOOSA. (Go 14.0 miles.)
2. Merge onto I-65 S via EXIT 15 toward MONTGOMERY. (Go 3.0 miles.)
3. Take the CR-17 / VALLEYDALE RD exit- EXIT 247. (Go 0.4 miles.)
4. Turn LEFT onto CR-17 N / VALLEYDALE RD. (Go <0.1 miles.)
5. Turn LEFT onto CR-29 / CALDWELL MILL RD. (Go 3.2 miles.)
6. Turn RIGHT onto JAGUAR DRIVE to Spain Park High School. (Go 1.3
miles.)
7. Follow JAGUAR DRIVE to Parking for XC Course.



From I-20/59 Northbound (from BESSEMER / TUSCALOOSA).


1. Merge onto I-459 N via EXIT 106 toward GADSDEN / ATLANTA. (Go
15.0 miles.)
2. Merge onto I-65 S via EXIT 15 toward MONTGOMERY. (Go 3.0 miles.)
3. Take the CR-17 / VALLEYDALE RD exit- EXIT 247. (Go 0.4 miles.)
4. Turn LEFT onto CR-17 N / VALLEYDALE RD. (Go <0.1 miles.)
5. Turn LEFT onto CR-29 / CALDWELL MILL RD. (Go 3.2 miles.)
6. Turn RIGHT onto JAGUAR DRIVE to Spain Park High School. (Go 1.3
miles.)
7. Follow JAGUAR DRIVE to Parking for XC Course.



From I-65 Northbound (from PELHAM / MONTGOMERY).


1. Take the CR-17 / VALLEYDALE RD exit- EXIT 247. (Go 0.2 miles.)
2. Turn LEFT onto CR-17 N / VALLEYDALE RD. (Go 2.9 miles.)
3. Turn LEFT onto CR-29 / CALDWELL MILL RD. (Go 3.2 miles.)
4. Turn RIGHT onto JAGUAR DRIVE to Spain Park High School. (Go 1.3
miles.)
5. Follow JAGUAR DRIVE to Parking for XC Course.



From I-65 Southbound (from DOWNTOWN BIRMINGHAM).


1. Take the CR-17 / VALLEYDALE RD exit- EXIT 247. (Go 0.4 miles.)
2. Turn LEFT onto CR-17 N / VALLEYDALE RD. (Go <0.1 miles.)
3. Turn LEFT onto CR-29 / CALDWELL MILL RD. (Go 3.2 miles.)
4. Turn RIGHT onto JAGUAR DRIVE to Spain Park High School. (Go 1.3
miles._
5. Follow JAGUAR DRIVE to Parking for XC Course.



From WYNFREY HOTEL


(1000 Galleria Circle, Hoover, AL 35244)
1. Start out from Galleria Circle; turn LEFT onto US-31 N / MONTGOMERY
HWY S / AL-3 N. (Go 0.2 miles.)
2. Merge onto I-459 N toward ATLANTA / GADSDEN / I-65. (Go 0.9 miles.)
3. Merge onto I-65 S via EXIT 15 toward MONTGOMERY. (Go 3.0 miles.)
4. Take the CR-17 / VALLEYDALE RD exit- EXIT 247. (Go 0.4 miles.)
5. Turn LEFT onto CR-17 N / VALLEYDALE RD. (Go <0.1 miles.)
6. Turn LEFT onto CR-29 / CALDWELL MILL RD. (Go 3.2 miles.)
7. Turn RIGHT onto JAGUAR DRIVE to Spain Park High School. (Go 1.3
miles.)
8. Follow JAGUAR DRIVE to Parking for XC Course.



From AMERI SUITES HOTEL


(2980 John Hawkins Pkwy, Hoover, AL 35244)
1. Start out and Turn RIGHT (NORTHEAST) onto JOHN HAWKINS PKWY
/ AL-150 toward CREEKSIDE AVE. (Go 0.2 miles.)
2. Turn LEFT onto GALLERIA BLVD. (Go 0.3 miles.)
3. Merge onto I-459 N toward I-65. (Go 1.5 miles.)
4. Merge onto I-65 S via EXIT 15 toward MONTGOMERY. (Go 3.0 miles.)
5. Take the CR-17 / VALLEYDALE RD exit- EXIT 247. (Go 0.4 miles.)
6. Turn LEFT onto CR-17 N / VALLEYDALE RD. (Go <0.1 miles.)
7. Turn LEFT onto CR-29 / CALDWELL MILL RD. (Go 3.2 miles.)
8. Turn RIGHT onto JAGUAR DRIVE to Spain Park High School. (Go 1.3
miles.)
9. Follow JAGUAR DRIVE to Parking for XC Course.



From HOOVER MARRIOTT COURTYARD


(1824 Montgomery Hwy S, Hoover, AL 35244)
1. Start out and Turn LEFT (SOUTH) onto US-31 S / MONTGOMERY HWY
S toward CHASE CORPORATE DR. Continue to follow US-31 S. (Go 1.9
miles.)
2. Turn LEFT onto VALLEYDALE RD. (Go 4.3 miles.)
3. Turn LEFT onto CR-29 / CALDWELL MILL RD. (Go 0.8 miles.)
4. Turn RIGHT onto JAGUAR DRIVE to Spain Park High School. (Go 1.3
miles.)
5. Follow JAGUAR DRIVE to Parking for XC Course.



From HOOVER HOMEWOOD SUITES


(215 Inverness Center Dr, Hoover, AL 35242)
1. Start out going NORTH on INVERNESS CENTER DR toward
INVERNESS CENTER PL. (Go <0.1 miles.)
2. Make a U-TURN at INVERNESS CENTER PL onto INVERNESS
CENTER DR. (Go 0.5 miles.)
3. Turn RIGHT onto CR-17 / VALLEYDALE RD. (Go 3.3 miles.)
4. Turn RIGHT onto CR-29 / CALDWELL MILL RD. (Go 0.8 miles.)
5. Turn RIGHT onto JAGUAR DRIVE to Spain Park High School. (Go 1.3
miles.)
6. Follow JAGUAR DRIVE to Parking for XC Course.



From AMERI SUITES


(4686 Highway 280 S, Hoover, AL 35242)
1. Start out and turn RIGHT (WEST) on US-280 W / AL-38 W toward E
INVERNESS PKWY. (Go 0.1 miles.)
2. Make a U-TURN onto US-280 E / AL-38 E. (Go 0.5 miles.)
3. Turn SLIGHT RIGHT onto CR-17 S / VALLEYDALE RD. (Go 3.8 miles.)
4. Turn RIGHT onto CR-29 / CALDWELL MILL RD. (Go 0.8 miles.)
5. Turn RIGHT onto Jaguar Drive to Spain Park High School. (Go 1.3 miles.)
6. Follow Jaguar Drive to Parking for XC Course.




Local Information





Hotels



Mention NTN Southeast Regional when making reservations.


Amerisuites $119 (includes breakfast)
2980 John Hawkins Parkway
Birmingham AL 35244
(205) 988-8444

Homewood Suites - Birmingham South $ 109.00
215 Inverness Center Drive (includes breakfast)
Birmingham, AL 35242
(205) 995-9823

Hampton Inn - Pelham $115 (includes breakfast
232 Cahaba Valley Rd
Pelham AL 35124 205-313-9500



2007 NTN home page