DyeStat News

Southwest Region
Kiwanis Park, Tempe AZ
November 17, 2007

WY - CO - UT - NM - AZ - NV

Winners Table (pix & stories) |
Final Instructions
Preview | Seeds | Schedule |
Prior Years
the meet's own web site



John Dye Action Albums


Boys | Girls


Donna on the Side
125 photos of sideline scenes






NTN Webcast Regional highlights online on Nov. 15, Nov. 22 and 29,


followed by live webcast
Dec. 1 of NTN finals
in Portland.




Boys -

Albuquerque Academy NM, Los Alamos NM




Red or Green? It's a tossup this time.

Red-clad Academy and green-clad Los Alamos, 1-2 in the region and in the New Mexico state meet, tie at 93, with Academy winning on sixth man tie breaker. Luke Puskedra UT leads four boys faster than old course record - Sal Gonzales Race Recap
Girls -

Fort Collins CO, Davis UT


Regional 3-4 ranked teams prevail. Bishton twins of Arizona finish 1-2, with Nadya 17:38.37 breaking the course record - Sal Gonzales Race Recap



Fit Teams, Fast Times and Foot Locker Tune-ups

- On a pristine day in Tempe, Arizona, when the individual races were scarcely in doubt after the first mile, the greatest drama was reserved for the announcement of the winning team in the Boys Championship race. Dave Devine's lead story



Fort Collins CO coach Chris Suppes and girls celebrate announcement of their victory. Suppes is now bald. He promised the girls he would shave his head if they won; the girls took him to a barber shop right after the meet before flying back to Colorado.




click on event for results, pix and stories


Event

Winners

Boys Championship

1. ABQ NM (Academy) 93, 2. Los Alamos NM 93 (ABQ wins on 6th man tie breaker). Luke Puskedra UT 14:49 leads four boys better than old course record.

Girls Championship

1. Fort Collins CO 77, 2. Davis UT 102. Bishton twins run 1-2.

Boys Large School

Loveland 63; Nathan Williams, Centennial 15:59.4.
Girls Large School

Rio Rico AZ 25; Hanna Henson, Rio Rico 18:35
Boys Small School

Titans CC 34; Trevor Waliszewski, Titans 16:07

Girls Small School

Lela Carpenter, Sheridan RC 20:19
Fit Teams, Fast Times and Foot Locker Tune-ups



by Dave Devine


On a pristine day at the NTN Southwest Regional in Tempe, Arizona, when the individual races were scarcely in doubt after the first mile, the greatest drama was reserved for the announcement of the winning team in the Boys Championship race.

Fourteen runners from New Mexico faced one another across a narrow lawn fronting the post-race awards backdrop. On one side, seven harriers from SW#1 Los Alamos XC. Twenty feet away, the top seven from SW#2 ABQ XC. During the regular season, these two squads had faced each other five times, with ABQ XC (Albuquerque Academy NM) taking the measure of Los Alamos in every race save the state meet a week ago, where Los Alamos captured a narrow six-point win. This was the sixth such meeting, and it seemed destined to be just as close. Fans and supporters ringing the grassy bowl surrounding the presentation area had already learned there would be a seventh race—ABQ and Los Alamos were established as the top two boys teams and thus guaranteed an invitation to the Nike Team Nationals in Portland on December 1st.

All that remained was the designation of a regional champion.



Friendly rivals, fierce competitors



For Los Alamos, it was a chance to prove that the state meet toppling of the then-US#1 Academy team wasn't a fluke. For ABQ XC, it was a golden opportunity to chase the week-old taste of defeat from their mouths.

"This is a close one folks," the meet announcer intoned, "we have a tie at 93 points."

With those words, the Los Alamos pack dropped their heads in collective disappointment, while ABQ XC started a celebration that nearly drowned out the final results. Both teams knew where their sixth men had finished, and on this day, the sixth man meant everything.



ABQ boys hear the news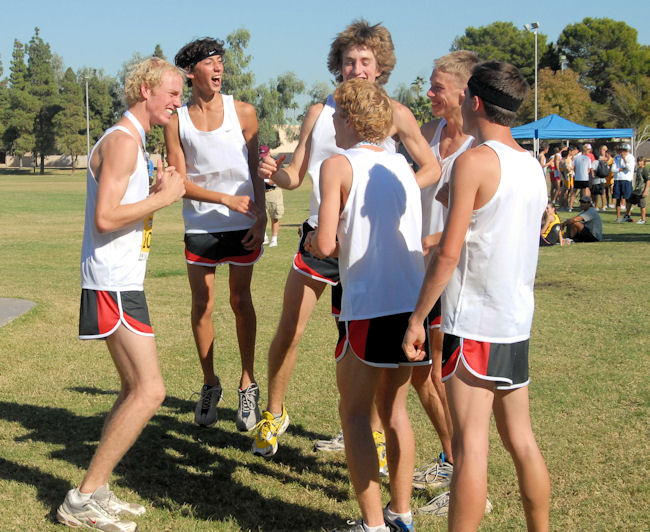 If ABQ XC's unlikely hero was Damon Campbell, a runner who clawed his way into the top seven on his own team before breaking the hearts of his in-state rivals with his 65th place salvation run, the day was filled with equally heroic moments, standout performances and jaw dropping efforts from some of the top talent in the Southwest.



Course records for Foot Locker contenders Puskedra and Bishton twins



Nadia and Nastia Bishton, identical twins competing for Ridge Runners AZ, moved strongly to the fore at the crack of the starter's pistol and never looked back. Nadia mowed down a very good course record belonging to 4-time Foot Locker finalist Mel Lawrence, her 17:38.37 tour of the rolling layout subtracting four seconds from that 2004 mark. Twin sister Nastia wasn't far behind, just two seconds north of the old record in 17:43.45.

Utah's Luke Puskedra, running unattached for Judge Memorial XC, was at least as impressive as the Bishton's, emerging from a dustcloud swirling up from the canal path in the first half-mile of the race to pull away from a very good field that included top Foot Locker returner Ben Johnson of ABQ XC. Puskedra, as has been his tendency this season, demolished the course record and drew gasps from the finish line crowd as he soared down off the final rise onto the homestretch with mid-14s still ticking on the clock. He crossed in 14:48.63, depleted by the effort, but well clear of a fast-closing Johnson (14:56.46) and third placer Jim Walmsley (15:27) of Arizona.



Fort Collins RC gives coach a lasting memory



If the Girls Championship race lacked some of the drama of the boys' outcome—Fort Collins RC seemed fairly confident they'd pulled off the win even as the field was still pouring through the finish chute—it nonetheless represented the first of the regionals contested thus far sending two teams ranked outside the top 2 to the National meet in Portland.

Ft. Collins was ranked SW#3 in the most recent DyeStat poll, and fellow NTN invitees and Southwest runners-up Davis RC was SW#4 heading into the weekend. Dakota Ridge RC, ranked SW#1 after a triumphant Colorado state meet, was third here, but lacked their number two from that race, Kaitie Vanetta, out with an apparent hip injury. SW#2 Albuquerque Eagles (Eldorado NM) looked strong early on, with a tight pack of five between 15th and 25th, but that group splintered in the second mile as standout Rachel Velarde made her expected push to the front, and the next four tumbled back through the field as other teams asserted themselves.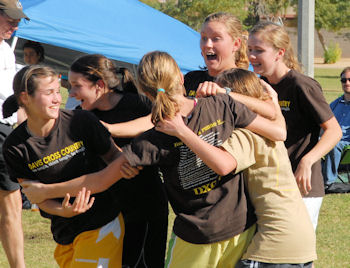 Davis RC (left) was particularly thrilled with their second place finish in the new format, knowing they likely wouldn't be headed to Portland if the bids were determined by rankings. When they knew their placing was secure, they unfurled what the meet announcer described as "one of the best second-place celebrations" he'd ever seen. Ft. Collins, meanwhile, has something besides the trip to Oregon to look forward to in the coming days. Coach Chris Suppes promised his team he'd shave his head if they placed in the top two in the region, and get a tattoo of the school's Lambkin mascot if they managed to pull off the victory. Judging from their post-race comments, the newly-minted NTN Southwest champions plan to hold their mentor to his word on both counts.

Promised tattoos, persistent team rivalries, and powerful Foot Locker tune-ups—the Southwest regional had a little of everything to offer. Most importantly, however, it had four automatic invitations to extend, and a December date with destiny for four teams on a racetrack in Portland.






Preview - regional editor Sal Gonzales sees heavy favorites in girls race and a shootout in the boys race.

Los Alamos - Albuquerque Academy Rematch - Academy coach said he was worried about Los Alamos, with good reason as it turns out. State association rules impact how he can prepare for rematch at NTN Southwest in Tempe this Saturday. Coach Kedge Blog 2

Prior Years -

New Mexico has placed five teams in the finals, with Albuquerque Academy, Los Alamos and Eldorado runners, but the only team making the awards stand is still the 2004 Sisu CO (Smoky Hill Aurora) girls, who were 2nd.





This is the first Southwest regional championship meet for Nike Team Nationals. In previous years, regional representatives were selected by a committee. This year the decisions will be settled on the course. The top two teams here (both boys and girls) will qualify for the 4th national championship race at Portland Meadows race track, Portland OR, on December 1.






Schedule



7:30 AM Chances for Children 1 Mile Charity Run
8:05 AM Citizens 5 K Race
8:45 AM Girls Small School / Frosh / JV Race 5K
9:20 AM Boys Small School / Frosh / JV Race 5K
9:55 AM Girls Large School (under 1000) 5K
10:30 AM Boys Large School (under 1000) 5K
11:15 AM Girls Championship Race 5K
12:00 PM Boys Championship Race 5K
1:00 PM Awards



NTN meet index | NTN news on DyeStat |