DyeStat News

Midwest Region
Lavern Gibson Course, Terre Haute IN
November 10, 2007

IN - IL - OH - MI - WI

click on event for results, photos and stories


Event
Winners
Boys Championship

MW#1 US#2 Naperville Knee-Kwuh IL (Neuqua Valley) 73, MW#4 US#23 Elmhurst IL (York) 111, MW#2 US#12 Medina OH 150, MW#6 Fishers IN 152.

Girls Championship

MW#2 US#24 Lake Central IN 86, MW#1 US#11 Westfield IN 92, MW#7 Carroll Fort Wayne IN 107, MW#9 Carmel 117.

Boys JV

David Way 16:32 and Elmhurst IL 16.

a feast of excitment on a
perfect afternoon for cross country



By John Nepolitan, with Tony Jones



The first-ever Midwest regional championships served up a feast of excitment on a perfect
afternoon for cross country. The Lake Central girls proved something to #1 Westfield, with
Stagg's Annette Glaz taking individual honors. In the boys race, the Illinois contingent reigned
supreme, taking the top two team spots. Chris Derrick showed what kind of 5K runner he is with
a dominating 14:54 course record.

The event didn't start so auspiciously, as a traffic accident that occurred on Interstate I-70- just
east of the course caused traffic to be re-routed. Faced with that delay, organizers had to
postpone the start of the junior varsity one hour. The athletes did not appear to be fazed.



Girls Championship - Annette Glaz show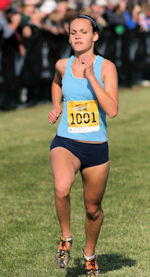 Annette Glaz (right) took the lead from the sound of the gun, and was only briefly headed by Valparaiso's Megan Ranegar before the mile mark. The leaders hit that post in 5:30, and Glaz steadily pulled away after the 2K. Behind them a pack of five formed - Brianna Johnson and Chelsea Blanchard (both Fort Wayne), Sarah Higgens (Center Grove), Kaitlyn Love (Westfield), and Madeline Chambers (Magnificat). Just behind them loomed Maggie Bingham and the two Lake Central girls, Dayna Payonk and Megan Plenus.

By 3K Glaz (10:35) was alone. Raneger (10:39) had started to falter. Higgens started to break up the chase pack and the two Fort Wayne runners loomed ominously. Glaz continued to look strong, and cruised in to a new course record in 18:18. With as little as 400 to go, Ranegar still held onto second, but the Fort Wayne twosome timed their kicks perfectly. At the line it was Johnson in 18:28, Blanchard 18:29, and Ranegar 18:30.

Said Glaz, "I just wanted to go out hard. I know the first mile is fast so I wanted to go out hard and in the second mile try to keep strong in those hills. I knew how to run the hills and felt confident going into it. I was pretty much ahead from the beginning. She [Ranegar] passed me right after the first mile and during the hills I caught back up and tried to use my strength."



Lake Central and Westfield battle through all five positions



Though Lake Central's Payonk (9th) and Plenus (10th) were beaten by Westfield's 7-8 finish for Bingham and Love, Lake Central brought two more across the line before Westfield's #3. With
Lake Central's #5 edging Westfield's by two seconds, the battle of the Indiana clubs ended with
a six-point win for Lake Central (86).

Said Lake Central mentor Denise Fitzgerald, "They are a real special group. I know a couple of
them are not really happy with their state meet performances. Our depth is what won it. They all
ran well. Honestly today was just a good day for everyone."

Fort Wayne had the two low numbers but not the depth that the other two teams had, scoring
107, and will have to await a possible at-large bid. Carmel placed fourth with 117 points.
Magnificat won the battle of the Ohio clubs, scoring 129 for fifth, a notch ahead of the
Brecksview contingent (143).



Boys Championship - no one can go with Chris Derrick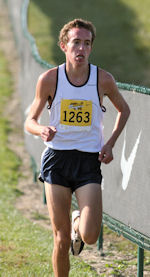 From the gun Chris Derrick (left) was gone and nobody went with him, simply nobody was able to go with him. The Illinois senior hit an opening mile of 4:40 and passed 2 miles in the 9:35 range after an 8:45 @ 3K. With nothing to chase but the lead Gator, he paced his way to a course record by more than 20 seconds (14:55).

"I went out a little hard," admitted Derrick, "but I felt pretty smooth and nobody went with me. I had a huge gap and I got a little lazy. All of a sudden at two miles I looked back and Havel was coming back on me. I wasn't feeling great but I have never lost a race with somebody coming from behind and I didn't want to start now."

He added, "It always feels good coming to the line and hearing a possible course record and I feel it really validates the work I have done. We have been running great all year and we have all the confidence in the world. We just have a great bond on this team and we build off of that."



the team battle



Behind Derrick, the Elmhurst and Medina clubs were doing all they could themselves in position to earn places in Portland. Each team had two runners at the front of the chase pack, but right with them was Danny Pawola of the Naperville Knee-Kwa Club, so a three-way battle was on.

At the very front of the chase pack ran Kevin Havel of the John Hersey RC and Tom Achtien of
Elmhurst. Before the halfway mark, Havel and Achtien started pulling away from the pack.
Behind them, the fast early pace took a heavy toll as the pack split apart. The fast-starting
Medina boys were among the victims, starting to float backwards. Past 3K, Havel (8:52) moved
safely into second and in the closing stages he even started to pull back on Derrick (who never
appeared in danger of losing). Havel's 15:13 also broke the old course record. "This feels better
than last week—that's for sure," he said.

Through 4K, the Naperville club stayed in control with Elmhurst moving up for second. Any
Naperville worries about Chris Riddle's health were assuaged as he held on for his club's #3
spot. The Knee-Kwas finished with 73 points. Said Riddle, "I'm more worried about how the rest
of my team did more so than my performance."

Coach Jim Dickerson agreed that Riddle's run was key. "Riddle missed states with a stress
fracture and came back today and was our third guy. Mike ruff did not run last week and we put
him in this week and he was our fifth man.

"With these guys it is like a piece of cake," Dickerson added. "They just kept cool all year long
and didn't let everything get to them."

As they had done at the first NTN nationals champs, Elmhurst looked especially strong over the
last kilometer, scoring 111 for second. Achtien (third in 15:21) and Steve Sulkin (sixth in 15:39)
both performed admirably, but Achtien said he didn't run as well as he had at his state meet. "I
wanted to score a low point. I don't want things to be decided by one point."

Medina held on for third with 150 points, just two ahead of the Fishers club.



next stop: Portland



Now, for the top teams, the focus is all on Portland. Said Dickerson, "We are going to up the
training for the next two weeks and then back it off to try to extend the taper. So we are going to
try to get a little bit of base and then reel back and hope that they feel pretty fresh in Oregon. I
think it is more mental at this point."





This is the first Midwest regional championship meet for Nike Team Nationals. In previous years, regional representatives were selected by a committee. This year the decisions will be settled on the course. The top two teams here (both boys and girls) will qualify for the 4th national championship race at Portland Meadows race track, Portland OR, on December 1.



Midwest News Log




Schedule





Friday, November 9th

12:00noon Course opens to all competitors and coaches
4:30pm Course closes
6:30pm- 8pm Championship Expo & Social at the Holiday Inn meet headquarters. (ALL COACHES ARE INVITED! NO ATHLETES) Details to follow in the championship manual that will be e-mailed to coaches.

Saturday, November 10th

8:00am Gates to Course open to all competitors & spectators
10:00am Packet pickup and technical meeting for coaches
12:00noon Boys Junior Varsity Race 5k

(Teams & Individuals will be scored separately based on race entered)
12:45pm Girls Championship Race 5k
1:30pm Boys Championship Race 5k
2:15pm Awards



NTN meet index | NTN news on DyeStat |