Schedule
Course
Local Information
Contact Us
Send News


























NTN New York Championship 11/24/07 at Bowdoin State Park



Results



Boys - Clifton Park TC (Shenendehowa NY) 37, Purple Wave (Warwick NY) 57




Girls - Stotan (Fayetteville-Manlius NY) 40,

Burnt Hills-Ballston Lake TC (Burnt Hills NY) 72





Packet pickup

will be from 3pm - 9pm at The Best Western on Route 9 in Wappingers Falls, NY and 8am-9am Saturday at Bowdoin Park. Bernard Lagat will be at the Best Western at 6 pm for an autograph session and short talk if his plane arrives in time.

Final Entries


NTN Webcast -

Regional highlights online on Nov. 15, Nov. 22 and 29, followed by live webcast Dec. 1 of NTN finals in Portland.



Bernard Lagat will be here!


New US citizen Bernard Lagat, double winner at the recent World Championships in Osaka, will be at the New York regional championships and will act as New York region team captain at NTN finals in Portland Dec. 1.


Bernard Lagat


HS: Jomo Kenyatta University, Kenya


Bernard (Kip) is one of the most accomplished distance runners of all time. He is the first athlete ever to win gold in both the 1500m/5000m at a World Championships, doing so this summer in Osaka. He is the 2000 Olympic 1500m bronze medalist, 2004 Olympic 1500m silver medalist and 2004 Indoor 3000m world champion. He is the second fastest 1500m runner of all time having run 3:26.34. He has also run 12:59 for 5000m. Kip, a native of Kenyan, became a US citizen in 2005.






New York Regional Championship



10/15/2007 -- Nike announced that New York will have its own NTN qualifying races on November 24 at Bowdoin State Park. The Northeast region will run its championship races on the same day at Bowdoin.

Nike's letter to coaches and other officials in New York:



We'd like to inform you that a separate Nike Team Nationals (NTN) New York regional race will be held on Nov. 24 in conjunction with the NTN Northeast regional in Wappingers Falls. This is a new development since we first announced the regional qualifying events earlier this year. Initially we had planned to have teams from New York be chosen by committee selection but have since determined it is possible to hold a separate race consisting of New York teams only. Similar to other NTN regional events, the top two teams out of the championship section for the New York regional race will advance to the NTN Finals in Portland on Dec. 1. We are


excited about this new development and hope you are able to encourage your teams to consider participating in the New York NTN regional qualifying event."




Schedule





The Northeast regional championship races are being held the same day at Bowdoin State Park. All non-regional championship races are combined Northeast and New York runners.



10:00 Boys- small school, JV, Frosh ( combined- sorted by computer )
10:45 Girls- small school, JV, Frosh ( combined- sorted by computer )
11:30 Boys NE Regional Championship
12:10 Girls NE Regional Championship
1:00 Boys NY Regional Championship
1:40 Girls NY Regional Championship
2:30 Awards- ALL





Course



Bob Baratta's course notes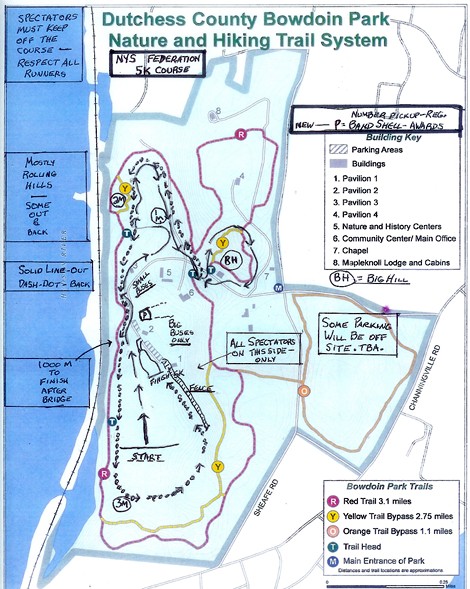 Bob Baratta walks you through the course:
Width of starting area: Just over 400 feet. 38 teams in 11' boxes. Capable of expanding some
Starting straightaway: 450 meters
Viewer friendliness: Roughly 900 - 1000 meters is not viewable assuming strict crowd control. About 650 meters in mid-race (the hill) and roughly 300 of the final 1000 meters. 80% of the course can be seen by moving about .25 mile on a blacktop road (uphill & back downhill)
Hills and difficulty: A short steep hill at 800 meters followed immediately by a short downhill, a significant twisting uphill at 1.25 miles to 1.5 miles followed by a long downhill to 1.7 miles, a moderate downhill just after 2.0 miles to about 2.2 miles, and a moderate but timely uphill at 2.9 to 3.0 miles. The course is basically an out and back with a hill loop in the middle.
Finish level: Last 1200 meters flat except for the hill at 2.9 miles
Straightaway distance to finish from last turn: About 350 meters, last 200 meters flat.
Course difficulty: Challenging, only a handful of male runners have broken 16:00. Finding the fine line between going out hard enough to be competitive and being able to run in is not easy.
The course is primarily open with about 600 meters in the woods and 350 - 400 meters below sight lines.
BOTTOM LINE IS THAT THIS IS A CHALLENGING, BUT FAIR COURSE. IT HAS GREAT SPECTATOR VISIBILITY WITH A MINIMUM OF MOVEMENT, A VERY FAIR START AND AN EXCELLENT FINISH.

TEAMS/RUNNERS ARE ABLE TO BE LAST GOING OFF THE MAIN FIELD, AND BE IN THE FRONT COMING DOWN TO THE LAST 1000 METERS. THERE IS ONLY ONLY COMPARATIVELY NARROW PART, AND THAT IS UP AND DOWN THE MAJOR HILL IN THE COURSE. THAT HILL IS WIDE ENOUGH FOR A GATOR TO LEAD OR FOLLOW, AND PLAYS AN IMPORTANT PART IN THE RACE STRATEGY EMPLOYED IN THE RACE PLAN.

IT HAS A GOOD BALANCE OF HILLS, TURN, STRAIGHT RUNS, AND A BIG HILL, AND IS VERY EASY TO REMEMBER THE COURSE SINCE IT IS BASICALLY AN OUT AND BACK COURSE. IT HAS BEEN THE PERMANENT SITE FOR THE NEW YORK STATE FEDERATION XC CHAMPIONSHIPS SINCE 1989 WITH ONE EXCEPTION – THE 25TH ANNIVERSARY MEET WHICH WE HELD IN VAN CORTLANDT PARK IN NYC, THE SITE OF THE FIRST FEDERATION MEET IN 1974, AND SEVERAL MORE BEFORE I MOVED IT TO BOWDOIN PARK AS A PERMANENT, MORE CENTRAL SITE.




Local Information



Duchess County information



Hotels




Mention NTN Northeast Regional when making reservations.
Best Western - Poughkeepsie
$ 89.95
2170 South Road
Poughkeepsie, NY 12601
(845) 462-4600
Marriott Courtyard-Poughkeepsie
$ 99.00
2641 South Road
Poughkeepsie, NY 12601
(800) 321-2211 or (845) 485-6336
Marriott Courtyard-Fishkill
$ 99.00
17 Westage Drive
Fishkill, NY 12525
(800) 320-5741
2007 NTN home page