DyeStat News


NTN Finals


Portland Meadows Race Track, Portland OR
December 1, 2007



Girls Championship




Results |



Manlius NY 83 repeats, Madeline Morgan AL 18:54.5


8 - 9 - 10 - 19 - 37 adds up to record 88-point margin



Returning to their winning formula after a brief hiatus, the Manlius girls (runners from Fayetteville-Manlius high school) won their second straight NTN title. With only one athlete graduating,the budding dynasty is starting to draw comparisons to New York rival Saratoga's great 2004 NTN championship team, which had four Foot Locker finalists.

race story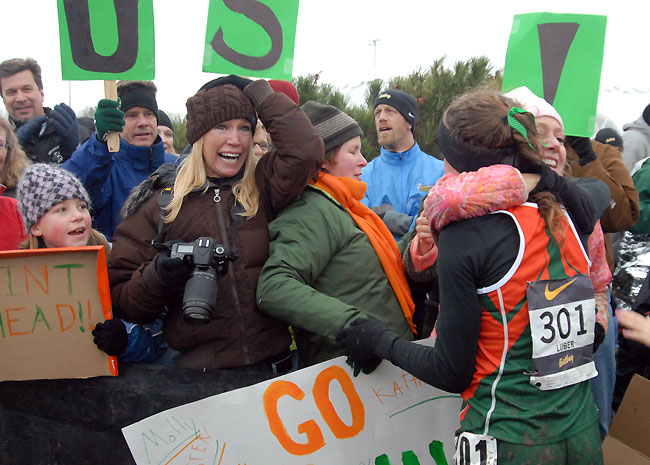 Fans react to announcement that Manlius won.

photo by Donna Dye


Controlled Aggression: Manlius Returns to the Style That Got Them Here

by SteveU

Speaking about race strategy the night before the big meet, a Wayzata MN runner was asked if his team was going to again try their run-even-pace-and-come-from-WAY-back style here against the big boys. "Yep," he said, "Coach said you've got to dance with the girl that brought ya."

That elicited a laugh and – unfortunately for Wayzata – not a top finish. But the principle inherent in that twisted little adage was made manifest for the winning club in the Girls Championship race. Last week at the NY NTN Regional, the favored US#1 Stotans from Manlius XC Club (Fayetteville-Manlius HS) and their coach did a little experimenting. They eschewed their typical aggressive start, and tried laying back and moving later in the race. They won, but it just wasn't their style.

Fast-forward to a week later in the blustery, snow-speckled Portland Meadows. As the runners in the Girls Championship race hit the 1K mark, the controlled aggression was back for Manlius and the top 20 was filled with the green-and-red uniforms of the defending champs. When the score was announced at that first split, with the Stotans' 58 points leading by about 100, you could feel anyone else's hopes of winning being leeched right out of them and straight into the mud.

"All season long, our style has been to go out assertively, and make it a strength race," said Coach Bill Aris of the club's campaign as the F-M team. Last year the more conservative starting-style worked for that team, but trying with this year's edition didn't produce as good of a result. "They were actually kind of numb when they finished that race. Today, we went back to our original formula."

The drama that remained was how much would Manlius win by and who would take second. The answers to those questions were "a record 88 points" and "Newhall (Saugus) CA." Manlius would lose a little ground late, but still score 83. That was accomplished beginning with an 8-9-10 finish by freshman Courtney Chapman (19:23), sophomore Hannah Luber (19:25), and sophomore Mackenzie Carter (19:30). Soph Molly Malone (18th, 19:47) and junior Kathyrn Buchan (37th, 20:15) followed to complete the scoring, while junior Kristen Buchan (48th, 20:30) and senior Jocelyn Richards (49th, also 20:30) filled the six and seven spots.

It was, of course, also the second straight win by Manlius and the fourth straight by a New York club, which started with the wins by Kinetic (Saratoga HS) and Hilton (Hilton HS).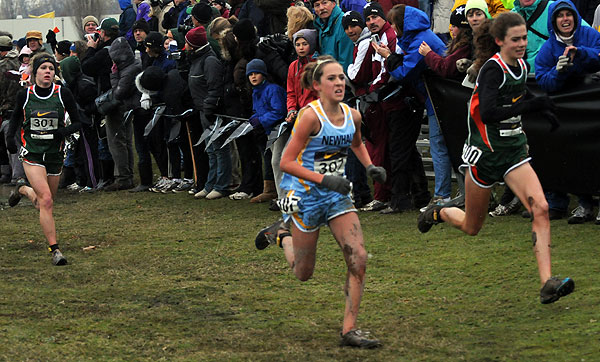 Manlius started its rout with

8th Courtney Chapman

(right) and

9th Hannah Luber

(left). Kaylin Mahoney (middle)
gave runner-up Newhall CA (Saugus) a brief lead by finishing 7th to go with teammate Katherine Dunn's 5th.

photos by John Dye

| | | |
| --- | --- | --- |
| | with Victoria DeMedicis of Caution AL 20th. | |




Top six all felt good



Newhall, which was setting course records all year as Saugus in ruling California, proved that Cali girls could run pretty well in the snow, mud, and cold after all, getting the runner-up spot with 171. It was a fine battle for spots 3-6, with New York powers Kinetic and Burnt Hills (Burnt Hills Balston) taking 3rd (194) and 5th (209), giving that dominant state 3 of the top 5. Hanover XC Club (Hanover NH) made it a 4th team from what most would call the northeastern part of the country with their 4th (206 pts.), while Caution XC Club (Mountain Brook AL) scored one for the Southeast by riding the jet stream of individual champ Madeline Morgan to a very close 6th (215 pts.).

All of these top 6 teams felt a sense of triumph; Kinetic, for example, has one of its least experienced teams in years. But Manlius seemed to have fulfilled a destiny to continue to rule the nation. As they cranked out the amazing cumulative performances in the late season, putting up decisive wins over a Saratoga team that was rapidly improving itself, it became clear that they were the team to beat here. But winning again was not just a matter of repeating what they did last year.



It was different this year for Manlius



"It was a lot different," said soph Mackenzie Carter, speaking from the Tiger Woods Center later Saturday afternoon. "We had had three girls graduate, and they were really our leaders. We wound up with four new girls in the top seven. It's been a pretty good mix and I think we all eventually bonded together in a way that was even better than last year. We were all leaders. It was amazing."

Soph Hannah Luber also related that the team was well ready for the conditions. "We had two days last week where we ran in the mud. When we got here and saw it might be snowing and it was muddy again, we were excited because we knew we'd trained for it."

Another factor that gave the Stotans a lift was the finish of junior Kathryn Buchan, who has struggled with an ankle injury most of the year. She often only ran once a week, doing a variety of cross-training, and had been out of the top five in some races (if she ran at all), after being #1 or #2 last year. Saturday, she got back in the scoring. "It felt so good to be able to contribute again," she said. "It made everything I've had to go through the last few months worthwhile."



Newhall ran for California pride



Meanwhile, in the Newhall (Saugus) tent after the race, there were plenty of smiles and good feeling. The team knew it had finished in the top four (eventually announced as 2nd) and that it had changed the impressions of California teams.

"We really wanted to run well for California," said senior Katie Dunn, who ran 19:18 to combine on a 5-7 finish with freshman Kaylin Mahoney (19:23). "There was no way for us to prepare for this; we just had to be mentally tough."

"Our top two ran extremely well," said Newhall coach Rene Paragas, "and everyone else did what they needed to."



Davidson and Griffin gave up Foot Locker for the team



With a team that is not just young, but relatively inexperienced, Kinetic had a very strong 3rd-place finish. Hannah Davidson, who gave up a chance to be a 4-time Foot Locker Finalist for her team and finished her fine harrier career in 4th, is the only senior. Hanover RC's Georgia Griffin would have been a heavy favorite to make her first Foot Locker NE team, but ran in NTN NE instead. Her team wound up an at-large pick and was the highest-finishing at-large team in either race at 4th. Heidi Caldwell (tie for 10th) and Elizabeth Taylor (tie for 26th) had particularly strong races.

Individually, Davidson and Griffin were both in the hunt for the crown, along with Dunn and Burnt Hills' Sam Roecker. But the two that separated themselves from the field finally were the favored Katie Flood of the Des Moines RC (Dowling Catholic) and Caution TC's Madeline Morgan. Many waited for Flood to put the hammer down, but the soph is used to putting away competitors early and could not shake the persistent Mountain Brook HS junior.



Morgan pulls away late



Morgan would make a decisive move in the final 600 and pull away to victory in 18:54, 10 seconds up on Flood. Roecker kicked in for 3rd (19:06) to finish ahead of Davidson (19:08), just as she had done a week ago at the New York regional.


| | |
| --- | --- |
| | |


It was a fantastic finish for Caution's leader, who has had her ups and downs this year – running 2nd at the Firman Invite and winning NTN SE, but not finishing her state meet. "I did not have any idea I had a chance to win," she said. "At the state meet I felt a lot of pressure to win, but in the NTN races there have been no expectations like that. It's been all about the team. I do better when I feel like I'm not doing it for myself."

Said Flood, who seems to be showing the effect of her series of hard races, "It was fun to have someone out there to compete with (compared to most of the season), but I don't think I ran my best race."

It was tough for anyone, individually or collectively, to run their best race in the snow, cold and mud of Portland Meadows. It was a matter of running solid, and having enough runners running solid to get a finish befitting of the performances that got you here. The teams in the top six definitely did that and the future bodes well for them.

But what about the future hopes of victory here? It doesn't look good unless you run for Manlius. They graduated exactly one of their top seven, and that was their #7 runner Saturday. Going back to his boys' teams' performances back in the first two years of NTN, Coaches Bill and John Aris have had clubs finish 2nd, tied for 2nd, 1st and 1st in the four editions of NTN. And with the "synergy," as Bill Aris likes to call it, it looks like the Stotan girls are going to be around a while. A long while.


2. Katie Flood IA



3. Sam Roecker NY (R),
4. Hannah Davidson NY

5. Katherine Dunn CA, 6. Georgia Griffin NH



Results
 RecordTiming.com - Contractor License                      Hy-Tek's Meet Manager
                         Nike Team Nationals - 12/1/2007                         
                                  Portland, OR                                   
                              Last Completed Event                               
 
Event 4  Girls 5k Run CC Championship
=======================================================================          
    Name                    Year School                  Finals  Points          
=======================================================================          
Results - Women                                                                  
  1 Morgan, Madeline          09 Caution XC Club        18:54.5    1             
  2 Flood, Catherine          10 Des Moines RC          19:04.3    2             
  3 Roecker, Samantha            Burnt Hills XC Club    19:06.9    3             
  4 Davidson, Hannah          08 Kinetic RC             19:08.0    4             
  5 Dunn, Katherine           08 Newhall XC Club        19:18.0    5             
  6 Griffin, Georgia          08 Hanover RC             19:18.4    6             
  7 Mahoney, Kaylin           11 Newhall XC Club        19:23.5    7             
  8 Chapman, Courtney         11 Manlius XC Club        19:23.6    8             
  9 Luber, Hannah             10 Manlius XC Club        19:25.1    9             
 10 Caldwell, Heidi           10 Hanover RC             19:30.8   11             
 10 Carter, Mackenzie         10 Manlius XC Club        19:30.8   10             
 12 Bottorff, Juliet          09 Wilmington XC Club     19:31.7   12             
 13 Thompson, Melanie         09 Hunterdon XC Club      19:36.0   13             
 14 Pennings, Tori            08 Warwick Rc-G           19:36.3   14             
 15 Decker, Ashlie            10 Des Moines RC          19:37.0   15             
 16 Haws, Natalie             08 Davis XC Club          19:40.0   16             
 17 Mc Guirk, Elizabeth       08 Portland  XC Club      19:45.3   17             
 18 King, Sydney              11 Kinetic RC             19:47.9   18             
 18 Malone, Molly             10 Manlius XC Club        19:47.9   19             
 20 DeMedicis, Victoria       11 Caution XC Club        19:48.5   20             
 21 Keklak, Andrea            11 Wicked XC Club         19:51.0   21             
 22 Reyna, Lisa               10 Fort Collins RC        19:53.4   22             
 23 Adams, Christine          10 Anaheim XC Club        19:55.2   23             
 24 Greibeland, Lillian       10 Warwick Rc-G           19:56.4   24             
 25 Benzel, Miranda           09 Fort Collins RC        19:58.4   25             
 26 Taylor, Elizabeth         08 Hanover RC             19:59.9   26             
 26 Goutos, Cassandra         10 Kinetic RC             19:59.9   27             
 28 Upshaw, Tara              09 Carroll XC Club-G      20:00.0   28             
 29 Eddy, Candace             09 Davis XC Club          20:01.9   29             
 30 Bingham, Margaret         08 Westfield XC Club      20:02.8   30             
 31 Whipps, Lucy              10 Rose City XC Club      20:05.6   31             
 32 Gregory, Meaghan          09 Burnt Hills XC Club    20:06.4   32             
 33 Winslow, Amanda           09 Suwanee XC Club        20:06.6   33             
 34 Randall, Anne             09 Newhall XC Club        20:09.5   34             
 35 Jones, Alexandra          09 Rose City XC Club      20:11.4   35             
 36 Spratford, Katrina        08 Hunterdon XC Club      20:12.6   36             
 37 Buchan, Kathryn           09 Manlius XC Club        20:15.2   37             
 38 Cyrus, Rachael            10 Burnt Hills XC Club    20:16.0   38             
 39 Arthur, Claire            10 Wicked XC Club         20:16.5   39             
 40 Viger, Rachel             10 Fort Collins RC        20:18.3   40             
 41 Love, Kaitlyn             09 Westfield XC Club      20:20.6   41             
 42 Hofer, Mariah             10 Yankton XC Club        20:21.0   42             
 43 Jamieson, Dana            08 Wicked XC Club         20:27.6   43             
 44 Van Rysselberghe, Noel    09 Portland  XC Club      20:28.1   44             
 45 Stephens, Taylor          08 Carroll XC Club-G      20:28.9   45             
 46 Petruzzellis, Katherine   10 Hunterdon XC Club      20:29.5   47             
 46 Hylton, Ellie             09 Wicked XC Club         20:29.5   46             
 48 Buchan, Kristen           09 Manlius XC Club        20:30.5   48             
 49 Richards, Jocelyn         08 Manlius XC Club        20:30.6   49             
 50 Boozer, Leslie            09 Caution XC Club        20:31.3   50             
 51 Kearns, Alexa             10 Rose City XC Club      20:31.4   51             
 52 Neer, Waverly             11 Westfield XC Club      20:31.5   52             
 53 Kohl, Keena               08 Anaheim XC Club        20:33.9   53             
 54 Akande, Olanike           10 Suwanee XC Club        20:34.0   54             
 55 Selix, Ariana             08 Anaheim XC Club        20:34.5   55             
 56 Ogan, Cassandra           09 Fort Collins RC        20:34.6   56             
 57 McGinty, Allyson          09 Suwanee XC Club        20:35.8   57             
 58 Diethelm, Catherine       11 Caution XC Club        20:36.6   58             
 59 Hilson, Megan             10 Yankton XC Club        20:36.7   59             
 60 Zajac, Rachel             09 Lake Central XC        20:39.0   60             
 61 Jauregui, Brianna         09 Newhall XC Club        20:40.8   61             
 62 Wirthlin, Julianne        09 Davis XC Club          20:41.0   62             
 63 Steinberg, Jade           08 Yankton XC Club        20:41.3   63             
 64 Moore, Nina               08 Newhall XC Club        20:41.4   64             
 65 Bellon, Brianne           10 Kinetic RC             20:42.5   65             
 66 Stalker, Rachel           11 Burnt Hills XC Club    20:44.1   66             
 67 Black, Bridgette          08 Hanover RC             20:44.5   67             
 68 Sternhagen, Kristin       08 Yankton XC Club        20:45.0   68             
 69 Whitney, Colette          10 Hunterdon XC Club      20:45.1   69             
 70 Wilk, Riley               11 Burnt Hills XC Club    20:45.6   70             
 71 Harper, Jessica           10 Carroll XC Club-G      20:46.0   71             
 72 Bona, Anna                08 Lake Central XC        20:47.1   72             
 73 Drapeau, Alyssa           11 Burnt Hills XC Club    20:47.5   73             
 74 Pettit, Claire            08 Warwick Rc-G           20:48.4   74             
 75 Ffitch, Taylor            08 Rose City XC Club      20:49.1   75             
 76 Mahoney, Shannon          11 Portland  XC Club      20:53.1   76             
 77 Flood, Elizabeth          08 Des Moines RC          20:54.4   77             
 78 Crawford, Briana          09 Suwanee XC Club        20:55.1   78             
 79 Mojtabaeezamani, Laleh    08 Keller XC Club         20:55.8   79             
 80 Borroughs, Amanda         11 Kinetic RC             20:56.7   80             
 81 Parsons, Molly            10 Wilmington XC Club     20:57.1   81             
 82 Schutte, Payton           11 Portland  XC Club      20:57.4   82             
 83 Storey, Lauren            08 Davis XC Club          20:58.5   83             
 84 Payonk, Dana              10 Lake Central XC        20:58.8   84             
 85 Hagler, Claire            09 Portland  XC Club      20:59.8   85             
 86 Carey, Brigid             08 Caution XC Club        21:00.1   86             
 87 Fehr, Kallie              10 Wilmington XC Club     21:00.2   87             
 88 Hill, Lauren              08 Carroll XC Club-G      21:00.3   88             
 89 Plenus, Megan             10 Lake Central XC        21:01.1   89             
 90 Ehrman, Breanne           08 Westfield XC Club      21:01.7   90             
 91 Hansen, Emily             10 Davis XC Club          21:03.1   91             
 92 Creager, Krista           09 Yankton XC Club        21:03.5   92             
 93 Bahra, Rebekah            11 Anaheim XC Club        21:08.5   93             
 94 Leahey, Kayla             10 Warwick Rc-G           21:09.5   94             
 95 Naples, Kim               09 Warwick Rc-G           21:10.5   95             
 96 Buenaga, Kaitlin          09 Wilmington XC Club     21:11.3   97             
 96 Rodriguez, Grace          09 Hanover RC             21:11.3   96             
 98 Follett, Kirsten          10 Fort Collins RC        21:11.6   98             
 99 Berard, Tanelle           11 Des Moines RC          21:13.4   99             
100 Kershner, Kate            08 Wilmington XC Club     21:14.3  100             
101 Potter, Rachael           09 Wicked XC Club         21:15.4  101             
102 Treichel, Kathryn         11 Kinetic RC             21:17.2  102             
103 Olson, Jen                10 Rose City XC Club      21:18.3  103             
104 Bonja, Michelle           08 Newhall XC Club        21:18.4  104             
105 Clarke, Holly             10 Wicked XC Club         21:20.2  105             
106 Murakami, Amber           10 Newhall XC Club        21:20.5  106             
107 Conway, Megan             11 Kinetic RC             21:22.3  107             
108 Henderson, Jackie         08 Lake Central XC        21:23.4  108             
109 Holland, Alexandra        10 Westfield XC Club      21:27.0  109             
110 Mepham, Emily             08 Wicked XC Club         21:27.6  110             
111 Blackwell, Lauren         11 Wilmington XC Club     21:28.7  111             
112 Xiong, Lucia              09 Carroll XC Club-G      21:34.7  112             
113 Davidson, Kelly           09 Anaheim XC Club        21:35.4  113             
114 Scott, Chelsea            10 Keller XC Club         21:38.6  114             
115 Vincent, Ashley           10 Keller XC Club         21:38.8  115             
116 Hedquist, Meghan          11 Davis XC Club          21:42.7  116             
117 Jensen, Kailey            09 Lake Central XC        21:44.1  117             
118 Burton, Jessica           11 Westfield XC Club      21:45.3  118             
119 Bergmann, Erin            11 Rose City XC Club      21:47.5  119             
120 Oldham, Katelyn           09 Wilmington XC Club     21:50.5  120             
121 Lu, Amy                   08 Anaheim XC Club        21:52.6  121             
122 Kacius, Anna              11 Lake Central XC        21:53.0  122             
123 Corcoran, Alexandra       08 Caution XC Club        21:53.3  123             
124 Follett, Kelsey           08 Fort Collins RC        21:59.4  124             
125 Wood, Corey               10 Anaheim XC Club        22:01.8  126             
125 Tobias, Heather           10 Des Moines RC          22:01.8  125             
127 Maring, Alexa             08 Suwanee XC Club        22:04.6  127             
128 Brown, Martha             08 Burnt Hills XC Club    22:04.8  128             
129 Ellis, Reed               08 Caution XC Club        22:06.8  129             
130 Dawson, Kelly             08 Keller XC Club         22:10.2  130             
131 DiVenuta, Lisa            09 Warwick Rc-G           22:11.6  131             
132 Donohue, Meghan           08 Hanover RC             22:12.7  132             
133 Williams, Sydney          11 Suwanee XC Club        22:13.8  133             
134 Gilbert, Caitlin          09 Carroll XC Club-G      22:14.7  134             
135 Gezon, Katie              08 Suwanee XC Club        22:18.7  135             
136 Smith, Bre-Anna           10 Westfield XC Club      22:18.8  136             
137 Lacy, Mary                08 Des Moines RC          22:22.8  137             
138 Murphy, Elizabeth         08 Portland  XC Club      22:24.8  138             
139 Curtis, Christine         08 Hunterdon XC Club      22:25.8  139             
140 Cammock, Ethelin          10 Yankton XC Club        22:31.2  140             
141 Swanson, Katie            09 Davis XC Club          22:33.5  141             
142 Cammock, Hiley            11 Yankton XC Club        22:34.8  142             
143 Salazar, Maria            09 Portland  XC Club      22:36.7  143             
144 Higgins, Tara             08 Rose City XC Club      22:41.7  144             
145 Schaumburg, Jessica       08 Hunterdon XC Club      22:53.0  145             
146 Spellman, Sarah           10 Des Moines RC          22:55.7  146             
147 Durrwacher, Julie         10 Keller XC Club         22:56.0  147             
148 Chilson, Denise           10 Fort Collins RC        23:01.8  148             
149 Baldino, Maria            08 Hunterdon XC Club      23:15.0  149             
150 Coval, Shelby             11 Keller XC Club         23:30.1  150             
151 Mydosh, Megan             11 Warwick Rc-G           23:38.8  151             
152 Reed, Emma                10 Keller XC Club         24:37.4  152             
153 Pawlowski, Jill           08 Carroll XC Club-G      24:53.0  153             
154 Brown, Catherine          08 Hanover RC             25:45.5  154             
                                                                                 
                                   Team Scores                                   
=================================================================================
Rank Team                      Total    1    2    3    4    5   *6   *7   *8   *9
=================================================================================
Results - Women                                                                  
   1 Manlius XC Club              83    8    9   10   19   37   48   49          
      Total Time:  1:38:22.60                                                    
         Average:    19:40.52                                                    
   2 Newhall XC Club             171    5    7   34   61   64  104  106          
      Total Time:  1:40:13.20                                                    
         Average:    20:02.64                                                    
   3 Kinetic RC                  194    4   18   27   65   80  102  107          
      Total Time:  1:40:35.00                                                    
         Average:    20:07.00                                                    
   4 Hanover RC                  206    6   11   26   67   96  132  154          
      Total Time:  1:40:44.90                                                    
         Average:    20:08.98                                                    
   5 Burnt Hills XC Club         209    3   32   38   66   70   73  128          
      Total Time:  1:40:59.00                                                    
         Average:    20:11.80                                                    
   6 Caution XC Club             215    1   20   50   58   86  123  129          
      Total Time:  1:40:51.00                                                    
         Average:    20:10.20                                                    
   7 Fort Collins RC             241   22   25   40   56   98  124  148          
      Total Time:  1:41:56.30                                                    
         Average:    20:23.26                                                    
   8 Wicked XC Club              250   21   39   43   46  101  105  110          
      Total Time:  1:42:20.00                                                    
         Average:    20:28.00                                                    
   9 Davis XC Club               281   16   29   62   83   91  116  141          
      Total Time:  1:42:24.50                                                    
         Average:    20:28.90                                                    
  10 Rose City XC Club           295   31   35   51   75  103  119  144          
      Total Time:  1:42:55.80                                                    
         Average:    20:35.16                                                    
  11 Warwick Rc-G                301   14   24   74   94   95  131  151          
      Total Time:  1:42:41.10                                                    
         Average:    20:32.22                                                    
  12 Portland  XC Club           304   17   44   76   82   85  138  143          
      Total Time:  1:43:03.70                                                    
         Average:    20:36.74                                                    
  13 Hunterdon XC Club           304   13   36   47   69  139  145  149          
      Total Time:  1:43:29.00                                                    
         Average:    20:41.80                                                    
  14 Des Moines RC               318    2   15   77   99  125  137  146          
      Total Time:  1:42:50.90                                                    
         Average:    20:34.18                                                    
  15 Westfield XC Club           322   30   41   52   90  109  118  136          
      Total Time:  1:43:23.60                                                    
         Average:    20:40.72                                                    
  16 Yankton XC Club             324   42   59   63   68   92  140  142          
      Total Time:  1:43:27.50                                                    
         Average:    20:41.50                                                    
  17 Anaheim XC Club             337   23   53   55   93  113  121  126          
      Total Time:  1:43:47.50                                                    
         Average:    20:45.50                                                    
  18 Carroll XC Club-G           344   28   45   71   88  112  134  153          
      Total Time:  1:43:49.90                                                    
         Average:    20:45.98                                                    
  19 Suwanee XC Club             349   33   54   57   78  127  133  135          
      Total Time:  1:44:16.10                                                    
         Average:    20:51.22                                                    
  20 Wilmington XC Club          377   12   81   87   97  100  111  120          
      Total Time:  1:43:54.60                                                    
         Average:    20:46.92                                                    
  21 Lake  Central XC Club       413   60   72   84   89  108  117  122          
      Total Time:  1:44:49.40                                                    
         Average:    20:57.88                                                    
  22 Keller XC Club              585   79  114  115  130  147  150  152          
      Total Time:  1:49:19.40                                                    
         Average:    21:51.88    
NTN Finals index