9th Nike Indoor Nationals

March 10-11, 2007 at Prince George's County Sportsplex, Landover MD

DyeStat on-site with Doug Speck, Marc Davis, Steve Underwood, John Dye, Donna Dye and Justina Jassen

NIN Field Events: Wallace, Hayes Make Biggest Marks
All-time lists revised in boys vault, girls shot, and more

By Steve Underwood, Photos Vic Sailer, photorun.net and John Dye (Wallace)

Maston Wallace took what was given him Saturday night – three things – a new lease on his competitive life for this day when he figured out his steps, a chance to jump at a height he'd never tried before (between his PR and the USR), and a chance to WIN at that height when Spencer McCorkel passed it.

He took advantage of all three and – oh, yes – that special height just happened to be the meet record 17-05, which he cleared on his 2nd try.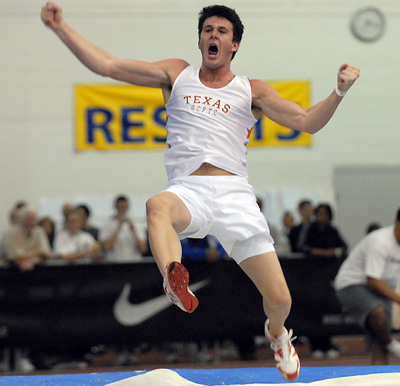 Indeed, Saturday's field events were full of opportunistic athletes who used what they were given for some surprising results, such as Californians Trevor Kraychir and Jamesha Youngblood. The former took advantage of the Walter Hennings-less weight throw and some great competition, while the latter found that finally getting to compete in her triple jump in some warmer air (warmer than CA? who knew?) was a key. Then there was Austin Davis, who knew that the last can be first and put himself in a position to control the boys TJ.

In the pentathlon, champions Ryann Krais and Terry Prentice didn't even have to do particularly well in most of their events to win – they just had to have a shot to do them all together.

Sunday saw some enduring doublers, like Prentice and Youngblood (both in the LJ), who certainly made the most of the long trip East. Then there were those who rose again to the top after enduring questions about their progress throughout the winter, like Kamorean Hayes, Patience Coleman, and Rachel Laurent.


Boys PV – Opportunity Knocks

"I was really lucky today," said Maston Wallace, a Friendswood TX (Clear Brook HS) senior. Well, being pretty good had something to do with it, too.

After the US leader had broken the meet record of Granite Bay CA standout Scott Roth from last year's great battle, and scared the USR, he recalled the way the competition had started. "Earlier, I couldn't get my steps down at all," he said. "So I came in early and tried to get myself under control."

That meant getting over 15-07.25, for starters, but he still didn't really look like the 17-footer that he was, yet. At that point, he was in the top eight. But that height was another serious challenger – Casey Roche – could manage on this day. Coming in with the best career mark, his 17-05 from last summer, the Californian has not regained championship level form.

Indeed, 16-01.75 saw the end of the line for four vaulters, but Wallace and Fort Wayne standouts Hunter Hall and super soph Cory Shank made clearances. And, in an ominous sign for the rest of the field, Bryant AR sr Spencer McCorkel was on his game. The Bryant AR sr opened at the height and boomed over.

Still, at first the competition didn't really have that dramatic energy it enjoyed last year, despite the announcer's attempt to rev it up. At 16-05.25, Shank finally bowed out, but McCorkel scored and, just when it looked like the train might get stuck there, Wallace (on his third try) and Hall finally did, too.

At 16-09.25, things really started to heat up. Boom! McCorkel made it on his first try. Boom! Wallace, on a roll now, too, hits it first attempt. Hall wanted to join them, too, but couldn't quite get it. Then at 17-01, McCorkel nails it yet again and Wallace matches him on #2.

McCorkel has needed just three vaults to Wallace's eight, but here he made the critical decision that he felt gave him the best chance to achieve his biggest goal – a US record. He passed a meet record 17-05. "I didn't come all the way here just to set a meet record," he said. "I didn't feel I needed to jump 17-05. I wanted to save all of my best attempts for 17-07."

Wallace needed 17-05, and wanted it. He had gone from 17 feet up to 17-7 at Reno, then from 17-3.75 to the USR height again at Houston. So this was actually the first time he'd ever attempted 17-05, which would make him #2 all-time. On his second attempt then he got it and 2006 champ Roth was off the books. Wallace leapt into the air, punching his fist as the Saturday crowd and announcer went bonkers. It's moments like this that meets like this live for.

Then 17-07 proved to be too much for both studs. There seemed a sense out there, though, that Wallace's MR jump was going to be it, anyway. It turned out that McCorkel didn't have the artillery for 17-07 and Wallace was spent. "I blew through all of my poles," said McCorkel. "My biggest pole wasn't big enough, it turned out."

Still, it was a great meet for McCorkel, who's still the little guy out there, height-wise, but has added 20 pounds of strength. He was dominating the competition most of the way, in contrast to some past championships. Watch for him in the spring.

Meanwhile, Wallace has dominated all winter. He's led the nation all winter and had the biggest victories. "I hit the weights hard all summer and have worked on getting faster and stronger," he said. "My goal is to get the outdoor national record."


It all comes together for Kraychir

Does anyone remember the electricity in the air last March when the titanic battle of 17-footers was going on in the PV, while Walter Hennings was destroying the USR in the weight throw? Of course you do; how could anyone forget?

Well, the vault didn't have the pre-meet buzz it had last year, but it eventually come to a rousing conclusion (see above). The weight didn't have Hennings, who spent the whole weekend at NSIC this time. But it had a couple of guys who fed off each other and turned the event into a pretty good battle.

Trevor Kraychir of 29 Palms, CA had come to NIN three previous times, searching for a gold. Ryan Loughney of Woodbourne NY had thrown behind Hennings almost all winter. This was their chance for the spotlight. Kraychir opened at 71-05.50, while Loughney, after a foul, went 69-08.25. On his 2nd throw, however, the big senior from out west hit 77-01.25 for a lead he would not relinquish.

By the finals, though, Kraychir and Loughney were cheering each other on, almost like teammates. Since the weight and hammer aren't contested in CA, Loughney probably did seem like a teammate to Kraychir. The energy was rising in the vault, too, and it began to feel a little like 2006 again.

Then on his fifth attempt, Kraychir really got fired up, generated some uncommon speed in the ring, and whirled the ball and chain way out to a US#2 81-04.75. NIN had another 80-footer!! Trevor was suddenly #4 all-time and the fans gave him some love as he enjoyed the moment.

Loughney's best throw, 73-05.25, would come on his fourth attempt, while the other 70-footer in the field, Craig Pierce RI, would take 3rd in 67-00.

"The good competition drives me," said Kraychir afterward. "The last two years, Walter Hennings has driven me. I just think it's the competition, in and of itself, and the way the fans yell and cheer and clap. It's amazing and why I come back here every year.

"It was a little lackluster at the beginning," he added, "but as we got closer, we were slapping each other on the back before every attempt, cheering each other on."

As for his big throw, Kraychir said he couldn't even remember exactly what it was that pushed him over 80 feet. "An athlete needs to get in the zone," he explained, "where they worry about nothing and just throw."

Maybe Kraychir's family does the worrying for him. They are sort of the first family of throwing in CA. His brother Trent competed in the boys event last year, and the Kraychir's father, Hank, was a shot and discus standout for USC in the 1980s.

Then there's Casey, Trevor's sister, who could be the best of all. She came into the girls weight earlier as the #2 seed despite being a freshman. With most of Georgia's Throw 1 Deep crew in New York, the event shaped up to be a 3-way battle between Kraychir, New Rochelle NY sr Cynthia Lloyd, and the lone member of T1D here, junior Allison Horner (last year's 3rd-place finisher).

The top 3 all launched fouls on their first attempts, then Kraychir took the lead with her 51-01 in round two. Lloyd snatched it away on her next attempt, though, hitting the winning mark of 54-03.25, while Horner moved into second.

In the finals, Lloyd built her series with what ended up being the second- and third-best throws of the day, Horner solidified second, and Kraychir struggled with three fouls. Lloyd showed she is the present of the event here, but Kraychir is certainly at least the future.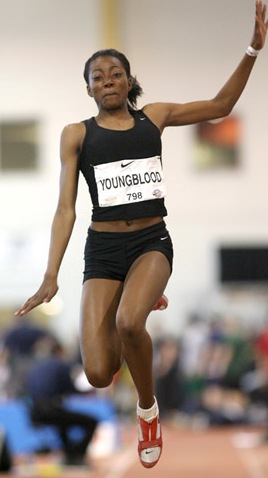 Girls TJ - Having Some Warmth; Boys TJ – Having the Last Say

Like Trevor Kraychir, Jamesha Youngblood found a lot to like about competing here at NIN in the PG Sportsplex … but it's not exactly what you'd think.

"I think it was the weather here," she said. "It was nice and warm in here. I was really able to get loose."

"Warm?" A California girl is calling Landover, MD "Warm?" Well, what you gotta understand is that Jamesha comes from San Pablo CA, in the Bay Area, where it's definitely not warm this time of year, she said. And, yeah, it WAS kinda toasty on the track all weekend.

So with the, uh, blood flowing, Youngblood was able to find her groove pretty quickly. She immediately skipped a 41-05.25, a jump better than anyone else would do all day. She hit 41-10.50 on her fourth try, and the winning mark of 42-02.75 on her fifth.

The best NON champ Arantxa King could do was 40-11.75, while new US#2 Stephanie McIntyre was off form and had to settle for 4th with 39-02.50.

In the boys TJ, positioning was everything to 6th-seeded Austin Davis. The Northern Durham NC sr likes to be last, so he knows what everyone else has done and can put it down for the win. So in the prelims of the event, he was able to uncork his best mark in the third round and get the #8 spot in the order for the final.

He certainly got a challenge from Trenton Central NJ sr Devon Bond. National leader for part of the season, Bond was 7th in the order and hit a PR 48-07.50 on his final jump. The pressure was on Davis, but if he hit it, no one else would be able to respond.

That's the way he likes it. He hop-skipped-jumped a monster PR 50-01.25, the best jump in the country this year. He had soared past his seed mark (47-11), his 2006 outdoor PR (48-04), and even past the 49-01 he had hit during a dual meet this past week. Game over.

"I always want to be the last jumper," he said. "It helps me focus. I think I had more speed on that last jump, and I held my last phase longer."

Davis's father, Al, on the sideline nearby, was most pleased. "He coaches himself," he declared. "He comes over and watches Jonathan Edwards (world-record holder) on videotape."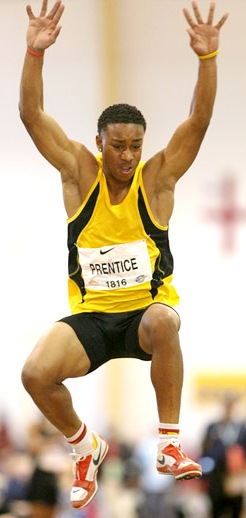 Multi Masters – Prentice and Krais

Now, if you talked to Terry Prentice and Ryann Krais about their individual events during the pentathlon, "most pleased" would not be a phrase often used. Each had plenty of criticism for their marks in the majority of their five events. The problem is – from their opponents' perspective – is that each does so many things so well that they don't have to hit PRs, or even close, to dominate a multi.

Prentice, the Diamond Ranch CA sr who was runner-up to the masterful David Klech last year, won by more than 300 points, his 3966 total within 14 of the meet record mark Klech did last year and good for #6 all-time. Krais, who was the defending champ from Methacton PA, was a whopping 600+ points up on the field. Her score of 3715 exceeded her 2006 total by 45, gave her a new meet record by six, and is #3 all-time.

Mention of his 60H (8.22-2nd) and high jump (6-2.75 – tied for 3rd) elicited mildly scornful shrugs. But Prentice was very happy with his shot put, where he popped a 45-08, a 2-foot PR. And in his specialty earlier – the long jump – he had put up a very solid mark for a multi – 23-05.50.

So it came down to the 1000 – not one of his favorite events – with Prentice in no danger of losing the multi, but just wanting a solid mark. He got it with a PR 2:51.32 for 4th.

"I messed up my hurdles," Prentice explained afterward as he began to review his events. "And I didn't feel too springy in the high jump. I should be able to do 6-6."

He couldn't really explain why the shot had gone so well. "I just picked it up in practice one day and threw 46." Must be the weight training.

For Krais, the last mark was the deal-maker. She had been even more dominant than Prentice, but with results that were a little less Ryann-esque. She began with a solid 8.84 victory in the 60H, off to a 90-point lead over Mindy Robins UT, and she was off to victory.

She would have liked at least one more height in the high jump, but she settled for a winning 5-03.75. In the shot, her weakest event, she threw a pretty decent 32-03.75, good for a tie for 2nd. She won the long jump – also a specialty for her – by more than 17 inches, but her 17-10.75 was about 2 feet off her best. It just wasn't the kind of field that got her competitive juices flowing.

Finally, there was the 800 and Krais IS a good 800 runner. She needed a good run to better her winning score last year and, showing all of her grace and power, she ripped a 2:21.26 – pretty good for someone who's a jumper and hurdler.

"I was fairly happy with my hurdles," she said, beginning to describe the affair. "My shot put was my best official mark, but I recently did 36 in a scrimmage. If I could have had 5-5 in the high jump, that would have been nice. The 800 was an indoor PR.

"I wasn't really that happy about the individual marks," she concluded. "But putting it all together was pretty good."


Sunday: Californians Bounce Back

Terry Prentice had a busy day Saturday, but his weekend was just beginning. And Jamesha Youngblood didn't come out here for just one title, but two. Both Californians made the most of the full two-day competition.

Prentice worked his way through his 60H prelims, then began long jumping. In the first round, Rashad Cannon VA put out a huge 23-09 to take the lead, while Prentice began in 4th. He worked up to 2nd in the next round, where he stayed for the final.

In the fifth round, Terry was pushed down to 4th again, as Brendan Ames WY and Jordan McPherson OH each got their best jumps of 23-02.50 and 23-04, respectively. But as the next-to-last jumper, he responded with 23-04.75 to take back 2nd. Finally, in round six, he came through with the winner of 23-10.75 take away the title. Cannon, meanwhile, was unable to exceed 23 feet again after his first leap.

"For some reason, that pit just seemed hard to jump in today," Terry commented. "And my legs were heavy today. But on the last round, I just got motivated and took off harder."

Though he would have liked the win in the 60H as well, Prentice had a solid race (4th overall in 7.84), despite the fiasco around him (see sprint/hurdles story).

Youngblood faced a strong and deep field on the girls side in her attempt to become the first NIN horizontal jump doubler. The list was full of talent in the high 19s and low 20s, but it was an underachieving type of day for many of them. 20-footers Karyn Dunn CA and Arantxa King MA, for example, had to settle for 19-03.25 (3rd) and 19-02 (4th), respectively.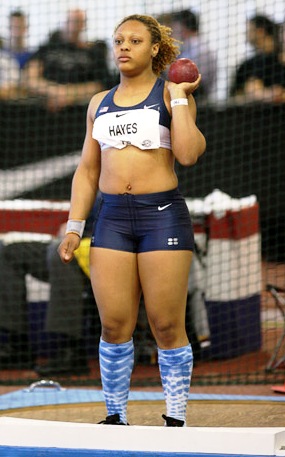 But Youngblood almost didn't make the final. She had two fouls to begin the competition. Finally, on jump #3, she not only got in, but had the best jump of the prelims – 19-05.75 – but also one that wouldn't be beaten in the finals.

Well, wouldn't be beaten, that is, except by Jamesha. After a 19-02.75 in round four, she hit the 6-meter mark exactly on her fifth (19-08.25) to build a little comfort zone. Of course, there was no staying comfortable with this field, but the best anyone else could do in the entire last three jumps was 19-00. That came from Shakia Forbes VA, who had hit her best of 19-04.75 back on her first jump, which held up for second. She won NSIC two days earlier with the exact same mark.


Sunday Supremacy – Kam Bam, A Little Patience, Return of Rachel

Some of 2006's leading lights in the girls field events have been a little flickery this year, not really showing the talents they displayed in the past.

Defending shot put champ (and NON/USATF Junior champ) Kamorean Hayes had been battling in the sub-50 realm for the US lead. Fellow North Carolinian Patience Coleman, who cleared 6' in the high jump multiple times last year en route to NIN and USATF Junior titles, hadn't beaten 5-8 indoors and had the indignity of a #9 seed coming in. Rachel Laurent, the nation's #3 returning vaulter with a 13-03 PR, had a 2007 best of just 12-05 coming in and two losses in her home state of Louisiana.

Sunday, however, all three issued the following statement: I'm back. Deal with it.

Hayes' statement was the most powerful … oh, was it ever powerful. With a 2007 best of just under 50 feet coming in, she immediately put the pressure on with a 49-10.50. She was facing one of the best fields of the meet as ALL of the top putters from this indoor season were here. US#2 Karen Shump had the next best mark of 48-02.25.

Then in round two, Kamorean hit the big one. The ball sailed out to a jaw-dropping 52-06.50, delivering a crushing blow to anyone else's hopes. The throw not only exceeded Hayes' winning throw from last year here, but even her outdoor PR, vaulting her into #3 all-time in this event.

Hayes would hit the 49s twice more, territory no one else would achieve on this day, and the Charlotte NC sr (Harding University school) became a 3-time champ here.

Afterward, Hayes said her real goal had been to break the U.S. record here. But she'll have a chance to go after the formidable 54-10.75 of Michelle Carter outdoors.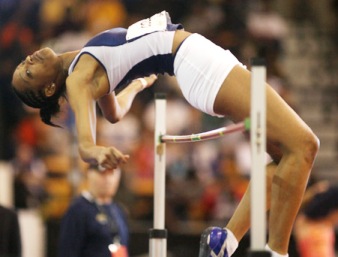 Coleman had hit 5-10 or better six times last year, in and out, but had struggled in her meets so far this winter. Well, if you didn't know already, turns out there's a good reason for why she begins to make her mark about this time every year.

"My basketball season has just ended," said Patience. "The rest has made a big difference."

Sunday, she only upped her season best to 5-08.75, but it was the way she did it that was more impressive, hitting first-try clearances at four straight heights. She couldn't quite manage her next height of 5-10.75, but had solid attempts there. Patience is back.

The field was filled with several other jumpers with 5-8 and 5-9 season bests, but in the end, at 5-10.75, it was just Coleman and veteran Virginia standout Ashley Gatling. Neither could make it, but since Gatling had two misses at 5-08.75, the repeat winner was Coleman.

In the girls pole vault, Texas super soph Shade Weygandt was the clear favorite, as she had cleared a US#2 and soph record 13-06 earlier in the season. Then there was Katie Veith IN, the defending NIN and NON champ who's started more slowly this year but is still very much in the game.

Laurent was obviously in the mix, too, but turned out to be much more than that.

She started earlier than some of the other top contenders, entering at 11-3, then clearing 11-9, both on her first attempt. Veith and Weygandt each opened at 12-2.75, which both cleared on the first try. Laurent made it on try two, and two others also got over.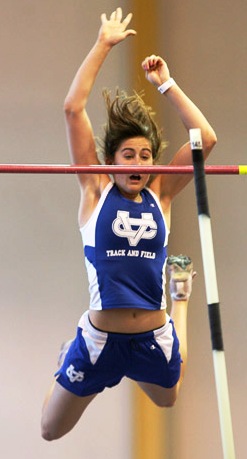 At 12-06.75, the game changed, though. Veith missed three times for a surprising early exit, while Weygandt needed two tries. Rachel was over the first time and had the lead. At 12-10.75, it was Weygandt who cleared right away and Laurent who needed two. Meanwhile, 3rd-place finisher Stephanie Duffy NY would go out, leaving just the big two at 13-02.75.

That was when the Vanderbilt Catholic jr struck the winning blow, nailing it again on the first try. Weygandt could do no more on this day. Laurent then gave 13-06.25 a shot – icing on the cake – but settled for an indoor PR and her 2nd-best overall ever.


Boys Shot – Pacifico Continues Domination

Dayton OH's Jimmie Pacifico has thrown further and more consistent than ever this winter. The trend continued for the Vandalia OH sr (Butler HS) Sunday.

With an opener of 61-10, the 2006 runner-up hit a mark no one else would reach all day. All four of his legal throws would be such. To conclude the prelims, he reached 63-11.25, then on his fifth (and only fair put of the finals), he made it out to 65-00. Only Jimmie himself has gone further this winter, with his mark of 65-05.50 being the US leader.

Weston Banks PA went 61-01.25 on his third throw for 2nd place, while Colin Boevers UT, the US leader earlier in the year, won bronze in 60-11.50.

"I didn't play football this past fall, but spent a lot of time working on my weights, speed, and throwing since Nike Outdoor," said the winner. He expects to throw this coming weekend at the Ohio championship meet, hoping for a 67, then has the lofty goal of 73 feet outdoors.

Boys HJ – Bond Still Knockin' on 7-01's Door

What will it take to get Devon Bond over 7-01 in the high jump? Since he conquered 7-00 earlier in the season, tied for the US lead until two days earlier, he has gone for the next increment in at least three meets. But he just can't quite get it.

The good news was that by the time he attempted that height (actually 7-00.75 here, or 2.15 meters), he had the win in the bag. He hadn't been in such good shape earlier, as it took two jumps for him at 6-06.75, and three each at 6-08.75 and 6-10.75. He was only in third place before what turned out to be the winning height was attempted, trailing Kurt Poehlman MI and Chris Copeland VA. But at 6-10.75, Bond was the only one who could get over.

Well, Devon will have some time to think about it now. The Trenton Central NJ star will likely defend his Penn Relays title and what could be better than setting a PR there?