Speck's Blog





A look in the Rear View Mirror - 20 Years Ago on US National Prep Scene - late April 1987





April 25, 2007



By Doug Speck, DyeStatCal Co-Editor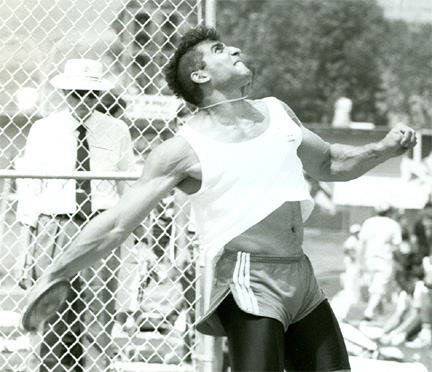 Kami Keshmiri


The Boys' weight events were all the rage twenty years ago during the mid-spring 1987 Track and Field season nationally, with the Boys' discus especially adding to an amazing rearrangement of the National All-Time list, led by Reno, Nevada's Kamy Keshmiri.

Keshmiri's dad, Joe, was an Iranian native who was over 200 feet with the Open platter while competing for Hancock JC in Santa Maria, California and the University of Nevada Reno, and went on to the 1968 Olympics for his native country. Joe stayed in the Reno area, with son Kamy over 200 feet as an eleventh grader in 1986 for Reno HS. Then, during a great competition at the mid-April 1987 Arcadia Invitational with Dwight Johnson (Tempe, Arizona), Kamy blasted anything ever done with the HS implement by a ton!

Keshmiri had already added a foot and a half to the prep record with a 214-11 at the late March Stanford Invitational to better the former prep best of 213-6 by Kansan Clint Johnson from 1980, but nothing would prepare for folks for what happened at the April 11th Arcadia Meet. Dwight Johnson had really put a scare into Kamy with a 212-11 (the #3 prep throw ever) to trail Kamy's 214-06. But with Keshmiri the winner and nothing to lose, he stepped into the ring for his final toss ready to let it all hang out. His effort was a stunning 224-03 to add nearly 10 feet onto the previous prep all-time best, a national federation record crusher that was stunning to observe!

The hot Nevadan would go on the next few weeks to record 223-05 (Mt. Carmel, San Diego) and 224-01 (Mt. SAC) winning efforts, and would better his 224-03 in the Golden West Invitational in mid-June that we will summarize in our history summary of that period in a few weeks! Charles Moye (Ellet, Akron, Ohio) added to the weight craziness of that year with a stunning 72-08 Shot Put effort, prep history's #3 mark to that point behind Michael Carter's insane 81-03.5 from 1979!


Steve Lewis, Quincy Watts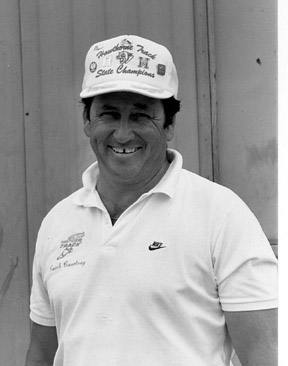 Kye Courtney


Meanwhile, Quincy Watts (Taft, Woodland Hills, CA), who was an eventual Barcelona Gold Medalist at 400 Meters after a career at the University of Southern California, was also hot that spring. He had 10.51 and 20.89 Arcadia sprint wins, with shocking 1988 Seoul Olympic one lap champion, Steve Lewis (American HS, Fremont, CA) the Arcadia winner at 46.70 one year prior to Olympic glory as a UCLA frosh (he also took 4x400 gold in 1988 and 1992)! Brent Burns (Acalanes, Lafayette, CA) was 17-03 to win the Arcadia Pole Vault, a mark among prep history's top dozen at the time.

Hawthorne HS in the greater Los Angeles area of California, under former Manhattan College great Kye Courtney, was on a tear in the sport. Hawthorne's 1985 squad had set an amazing still-standing Boys' 4x400 relay record of 3:07.40 while winning the Texas Relays in early April. In 1987, the school made its annual trek to the Lone Star State at the Texas Relays, but was rebuffed by locals there. Lincoln of Dallas took the 4x1 at 40.86 over the California crew's 40.91, with South Oak Cliff's 3:12.20 4x4 taking Hawthorne's 3:12.35! The Hawthorne group took four Girls' relay titles at Texas, with 46.91 (4x1), 3:47.58 (4x4) and 9:37.43 (4x8) victories! The Cougar Girls' group was 46.75 and 3:48.94 during Arcadia wins the next week, then the team of Adrienne Thomas, Deandra Wheeler, Deanna Amy, and Kee-Sha Adams raced 1:42.0 in the 800 Medley relay at Mt. SAC. It was a clocking virtually equal to the 1:42.12 National Record by Sterling of Houston, Texas the previous year.

Jamaicans dominated the Penn Relays that 1987 season, with the Islands' male squads racing 40.99 (Camperdown) and 3:12.64 (St. Jago), the latter squad outrunning the William Reed-anchored Central of Philadelphia group (3:16.24). Reed, a junior who finished the season at 45.17 for the open 400, closed in 45.73! Paul Vandegrift (Kennedy, Consshohocken, PA) impressed with a 3:49.67 1500 triumph in the Penn Relays prep open event!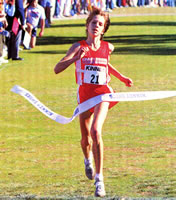 Erin Keogh


On the Girls' side at Penn, it was more of the Caribbean success, with a Jamaican sweep of the big baton events on that side also! Vere Tech took the 4x1 at 45.56 and blazed 3:45.70 to win the 4x4. Notre Dame of Staten Island was close but not able to catch St. Elizabeth Tech 9:11.42 with a fine 9:11.93 4x800 effort. Jasmin Jones (Hackensack, NJ) was a fine 4:26.5 1500 Girls' winner, with Erin Keogh (Langley, McLean, VA) hot off two straight years of Kinney National Cross Country titles, a super 9:31.1 3000m Penn winner! Keough had run 9:57.83 for 3200m that past winter indoor season for 3200m, a National Indoor Record for that distance.