2006 Nike Team Nationals - Championship Boys
Dec. 9, 2006 Portland OR
Live Webcast - Results - Live Blog
Bridgetown PA (Coatesville) lives up to its NE#1 ranking in a big way, pulling away from a huge pack in the last inverval. Steve Murdock NY 16:38 wins. Ben Johnson NM and Michael Cybulski CA win Foot Locker Finals berths.
by Rich Gonzalez, co-editor, DyeStatCal
It took several months and one very special invitation, but the boys from Pennsylvania FINALLY trekked across state lines.
Bad news for those other 49 states.
Even with its frontrunner slowed by a slight off day, the depth displayed by the Bridgetown Cross-Country Club proved far more than the trusted national mega-powers could handle during a mud-stomping, lactate-building challenge at Nike Team Nationals III on Saturday afternoon at Portland Meadows.
Bridgetown, which gapped just 51 seconds while sporting the fastest 4th and 5th scorers in the entire race, shaved nearly 20 points off its running score in the latter half of the competition to win going away, 126-148, over runner-up Simi West of California and third-place Spokane of Washington (162). Steve Murdock, a senior from Clifton Park XC, won the race in 16:26 under very adverse course conditions.
Kyle Dawson, Bridgetown's #1 runner, finishing 8th.

Sean Ward and Owen Dawson, who finished 20th and 21st.
photos by John Dye
Bridgetown came in under the radar
"We came in, I think, still a bit under the radar to some skeptics," Bridgetown coach Keith Andrew conceded, "but we came out of the mud as champions. It really hasn't settled in yet... This is a dream come true."
The winning squad, whose members competed for Coatesville High during the high school season, clearly shut the door on the top-notch competition over the race's last eight minutes. But the victory truly began taking shape more than 24 hours earlier.
As meet participants began their day-before course run-throughs, the soggy 5,000-meter layout took a major beating, wearing away at what had been a surprisingly manageable damp-grass, mud-packed infield layout at week's start. By early afternoon on Friday, deep streaks of paved mud became apparent along the course, signaling a downward change in the course's footing. By late afternoon, the scene had endured a massive change, with large sections of mud resembling a pig's trough. Firm spots were very few and far between.
Good mudders were confident
Being new to both the course and the NTN experience, Andrew and assistant coach Dave Lapp admitted they were concerned by those course developments despite mentoring a strength-oriented lineup quite familiar with challenging courses.
"But then last night the kids told us they were confident," added Andrew. "They told us, 'Coach, we're ready. We know we can run in the mud. We're set to go' After that, a calm came over us and I just had a great feeling about what was going to happen today."
Sean Ward and Owen Dawson provided great performances to finish 20th and 21st fo Bridgetown, with Tom Pannulla (32nd) and Jason Leonard (45th) closing out the scoring. As the 5th runner on the winning team, Leonard also earned the meet's "Golden Anchor" award. Andrew Mahoney and Chris Rosato rounded out the championship effort. All five of the team's scorers were seniors.

Simi West CA is second
Second was Simi West CA (Royal) which was victim to Hills' (Trabuco Hills) mind-blowing and historic effort at the recent California state meet. The key to the team's runner-up placing centered on junior Alex Routh's #2 finish in the team order, Routh, often the team's fifth scorer, was only 34 seconds behind Cybulski while on the slowest course this season.
"It was amazing... I was very proud of their effort," said Royal HS coach Ryan Luce, who was not allowed by CIF-SS rules to coach the team in the unsanctioned postseason event, but was permitted to attend the event and interact with the kids after the race.
Steve Murdock is class of the field
Murdock, who previously qualified to represent the Northeast Region at next weekend's FootLocker Cross-Country Championships, was easily the class of the field. Mired in the penultimate challenge of a six-week stretch of championship-type efforts, Murdock was content to share the lead over the first three kilometers as his pre-meet plan called for.
"Then it was time to go," said the Syracuse-bound senior and New York State champion. "When I made my move, it felt great. No problem at all with my legs or the mud."
Technological Bells & Whistles -- From the meet that brought you automated in-race "quick scores" and mega-sized video screen race footage in its initial versions of NTN, the technological growth of the event continued in 2006 as a live Web-cast was beamed around the world.
Early data figures reveal that more than 80,000 DyeStatters tuned in to the 3-hour live feed, which included real-time footage of both NTN championship races; vignettes on select competing club teams; interviews with such Nike elite athletes as Adam and Kara Goucher, Paul Tergat, Dathan Ritzenhein, Alan Webb, and Bernard Lagat as well as webcast commentary from Nike elites Alan Culpepper and Lauren Fleshman.
All told, there was more than a 50% increase on race day over previous DyeStat records for online traffic in terms of sessions and page views.
"The new resources, talent and leadership brought to bear by Student Sports are taking DyeStat to a new level that I couldn't have imagined two years ago," said DyeStat founder John Dye.
Participants in the NTN championship races were greeted by a series of three fireworks blasts shortly after the starting gun sounded as the combatants scurried along the opening stages of the course.
Setbacks -- Teams always aim to put their best collective feet forward on race day, but such does not always happen. Two clear instances impacted the final results.
First was the discovery of an early outbreak of a gastrointestinal virus spreading through the team camps. The first case to come to light centered around Potosi's Josh Thebeau, who was sent to the hospital to help treat the condition. Thebeau also struggled the weak prior in finishing at the back of the pack in the Foot Locker Midwest Regional. Two other runners were felled by the virus that were readily known.
The other notable mishap occurred at about the one-kilometer mark as a series of runners took a spill, leading to a major chain reaction of collisions. A video screen replay revealed a few dozen runners were eventually swallowed up in the mass pileup, with most falling, then struggling to get to their feet, only to fall again.
Elmhurst XC Club (with members competing for York HS of Illinois during the high school season) was among those hardest hit by the logjam, as five runners reportedly lost their footing at that point. Contacted later, several Elmhurst team members confirmed the incident claimed most of their team members but quickly and staunchly refused to attribute their surprisingly mediocre middle-of-the-pack showing to those developments, instead citing "we just didn't come ready to run today."
Region-by-region rankings analysis
California continues to rise; Mead and Royal share NTN historical excellence
For the second consecutive year, the California Region is making fine headway on the national scene. After boasting two teams in the top seven in 2005, the Golden State boosted its credentials with two teams earning podium spots in 2006.
Simi West led at one point in the race but then was overpowered by the strong-closing Bridgetown crew. Carmichael (Jesuit HS of Sacramento), a squad which a few experts internally agreed earlier in the year could win NTN by season's close, managed a very impressive fourth despite needing an at-large berth to be invited.
California not only had the best regional showing through two spots, but going three deep as well. Hills XC Club (Trabuco Hills HS of Southern California during the prep season) endured a rough 9th-place showing at NTN just seven days after establishing a state course team-time record at Woodward Park. Davis, a Northern California squad showing at least as well as Jesuit during the closing weeks of the high school season and was projected by the author of this story for a Top 10 a NTN, was not invited, Data over the last 7 weeks suggest this was clearly the deepest pool of boys team talent in California history.
Although courting only two qualifiers to NTN, the Northwest had its best showing to date as Spokane XC (Ferris HS) and Mead XC (Mead HS) placed third and fifth, respectively. The reason for the regional breakthrough was the fine showing by Spokane XC, which placed 13th and 10th in previous versions of NTN despite being projected as a top 5 finisher each year. The Ferris jinx at NTN is officially terminated.
Mead XC achieved its third top 5 finish in NTN annals, (3rd in 2004 and 4th in 2005), with its aggregate place total of 12 "points" over three years matching Royal (4th in 2004, 6th in 2005, 2nd in 2006) as best in NTN's short history. Central Valley, another excellent Washington team up for strong consideration as an at-large entry, also was not invited.
Bridgetown's win was a great topper for the Northeast Region performance ledger at NTN, but it was an overhauled and improved Clifton (Shenendehowa) squad that placed 6th to give the region a very respectable look yet again. "Shen", paced by race winner Steve Murdock, joined Mead and Academy as the only teams with two runners in the Top 15 (Zach Predmore placed 15th for the New York school). Danbury, the top squad in a fine year for Connecticut teams, placed a distant 18th here as frontrunner Will Ahearn was wearing a boot cast this weekend, sidelined by a stress fracture.
Four of the remaining five regions were fairly balanced in aggregate performance, with the Midwest noticeably hurt by the large spill of runners occurring about three minutes into the race. Both Elmhurst (York) and Cincinnati, OH (La Salle HS) fell victim to lost positions during the snafu, The Southeast Region, which appeared overmatched in seasonal and final results during the first year of NTN (2004) before improving noticeably last year, again came up on the short end as its two representatives placed 14th and 20th overall.
The four at-large boys teams placed 9th (California Region), 17th (Midwest), 18th (Northeast) and 19th (Southwest).

Foot Locker qualifiers -- The annual race-within-a-race took place between certain combatants as two berths for next weekend's FootLocker National Championships were up for grabs. The qualification criteria was simple: The first two boys finishers in the NTN race that reside in those states that also comprise the FootLocker West Region would gain the berths, helping complete the 40-runner boys field. Ten runners each from the Northeast, South and Midwest regions previously qualified last weekend, joined by eight others from this weekend's FootLocker West Regional at Mt. SAC.
Senior Michael Cybulski of Simi West was XC Club was favored for one berth, while Spokane XC's Cameron Quackenbush and Academy XC's Ben Johnson were projected to battle for the second spot. Johnson actually pulled into the lead pack during the second kilometer, with Cybulski's conservative approach seeing him move up from 16th late in the first kilometer. By the race's midpoint, Cybulski was tailing close to leader Steven Murdock of Clifton (Shenendehowa HS), but the New Yorker soon made an unmatchable move to position himself firmly for the win.
"I tried to go with him, but at 3k he just began taking off," said Cybulski. "He was just too strong at that point, so I had to work hard to make sure I was top two from the West from there."
Johnson, who runs for perennial power Albuquerque Academy during the regular season, moved past Cybulski with about a kilometer remaining, then withstood a few challenges to place second to Murdock (16:26 to 16:37). Cybulski claimed the final berth to FootLocker, taking third in 16:41. Spokane's Quackenbush -- 5th in 16:44 -- will serve as the West Region's alternate for FootLocker.
Both Johnson and Cybulski will be hard-pressed to recover from the challenging Portland Meadows course, which leaves participants heavy legged for several days after the race.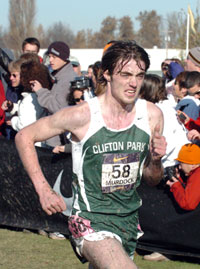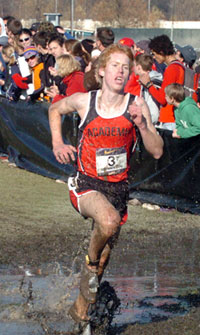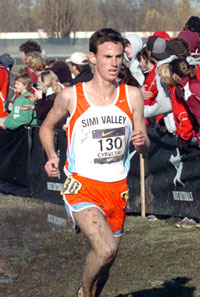 First three boys finishers - Steve Murdock, Ben Johnson, and Michael Cybulski ~ photos by John Dye
by Tina J
official team scores-

1. Bridgetown 126
2. Simi Valley 148
3. Spokane 162
4. Carmichael 169
5. Mead 187
6. Clifton 190
7. Academy 190
8. Potosi 191
9. Hills 203
10. Elmhurst 209
top ten individual results - Clifton's Steve Murdock, Ben Johnson from Academy, Mike Cybulski 3rd from Simi Valley, Southlake Carroll's Colby Lowe 4th, and Cameron Quackenbush from Spokane, 6th Carmichael's Evan Watchempinu 16:45. 7th Midlothian's Jason Witt 16:52, Bridgetown's Kyle Dawson 16:53, Mead's Kelly Lynch 16:55, Potosi's Joshua Mathis, 16:55
4th interval - Bridgetown moves to the lead 130, Simi 141, SPokane 162, Academy 173, CLifton 175, Hills 191, Potosi 193, and Mead 195
Clifton's Steve Murdock in the lead
interval 3 - gonna be a barnburner! so close Simi first 132, Spokane 133, Bridgetown 144, Clifton Park 162, Potosi 185, Hills 187, Academy 191
Second interval - Bridgetown 119, Spokane 125, Simi 149, Hills 149, Clifton 155
Top ten individuals are right together
interval one - Spokane 99, Carmichael 105, Hills 123, Clifton Park 127, Bridgetown 136, the Woodlands 145, Simi West 188, Mead 200
RecordTiming.com - Contractor License                       Hy-Tek's Meet Manager
                Nike Team Nationals Championship Races - 12/2/2006                
                                   Portland, OR                                   
                               Last Completed Event                               
 
Event 4  Boys 5k Run CC Championship
==================================================================================
    Name                    Year School                Avg Mile     Finals  Points
==================================================================================
  1 Murdock, James            07 Clifton Park XC         5:17.7    16:26.9    1   
  2 Johnson, Benjamin         08 Academy XC Club         5:21.2    16:37.8    2   
  3 Cybulski, Michael         07 Simi West XC Club       5:22.4    16:41.5    3   
  4 Lowe, Colby               08 Carroll XC Club         5:23.1    16:43.8    4   
  5 Quackenbush, Cameron      07 Spokane XC Club         5:23.4    16:44.6    5   
  6 Watchempino, Evan         07 Carmichael XC Club      5:23.4    16:44.8    6   
  7 Witt, Jason               08 Midlothian XC Club      5:25.5    16:51.3    7   
  8 Dawson, Kyle              07 Bridgetown XC Club      5:25.9    16:52.5    8   
  9 Lynch, Kelly              08 Mead XC Club            5:26.7    16:55.0    9   
 10 Mathis, Joshua            07 Potosi XC Club          5:26.8    16:55.1   10   
 11 Daratha, Kelvin           07 Mead XC Club            5:27.4    16:57.0   11   
 12 Martin, Dustin            07 Academy XC Club         5:28.0    16:59.1   12   
 13 Himelright, Brian         08 Peninsula XC Club       5:28.7    17:01.3   13   
 14 Neff, James               07 Woodlands XC            5:29.3    17:02.9   14   
 15 Predmore, Zachary         07 Clifton Park XC         5:29.5    17:03.6   15   
 16 Hickerson, David          07 Spokane XC Club         5:29.8    17:04.6   16   
 17 Swearingen, Jacob         09 Potosi XC Club          5:30.7    17:07.2   17   
 18 Hatcher, Dylan            07 Mead XC Club            5:31.2    17:08.9   18   
 19 Sullivan, Riley           08 Hills XC Club           5:31.4    17:09.5   19   
 20 Ward, Sean                07 Bridgetown XC Club      5:31.8    17:10.8   20   
 21 Dawson, Owen              07 Bridgetown XC Club      5:32.4    17:12.6   21   
 22 McKennan, Phil            07 Carmichael XC Club      5:32.7    17:13.6   22   
 23 Routh, Alex               08 Simi West XC Club       5:33.4    17:15.7   23   
 24 Brown, CJ                 09 Carroll XC Club         5:33.7    17:16.6   24   
 25 Lackner, Kyle             08 Carmichael XC Club      5:33.7    17:16.6   25   
 26 Thebeau, Joshua           07 Potosi XC Club          5:33.7    17:16.8   26   
 27 Gilland, Taylor           09 Chapel Hill XC Club     5:34.2    17:18.3   27   
 28 Adeys, Kaafi              07 Willmar XC Club         5:34.8    17:20.0   28   
 29 Pittman, Allen            08 Los Alamos XC Club      5:35.2    17:21.4   29   
 30 Reichl, Jun               07 Simi West XC Club       5:35.9    17:23.6   30   
 31 Blair, Scott              08 Hills XC Club           5:36.8    17:26.4   31   
 32 Pannulla, Tom             07 Bridgetown XC Club      5:37.2    17:27.6   32   
 33 Fry, Michael              07 Elmhurst XC Club        5:37.6    17:28.9   33   
 34 Sullivan, John            07 Hills XC Club           5:37.7    17:29.1   34   
 35 Benson, Danny             07 Simi West XC Club       5:37.8    17:29.5   35   
 36 Sulkin, Steve             09 Elmhurst XC Club        5:38.1    17:30.2   36   
 37 Mosier, Christopher       07 Hills XC Club           5:38.3    17:30.8   37   
 38 Salvatierra, Michael      07 Carmichael XC Club      5:38.5    17:31.6   38   
 39 LaPlante, Nick            07 Spokane XC Club         5:38.8    17:32.5   39   
 40 Quinn, Adam               07 Clifton Park XC         5:39.8    17:35.6   40   
 41 Abata, Mario              07 Mead XC Club            5:40.3    17:37.1   41   
 42 Kuczwara, Nicholas        07 Elmhurst XC Club        5:40.9    17:39.1   42   
 43 Actien, Thomas            08 Elmhurst XC Club        5:41.3    17:40.4   43   
 44 Maloney, Pat              07 Spokane XC Club         5:41.5    17:40.9   44   
 45 Leonard, Jason            07 Bridgetown XC Club      5:41.7    17:41.4   45   
 46 Foley, Scott              07 Cheyenne XC Club        5:41.7    17:41.5   46   
 47 Franke, Joshua            08 Cheyenne XC Club        5:41.8    17:41.8   47   
 48 Cooper, Kyle              08 Academy XC Club         5:41.8    17:41.9   48   
 49 Lupp, Richard             07 Cincinnati XC Club      5:41.8    17:41.9   49   
 50 Romero, Nathan            07 Los Alamos XC Club      5:41.9    17:42.0   50   
 51 Nusekabel, Jacob          07 Cincinnati XC Club      5:42.0    17:42.4   51   
 52 Spriggs, Corey            07 Cincinnati XC Club      5:42.0    17:42.6   52   
 53 Moore, Chris              07 Carroll XC Club         5:42.5    17:43.9   53   
 54 Terry, Matt               08 Danbury XC Club         5:43.0    17:45.5   54   
 55 D'Ambrogio, Alan          07 Elmhurst XC Club        5:43.1    17:46.0   55   
 56 Murray, Taylor            09 Academy XC Club         5:43.3    17:46.4   56   
 57 Andrews, Hudson           07 Simi West XC Club       5:43.5    17:47.0   57   
 58 Olsen, Stephen            07 Spokane XC Club         5:44.7    17:50.8   58   
 59 Petrak, David             07 Peninsula XC Club       5:44.8    17:51.1   59   
 60 Downey, Bryan             07 Woodlands XC            5:45.1    17:52.0   60   
 61 Mahoney, Andrew           08 Bridgetown XC Club      5:45.6    17:53.7   61   
 62 Gilna, Gareth             09 Los Alamos XC Club      5:45.8    17:54.2   62   
 63 Forbes, Daniel            07 Potosi XC Club          5:45.8    17:54.4   63   
 64 Connor, Reed              09 Woodlands XC            5:46.1    17:55.1   64   
 65 Becker, Brady             07 Danbury XC Club         5:46.3    17:55.8   65   
 66 Soller, Thomas            07 Clifton Park XC         5:46.6    17:56.9   66   
 67 Zucconi, Dominick         07 Woodlands XC            5:46.9    17:57.8   67   
 68 Suriano, Zachary          08 Clifton Park XC         5:47.0    17:57.8   68   
 69 Bedel, Mohame             07 Willmar XC Club         5:47.2    17:58.5   69   
 70 Merritt, Mark             08 Midlothian XC Club      5:47.2    17:58.7   70   
 71 Rosato, Chris             09 Bridgetown XC Club      5:47.3    17:59.1   71   
 72 Zacharia, Patrick         10 Academy XC Club         5:47.6    17:59.9   72   
 73 Lang, Douglas             07 Cincinnati XC Club      5:48.3    18:02.1   73   
 74 Mellis, Jonathan          08 Midlothian XC Club      5:48.6    18:03.1   74   
 75 Niggemann, Nicholas       09 Potosi XC Club          5:48.8    18:03.6   75   
 76 Pittman, Kyle             10 Los Alamos XC Club      5:49.5    18:05.9   76   
 77 Hassan, Mahad             09 Willmar XC Club         5:49.8    18:06.7   77   
 78 Donahue, James            07 Carmichael XC Club      5:49.8    18:06.7   78   
 79 Devlin, Jeff              07 Spokane XC Club         5:50.0    18:07.4   79   
 80 Danaher, William          09 Clifton Park XC         5:50.2    18:07.9   80   
 81 McCoy, Joseph             07 Peninsula XC Club       5:50.4    18:08.7   81   
 82 Hendra, James             08 Hills XC Club           5:50.7    18:09.4   82   
 83 Toure, Ahmed              09 Carroll XC Club         5:50.8    18:09.7   83   
 84 Awale, Abdillahi          07 Willmar XC Club         5:50.9    18:10.0   84   
 85 Grue, Richard             07 Carroll XC Club         5:51.0    18:10.3   85   
 86 Hammond, Michael          08 Midlothian XC Club      5:51.3    18:11.4   86   
 87 Reese, Richard            07 Midlothian XC Club      5:51.7    18:12.5   87   
 88 Butler, Andrew            09 Woodlands XC            5:51.8    18:12.9   88   
 89 Yusuf, Mustafa            07 Willmar XC Club         5:51.9    18:13.1   89   
 90 Pietz, Harlan             09 Academy XC Club         5:51.9    18:13.2   90   
 91 Balmaseda, Richardo       08 Danbury XC Club         5:52.6    18:15.4   91   
 92 Schaefer, Tucker          09 Danbury XC Club         5:53.3    18:17.5   92   
 93 Boudreau, Parker          08 Danbury XC Club         5:53.9    18:19.6   93   
 94 Jung, Timothy             07 Elmhurst XC Club        5:54.1    18:20.0   94   
 95 Cipolla, Otto             08 Simi West XC Club       5:54.5    18:21.4   95   
 96 Parish, Laine             08 Cheyenne XC Club        5:54.7    18:21.9   96   
 97 Valentine, Quinn          08 Woodlands XC            5:55.0    18:22.7   97   
 98 Bowidowicz, Thomas        08 Los Alamos XC Club      5:55.2    18:23.5   98   
 99 Marette, Anthony          08 Peninsula XC Club       5:55.2    18:23.6   99   
100 Inderhees, Michael        09 Cincinnati XC Club      5:55.6    18:24.6  100   
101 Wilbur, Michael           07 Clifton Park XC         5:55.8    18:25.3  101   
102 Heusmann, Mitchell        07 Cincinnati XC Club      5:56.1    18:26.4  102   
103 Sulkin, Mark              07 Elmhurst XC Club        5:56.2    18:26.5  103   
104 Wilde, Sean               07 Cheyenne XC Club        5:56.6    18:27.8  104   
105 Blair, Evan               07 Woodlands XC            5:57.0    18:29.0  105   
106 Pecora, Kent              07 Chapel Hill XC Club     5:57.3    18:30.0  106   
107 Bishop, Ryan              07 Mead XC Club            5:58.1    18:32.4  107   
108 Curnutt, Jordan           09 Mead XC Club            5:58.8    18:34.6  108   
109 Witherell, Thomas         08 Los Alamos XC Club      5:59.0    18:35.4  109   
110 Comer, Sean               08 Cincinnati XC Club      5:59.2    18:35.9  110   
111 Rampel, Miles             07 Chapel Hill XC Club     5:59.4    18:36.5  111   
112 Bubniak, Joseph           09 Danbury XC Club         5:59.5    18:37.0  112   
113 Palmer, Matthew           07 Carmichael XC Club      5:59.8    18:37.8  113   
114 Le, Nhu-Nguyen            08 Hills XC Club           6:00.7    18:40.5  114   
115 Edwards, Travis           10 Simi West XC Club       6:01.0    18:41.6  115   
116 Andereson, Peter          08 Chapel Hill XC Club     6:01.1    18:41.8  116   
117 Garcia, Emilio            09 Carmichael XC Club      6:01.8    18:44.0  117   
118 Weiss, Matthew            08 Peninsula XC Club       6:02.0    18:44.7  118   
119 Hernandez, Devin          09 Cheyenne XC Club        6:03.0    18:47.7  119   
120 Hawkins, Paul             08 Spokane XC Club         6:03.2    18:48.4  120   
121 Hidlitch, Scott           07 Peninsula XC Club       6:03.2    18:48.4  121   
122 Marshall, Jacksion        08 Chapel Hill XC Club     6:03.9    18:50.6  122   
123 Skelton, Joseph           08 Potosi XC Club          6:04.0    18:50.9  123   
124 Petrak, Daniel            07 Peninsula XC Club       6:04.4    18:52.2  124   
125 Garner, Evan              09 Carroll XC Club         6:05.3    18:54.9  125   
126 Kutsch, Steven            09 Mead XC Club            6:05.4    18:55.1  126   
127 Cole, Thomas              08 Midlothian XC Club      6:07.0    19:00.1  127   
128 Rau, Justin               08 Danbury XC Club         6:08.4    19:04.6  128   
129 Campbell, Damon           09 Academy XC Club         6:08.6    19:05.1  129   
130 Boros, Scott              07 Willmar XC Club         6:08.9    19:06.2  130   
131 Kelly, Evan               08 Potosi XC Club          6:09.5    19:08.0  131   
132 Walter, Steven            08 Los Alamos XC Club      6:13.6    19:20.6  132   
133 Franke, Micah             07 Cheyenne XC Club        6:17.8    19:33.6  133   
134 Muir, Taylor              07 Chapel Hill XC Club     6:18.6    19:36.0  134   
135 Berg, Christopher         07 Hills XC Club           6:19.1    19:37.8  135   
136 Carey, Matthew            07 Cheyenne XC Club        6:20.1    19:40.7  136   
137 Wilkins, Christopher      07 Midlothian XC Club      6:20.6    19:42.5  137   
138 Ondrasek, Kyle            08 Carroll XC Club         6:22.6    19:48.5  138   
139 Anderson, David           08 Willmar XC Club         6:31.4    20:16.1  139   
140 Sutter, Wes               10 Chapel Hill XC Club     7:05.7    22:02.4  140   
                                                                                  
                                   Team Scores                                    
================================================================================= 
Rank Team                      Total    1    2    3    4    5   *6   *7   *8   *9 
================================================================================= 
   1 Bridgetown XC Club          126    8   20   21   32   45   61   71           
      Total Time:  1:26:24.90                                                     
         Average:    17:16.98                                                     
   2 Simi West XC Club           148    3   23   30   35   57   95  115           
      Total Time:  1:26:37.30                                                     
         Average:    17:19.46                                                     
   3 Spokane XC Club             162    5   16   39   44   58   79  120           
      Total Time:  1:26:53.40                                                     
         Average:    17:22.68                                                     
   4 Carmichael XC Club          169    6   22   25   38   78  113  117           
      Total Time:  1:26:53.30                                                     
         Average:    17:22.66                                                     
   5 Mead XC Club                186    9   11   18   41  107  108  126           
      Total Time:  1:27:10.40                                                     
         Average:    17:26.08                                                     
   6 Clifton Park XC Club        190    1   15   40   66   68   80  101           
      Total Time:  1:27:00.80                                                     
         Average:    17:24.16                                                     
   7 Academy XC Club             190    2   12   48   56   72   90  129           
      Total Time:  1:27:05.10                                                     
         Average:    17:25.02                                                     
   8 Potosi XC Club              191   10   17   26   63   75  123  131           
      Total Time:  1:27:17.10                                                     
         Average:    17:27.42                                                     
   9 Hills XC Club               203   19   31   34   37   82  114  135           
      Total Time:  1:27:45.20                                                     
         Average:    17:33.04                                                     
  10 Elmhurst XC Club            209   33   36   42   43   55   94  103           
      Total Time:  1:28:04.60                                                     
         Average:    17:36.92                                                     
  11 Carroll XC Club             249    4   24   53   83   85  125  138           
      Total Time:  1:28:04.30                                                     
         Average:    17:36.86                                                     
  12 The Woodlands XC Club       293   14   60   64   67   88   97  105           
      Total Time:  1:29:00.70                                                     
         Average:    17:48.14                                                     
  13 Los Alamos XC Club          315   29   50   62   76   98  109  132           
      Total Time:  1:29:27.00                                                     
         Average:    17:53.40                                                     
  14 Midlothian XC Club          324    7   70   74   86   87  127  137           
      Total Time:  1:29:17.00                                                     
         Average:    17:51.40                                                     
  15 Cincinnati XC Club          325   49   51   52   73  100  102  110           
      Total Time:  1:29:33.60                                                     
         Average:    17:54.72                                                     
  16 Willmar XC Club             347   28   69   77   84   89  130  139           
      Total Time:  1:29:48.30                                                     
         Average:    17:57.66                                                     
  17 Peninsula XC Club           370   13   59   81   99  118  121  124           
      Total Time:  1:30:09.40                                                     
         Average:    18:01.88                                                     
  18 Danbury XC Club             395   54   65   91   92   93  112  128           
      Total Time:  1:30:33.80                                                     
         Average:    18:06.76                                                     
  19 Cheyenne XC Club            412   46   47   96  104  119  133  136           
      Total Time:  1:31:00.70                                                     
         Average:    18:12.14                                                     
  20 Chapel Hill XC Club         482   27  106  111  116  122  134  140           
      Total Time:  1:31:57.20                                                     
         Average:    18:23.44