Jordan Hasay, Matt Tebo back near top form

By Stephen Underwood
The last time Mission Bay Prep CA soph Jordan Hasay and Eldorado NM sr Matt Tebo were here at Mt. SAC … well, let's just say it was a day they'd rather forget.

We're not talking about last year's Foot Locker West meet, from which both Hasay and Tebo were leading returnees coming into today, but the Invitational six weeks ago. That day saw Hasay – despite winning her Individual Sweepstakes race – wind up with the 3rd best time of the meet behind Marie Lawrence and Lauren Saylor. And it saw Tebo take a somewhat ignominious 3rd behind Chad Hall and Michael Cybulski in the Boys SuperSweepstakes race.

Not bad for most mortals, but not what one hopes for when you're a defending FL National Champ, or an 8:47 2-miler.

Today, however, saw Jordan and Matt take significant steps back to being the runners their fans have grown accustomed to.

In the girls race, Hasay brought back memories of last year by pulling away from Lawrence, beginning just before the 2-Mile, and winning by 12 seconds in 17:43. Lawrence, the Reno NV sr with three straight FL Finals runner-up finishes, finished in 17:55, 29 ticks up on 3rd.

An hour later, Tebo ran into the stadium with a pack of six and kicked away from them to triumph in 15:46. Now these champions can go into San Diego with increasing confidence, though the other regions will bring plenty of stiff competition.

Behind them, the girls race went very close to form, with most of the favorites advancing, but the boys race saw several surprises.
(continued below)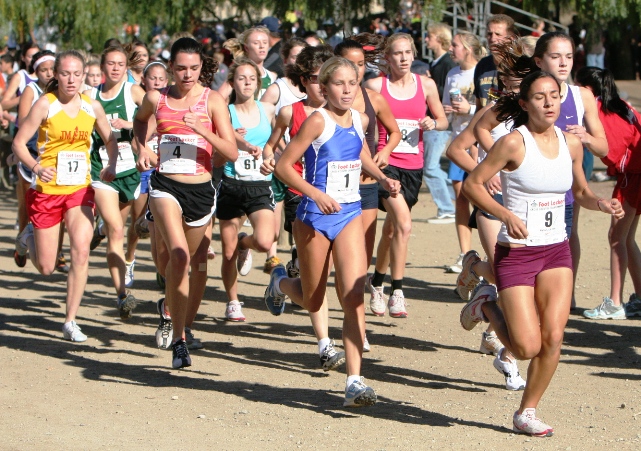 The lead pack in the first half mile includes (from left) Samantha McMillan UT (17), Christy Adamyk CA (4), Jordan Hasay CA (1), leader Anna Sperry CA (9), and Marie Lawrence NV (behind Sperry). Eventual qualifiers Kauren Tarver CA (behind Lawrence), Nadya Bishton AZ, and Alex Kosinski CA (both behind Hasay) are also right up there. Photo John Nepolitan.


The third-place girls finisher was perhaps the biggest stunner of the day: Xavier College Prep AZ fr Jessica Tonn, a distant 2nd in her 5A-D1 Arizona state meet, ran a terrific race and even passed heralded fellow Arizonian Nadya Bishton in the final meters for 3rd in 18:24. Mountain Ridge jr Bishton, the AZ state and Border War champ who was 3rd at Stanford, was expected to roll in after Hasay and Lawrence and was a very solid fourth in 18:27.

After that, it was all Calfornia, with no real surprises. Buchanan sr Lauren Saylor, who has had a superb invitational season in Cali., took 5th in 18:29 and D1 champ and Fountain Valley jr Elizabeth Coe was 6th in 18:32. Then it was D2 and D1 runner-ups Alex Kosinski (Oak Ridge sr) and Kauren Tarver (Serrano jr), earning their return tickets to San Diego in 7th and 8th, both in 18:36. It was sweet for them, as both have been coming back from injuries late this fall. Tarver will make her 3rd trip downstate. Saylor also qualified as a soph in 2004.
Even the qualifiers among the FL West eligibles at NTN were from the Golden State as Corona del Mar teammates Sarah Cummings and Shelby Buckley earned the spots.
(continued below)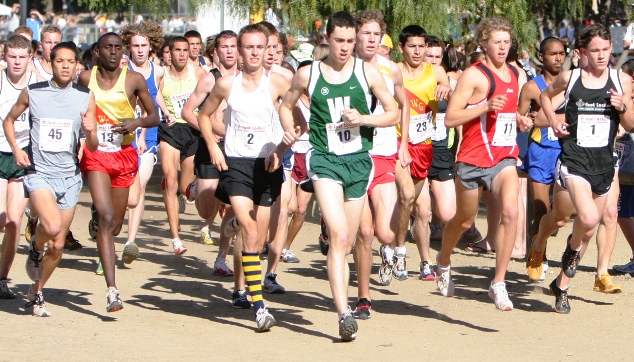 The huge pack early (from left): Jake Riley WA (20), Luis Guevara CA (45), Mohamud Abdallah CA (13), Eric Avila CA (2), Max O'Donahue-McDonald WA (10), Chad Hall CA (11), Matt Tebo NM (1), and Mikel Thomas CA (between Hall and Tebo). Photo John Nepolitan.


After Tebo, Big Bear CA sr Chad Hall (2nd in 15:47), Clovis CA sr. Mikel Thomas (4th in 15:48), and Seattle Prep WA sr Max O'Donahue-McDonald (6th in 15:51) were all considered strong favorites to make the West team, and did so without extensive difficulty. But how much of a stunner was Washington D2 champ Jake Riley, a sr from Sehome (3rd in 15:48)? And not too many had Jared Ward (8th in 16:01), the sr from Davis UT, on their form charts.

There was also Idaho 5A state champ Taylor Farnsworth, the sr from Highland, who bounced back from a bad race at the Rocky Mountain champs to qualify (5th in 15:49), and Torrance CA sr Kent Morikawa, the 5th returnee from last year who upgraded a solid season with a peak performance (7th in 15:56).

From NTN, Royal sr Michael Cybulski was considered a lock if he ran solid, and he did just that with a 3rd. But in another breakthrough performance of an ever-improving season, Albuquerque Academy jr Ben Johnson earned the other spot with an impressive runner-up finish.