2006 Foot Locker South region - Boys
Nov. 25, 2006 McAlpine Park, Charlotte NC
Results - Brandon Miles video - Brandon Miles interviews Ryan Hill, Ben Hubers, Griff Graves, Michael Spooner and Thomas Porter
Ryan Hill surprises
North Carolina runner catches front running Girma Mecheso around the lake in the third mile.
by Brandon Miles, milestat.com
Girma Mecheso of Georgia was billed by many as the favorite coming into Footlocker south despite being a mystery man by coming onto the scene this fall. After his decisive win over returning Footlocker finalist Ben Hubers at the Georgia State Meet, there was no mystery in how legit the Ethiopian native was as a runner. However, in Saturday's race at McAlpine Greenway Park in Charlotte, the competition in the South region proved to be even more legit.

Mecheso broke away from the lead pack after the group came through the first mile in 4:38 and attempted to stretch the lead on the chase pack around the lake in the first go around as he hit two miles in 9:22. When Mecheso reappeared on the lake, he was still in first, but closely behind was Hickory NC junior Ryan Hill. Hill had posted a 14:55 on the same McAlpine course in October at the Wendy's Invite. However, Hill was quite surprised to see himself closing on Mecheso. "I thought Girma was the man. When he got away from us that first time, I thought he was gone. But he just came back to us and we got him." Hill had an incredible kick around the lake to post a time of 14:46 and "we" that Hill was referring to included Hubers getting revenge on Mecheso in second place at 14:51 and Abingdon VA junior Griff Geaves garnering third in 14:55. Mecheso ended up holding onto fourth place in 14:57.
Ryan Hill wins - - photo by PhotoRun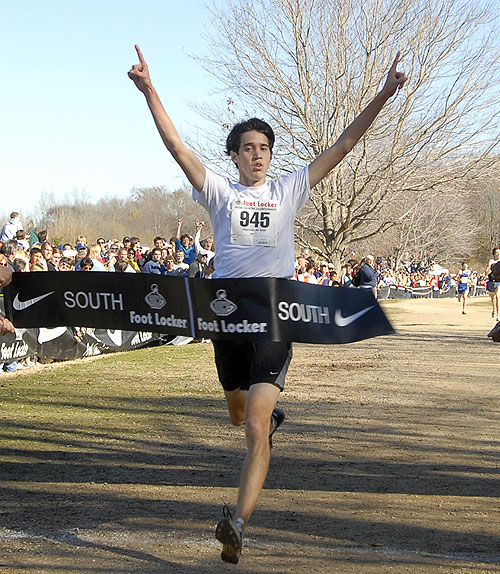 Coming into Saturday, Hill was only ranked or predicted to finish as high as fifth (at least according to DyeStat's SteveU). Hill actually thought Underwood was right on with his placement. "I felt like the predictions were accurate, but I wasn't going to sit back and take fifth. Ben, Griff, and myself were reeling in Girma in the last mile there and so I just took advantage of him. It looked like he was kind of falling asleep in the last mile, so I was able to kick by him."
Tying last year's champion Michael Eaton with the fourth fastest time ever at McAlpine, Hill has another year to move up further on the all-time list. Hill does not have to move up on the all-time list by North Carolian runners next year as his time was three seconds faster than the previous best by Matt Debole in 2001. Debole did not win in 2001 with Bobby Lockhart taking first, Hill became only the second runner from the Tar Heel state to become a Footlocker South champion.

Hill hopes he can lead the South to a strong team finish in San Diego as a projection as the last team among the four regions is likely. Anything better than fourth will be considered exceeding expectations, but Hill's hopes are high how his fellow qualifiers can peform. "I feel the South is kind of underrated and does not get a lot of respect, but I think we've got a solid team. So I want the South to be competitive and try and win the team competition. For myself, I guess just get the best finish I can."

Hubers makes amends for state meet loss to Mecheso
After finishing 43 seconds behind Mecheso at the Georgia State Meet two weeks ago, returning Footlocker finalist Ben Hubers felt more nervous coming in about his chances of returning to San Diego. However, Hubers raced at the state meet under the weather and back at 100 percent for the Footlocker regional, he showed his Great American champion form prior to the state meet. "That (the state meet loss) did play a larger role into today. It made me a little more nervous, but I know a couple of weeks ago there was something wrong with my throat. I couldn't really breathe right. I hate to use that as an excuse, but I was not 100 percent ready I don't think. This time I came out here and was ready."

Ready he was as Hubers stayed up with the top runners throughout the race as when Mecheso made his big move in the second mile, the McEachern High School senior was running in the top three with fellow Georgian Jay Heller. Heller ended up collapsing when entering the lake for the the second time and did not finish. While Hill closed hard to run down Mecheso on the lake, Hubers was not far behind him finishing equally strong. "With 400 left, I saw Girma ahead of me and was like 'You know I can catch him.' I just went after it."

Hubers will return to San Diego in two weeks as probably the most experienced runner among the qualifiers and two fellow returnees with Duncan Phillips and Colby Lowe of Texas also qualifying for a second year in a row. Hubers has been thinking about Footlocker Nationals and Balboa Park all season long in preparation. "You know the course and know everything they are going to throw at you and dazzle you with when you get out there. It just helps to know what's happening, so you can stay calm and focused on the race."

Last year at Footlocker Nationals, Hubers had a solid showing in 18th place, but felt he could have performed better if he was more prepared for the hills at Balboa. "I'll be more prepared this year. That is the one thing that killed me last year was I did not have enough hill training later in my season to really get me ready for that. But once again the experience comes into play as my coach knew that this year, so I've been doing everything that I need to do to get ready for that course. I'll be ready."

a good year for Virginia
2006 has been a banner year for high school cross country in Virginia. Virginia is sending their first two teams ever to Nike Team Nationals this week with the Southeast #1 ranked squads from Midlothian High School. Aurora Scott just broke the course record held by Erin Keogh, considered to be the greatest high school cross country runner to ever come out of Virginia with her two Footlocker National Championships. The icing on the cake for Virginia was having three boys qualify for Footlocker Nationals. Five states had one individual in the top ten, while Texas is sending the same pair from 2005 in Phillips and Lowe. Virginia was the only state to have three qualifiers and it was the first time the state has had three qualifiers for the boys since the 2001 group of Bobby Lockhart, Matt Keally, and Fleet Hower.

Top finisher for Virginia is an adopted son of the state as Griff Graves started off his high school career in Alabama before transferring to southwest Virginia's Abingdon High School prior to his sophomore year of cross country. Graves was considered to be a strong contender for a top ten spot, but his third place personal best time of 14:55 was somewhat of a surprise considering Graves is more of a strength and hill runner than a speedster. Graves knew his strengths and weaknesses coming into McAlpine. "My expectations were just to stay with the leaders and not be caught off in the eighth and tenth spots at the end because I don't have a very good kick. Which actually today, I proved that wrong. I was able to outkick Girma and that was pretty impressive. I was pumped mostly about that."

Virginia's second finisher in West Springfield senior Mike Spooner echoed the same feelings about McAlpine not being a course that suited his hill running abilities as well and is glad to be able to advance onto Footlocker Nationals to test himself at Balboa Park. Spooner finished fifth in the race with a time of 15:06 and has high expectations two weeks from now to finish higher. "This course doesn't really favor me. Its a really flat course and I need hills everywhere, so my main mission was just to get out of here and go onto California and try to be the number one South finisher there," said Spooner.

As the Virginia 3A state champion, Spooner finishing in the top ten was not really a surprise nor was Graves punching a ticket to San Diego, but Mountain View sophomore Thomas Porter was a huge surprise considering Porter had not even been ranked in the top ten in Virginia earlier in the season. After an amazing freshmen year in cross country and track, which included a freshmen race record run of 15:47 at Footlocker South and winning the national title in the freshmen mile at Nike Indoor Nationals, Porter struggled during the regular season this fall to live up to expectations. "I got into the summer training a little late. I did that knowing that I was going to peak later in the year. So I just moved it up and put on the blinders and didn't really care about what everyone else was doing." Porter and his coach Dave Davis knew what they were doing as none of those races earlier in the fall matter anymore because Porter is now making a trip to San Diego as the lone underclassmen in the group.

All three qualifiers will benefit from having fellow Virginians as South teammates. They already showed teamwork in Charlotte as the senior statesman Spooner helped his younger freshmen buddy Porter at the start. "Mike (Spooner) let me in right behind him at the starting line, so I didn't have to go back five rows. That really helped a lot. I got out where I needed to be." Spooner has already talked of big plans to work with Graves during the race in San Diego, but is not ready to reveal anything. "Griff and I are going to tag up. I don't want to spill anything yet, but we are starting to work on something to take down the other guys and make the South look really good," stated Spooner in sly fashion.

Being isolated in the southwest corner of the state away from all of the other top runners in the state for most of the year, Graves is just excited to actually get to socialize and hang out with the fellow Virginians. "I can't wait to have the guys traveling with me. I hope we get to stay in the same room or whatever, but I don't know how that all works."

Duncan Phillips and Colby Lowe have raced as rival and as teammates in the past. They battled out as rivals a few weeks ago for the Texas 5A state title with Lowe coming out the winner. Both Texans will get the chance to race as teammates again as they finished virtually together at 15:09 with Phillips placed sixth and Lowe seventh. Lowe is only a junior and will have the opportunity next year to become the first runner since Bobby Lockhart in 2001 to qualify successfully for three consecutive Footlocker Nationals out of the South region. Lowe looked to be saving himself during the race as he kept himself in top ten position throughout, but did not seem to press himself to run with the front pack. Not a bad idea considering how busy we'll be the next two weeks. Lowe will be traveling this week to Oregon to compete with his Nike Team Nationals squad from Southlake Carroll and then travel to the West Coast again the following weekend for Footlocker Nationals.

Phillips finished fifth in last year's regional with a time of 14:59 and was not far off his 2005 performance this weekend. The University of Arkansas bound senior was able to reverse the order of finish between himself and Lowe after finishing as a state runner-up to Lowe several weeks ago for the Texas 5A state title. Both Texans along with Hubers will bring valuable past Footlocker Nationals experience to offer to the rooke South region team members.

Few had projected senior Michael Anderson of Florida and junior Luke Lovelace of Soouth Carolina in their top tens, but the Florida 1A state champion Anderson and South Carolina 3A state champion Lovelace will be joining some of the pre-race favorites in San Diego. Anderson finished eighth in 15:12 with Lovelace only one second and one place behind him in ninth at 15:13. Anderson had run well at McAlpine in the past though, so it should not be as surprising as he showed a flash of things to come in winning the sophomore race two years ago in 15:52. Lovelace beat a slew of runners who have a far superior 3200 meter best than his 9:41 from last spring, but only eight runners were able to finish ahead of his 15:13 on Saturday.
1    Ryan Hill (11)                    Hickory, NC              14:46
2    Ben Hubers (12)                   Marietta, GA             14:51
3    Griff Graves (11)                 Abingdon, VA             14:55
4    Girma Mecheso (11)                Lawrenceville, GA        14:57
5    Michael Spooner (12)              Springfield, VA          15:06
6    Duncan Phillips (12)              College Station, TX      15:09
7    Colby Lowe (11)                   Southlake, TX            15:09
8    Michael Anderson (12)             Williston, FL            15:12
9    Luke Lovelace (11)                Chapin, SC               15:13
10   Thomas Porter (10)                Fredericksburg, VA       15:13
11   Kevin Schwab (12)                 Mustang, OK              15:14
12   Cody Hughes (11)                  Westminster, TX          15:18
13   Dakota Lowery (12)                Garner, NC               15:24
14   Mitchel  Ownbey (12)              Yukon, OK                15:25
15   Jason Witt (11)                   Midlothian, VA           15:27
16   Drew Bean (12)                    Orange, TX               15:29
17   Peter Dorrell (11)                Blacksburg, VA           15:30
18   Kyle Goldsmith (12)               Katy, TX                 15:30
19   Daniel Manco (11)                 Miami, FL                15:31
20   Sean Keveren (11)                 Brentwood, TN            15:31
21   Gordy Dooley (11)                 Hebron, KY               15:32
22   Travis Fort (12)                  Cedar Park, TX           15:32
23   Stefan Shealy (11)                Spartanburg, SC          15:34
24   Stuart Chandler (12)              Knoxville, TN            15:35
25   Clay Adams (12)                   Brentwood, TN            15:36
26   Michael Winston (12)              Lilburn, GA              15:37
27   Patrick McGregor (10)             Birmingham, AL           15:38
28   Paul Norland (12)                 Falls Church, VA         15:38
29   Tim Smith (11)                    Roanoke, VA              15:38
30   Eric Larson (11)                  Pensacola, FL            15:39
31   Joshua Pinson (11)                Lilburn, GA              15:41
32   Josh Brewer (12)                  Pearcy, AR               15:41
33   CJ Brown (10)                     Roanoke, TX              15:44
34   Josh Dubin (12)                   Arden, NC                15:44
35   Levi Grandt (11)                  West Union, WV           15:44
36   Geoffrey Anderson (12)            Williston, FL            15:44
37   Nathan Milles (12)                Flower Mound, TX         15:45
38   Nate Edelman (12)                 Memphis, TN              15:45
39   Ross Hughes (12)                  Charlotte, NC            15:48
40   Bradshaw Kenimer (11)             Alexandria, VA           15:49
41   Lorin Wilson (11)                 Boerne, TX               15:51
42   Graham Northcutt (12)             Sulphur Springs, TX      15:51
43   Ermin Mujezinovic (12)            Herndon, VA              15:52
44   Edward Judge (12)                 Virginia Beach, VA       15:52
45   Phillip Woerner (12)              Miami, FL                15:53
46   Willie Polio (11)                 Owensboro, KY            15:54
47   Chris Moore (12)                  Southlake, TX            15:55
48   Alex Wills (12)                   Orlando, FL              15:55
49   Andrew North (12)                 Asheville, NC            15:56
50   Aaron Hamilton (11)               Rogers, AR               15:56
51   Nathaniel Brame (11)              Radford, VA              15:57
52   Haseeb Rahman (12)                Loudon, TN               15:57
53   Brandon Chiuminetta (12)          Dripping Springs, TX     15:57
54   Zack Flickinger (11)              Roswell, GA              15:58
55   Ryan Beabout (11)                 Wheeling, WV             15:58
56   Angel Ramirez (12)                Mcallen, TX              15:58
57   John Curtiss (12)                 Matthews, NC             15:59
58   Matt Cleaver (11)                 Marietta, GA             16:00
59   Austin Ellis (11)                 Barboursville, VA        16:00
60   Ken Prater (12)                   Crestwood, KY            16:02
61   Austin Enriquez (12)              Fayetteville, GA         16:04
62   Andy Wacker (12)                  Pinehurst, NC            16:04
63   Daniel Hamilton (12)              Franklin, NC             16:05
64   Britt Koestler (11)               Roanoke, TX              16:05
65   Charlie McGoogan (10)             Charlotte, NC            16:05
66   Rory Tunningley (11)              Lockhart, TX             16:05
67   Robert Saltsman (12)              Maitland, FL             16:06
68   Matthew Sonnenfeldt (10)          Knoxville, TN            16:06
69   Jonathan Sunde (12)               Charlotte, NC            16:06
70   Matthew Clay (11)                 Douglasville, GA         16:07
71   Johnny Purvis (12)                Parthenon, AR            16:08
72   Chase Kaufman (12)                Cedar Park, TX           16:09
73   Alex Breaux (12)                  Houma, LA                16:10
74   Charles Schmitt (12)              Midlothian, VA           16:11
75   MacLean O'Donnell (11)            Oak Ridge, TN            16:11
76   Drew Spicer (12)                  Richmond, VA             16:12
77   Taylor Surly (11)                 Rogers, AR               16:12
78   Benjamin Martucci (12)            Brooksville, FL          16:13
79   Ryan Bennett (11)                 Humble, TX               16:13
80   Angelo Lupardo (12)               West Palm Beach, FL      16:13
81   Brandon Hamilton Griffin (11)     Monroe, GA               16:13
82   Dylan Ferris (11)                 Kernersville, NC         16:14
83   Davis Graham (11)                 Brevard, NC              16:14
84   Danny Dominguez (12)              Del Rio, TX              16:14
85   Thomas Gilmartin (12)             Knoxville, TN            16:15
86   John Culver (11)                  Merritt Island, FL       16:15
87   Anthony Morales (12)              Palm Coast, FL           16:15
88   David Clabo (12)                  Gatlinburg, TN           16:16
89   Matteo Dicecco (12)               Acworth, GA              16:16
90   Daniel Cummings (12)              Hampton, VA              16:16
91   Will Fairhurst (12)               Spring, TX               16:17
92   Travis Voyles (12)                Douglasville, GA         16:17
93   Drew Kellum (12)                  Saltillo, MS             16:17
94   Charlie Celesia (12)              Virginia Beach, VA       16:18
95   Ryan Kaat (12)                    Kernersville, NC         16:18
96   David Huckaby (11)                Fort Mill, SC            16:18
97   Tyler Price (12)                  Tallahassee, FL          16:19
98   Brian Long (12)                   Louisville, KY           16:19
99   Joseph Hackney (11)               Acworth, GA              16:19
100  Francisco Garcia Jr (12)          Jacksonville, FL         16:20
101  Jeff Sadler (12)                  Woodway, TX              16:20
102  Zack Zura (12)                    Fort Worth, TX           16:20
103  Eric Schmidt (12)                 Nashville, TN            16:21
104  Shaquan Coleman (12)              Lawrenceville, GA        16:21
105  Justin Gianni (12)                Cary, NC                 16:21
106  Maximo Mendoza (12)               Pearland, TX             16:22
107  Jonathan Chu (12)                 Columbia, SC             16:22
108  Jesse Rodriguez (11)              Mission, TX              16:23
109  Albert Harrison (12)              Gainesville, GA          16:23
110  Dakota Norris (11)                Spruce Pine, NC          16:24
111  Ehab Hoffman (12)                 Mineral, VA              16:24
112  Nick Carter (10)                  Raleigh, NC              16:24
113  Rosenbert Hernandez (11)          San Antonio, TX          16:25
114  Thomas Noel (12)                  Louisville, KY           16:25
115  Chris Trebilcock (12)             La Crosse, FL            16:25
116  Joshua Deaton (12)                Danielsville, GA         16:26
117  Joshua Albey (11)                 Buford, GA               16:26
118  Richard Grue (12)                 Southlake, TX            16:26
119  David Willis (12)                 Fort Mill, SC            16:27
120  Nathan Richards (11)              Lynchburg, VA            16:27
121  Alex Hill (11)                    Columbia, SC             16:29
122  Jonathan Kern (11)                Georgetown, TX           16:30
123  Trevor Sprague (12)               Atlanta, GA              16:30
124  David May (12)                    Marietta, GA             16:31
125  Andre Smith (11)                  Laurel Springs, NC       16:31
126  Josef Tessema (12)                Springfield, VA          16:32
127  Juan Gomez (12)                   Brownsville, TX          16:32
128  Nick Long (11)                    Gainesville, GA          16:33
129  Joel Dutton  (12)                 Enid, OK                 16:33
130  Justin Cacaro (12)                Cordova, TN              16:34
131  Nick Anneken (10)                 Nolensville, TN          16:34
132  Tucker Hartley (11)               Smyrna, GA               16:34
133  Daniel Festervan (12)             Choudrant, LA            16:34
134  Paul Welle (12)                   Statesboro, GA           16:35
135  Jonathan Fischer (11)             Smiths, AL               16:35
136  Sean Sewell (12)                  Raleigh, NC              16:35
137  Stephen Lassiter (11)             Winchester, VA           16:36
138  Eric Frohnapfel (12)              Morgantown, WV           16:36
139  Grant Bugner (12)                 Humble, TX               16:36
140  Westyn Rosiles (12)               Carrollton, TX           16:37
141  Caleb Clark (11)                  Bartlesville, OK         16:37
142  Nathanael Pineda (11)             San Antonio, TX          16:37
143  Joshua Walker (12)                Lexington, SC            16:38
144  Brian Waldrip (12)                Jacksonville, FL         16:38
145  Joey D'Eramo (11)                 Houston, TX              16:39
146  Kenny Whitman (11)                Pensacola, FL            16:39
147  Stuart McDaniel (12)              Rock Hill, SC            16:40
148  Chris Cole (11)                   Oak Ridge, TN            16:40
149  Phil Riemer (11)                  Oak Ridge, TN            16:41
150  Slater Stich (12)                 New Smyrna Beach, FL     16:41
151  Grant Russell (12)                Gainesville, GA          16:42
152  Jeffrey Cope (12)                 Juliette, GA             16:42
153  Jakob Maidens (11)                Lebanon, VA              16:44
154  Andrew Harper (12)                Brentwood, TN            16:44
155  Craig Peroni (12)                 Jupiter, FL              16:44
156  Ethan Rissell (12)                Alexandria, VA           16:45
157  Knox Sutterfield (11)             Atlanta, GA              16:45
158  Joby Peake (12)                   Macon, GA                16:45
159  Ben Jeter (12)                    College Station, TX      16:46
160  Joshua Sapp (11)                  Grovetown, GA            16:46
161  Aaron Goble (11)                  Mustang, OK              16:47
162  Kevin Lane (12)                   Tallahassee, FL          16:47
163  Jay Moulton (17)                  Phenix City, AL          16:47
164  John Dalessandro (11)             Birmingham, AL           16:47
165  Timothy Landry (12)               Birmingham, AL           16:48
166  Kurt Lindsey (12)                 Longview, TX             16:48
167  Loring Ross (11)                  Springfield, VA          16:48
168  Cameron Dickerson (11)            Jacksonville, FL         16:49
169  Ryan Snapp (12)                   Humble, TX               16:49
170  Zachary Noel (12)                 Charleston, WV           16:49
171  Ryan Johnson (11)                 Nashville, TN            16:50
172  Nathan Johnson (12)               Cabot, AR                16:50
173  Jeff Hensley (12)                 Port Saint Lucie, FL     16:51
174  Ben Thompson (12)                 Owensboro, KY            16:51
175  James Maglasang (9)               Paducah, KY              16:52
176  Mark Sullivan (9)                 Raleigh, NC              16:52
177  Antonio Brandon (11)              West Palm Beach, FL      16:53
178  Jack Ivy (12)                     Memphis, TN              16:53
179  Ryan Martin (12)                  Spring, TX               16:53
180  Justin Sawyers (11)               Chattanooga, TN          16:54
181  Mattew Cameron (12)               Madison, MS              16:54
182  Richard Blake (11)                Tampa, FL                16:54
183  John Christie (10)                Houston, TX              16:55
184  Matthew Scanlon (11)              Greenville, SC           16:56
185  Mac Fidler (11)                   Decatur, GA              16:57
186  Miles Svoboda (11)                Marietta, GA             16:57
187  Andrew Barnhart (12)              Atlanta, GA              16:58
188  Geoffrey Musick (10)              Fairview, TN             16:58
189  Jorell Laube (12)                 College Station, TX      16:59
190  Thomas Anderson (12)              Marietta, GA             16:59
191  Ben Buck (11)                     Chapel Hill, NC          17:01
192  Richie Chautin (12)               Arnaudville, LA          17:01
193  Phillip Mlinarcik (12)            Alexandria, VA           17:01
194  Grant Stauffer (12)               Thomasville, GA          17:02
195  Remy Tamer (12)                   Lewisville, NC           17:03
196  Mitchell Munoz (12)               Humble, TX               17:04
197  Johnny Jimenez (12)               Gainesville, GA          17:05
198  Kevin Cornett (12)                Annandale, VA            17:05
199  Logan Roberts (12)                Raleigh, NC              17:05
200  Joshue Vasquez (11)               Kingsport, TN            17:06
201  Kevin Wanichko (12)               Spring Hope, NC          17:06
202  Zach Martin (11)                  Bassett, VA              17:07
203  Drew Jones (12)                   Roswell, GA              17:07
204  Daniel Heller (11)                Marietta, GA             17:08
205  Ryan Schmidt (11)                 Villa Rica, GA           17:08
206  Chris Schuett (11)                College Station, TX      17:09
207  Johns Ross (11)                   Washington, DC           17:09
208  Chris Brumit (11)                 Elizabethton, TN         17:09
209  Thomas Bobbitt (10)               Hurst, TX                17:10
210  Ben Shassere (12)                 Clinton, TN              17:11
211  Daniel Barlow (11)                San Antonio, TX          17:11
212  Joseph Franklin (11)              Tallahassee, FL          17:12
213  Zachery Tyler (11)                Cumming, GA              17:13
214  Matt Gossett (11)                 Atlanta, GA              17:15
215  David Reed (12)                   Rocky Mount, VA          17:15
216  Travis Owens (12)                 Fort Mill, SC            17:16
217  Alex Martis (12)                  Springfield, VA          17:16
218  Nick Perkins (10)                 Birmingham, AL           17:16
219  Richard Sanders (12)              Slaughter, LA            17:17
220  Blake Norman (11)                 Cabot, AR                17:20
221  Patrick Meiburg (12)              Cary, NC                 17:20
222  John Mayberry (11)                Charlotte, NC            17:21
223  Jesse Galt (12)                   Kennesaw, GA             17:22
224  Stephen Maciong-Licari (12)       Oviedo, FL               17:23
225  Evan Garner (10)                  Southlake, TX            17:24
226  Chris Ward (12)                   Bimble, KY               17:24
227  Aaron Koch (11)                   Valrico, FL              17:25
228  Jack Heinrich (11)                Tulsa, OK                17:25
229  Cory O'Lear (11)                  Oak Ridge, TN            17:26
230  Josh Weaver (10)                  Southlake, TX            17:26
231  Cody Hill (12)                    Tampa, FL                17:27
232  Joe Lanser (12)                   Savannah, GA             17:29
233  Reggie Buford (10)                Houston, TX              17:30
234  Peter Kerkhof (12)                Raleigh, NC              17:30
235  James Hodges (11)                 Paradise, TX             17:31
236  Ben Smolin (12)                   Birmingham, AL           17:34
237  Matthew Altimari (11)             Tampa, FL                17:35
238  Justin McAlpin (12)               Tulsa, OK                17:35
239  Aaron Thomas (12)                 Seminole, FL             17:36
240  Thomas Johnson (12)               Winterville, GA          17:37
241  Louie Tijerina (11)               Brownsville, TX          17:37
242  Nicholas Bays (12)                Mcdonough, GA            17:37
243  Andy Zalitis (11)                 Winston Salem, NC        17:38
244  Cameron Witherspoon (11)          Claremont, NC            17:40
245  Brandon Suttle (12)               Macon, GA                17:42
246  Chad Holt (12)                    Greenville, SC           17:42
247  William Stephens (11)             Roanoke, TX              17:43
248  Robert Heitz (12)                 Harrisonburg, VA         17:43
249  Manny Molina (12)                 Edinburg, TX             17:44
250  Matt Coniglio (12)                Hixson, TN               17:45
251  David Jeffers (12)                Virginia Beach, VA       17:46
252  Jake Joyce (10)                   Collinsville, VA         17:48
253  Thomas DeLoache (11)              Charlotte, NC            17:49
254  Timmy Raiford (11)                Winston Salem, NC        17:50
255  Ryan Dougherty (12)               Midlothian, VA           17:51
256  Matthew Thompson (11)             Nashville, TN            17:52
257  Nathan Broughton (11)             Hinkle, KY               17:58
258  Joshua Dunn (12)                  Douglasville, GA         18:02
259  Josh Hulsey (11)                  Winston, GA              18:06
260  Adam Cunningham (12)              Murfreesboro, TN         18:08
261  Kyle Davidson (12)                Charlotte, NC            18:09
262  Kail Kidd (12)                    Denham Springs, LA       18:12
263  Josh Dickey (12)                  Birmingham, AL           18:13
264  John Briguglio (12)               High Springs, FL         18:17
265  Terence Boyd (12)                 Lawrenceville, GA        18:33
266  Joey Baldwin (11)                 Greer, SC                18:42
267  Steven Piercy (12)                Monroe, NC               18:56
268  Chris Knight (11)                 Collinsville, VA         18:57
269  Kyle Ondrasek (11)                North Richland Hills, TX 19:00
270  Michael Mueller (12)              Durham, NC               19:09
271  Christian Adams (9)               Cary, NC                 19:14
272  Jeremy Weatherford (10)           Hampton, GA              19:17
273  Cameron Sutcliff (11)             Statesboro, GA           19:24
274  Alexander Crowley (11)            Huntersville, NC         19:40
275  David Nguyen (11)                 Cedar Park, TX           20:09
276  Daniel Slocumb (12)               Juliette, GA             20:16
277  Cody Hodgins (11)                 Cornelius, NC            20:20