james demarco | blacksburg va




By SteveU, DyeStat Senior Editor



If Coach James DeMarco can take either or both of his Blacksburg VA cross-country teams for a first-ever trip to Nike Cross Nationals this fall, it will be fitting – because if any coach has the lifelong background to have a national (or international) competitive mindset, it's DeMarco.

His life, growing up in an Air Force family, and with his running and coaching endeavors since, has taken him to seven states and two other countries, all before he was 30. He ran on championship teams at Bartlett HS in Alaska and, in college, at D2 South Dakota State – where he was an All-American and 2-time Academic All-American. But he found his way to the Southeast during a final stab at a running career, finally settling in Blacksburg. He has coached nine state championship teams between XC, indoor and outdoor track – plus six runner-up teams – and earned more than two dozen local and state-wide Coach of the Year honors. There have been numerous state individual and relay champions, as well as Nike All-Americans, and a dozen of his athletes have earned major college scholarships.

But Coach DeMarco is not all about the resume, but doing the right things along the way for all of his student-athletes. His approach is incredibly thought-out and meticulous, as well as showing great care for his kids – and he isn't afraid to make changes if it's not going right. "I love helping people accomplish their goals and do things they didn't think was possible," he says. "My coaches were very instrumental to me growing up (as were my parents), and I hope I can do what they did for me, for the kids I coach."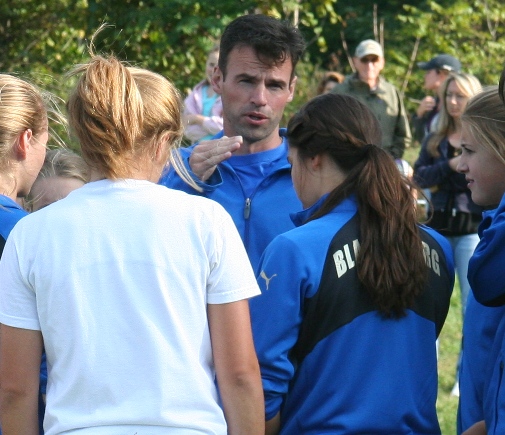 When he's not coaching the Bruins (boys and girls, all three sports), he owns and operates the Runabout Sports running store in Blacksburg and teaches running and walking classes at Radford University.

Coach DeMarco's US#13/SE#1 girls (Oct. 2 rankings) are unbeaten save for a runner-up finish to US#3 Saratoga at last weekend's Great American ROC, and shooting for their 4th straight Virginia 2A title and their first NXN bid. His SE#5 boys are going for their 1st state championship since 1998 and also have post-season hopes.


1) Coach, congratulations on the season to date. It seems that these could quite possibly be your best teams ever, collectively speaking. Can you talk a little bit about how each squad has gotten to this point the last few years to culminate in a season like you're having so far?

For the girls, this is definitely the strongest five that I have had the privilege to coach. We had better depth last year through six and seven, but a few girls are working hard on changing that. We have seniors that have invested in the program from their freshman year, working relentlessly and consistently improving. Junior Sarah Dorrell has come from a family of runners and has made a huge improvement this year. Sophomore Hannah Brown is the most talented girl I have ever worked with and should be quite impressive as she gets older. So it is good timing, when they all came along, and years of consistent training.

For the boys, they all came in as runners, which is rare for us. I have only had two girls that came into the program as runners. Most of the kids are into soccer here, but we have been changing that. The boys have a great leader in Matthew Howard and a tremendous junior class to work with. As freshmen, they were all serious and wanted to achieve great things. They all came in when we had Peter Dorrell winning nine state titles. They saw the work ethic, and the drive that Peter and the girls had, and it really showed them the key for success. They are very determined to win the school's first team state title in XC since 1998.

2) It seems like the Stevens twins, Kathleen and Joanna, are running especially well this fall, having really brought their XC performances to the same level – or beyond – as their middle distance running. Can you talk about the factors that have contributed to this improvement and what it's taken from you, as a coach, to help usher that in?

Kathleen and Joanna finally understood how good they could be in our first indoor meet last year. They were a little shocked they were able to keep up with Paige Johnson of Midlothian, who they greatly respect. I have been telling them they will be great runners for years, but they would just smile and shake their heads.

My tremendous assistant coaches and I emphasize the need to recover from workouts and to do the little things. We talk over and over about the need to have protein and carbs after workouts, that they need good fats in their diets if they are to run personal bests, and they understand that. They learned to like weight lifting, and did so three times a week all summer. They have also become more disciplined in making sure they get enough sleep. The twins are probably the best athletes at recovery that I have worked with, and are able to have more intense sessions on a weekly basis because of that.

The bottom line is they really want to be great, finally believe in their abilities, and do the little things. I believe in them and when they've really seen that, they've begun to believe.

3) I think a lot of people really underestimate how much of a challenge it is to coach both a boys and girls team to an elite level at the same time. What motivates them to excel in can be so different, and creating a synergy where the teams can gain energy and support from each other can be tough. What has your philosophy been in terms of trying to bring boys and girls squads together to excellence?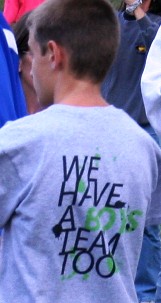 Well, I started coaching the girls' XC team first, and we surprised a lot of people by getting 2nd in the state. I started coaching the boys the following year. They hadn't been to the state meet in awhile. The girls totally overshadowed them. The boys saw what happened with the hard work and pretty much were taught by the girls what it takes to be good. Now they are closer with both genders together, than they would be as separate teams. On bus rides to meets, for example, the girls have gotten the guys to focus and the boys make the trip a lot less tense.

They have friendly rivalries on who did better at each meet as a team. It can be pretty comical. The boys' captain designed the team shirt this year and the back says, "We have a BOYS team too!" … Also, Joanna and Kathleen train with the top boys, which has been very helpful to making them better.

There are gender issues that affect the way you coach boys and girls differently. Most girls excel with constant encouragement, and need to know that you are on their side and want then to succeed. Girls tend to not realize how great they can be. When I see things I don't like, I make sure that the girls know I have their best interest at heart prior to getting into the topic. It is imperative that they understand that; then trust in the coach-athlete relationship can happen. That is true for boys and girls, but very important for the girls. I also have to be a little careful on the competitive front. I have learned not to make a big deal about meets the night before, and keep things calm, because otherwise the girls get worried about failure and can't sleep.

We also discuss menstrual cycles and the female athlete triad. We talk about letting me, the trainer or Marcia (female coach) know if anything isn't right. We also discuss this at the parent meeting.

For boys, I make things competitive as possible, because they thrive off of it. They like the rankings and victories. Boys look forward to the challenge in general and the girls worry about not achieving the challenge. My goal is to always have the athlete strive for goals and not worry about losing. Take the shot….

Another thing is, we have kids who are out for the sport for a lot of different reasons, and we try and accommodate all of them. My coaching philosophy as a high school coach has two parts:

1) I have a duty to teach kids healthy life skills and to help them become great adults. I tell them I measure my success as a coach by whether in 10-20 years they still enjoy running and working out. Are they living a healthy lifestyle, confidant in who they are, and know to set and achieve their goals – setting a plan and working towards it? Are they good to their fellow employees, and inspire and demonstrate what a role model is? Do they believe in themselves?
2) For those that want to be state champions, run in college, etc., I owe it to them to stay up-to-date in training thought, go to clinics to try and become a better coach, and put the time into helping them reach their potential.
But I have some kids that want to get into shape and meet friends, and could care less about winning a state title. They make that decision on their goal sheets. That is totally cool with me. I am just happy they are out running, enjoying it, getting fit and part of our team. I don't get into as much details with their training, but still encourage and brag about their accomplishments. If they miss a week because of band, I am not going to worry about it.

If they want to make varsity, I am harder on them and spend more time analyzing their training, on them about missing any days, etc. Each year more and more kids get serious about their running and set very good time goals, which is exciting for me. We still make a big deal about each person's improvements. When I post the workouts, we give three options, and the kids choose what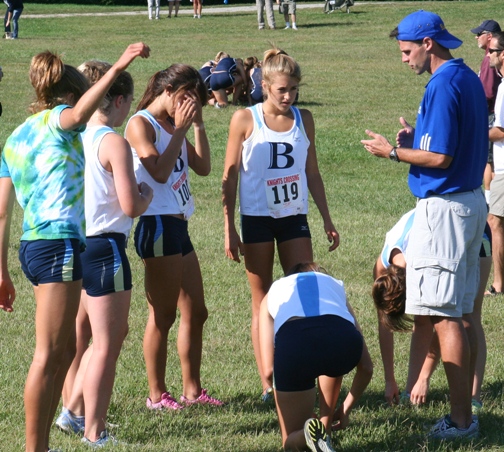 they want based on how they are feeling. By the end of the season, we no longer have a third group because every kid wants to be in the 2nd or 1st tier (the harder stuff). That is awesome for me to see because it is them wanting to work harder and not coming from the parents or the coaches. It's intrinsic motivation or their buddy encouraging them to do more with them.

4) Let's talk a bit about training specifics. What are some of the hallmarks of the Blacksburg training program, in terms of volume, the key workouts, rest and recovery, and other principles you've developed that have worked year-in and year-out? Has there been anything new this year that has worked particularly well?

Running is about consistency and challenging yourself. You improve when your body is forced to adapt to stress. When you run fast, you cause your body to stress. It then adapts to that stress if you are taking care of your body (recovering, sleep, and eating lots of good foods). You then become faster. It is a simple explanation, but it works. In training sometimes, I'll yell, "Adapt, adapt, adapt!" It takes their mind off of the discomfort and on the mission and helps push them to a new level. But we also make sure they are not hammering every day.

We focus on a long run once a week (about 90 minutes for A group), do lots of hills at the end of runs and tempos (one a week). We also do 1K, 2K 3K repeats on an XC course. That the bread and butter. We also do weights, circuits and core work, ply metrics on a weekly basis and three easy runs. We do this pretty much year round. I believe to become better, you have to work all the systems that have a role in running faster. Mileage and consistency are very important, followed by long workouts at a solid pace – not all out. As the season goes from XC to indoor to outdoor, we do change the percentage of what type of work we do.

Occasionally, we do very fast efforts of mile repeats or some simulation that generally gives a lot of confidence. We do these sparingly. Those efforts take awhile to recover from and they should not be racing that week. One example we do is 2x1600 and 1x400. The first 1600 is pretty much all out. Then they jog a 400 pretty slow. The next 1600 is at 5K goal pace. The better aerobic base they have, they can run within 20 seconds of the first 1600. The younger kids will be off by about 40 seconds, which is also true of their 5K in meets. Then they run the last 400 hard. Most high school runners go out too fast, so the first mile gets them use to that. The next 1600 teaches them to run 5K goal pace while being very tired. The 400 at the end teaches the kids they can still kick when they are very tired.

Our mileage is highest in the summer. We build up to 50-60 in the summer for the A group, and 30-40 when school gets going). I have had success with double days with teams on a block schedule, but the seven class period days seem to bog them down with way too much homework.

Every year the training is very different. I have the last five years of workouts, and it amazes me how different things get and what I latch on to that year. I do pick a two-week period in the middle of the season, and we practice resting and do a mini peak to learn what works for each person. We cut back some, but experiment with different workouts. We usually run horribly during this time and learn a lot for the state meet. Every year I think we will run great and we never do. That two-week period serves another purpose in getting kids a little rest and fixes any lingering injury issues. Then we train hard for a few more weeks and get ready for the championship part of the season.


This year, I made major adjustments to our training after our two-week session, which just ended. I am not happy where we are at, and believe the training plan I have the team on is not getting it done. So changes were made starting this week. Hopefully it will pay off with new personal bests at the state meet, and hopefully a trip to NTN.

5) What were some of the reasons you've embraced coaching in the first place?

One of my high school coaches, Paul Ruston, told me to never coach until I was done with my own running. I just finished my last year of collegiate running and Marcus Dunbar (yep – Trevor Dunbar's dad) and Paul Ruston were trying to get me to coach a youth track and field league. They had both coached me in high school and I was quick to point out I wasn't done with my own running. The track league was a cool concept Marcus was starting that was like little league baseball, but was track. So they gave me a team to coach and said it was just one practice a week and an hour meet a week. I started working with the 10-16 year olds and found I really enjoyed it. It was a blast for me and the team.

I ended up student teaching in Alaska and coaching distance at my old high school (Bartlett H.S.) with some of the kids I had in youth league. For a first year coach, they were a terrific group to coach and were very hungry for success. I still keep in touch with those kids (adults now) today. After that, I moved to North Carolina and gave my own running one more serious shot. Then I ended up at Virginia Tech to get a masters and train under Ben Thomas and got to help coach the Hokies. I really enjoyed it. I then opened up a running store and was asked to coach at Blacksburg by Steve Schmitt. I missed coaching and having my own program, so I accepted.

I do dream of coaching at the college level, but am cautious about it. I love coaching high school kids and know I have made a big difference to my team and community, and they have enriched my life.

6) As a fairly young coach, how do you strike a balance between relating to kids to an extent on their level, and at the same time maintaining authority?

The first thing in teaching and coaching is you need to develop a level of respect and authority. Once they know you understand the sport and training, they do listen. Once they see how you cheer for them, encourage them, and believe in them – they will do whatever you ask. It is one of my biggest worries as a coach. They put their faith and trust in me. I just hope I make the right decisions to help them achieve their best. They always know, without a doubt, that I give them my all as their coach. Because of that they don't want to let me down.

This year, we had a new 8th-grader out and he mouthed off to a younger kid in the park with some obscenities. The mom of this kid came to talk to me and let me know what happened. He was kicked out of practice that day, had to write an apology on the team website (on flotracker) and then make a public apology to the team the next day for embarrassing them with his action. To some it seems pretty excessive, but the 8th-grader learned more from that experience and that his actions just don't reflect him, but his family, his team, his school and community. We talk about that prior to every trip. I will also get seniors who used to be issues and give them roles of responsibilities in helping certain kids. They do an outstanding job. With each year, it has gotten easier and the team's success is due to the type of kids we have in our program today. Parents can't say enough nice things!

I really have been very fortunate to have great coaches in high school that taught me more than just running. I learned self-discipline, confidence, persistence and determination in achieving my goals. I learn that when I was passionate, the work was fun and the sacrifices worth it.

7) Finally, looking at the season so far and the rest of the season to come, how have the team's goals at a state and also at a national level evolved? What do you do to keep the kids focused on the task at hand, working toward a state title, but at the same time with an eye on the prize at the national level?

After the boys earned a second-place finish last year, they knew they would be the favorites for the state title. They have embraced it and have worked hard to make it a reality. But so far, we haven't gotten to the level I thought we could reach. We had a major let down at Great American. We were missing our 5th and 6th runners, who had the flu, but we were just plain bad that day. Changes were made to the program and the guys are giving it their all, still focused on the state title. They will have to have the race of their lives to make NXN. They are planning and training hard for it.

The girls tied a terrific Hidden Valley team and we won on the 6th runner at last year's state meet. We again lost runners to graduation, our #1 and #2 from the state meet. Hidden Valley, for the third year in a row, returned their entire top five. They have helped push us to work even harder to come into this season, prepared as never before to try and win a fourth straight title. They have a great coaching staff and a close group of girls. We hope we have done enough to earn a victory against them. Hidden Valley, along with Midlothian in Virginia, have contributed to our success and pushed us to new levels. All three of us would be worthy teams to compete at NXN. The girls had a teammate make NXN last year (Allison Homer) and they want to be part of that experience. They also want to keep tradition going with another state title, which for Joanna and Kathleen would be four straight.

Photos by Mark Howard (first three) and Frank Locascio (fourth photo).