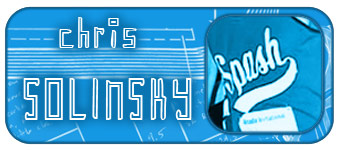 What he's Done: Won five NCAA national championships

Has run 13:12.24 for the 5k and 7:36.90 for the 3k

Placed 4th at the 2008 Olympic Trials 5k

Recently finished 2nd in the 5k at the 2009 outdoor track and field national championships



My high school cross country coach, Donn Behnke, was a high mileage guy. He would just go out there and push the pace and hammer and put in the miles because he wasn't a miler or a 5k guy. He was a 10k guy. I feel that mentality developed on our team. That's where I decided that if I was going to be good at the sport, I was going to have to put in the work. According to the guy I looked up to, mileage was the way to do that as long as my body could handle that.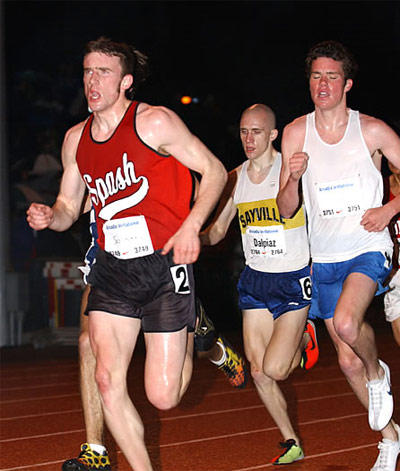 Chris Solinsky leads the 2003 Arcadia 2 Mile en route to his 8:43.24 win.
Photo: DyeStat Archives/Mike Leary


On hard work:

The harder you work, the more you are going to see the benefits. I had my parents and grandparents on the farm and they worked their butts off every day just so we could get by and that definitely left a lasting impression. If they are going to do that kind of work to make sure that we can have a living and make sure the family farm can keep going, then running seems like kind of a mundane little task, like if I get lazy in it—I have no right to get lazy in it.

I write up a goal sheet and put it where I can see it every morning and that gets me out the door. I write down time goals, place goals, big meets at the end of the year and what I want to do there. Those days when I'm feeling lazy, even if I'm leaning towards taking it off, I look at the goals and that drives me to get out the door because no one is going to do the work for me. I'm going to have to get it done myself.

The big thing about doing high mileage is that you're going to get the benefits this year, but if you can stay healthy you're going to get the benefits even more next year.



On pushing the pace with 1k to go in '08 Olympic Trials 5k:

When I took the lead, I had it in my mind I was going to break everybody. It worked for me in college a lot, so I tried to mimic the same thing, but obviously going a little bit quicker. Going into the race, I wanted to run the last 1,000 meters as close to 2:25 as possible and I think I was on pace for that if it weren't for my last 200 meters. My mentality was to separate myself from the rest of the field. Even if Lagat or Matt were able to stay with me, I'd still solidify myself in the top three. It was definitely a rookie mistake because when it comes to the Olympic Trials everyone is ready to go because the Olympic year is completely different from any other year. I think in a World Championship year, any other US Championship, I could have broken away to at least to get myself in the top three. But because it was the Olympic Trials everyone is willing to hurt that much more. It was exciting, yet disappointing at the same time. With 300 to go, I thought I could have done it. I could have done it. With about 100 to go, to see the people filing past me, was kind of demoralizing.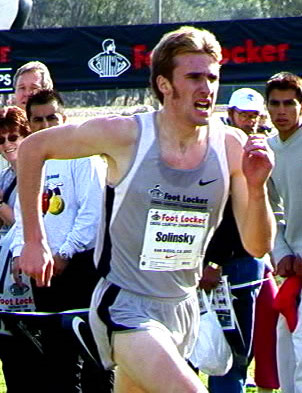 Solinsky charges to the 2002 Foot Locker National title.
Photo: DyeStat Archives/John Dye



In high school I went and ran hard from the gun. Even at the national meets, just kind of sitting for a little while and then running hard. Then in college I got my butt kicked because everyone in college can run hard it seems like. Once I got to that level, I learned that I wasn't necessarily the fastest guy at the end of the race, so I really honed my skills to be able to run a hard last mile, a hard last 1,000 meters to the point where nobody would really be able to, or would want to, hang on to that pace and kind of separated myself and make it easy for myself towards the end.



On racing professionally:

I was like, 'Well, I'm one of the better guys, so I think I can make it happen.' It definitely isn't the case and you have to adapt racing styles. For the past two years, I've been working on my finishing speed and it's starting to finally come around. You definitely have to be adaptive to every level and to your competitors because it's always changing. There is always someone who is good at what you're good at, or better. Or can do what you're good at, but do something else better.



On his killer instinct:

A lot stems from the mentality before the race. If you're going into the race just being like, 'Oh, I'm not going to win,' the killer instinct is already gone. I truly believe that I'm one of the best runners in the world on any given day and that mentality going into a race—you just don't want people to get away from you, you don't want people to beat you. You are willing to suffer that much more just to be able to be at the front of the race to give yourself a chance.

At this level, the biggest thing is putting yourself in position to capitalize on an opportunity that presents itself. In high school, you make your own opportunities. In college, in the earlier years, you have to put yourself in position, but after that you make your own opportunities as well. At this level, there is always somebody who can run really tough. The more times you put yourself in position to capitalize on an opportunity, the more times you will have to become a champion.

I'm driven more by winning than the fear of losing.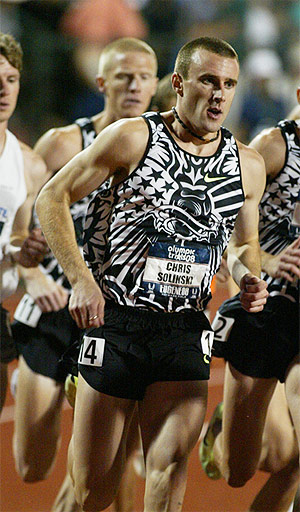 Solinsky competes in the 2008 Olympic Trials 5k Final.
Photo by John Nepolitan


I'm willing to give up a little bit of a social life. We're not able to have a nightlight or there are a lot of times where my family goes on vacation and I have to pass that up because we are in some kind of training cycle. Right now my fiancée is in Wisconsin and I'm in Flagstaff, Arizona, so that is definitely a sacrifice. Moving across the country from the rest of my family, from Wisconsin to Portland, has been an adjustment, but all the sacrifices you make are completely worth it when you're as passionate as people are in our group. I would say that a lot of those sacrifices you make aren't sacrifices, but decisions you make to be at the level you are.



On passion:

When I sign autographs, I always write "Dream Big." If you would have approached me eight, nine years ago, I would never have guessed that I would have been in this position. A lot of it is because when I started getting passionate about the sport, I wasn't content to just be a good local runner or be a good conference runner or be a good regional runner or be a good state runner or be a good national runner. From the get go, if I was going to do it, I wanted to do it to the best of my ability.

My grandfather always said, "If you're going to do something, do it 110% or else it's not worth doing.

It is so much easier to push yourself harder, if you're having a bad day, with a group. The days where it's tough to get out the door almost don't exist because you have people holding you accountable. Success breeds success in a group because everyone knows that we're all working well together. If one person does well, you know that the rest of the people are going to be right on their heels and do well in their events.

Have a short memory. If you have a good race, celebrate a day and then get back to work and go ahead and accomplish the next goal and keep focused. It's good to enjoy the race, but don't get caught up on it and don't make it your sole achievement. On the other side, if you have a bad race, take the next day to be upset about it and then forget about it and put it behind you and move on to the next thing.

Ultimately, it is a sport, and life does go on past a bad race.



Parting words:

I DNF'd NCAA's Outdoors my freshman year and someone said to me, "If this is the worst day of your life, then you're going to live a good life."