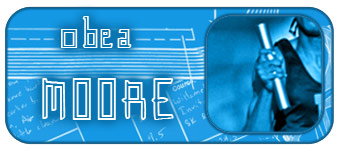 What he's Done:

In 1995, as a 16-year-old, he ran 45.14 seconds for 400 meters, faster than any 16-year-old in world history. It was, and still is, the fourth fastest one-lap outdoor prep time ever.

As a junior, he won the 400 meters at the 1996 World Junior Championships.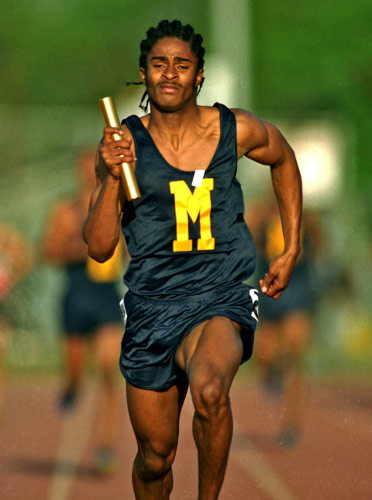 Obea Moore anchors his Muir relay squad - Photo by Kirby Lee


On advice his mother gave him:

One thing that sticks in my head that she (his mother) did say is that, "You don't compete if you're not ready or if you're sick." I take that as, if you are not 100%, you don't have any second chances because the edge that you get when you defeat a person is a mental edge. It's not just a physical edge. If I was sick, she wouldn't let me compete. Taking that loss also makes your self-esteem go down. It also gives the other competitors, that you're going to probably see 16 to 20 times out of the year and maybe for four to eight years if you start young enough in track and field, the edge on you. They say, 'Ah, I beat this person once. I can beat them again.' That's what I did. Most of the people I beat up on—it got to the point where they wouldn't even challenge me because it's a mental edge.



On his start in age group running:

When I was a Bantam, that's almost 22 years ago, the first year I went out there I was pretty good. I was running some decent races, but when I got to the Junior Olympics I was at the bottom of the age group and the guys at the top of the age group were running about two seconds faster than me and I didn't understand why. I didn't know that, hey, when you're a little older, you're stronger.

After we ran at the nationals, I went back to my coach. I'm like, 'Man, how do I get faster?' He said, "Well, you're just going to take two or three months off and then come back and train." So every practice, I would ask him questions. 'Hey, how can I get stronger? How can I improve my form?' And he would give me stuff to do at home. Once I got older and older, I just asked a lot of questions. 'How can I have more energy? How can I be more flexible? How can I concentrate on my focus?' because all of that transferred to the goals I wanted to accomplish. So, if I wanted to break the world record, then I asked my coach, 'Hey, how can I break the world record and run 43 flat?' and he came up with a program for me.

You've got to keep reinventing yourself and keep setting new goal after goal.

The athletics that you're in is supposed to build your character, so that it can transfer to other things once you leave the athletics.

If you want to emulate somebody who has already did it—because there is nothing new under the sun—why don't you ask them that? It's that simple.

Look at the professionals. You might see them run eight to twelve meets a year. I was running twenty meets a year, four times a week, sometimes two times a week if we had dual meets. It wasn't like I was out there jogging. I'm running 46 on dirt, 10.4 on dirt, 1:54 on dirt. It's just little silly stuff like who was around this kid to say, "Hey, this guy is worth millions of dollars and we just going to run him in the ground. '? It's kind of like a damn shame. But it is what it is…it is what it is.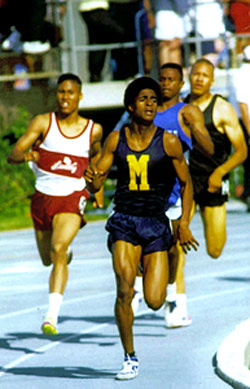 Moore leads California rival Michael Granville
in an 800 meter race - Photo from DyeStatCal


On seizing the moment:

I haven't run 45 (seconds) in twelve years, so what I can say to other athletes is take advantage of your time. Time is everything and that's what we try and master in track and field—time.

I've been to high altitude training in Eritrea. I got invited to Mexico City. This is all from my association with track and field. I've been to Rome. I've been to Canada. I've been all over the islands, from Guadeloupe, Martinique, Jamaica, Trinidad. I was in Guyana for a month, right by Brazil, all dealing with track. The king of Ghana wanted me to coach his (national track and field) team! That's just from me doing what I did in high school.

I'm a personal trainer and I go to the track and I could jog for a mile at any track in Southern California and somebody is going to say, "Hey, Obea Moore, do you train people? I want you to train my son. I want you to train my daughter. How much do you charge?" So that's my livelihood. I don't have to go get a regular job. That's just dealing off of my talent.



Parting Words:

I wouldn't change anything for the world. I feel like I'm on top of the world even with the mistakes that I thought I made. They really were character builders…so I can help someone else. As long as you learning, you winning. I help people from the things that happened to me. I got injured. I had to do research on my own, nobody told me, and I definitely didn't have no money to go to no chiropractor or no specialist. I had to search for my own. I had to search out myself and then I regurgitated (the information he learned) and started helping other people. I think personally that's beautiful. But somebody might say, "Man, you could have won the gold medal." I did. I helped a guy last year lose 90 pounds in five months. He was going to die. And that comes from an injury in high school? That comes from pulling a hamstring in high school? I wouldn't change anything because I wouldn't be who I am.