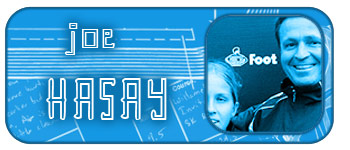 Who he is:



Father of Jordan Hasay, two-time Footlocker Champion and U.S. Record Holder in the 1,500 meters, on being a track dad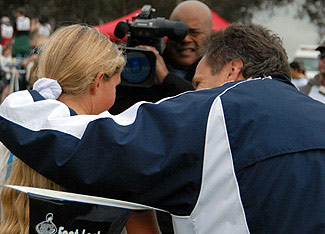 Congratulations from dad on Jordan's 2008 Foot Locker win.
Photo by Donna Dye


My family wasn't real big track buffs. We would watch track during the Olympics and we would read the headlines and we knew all of the famous stars, but I didn't really know the details of all of what goes into an athlete such as Jordan. As she started getting into that in seventh grade, I started following track more and more.



On the early years:

She started running competitively when she was in 4th grade. Her PE coach, who was also the junior high track and field coach, called my wife and me one day and said, "Your daughter is pretty fast. She runs ten laps around the track during PE class and she gets her tenth lap when the boys are only at five. You ought to ask the principal if she can come out for the junior high team." We asked the principal and she said OK, so Jordan started running for the junior high team in 4th grade. That was just fun. It wasn't until she got into 7th grade that we realized she was indeed fast—that was after she won the Junior Olympics. That's when we recognized she had a unique talent.



On patience:

What I've learned the most is to have patience. Every time Jordan goes out on the track, not only is she expected to win, she's expected to break a record. I guess I was naïve. I was like all the rest of the folks who follow track and always want her to set a record when she steps out on the track. I've learned over the years that it's not going to happen. There are so many factors, so many variables that go into any particular race on any particular day.



On wins and losses:

When she ran her freshman year, she really didn't know the impact of winning the Foot Locker race—either did my wife or I. We went in there like normal track fans, 'Hey, it's just another race.' But after she won, she thought, 'This is going to be great. I can win next year. I can win my junior year. I can win my senior year. I can win four in a row.' She came back her sophomore year and didn't win, and it was one of those times that we looked at, 'Why didn't you win?' And you learn that you've got to be right on on that particular day.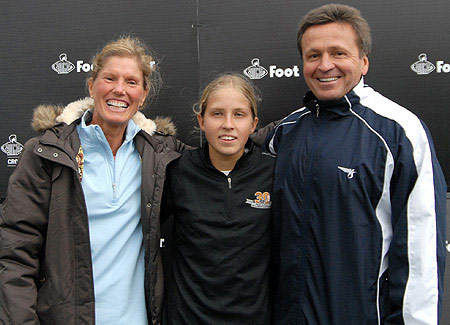 Two national titles, three years apart.

(Top) Jordan's parents and brother Jedd
celebrate her 2005 Foot Locker National title as a ninth grader. (Bottom) Jordan
receives congratulations from her mom, Teresa, and dad, Joe, after her 2008 Foot
Locker victory as a senior - Photos by Donna Dye


You've got to keep it all in perspective. I can't run for her. She's well-trained. She's disciplined. It is something you can't worry about. It's all her. You've got to sit back as a parent, take it in, and enjoy it.

Her sophomore year she ran against Alex Kosinski in the 1,600 and she got beat. She wasn't really feeling well that day. She was going to double. She was also scheduled to run the 3,200 and she came up to me and she said, "Should I run it dad?" I said, "If you feel like running it, run it." She said, "Do you think a 10:30 is going to win it?" And I said to her, "If it doesn't, you're just going to make some other girl real happy because she's going to beat you." And sure enough (Laurynne) Chetelat ran a 10:25 and Jordan ran a 10:30. She was really down about that, but then I reminded her, "You said you were going to run a 10:30. You ran a 10:30." She never complained and she never told the media that she was sick that day. She ran sick and lost two races and again it was a learning experience.



On the college decision:

The first day that coaches could call you was July 1st of the junior year and, ironically, she got only five phone calls and it was the five schools she wanted to visit, believe it or not. It was almost like the message got out there early. We expected our phones to be ringing off the line, but it wasn't the case at all.

We looked at academics, the environment, the coach, the running environment, was it a good running school, what's the history of the school, living conditions, was she required to live in a dormitory or can she have her own apartment? All those we laid out when she went on her visits and she made a list of good points and bad points. Fortunately, Oregon was the winner.



On any sibling rivalry between Jordan and her brother:

Jedd is her biggest fan. At the track and field state meet, he and his buddies painted their bodies with "Go Jordan." He was right there in the middle, screaming for her.



On media attention:

When Jordan started receiving fame in seventh grade, she used to tell me that she got nervous during interviews. I said, "Don't think about that. Concentrate on the question being asked and just run that through your mind and answer it to the best of your abilities." And I think she's learned from that. Don't think about what you're saying; just try to answer the question to the best of your abilities.



On attending Jordan's meets:

I've been to them all except for her run in Poland last year.



Parting words:

It's funny because in seventh and eighth grade I used to tell her how to run all of the time. Now, if I tell her how to run she just looks at me and laughs.