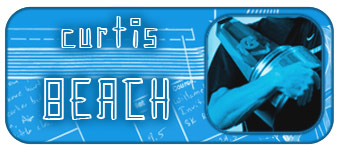 What he's Done:

Record Holder in the Decathlon with High School, International and Junior implements, cementing status as best US HS decathlete ever

Winner of 17 individual New Mexico state track and field titles

3rd overall in the 2009 NON 800; Has split 46.45 in the 400-meters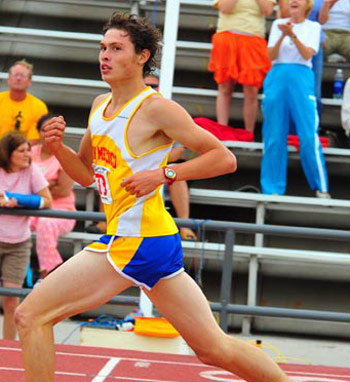 Curtis Beach crosses the line after another victorious decathlon
Photo by John Dye


I always make sure to do the field event type practices before I do the running workouts, if they're both on the same day, because I'd be a lot fresher from the field events and I wouldn't be tired from the running events. I have free periods during school and they vary from day to day, but during one of those periods or during lunch, I usually get in field event work. An example of that would be when my (high jump) coach—who is a firefighter—would come while he's on his job, during lunch or something, and he would work with me on the high jump for an hour. Then I'd be done with that and go back to class, then come back after school and do a running workout and then do weights. That's typically how it is during the school day.



On managing academics and athletics:

It all starts the night before, because I have to get a good night's sleep and I have to get my homework done. So when I get back (home) after practice, I do my best to get my homework done as quickly as I can while still doing it well and getting to bed early, like 10:30. I wake up at 6:30. Our school starts at 8:00, so I've gotten to school at 6:45 in the past and been warmed up by 7:15, so I can get a good 30-40 minute practice in.



On his six different coaches:

The biggest thing they help me with is having a balanced lifestyle. When we're not working at practice, they'll always hint at other things I should be doing other than track. Honestly, track is my life and they tell me I might need to hold back a little bit on that because I do a lot of it. What they've helped me with is having some sort of life other than track, which sounds a little bit lame, but that's what it is.

If you have a bad hurdle, it's done. Move on to the next hurdle; stay in the present.



On setting goals:

Last year I knew something was wrong. I was very stressed during my competitions and I didn't enjoy it. After the year was over, I just evaluated, 'Okay, what can I change to make myself perform better and enjoy everything?' In the end, I decided I wasn't going to put any numbers out there. I wasn't going to go for a certain decathlon score. Because when I'm not worried about a bad performance or getting a certain mark, I can allow myself to perform the best I'm capable of doing.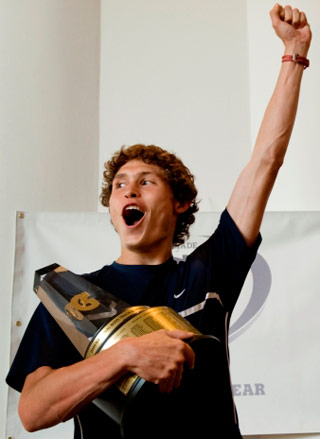 Beach celebrates winning the Gatorade National Track &
Field Athlete of the Year Award - Gatorade/Daniel Zollinger


On running cross country:

When pushing through three miles, it put the (decathlon's) 1,500 in a better perspective, in that it's not really that far or that hard. I learned how to push myself when I am very, very tired and focused more on running fast than feeling the pain. In cross country, you have to have a completely different mindset than in most other events because there is a lot of pain, especially when you are pushing really hard. You can't focus on that. You have to keep on running fast and know that it's only temporary.



On pain:

One thing my coach told me is that there is worse pain than physical pain. You can feel good when you're running a cross country race, physically. But, at the end, you would run a slow time and then afterwards you'd just be like, 'Oh crap, I could have definitely run better.' On the flip side of that, if you really push yourself to the limit and hurt a lot during the race, and afterwards, when it is all over and you're feeling good, you feel awesome because you just ran the best that you could.



On race walking:

I actually ended up race walking one cross country meet because that's all I could do. [Editor's note: He injured his Achilles last September.] It didn't hurt to walk on it, but that was another important thing I learned. If there is any pain, any tenderness at all, if you keep running on it with the pain, then it only gets worse. So you have to do stuff where there is no pain and no tenderness because that is the only way it can get better. I figured that since I was race walking workouts and I had no pain doing that, that I could try to race walk in a cross country race. I walked a 22:30 5K. I just wanted to do what I could and accept that challenge of 'Let's see how many guys I could beat while race walking.' I was on the "C" team and I finished towards the back, but I did beat some guys—I'd say about 20% of the "C" team guys.



Parting words:

There are three things in life: social life, academic life and athletic life. You can be mediocre in all three, but only great in two. In the end, there is only so much time in the day to be great at a few things and the two that I choose are academics and athletics.