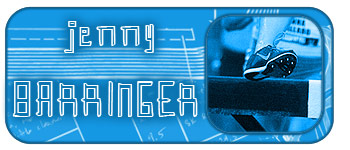 What she's Done: 2008 Olympian in the Steeplechase

American record holder in the steeplechase

Collegiate record holder in the 1,500 meters.

Three-time NCAA Champion while at the University of Colorado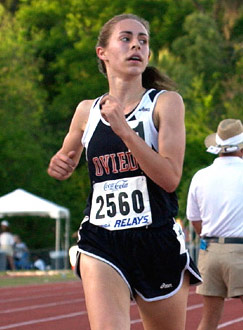 Jenny Barringer as a Florida high schooler
Photo: DyeStat Archives/Mike Leary


The best post-race meal I ever had was an entire pint of Ben and Jerry's Half-Baked after my first NCAA title my freshman year. Since then I've been forced to become more cultured by my travels and I really enjoy sushi. (Coach) Wetmore even made a special sushi-run once after I had a really great race, because that was all I wanted for dinner.

My high school coach, Jay Getty, tells me to this day, "Relax to run fast." I'm sure almost everyone has heard that, but honestly, it works. Nervous energy is good, but once the gun goes off it's crucial to settle in and relax.



On staying (relatively) injury free:

"Relatively" is an important qualifier. With all of the running I do it's impossible not to have an ache here or there from time to time. The key is to always stay on top of the "little things." Even before that though, a healthy diet for strong bones and higher iron levels along with 8 hours of sleep a night (every night!) have taken me a long, long way.




On balancing the three acts of a college life: academics, athletics, and social:

You can't master all three. To be good at two or excellent at one you must make sacrifices. I decided early on to really focus on running and school. I still have a social life, but when something has to give, it's never training and it's hardly ever the books.

I thought I took racing pretty seriously in high school and then I moved to Colorado. Under Mark, I learned that most people don't race well in college on just 30 miles a week and the occasional entire weekend off. There's definitely a transition from high school training to college and I think after not doing as well as I expected my first cross country season at CU I knew I had to step things up a notch.




On an unexpected experience at the Olympics:

Something that was totally out of my control in China was that I was there over my birthday. I got connected, through some friends, with an American woman who teaches English in Beijing. She took me out to a traditional restaurant for my birthday. When the restaurant staff found out that I was an athlete and, even better, it was my birthday, they were ready to give us the queen treatment. They decided to make me their best dish, some fish soup. Before they made it though, they honored me by allowing me to approve the fish while it was still alive in a net. Flopping and squirming, I nodded in confusion as my future lunch was promptly hauled back to the kitchen to be sliced and diced. They also brought out traditional birthday noodles and other "treats" that were definitely one-time deals for me. I tried to be polite and at least nibble on everything.

In the course of this effort I bit down on something in the soup, some spice or other, and it sent a whole half of my mouth on fire and then completely numb. To this day, I have no idea what I ate, but I remember just praying that it wasn't on USADA's list! Aside from the fear that I would permanently drool from one corner of my mouth, I was able to swallow down a few "treats" a bit easier because I had lost all sense of taste. Blessing and a curse, I guess.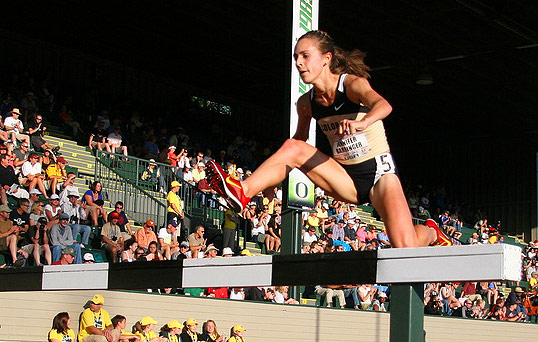 Barringer wins the Steeplechase at the 2009 USATF National Championship in Eugene OR
Photo by Robert Rosenberg


On training smarter vs. training harder:


I always do what I'm assigned to do for that day. It's so tempting to be the hero of one workout and really smash an interval session, but I've learned that my workouts are designed for a reason and that drawing from the well today means I might be in a hole for the next workout. I've also learned that my coaches can't read my mind. It's important for me to communicate with them about how I feel in my training and if something isn't quite right.

I always warm up. That's the best pre-race and only pre-race ritual I have. :)

Do something other than running. Even the big-timers have other interests and hobbies. If you need a starting point, look up the yard games: washers or bocce-ball.




Parting words:

Every day, I am thankful for the lessons and the blessings running has brought into my life. I've been humbled over the past year by my improvements and thankful for the opportunity to stay loyal to my team. Right now I'm facing my final semester of school and I'm hoping to finish that just as hard and honest as I finish all of my races. I'm like everyone else, school can become draining. I'm fighting it though, like I might fight oxygen-debt.